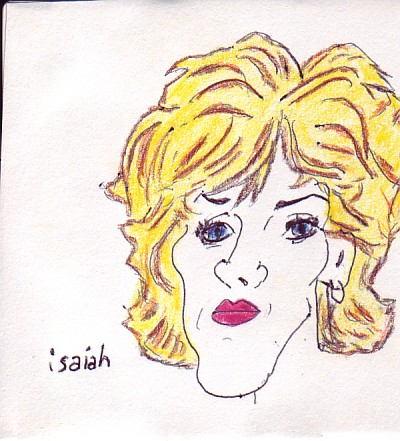 Isaiah's drawing of Jane Fonda
who is the scheduled guest on
KPFA
's Cover to Cover with Denny Smithson. More on that in a bit, but this is your reminder.
First, we'll note Scott Shane and Mark Mazzetti 's "
Moves Signal Tighter Secrecy Within C.I.A.
" (
New York Times
):
As the inspector general, Mr. [John L.] Helgerson was the supervisor of Mary O. McCarthy, who was fired Thursday after admitting she had leaked classified information to reporters about secret C.I.A. detention centers and other subjects, agency officials said.
Mr. Goss and the C.I.A.'s deputy director, Vice Adm. Albert M. Calland III, voluntarily submitted to polygraph tests during the leak investigation to show they were willing to experience the same scrutiny they were asking other employees to undergo, agency officials said. Mr. Helgerson likewise submitted to the lie-detector test, they said.
But Mr. Helgerson's status as the independent inspector general -- a post to which he was appointed by the president and from which only the president can remove him -- makes his submission to a polygraph even more unusual.
L. Britt Snider, who served as inspector general from 1998 to 2001, said in an interview on Sunday night that he had not been given a polygraph in that position, though he said he was given an initial polygraph when he arrived at the agency in 1997 as special counsel to the director.
"I've never heard of it, and it's certainly unusual," Mr. Snider said. He called it "awkward" for the inspector general to be, in effect, investigated by the agency he ordinarily investigates.
While the
Times
tip toes around what's going on (but nice on the record quote),
Zach
steers us to Robert Parry's "
Bush Brandishes Jail Time at Critics
" (
Consortium News
):
Over the past five-plus years, the American people have gotten a taste of what a triumphant George W. Bush is like, as he basked in high approval ratings and asserted virtually unlimited powers as Commander in Chief. Now, the question is: How will Bush and his inner circle behave when cornered?
So far, the answer should send chills through today's weakened American Republic. Bush and his team -- faced with plunging poll numbers and cascading disclosures of wrongdoing -- appear determined to punish and criminalize resistance to their regime.
That is the significance of recent threats from the administration and its supporters who bandy about terms like sedition, espionage and treason when referring to investigative journalists, government whistle-blowers and even retired military generals -- critics who have exposed Executive Branch illegalities, incompetence and deceptions.
CIA Director Porter Goss, a former Republican congressman long regarded as a political partisan, has escalated pressure on intelligence officials suspected of leaking secrets about Bush's warrantless wiretapping of Americans and the torture of detainees held in clandestine prisons in Asia and Eastern Europe.
On April 20, Goss fired a career intelligence officer (identified as Mary O. McCarthy) for allegedly discussing with reporters the CIA's network of secret prisons where terrorism suspects were interrogated and allegedly tortured in defiance of international law and often the laws of the countries involved.
Goss had said the disclosure of these clandestine prisons had caused "very severe" damage to "our capabilities to carry out our mission," referring to complaints from foreign officials who had let the CIA use their territory for the so-called "black sites" and faced legal trouble from the torture revelations.
"This was a very aggressive internal investigation" to find who leaked the information about the secret prisons, one former CIA officer told the New York Times. [NYT, April 22, 2006]
WMD Fight
Goss was recruited to the task of putting the CIA back in its place by Vice President Dick Cheney in 2004. During the run-up to the Iraq War, Cheney had banged heads with intelligence analysts who doubted White House claims about Iraq's weapons of mass destruction.
Though many senior CIA bureaucrats bent to Cheney's pressure on the WMD intelligence, some analysts resisted. After the Iraq invasion failed to find WMD, some of the CIA's suppressed doubts began surfacing in the press and causing Bush political embarrassment during the presidential election campaign.Martha
notes two things. First, Carrie Johnson's "
Enron Founder to Say He's Optimistic, Not Dishonest
" (
Washington Post
) which, as
Martha
points out, seems to be a nonstory these days.
(Ken Lay and Enron -- Lay takes to the stand today). Second, she notes Eugene Richards'
"
War Is Personal: Carlos Arredondo/Age 45/Roslindale, Massachusetts
" (
The Nation
):
Alex went to basic training in California, then more training. Then, because he wasn't being told anything by the military, he began asking me for information about the Middle East, about what the President is saying. Next thing I know, my son is being made ready for urban combat. Next thing he's on the way to Kuwait, on the way to Iraq, and I'm here at home learning that there's no nuclear armaments there, there's none of them. I'm starting to learn all this, and my son is on the way there.
So much happen. I have two TVs at the same time, the radio on. I can't go to sleep. I've been married with Mel seven years, working as a bus driver, part time, sometimes a landscaper and painter, but I can't go to work, because I want to know what happen. I was worried, very worried, by reading all the newspapers and concentrating too much on the war on the TV. I see how my son got from here to Iraq, see them prepare for invasion, see sandstorms, they reach the Tigris River, and two Marines got killed there, and my son was traveling inside a tank that was very noisy, a lot of fuel smells. All along I see the minister of information for Saddam Hussein on TV say, "I'm going to kill all of them." I see all the sadness, see how they kill, see how the Marines move through the dark alleyways, kick doors, blindfold people, while afraid most of the time for snipers and bombs. I was all the time calling the Marines and the Red Cross, asking them about the situation. I hear nothing about my son for days and days. It was too much, too much, too much for parents.
Reposted in full from
The Third Estate Sunday Review
's "
Monday: Jane Fonda on KPFA's Cover to Cover with Denny Smithson
" both for the announcement and to make sure alternative media gets its due (
GMA
broke no story last week):
The one and only Jane Fonda. We're fond o' Fonda. And Monday on
KPFA
she's the scheduled guest for Cover to Cover with Denny Smithson. Fonda wasn't afraid to come out against the war. And last spring, when she spoke out on David Letterman's show, she was greeted with applause.
Last week, it was suddenly NEWS! that she felt Cindy Sheehan was more effective as a speaker against the war than she was. (We love Cindy Sheehan, but we'd line up for hours to hear Fonda speak.) She said it on Good Morning America! It was NEWS!
But, a point we make in our roundtable posted later, it wasn't, in fact, NEWS!
Maybe it was news when she said it to Robin Morgan in the interview
Ms. magazine
ran in their
Winter 2006 issue
? But for that to happen, people would have to pay attention to alternative media and we don't think it's getting its due. From "Jane Fonda Talks Sex, Politics, & Religion with Robin Morgan" (page 38):
JF: You know, nobody's asked me to speak about war for over 15 years. I carry too much baggage from Vietnam. Recently I was feeling, "I can't be silent anymore. I'm going to go on tour." I did anti-war tours around the U.S. every year during the 70s, they were amazing. But then, Cindy Sheehan surfaced! I thought, "I don't need to tour, she's the appropriate one!"
OMG! It's just what you heard on Good Morning America last week! But you heard it in
Ms. magazine
first. If you paid attention. Support your independent media. One way is to listen Monday to:
Cover to Cover with Denny SmithsonOne of the most recognizable women of our time, America knows Jane Fonda as actress, activist, feminist, wife, and workout guru. In her extraordinary memoir, Fonda divides her life into three acts: her childhood, early films, and first marriage make up act one; her growing career in film, marriage to Ted Turner, and involvement in the Vietnam War belong to act two; and the third act belongs to the future, in which she hopes to "begin living consciously," and inspire others who can learn from her experiences. Fonda reveals intimate details and universal truths that she hopes "can provide a lens through which others can see their lives and how they can live them a little differently."
It airs on
KPFA
at 6:00 pm Eastern, 5:00 pm Central, 4:00 pm Mountain and 3:00 Pacific. You
can listen online
, for free, or you can listen over the airwaves in the Berkeley area on KPFA (94.1 FM) and probably on KPFB (89.3 FM) in Berkeley as well as KFCF (88.1 FM) in Fresno.
Remember to listen, watch or read
Democracy Now!
today.
The e-mail address for this site is
common_ills@yahoo.com
.
the new york times
scott shane
mark mazzetti
robert parry
carrie johnson
the washington post
eugene richards
kpfa
jane fonda
cover to cover with denny smithson
kpfb
kfcf
the third estate sunday review
robin morgan
ms. magazine