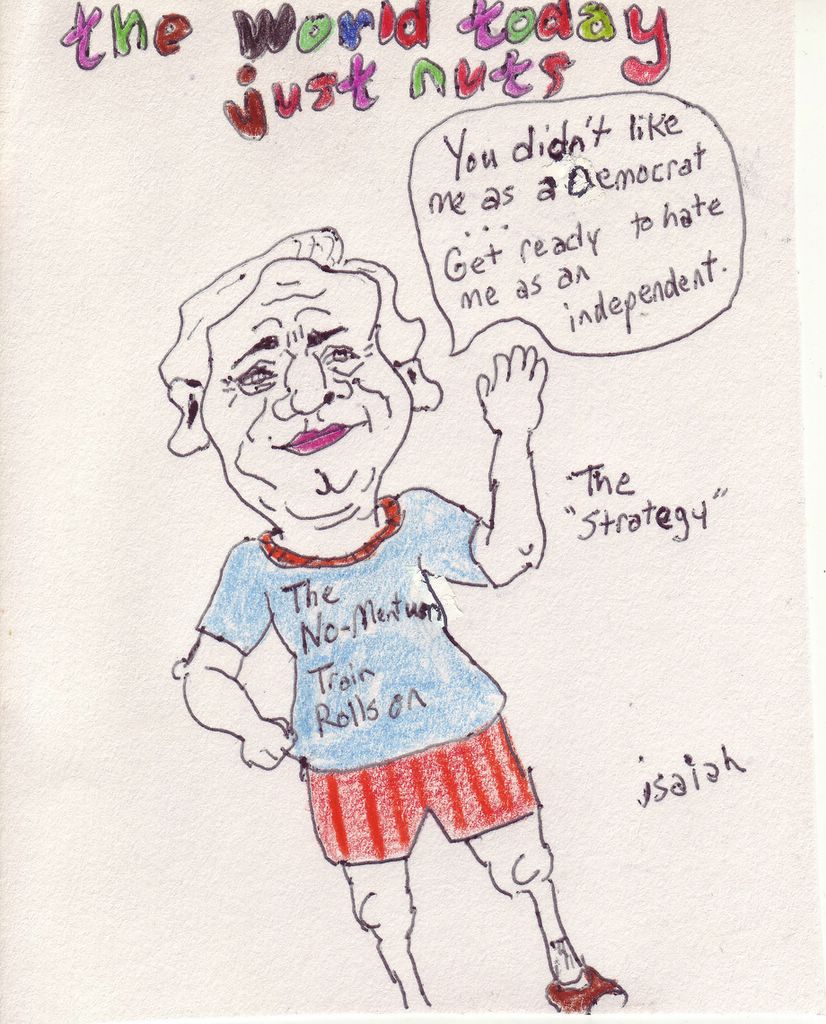 Good bye, Joe, good bye, Joe, time is full of changes, Joe, and now you've got to go.
-- "Goodbye Joe" written and performed by Laura Nyro, available on her album
First Songs

A War Hawk takes a hit. Isaiah's The World Today Just Nuts on Joe Lieberman went up last night, after Lieberman conceeded to Ned Lamont. (Isaiah prepared three comics -- one where Lieberman conceeded and threw in the towel, one where he won and the one to the left where Lieberman conceeded he'd lost but made clear he intended to run as an independent -- after all, it's always all about Joe, right? In his mind anyway.)
In this morning's New York Times, Paul von Zielbauer offers "Bank Robbery and Bombs Kill 24 in Iraq" and the headline reflects his own count in the report. When covering reported deaths for Tuesday, it helps to avoid "shootings." But there's really no excuse for the lie of 24 since Tikrit remains part of Iraq (to offer only one example of how he under reports the death toll).
From von Zielbauer:
In the past week, four Iraqi journalists from various news organizations based here were fatally shot, said a member of an Iraqi journalists' group that tracks attacks on reporters.
Muhammad Abbas Hamid, 30, a reporter for the Shiite newspaper Al Bayinna al Jadida, was shot Monday as he left his home in the Adil section of west Baghdad, said the newspaper's publisher, who asked that his name not be printed out of fear of reprisal.
Late Monday, the police found the body of Ismail Amin Ali, 30, a freelance journalist, less than a mile from where he was abducted two weeks ago in northeast Baghdad, according to the journalists' group, the Journalistic Freedoms Observatory.
In an interview on Tuesday evening, Ziad al-Ajeely, who tracks attacks on journalists for the group, identified the two other journalists killed in Baghdad in the past week as Abdul Wahab al-Qaisi, a reporter for Kol al Dunia magazine, and Adil Naji al-Mansory, a reporter for Al Alim television.
Baghdad's central morgue said it received the bodies of 1,855 people in July, an average of nearly 60 a day, nearly all of whom appeared to have died violently. The tally was a 16 percent rise from June and a 71 percent increase from January.

Let's go to some fiery words from Joe Lieberman (I'm assuming we all need a good joke):
"For the sake of our state, our country and my party, I cannot and will not let that result stand." That's from Dan Balz and Shailagh Murray's "Lieberman Defeated in Democratic Primary:
Senator Vows Independent Run As Antiwar Challenger Prevails" (Washington Post). Fiery words as opposed to, say, buckling and handing over a 2000 presidential election on Meet the Press? But it's always all abaout Joe. Goodbye, Joe.
And in the "only in it for yourself/cover your own ass" news, Martha notes R. Jeffrey Smith's "War Crimes Act Changes Would Reduce Threat Of Prosecution" (Washington Post):
The Bush administration has drafted amendments to a war crimes law that would eliminate the risk of prosecution for political appointees, CIA officers and former military personnel for humiliating or degrading war prisoners, according to U.S. officials and a copy of the amendments. Officials say the amendments would alter a U.S. law passed in the mid-1990s that criminalized violations of the Geneva Conventions, a set of international treaties governing military conduct in wartime. The conventions generally bar the cruel, humiliating and degrading treatment of wartime prisoners without spelling out what all those terms mean.
[. . .]
The plan has provoked concern at the International Committee of the Red Cross, the entity responsible for safeguarding the Geneva Conventions. A U.S official confirmed that the group's lawyers visited the Pentagon and the State Department last week to discuss the issue but left without any expectation that their objections would be heeded.

Repeating, Kat notes that today "on KPFA's The Morning Show, 'after the 8:30 headlines,' Iraq will be a topic discussed. 'A look at US media coverage of Iraq.'" That's 8:30 a.m. PST.

the new york times
paul von zielbauer
the world today just nuts
joe lieberman
dan balz
shailagh murray
the washington post
comic
r. jeffrey smith
kats korner
kpfa
the morning show