The commander of a major US military prison in Iraq has been arrested for offences including aiding the enemy.
Lt Col William Steele is accused of giving detainees free use of a mobile phone at Camp Cropper and fraternising with the daughter of a detainee.
It is the latest of several scandals involving US jails in Iraq, the worst being the 2003 Abu Ghraib abuse case.Polly
noted the above from BBC's "
US prison chief arrested in Iraq
."
From CNN
:
The military gave few specifics about the charges. The first one said that Steele "did, between on or about 1 October 2005 and 31 October 2006, aid the enemy by providing an unmonitored cellular phone to detainees." It gave no specifics about the number or identity of the detainees involved.
If you think back, you'll remember the case of James Yee -- charged with a great deal, slandered freely. In the end, the US military had no case against James Yee. (For more information on Yee, refer to
this October 2005 interview conducted by Amy Goodman for Democracy Now!
) Something to keep in mind as the rumors circulate.
What else to keep in mind? Reading the press, not Iraqi women. Did anyone
other than Tina Susman
note women in their coverage of the United Nations' report? (Susman reports for the
Los Angeles Times
.) This is the 10th report issued on Iraq. Possibly, when it's the 20th or 30th, the press can mention Iraqi women? The report can be read (PDF format warning)
here
.
We'll include the section on women, in full, and note each paragraph in the report is numbered and that's not being included below:
In the governorates of Erbil, Duhok and Sulaimainiya, women's right to life and personal security remained of serious concern to UNAMI, given the high incidence of "honor killings" and other abuses against women. According to the newspaper portal service, Awena, injuries and deaths by immolation and suspected honor crimes were on the rise. In its 27 January issue, Awena reported on data gathered by the Duhok criminal court and the Duchok Azadi Hospital, revealing that in the governorate, there were 289 burns cases resulting in 46 deaths recorded in 2005, 366 burns cases resulting in 66 deaths recorded in 2006. In most cases, the extent of injuries and overall circumstances appeared to exclude routine claims of accidents or suicides. According to the Emergency Management Centre in Erbil, 576 burns cases resulting in 358 deaths have been recorded in Erbil Governorate since 2003. Over half of these women had sustained between 70-100% degree burns which, according to doctors, suggested that they were self inflicted. However, the absence of thorough investigations by the authorities has meant that the available evidence remained inconclusive.Between January and March, UNAMI received information on some forty cases of alleged honor crimes in the governorates of Erbil, Duhok, Sulaimaniya and Salahuddin, where young women reportedly died from "accidental burns" at their homes or were killed by family members for suspected "immoral" conduct. In one instance on 24 January, a woman sustained 40 per cent burns to her body claimed that this was caused by a baking accident in the kitchen, while on 28 January, a 21-year-old woman from Erbil sustained 60 per cent burns from an alleged accident involving an exploding water boiler. In the same week, police found the charred remains of an unidentified woman on the outskirts of a collective town in Erbil. In Sulaimaniya, a woman and her married boyfriend were reportedly shot and killed by her brother on 2 February 2007. On 15 February, a Kurdish woman was killed by her husband for "dishonouring" her family when she was found in car in Shaikhan district, Nineveh, in the company of two Yezidi men. In late February, a woman and her male neighbor was allegedly murdered by her family members because of a video clip, allegedly showing them discussing sexual matters, circulated on mobile phones of people in the community. On 6 March, the Sulaimaniya Directorate of Health issued a report stating that in 2006, 88 women between the ages of 15 and 45 were the victims of shootings, 41 of whom had died. According to a source at the Emergency Management Centre in Erbil, in cases involving suspected "honor crimes," the victim is typically shot at her home and left to die before her body is moved elsewhere. Where family members report these deaths, they commonly claim the cause of death as suicide or cite infidelity on the part of the victim as justification for the crime.UNAMI continued to receive reports of domestic and communal violence that appeared to have received little regulatory attention by the KRG authorities, while the local media continued to report such incidents on a regular basis. In Kirkuk, two teenage sisters were arrested on 12 January and charged with murder for allegedly killing their grandmother whom they said had failed to intervene when the girls were sexually abused by their uncle over a period of many years. On 14 February a female lawyer, Nazanin Muhammed, was shot dead in Kirkuk by unknown gunmen. Both Kurdistan TV and Hawler Post reported that the victim's husband may have murdered her because of a domestic dispute. According to an official at the Emergency Hospital in Erbil, the number of rape cases in Erbil Governorate has increased marekedly in recent years: 596 recorded cases in 2006 as compared to 150 in 2003. In the KRG region, allegations of rape are routinely dealt with through mediation and reconciliation at the community level, and very few cases reach the courts. This includes hospital officials, who use informal conciliation channels to protect rape victims from being killed by relatives for having 'dishonoured' the family and to prevent retaliatory killings of alleged rapists. Article 398 of the Iraqi Penal Code also provides for the resolution of sexual offences through a marriage contract between the alleged offender and the victim.The Kurdistan National Assembly was slow to address violence against women and to debate legislative reform aimed at providing improved legal protection for women. The heads of the Kurdistan National Assembly's Legal Committee and Human Rights and Minister of Region for the Interior, cited social attitudes requiring longer-term solutions as reason for the slow pace of progress in this regard. In this reporting period in Erbil, the Kurdistan National Assembly's Committee For Women's Affairs and a number of non-governmental groups concerned with women's rights discussed a draft law which is set to replace the Personal Status Law (No 188 of 1959) currently in force.In Baghdad, according to reports received by UNAMI, a woman identifying herself as Sabreen al-Janabi was admitted to Ibn Sina Hospital in the International Zone on the night of 18 February, claiming that three Iraq officers serving with the Seventh Brigade's Second Regiment of the Ministry of Interior's Public Order Forces (Quwwat Hifth al-Nitham) raped her while she was in their custody. According to her account, the Public Order Forces raided the Hay al'Amel district of Baghdad earlier that day and arrested her together with eleven men, apparently on suspicion of involvement in terrorists acts. After Sabreen al-Janabi's husband contacted the MNF asking for their intervention, MNF forces reportedly visited the Second Regiment's headquarters, interviewed the detainees and released nine of those held, including al-Janabi. She was said to have suffered bruises and was taken to hospital where she was medically examined following the rape allegations. The case attracted significant media coverage and comment by Sunni and Shi'a political parties alike, overshadowing calls by the Iraqi Islamic Party and the Vice-President Tariq al-Hashimi for a prompt and thorough investigation into the case. UNAMI was not in a position to verify media reports regarding the findings of medical examinations carried out in the case. On 20 March, two days after the alleged rape, Prime Minister al-Maliki publicly rejected the allegations made by al-Janabi and instructed that the three police officers be honored. UNAMI received information that an arrest warrant was issued against al-Janabi but the legal basis for this remained unclear. UNAMI urges the Iraqi authorities to conduct a thorough and impartial investigation into the allegations and to take appropriate steps to guarantee the protection of both victims and witnesses in all such cases.Other allegations of the rape of women by Iraqi military personnel emerged during this reporting period. On 21 February, for example, a 40-year-old Turkoman woman and a resident of Tala'far district accused five security personnel of raping her during a house raid four days earlier. The complainant, Majida Mohamed Amin claimed that the officer-in-charge video-taped the assault and threatened to abuse her children if she resisted. Mosul Deputy Governor Khasrow Goran offered an investigation into the incident. Three soldiers with the Iraqi armed forces and two officers with the Tala'far police reportedly arrested and referred to the Mosul Criminal Court on rape charges.
UNAMI is not the 'martial arts technique' Ross claimed to know on
Friends
, it's the United Nations Assistance Mission for Iraq.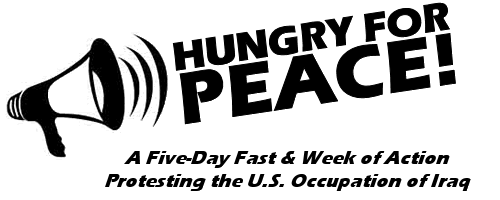 Amy Goodman and Juan Gonzales speak with
Medea Benjamin
on
Democracy Now!
today as well as student activists about various actions including the
UMBC Solidarity Coaliton
's the Hungry For Peace fast & sit out to protest the illegal war in Iraq (April 30th through May 4th next week).
In addition to the Hungy For Peace action, another event we haven't noted yet takes place next Wednesday:
Please Join

Howard Zinn
and
Anthony Arnove
for a special evening of readings from
their book
Voices of a People's History of the United States
.
With special musical performances by
Allison Moorer
Steve Earle
and readings and vocal performances by
Ally Sheedy
Brian Jones
Danny Glover
Deepa Fernandes
Erin Cherry
Harris Yulin
Kathleen Chalfant
Kerry Washington
Opal Alladin
Staceyann Chin
Stanley Tucci
Narration and introduction by Howard Zinn and Anthony Arnove
Wednesday
May 2
6:30 pm
The Great Hall, Cooper Union
Free to the public.
Sponsored by The Cooper Union.
Voices of a People's History of the United States
(http://www.sevenstories.com/Book/index.cfm?GCOI=58322100666900),
edited by Howard Zinn and Anthony Arnove, is the companion volume to
A People's History of the United States by Howard Zinn. It features
the words of rebels, dissenters, and visionaries from our past -- and
present.
The public performances of Voices are inspiring, challenging
reminders of our rich history of protest and its relevance for today.
We'll be noting the Arnove and Zinn event in the snapshots leading up to the reading. And we'll go ahead now and remind that Arnove is the author of
IRAQ: The Logic of Withdrawal
for anyone who's unfamiliar with that.
Martha
and
Shirley
polled the community again last year and
wrote about the top ten picks for books
. Arnove's book topped the list.
Finally,
Lloyd
notes Dan Eggen and Paul Kane's "
Hill Subpoenas Approved for Rice, Other Bush Officials
" (Washington Post) which includes this quote from Herney Waxman (chair of the House Oversight Committee), "A subpoena is not a request; it's a demand for information." Noting that line because? Leigh Ann Caldwell and Aileen Alfandary have both noted this morning (
KPFA
's
The Morning Show
) that Condi Rice is saying (my interp, Condi gets her official version in the excerpt below) "I've talked and talked and what more do people want from me? It's not like I even work for them! You know what? Put it in writing and I may, MAY, get back to you." From
Eggen and Kane's article
:
The demand for Rice's testimony would put a spotlight on her role as national security adviser in promoting discredited administration claims that Saddam Hussein was pursuing a nuclear weapons program.
"There was one person in the White House who had primary responsibility to get the intelligence about Iraq right -- and that was Secretary Rice, who was then President Bush's national security adviser," Waxman said. "The American public was misled about the threat posed by Iraq, and this committee is going to do its part to find out why."
Rice, in Oslo for a meeting with NATO foreign ministers, said on Thursday she was not inclined to appear before the committee, saying her advice to the president as National Security Adviser was privileged, the Associated Press reported. She said that she had answered many of the same questions in her confirmation hearings for secretary of state, and said she would respond to this round of inquiry in writing -- but not in person.
"I addressed these questions, almost the same questions, during my confirmation hearing," she said. "This is an issue that has been answered and answered and answered...I am more than happy to answer them again in a letter."
The e-mail address for this site is
common_ills@yahoo.com
.
anthony arnove
howard zinn
democracy now
amy goodman
juan gonzalez
medea benjamin
hungry for peace
the los angeles times
tina susman
the washington post
dan eggen
paul kane
ally sheedy
danny glover
deepa fernandes
kpfa
the morning show
aileen alfandary
leigh ann caldwell