Four Western oil companies are in the final stages of negotiations this month on contracts that will return them to Iraq, 36 years after losing their oil concession to nationalization as Saddam Hussein rose to power.
So opens Andrew E. Kramer's "
Deals With Iraq Are Set to Bring Oil Giants Back
" on the front page of this morning's
New York Times
. Yes, Big Oil got exactly what it wanted. The article explains the bill making the theft of Iraqi oil 'legal' cannot be passed through the Iraqi parliament so this is a way -- with no-bid contracts -- for some to get in. How were they chosen since there were no bids? Well they were 'helpful.' They were giving advice. Now most would assume that's a charitable thing but Big Oil always gets a payback. From Andy Rowell's "
The long wait to claim the prize draws to an end
" (
The Price of Oil
):
The long wait may finally be over to claim the last great prize left for the oil industry.
But not, importantly, how the oil industry, or the Bush administration wanted it to.
Some 36 years after losing their oil concession to nationalization as Saddam Hussein rose to power, four Western oil companies are in the final stages of negotiations this month on contracts that will return them to war-torn Iraq.
Exxon Mobil, Shell, Total and BP -- the original partners in the Iraq Petroleum Company -- along with Chevron and a number of smaller oil companies, are in talks with Iraq's Oil Ministry for no-bid contracts to service Iraq's largest fields.
It's the same old story for Iraq over and over. Marcus George reviews some of the history in "
The challenge of exploiting Iraq's oil
" (BBC):
It's difficult to imagine today, but 50 years ago the Iraqi oil industry was directed from offices thousands of miles from Baghdad.
In the 1950s, number 214 Oxford Street, London, was the headquarters of the Iraq Petroleum Company.
For three decades, the IPC held a stranglehold over Iraqi oil - a monopoly only broken with nationalisation in the 1960s.
But once again, foreign oil companies are waiting for another opportunity to return to Iraq. With governments eager to see the rocketing price of crude oil kept under control, focus on Iraq is increasing.
That's the opening. Of course Antonia Juhasz could address the topic at length and if you're new to it, you should pick up her book
THE BU$H AGENDA
. And a new book by Juhasz,
The Tyranny of Oil
, will be released in September.
Robin
notes this video for the Ralph Nader for president campaign
And more Nader videos can be found
here
.
Brady
notes
the following from the Nader campaign
: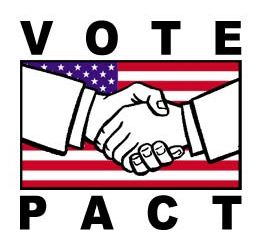 Ralph was on Democracy Now this morning with Amy Goodman.
In the interview, Ralph says that Obama is "a corporate candidate from A to Z."
Ralph condemns Obama's speech to AIPAC and calls Obama the "panderer in chief."
Please forward this Democracy Now interview to five of your friends and family now.
During the interview, Ralph promotes the idea of VotePact.
Here's how it works.
Let's say you live in a swing state.
Like Michigan.
Where it's a virtual dead heat between McCain and Obama.
This week it's McCain 42, Obama 41.
Doing the math, that leaves 17 percent of the population of Michigan who don't like either of the corporate candidates.
(Last we heard, Ralph Nader was at ten percent in Michigan - and that's with approaching zero mainstream media publicity.)
Okay, so let's say you are a Michigan Democrat who doesn't exactly care for Obama's pro-right-wing AIPAC stance on the Middle East.
You'd prefer to vote for the peace candidacy Nader/Gonzalez, but you are concerned about throwing Michigan to the war hawk McCain.
What to do?
Pick up the phone and call a friend, or a relative, who is a moderate anti-Iraq war Republican.
That Republican would like to vote for the anti-war Nader/Gonzalez ticket, but he is concerned that if he does, he will tilt the election to Obama.
You get together with that Republican and both of you decide to vote for Nader/Gonzalez.
That way, Nader/Gonzalez get two votes, McCain and Obama get zero.
Nothing "spoiled."
This idea is called VotePact.
We like it.
Why?
It gives Nader/Gonzalez a chance to win in swing states.
(In non-swing states, you can vote for Nader/Gonzalez straight up without fear of "spoiling" anything.)
If VotePact catches on in Michigan, Nader/Gonzalez could move from 10 percent to 20 percent.
And with Nader/Gonzalez at 20 percent, people will sense a three way race.
Get Nader and Gonzalez on the debates, and 30 percent becomes possible.
And 30 percent is striking range in a three-way race.
So, anytime you run into someone who is concerned about "spoiling" it for Obama or McCain, tell them about VotePact.
Together, we are making a difference.
Onward
The Nader Team
PS: If you are in the New York City area tonight, please join with us at a rally for Nader/Gonzalez at Symphony Space.
Hope to see you there.

PS: We invite your comments to the blog.
Your contribution could be doubled. Public campaign financing may match your contribution total up to $250.
And a comment -- not on the Nader campaign -- from me. If you're unhappy -- as several people are -- that you e-mail someone in this community and they respond at their own sites, too bad. We're not eager to reply to e-mails in private. FAIR forwarded an e-mail and if FAIR will do it, why should we trust anyone?
There's no reason to offer something in private. We'll offer it publicly. And I am sick of e-mails coming into this site, to me, complaining about what someone else did at their own site. No, I'm not talking about members of the community complaining, I'm talking about the beggars of
Panhandle Media
. I've got complaints on
Mike
this morning (that he and I have already laughed about the phone) and it's always something. As a general rule, if you can't take public criticism, don't get into public life. A thought to add on, don't drop your trash outside my door. Mike doesn't take orders from me. He's a grown adult. You don't like what he wrote, write him. He'll laugh at you (as he should). But too many people are utilizing the public e-mail account of this site for issues not related to this site. You want to write
Kat
,
Ruth
,
Isaiah
or myself? Fine. Everyone else has their own e-mail addresses posted at their site. I don't like tattle tales and if the beggars were to tattle in person, I would steer them to a corner where they could take a time-out and think about their own actions.
These are community sites:
The Third Estate Sunday Review
(Jim, Dona, Ty, Jess, Ava and me)
Rebecca's
Sex and Politics and Screeds and Attitude
;Cedric's
Cedric's Big Mix
;Kat's
Kat's Korner
;Betty's
Thomas Friedman is a Great Man
;Mike's
Mikey Likes It!
;Elaine's
Like Maria Said Paz
;Wally's
The Daily Jot
;Trina's
Trina's Kitchen
;Ruth's
Ruth's Report
;and Marcia's
SICKOFITRADLZ
And no matter how loudly you whine in an e-mail, I'm not going to side with you over them. Whine on, beggars, whine on.
It was way too hard...it was way too tough...
On this she had not bargained
But she was like some missionary dancing to the beat of some
man's ancient drum
And she tries hard to tell this story...but it's a hard one to tell
She consults her book of Miracles...
Cry...and the wind says fly on
Well now you're on your own
You're back out on the road again for a million reasons
Well you're back out on the road again
And you try to tie together some connections...
You get some ribbons and some bows and get back out on the road again
-- "Juliet," words and music by
Stevie Nicks
, originally on her
The Other Side of the Mirror
The e-mail address for this site is
common_ills@yahoo.com
.
iraq
the new york times
andrew e. kramer
andy rowell
marcus george
antonia juhasz
like maria said paz
kats korner
sex and politics and screeds and attitude
trinas kitchen
the daily jot
cedrics big mix
mikey likes it
thomas friedman is a great man
ruths report
sickofitradlz
the third estate sunday review