"Part of what I'd like to do is talk to the prime minister and see what still remains to be done, what still needs to be closed," Rice said before meeting with Maliki at his home in the fortified Green Zone here. "Nothing will be signed today."
American and Iraqi negotiators have been saying for weeks that they are close to an agreement, but that Maliki has held up the process over his concern that the agreement doesn't give Iraq enough authority over U.S. troop conduct.
The agreement foresees U.S. combat troops leaving Iraq by 2011, Iraqi Foreign Minister Hoshyar Zebari has said. Other Iraqi officials have told McClatchy that the agreement also calls for U.S. forces to pull out of Iraqi cities by June 30, 2009.
One senior Iraqi official said Maliki has been the primary obstacle to completing the agreement. Every time negotiators seem close to conlucding the talks, Maliki raises a new issue, the official said.
The above is from Jonathan S. Landy's "
Rice meets with Iraq's Maliki on U.S. troop agreement
" (
McClatchy Newspapers
). Before we get to anything else, US House Representative Stephanie Tubb Jones has died.
Pictured below
with Senator Hillary Clinton for the "Count Every Vote" initiative, Tubbs Jones was a courageous member of the House who stood up for the voters and for the vote in January 2005 (along with US Senator Barbara Boxer). The
New York Times
had long ridiculed questions of voter fraud in the 2000 and 2004 elections. Tubbs Jones and Boxer's stand meant the press had to take it a little more seriously.
Congresswoman Tubbs Jones and Senator Clinton reintroduce their Count Every Vote Legislation.
Stephanie Tubbs Jones was a judge, a prosecutor and, following the November 1998 elections, a member of the House of Representatives.
Back to Iraq, Alexandra Zavis reports on Baquba in "
Grooming a female suicide bomber
" (
Los Angeles Times
):

The ethnically and religiously mixed province east of Baghdad has long been a center of Al Qaeda in Iraq, which formed alliances here with Sunni tribesmen and nationalist political groups against Shiite militants. This is a world in which few women are educated, loyalty to family and tribe are paramount, and fear permeates relations with outsiders.
Al Qaeda in Iraq leaders, known as emirs, managed to recruit entire clans to their cause by marrying into the families here. The women forced into these marriages are often passed around among emirs, said Saja Quadouri, who sits on the provincial council's security committee and is its only female member.
"They will get married to more than one man and get pregnant without knowing who the father is," she said. "Eventually, due to despair, hopelessness and fear, they get exploited to commit such crimes, as they become unwanted by society."
Other women are persuaded to perform a suicide mission to avenge the loss of a father, husband or brother, said a U.S. intelligence analyst, who asked not to be identified for security reasons. In tribal societies, the loss of male relatives typically leaves women without protection or means of survival.
Asma's marriage collapsed shortly before her husband died in a shootout; she says she does not know who killed him. Her father has spent the last three years in a U.S. detention facility on terrorism charges.
The article makes sweeping generalizations and suffers from what is basically an admission that guilt or innocence doesn't matter. It damn well does. When women are being imprisoned, guilt or innocence damn well matters. (I'm referring to the entire approach of the article but specifically this sentence: "Although it remains far from clear whether the women committed the crimes of which they were accused, the tale they shared from their barren cell offers a peek into the violent and claustrophobic world in which women are groomed to become suicide bombers.")
The
New York Times
files four articles from Iraq. The strongest is Campbell Robertson and James Glanz' "
Iraqi Figures Back U.S. View on Low Spending for Reconstruction
" (A7) which tells you that the Iraqi Finance Ministry claims (in figures they handed over to the Times as well as in statements to the paper) that they are spending 57% "of their annual reconstruction budget"; however, the paper's examination of the figures finds that 18% is the better number and if monies for the Kudistan region (which have not been spent, only allocated) is removed, the figure "drops to 8.7 percent." Stephen Farrell offers "
U.N. Readies 'Grand Deal' to Resolve Iraq's Dispute Over Kirkuk
" (A8) and the main topic was covered in yesterday's snapshot so we'll focus on the more interesting section buried at the end:
Meanwhile Prime Minister Fouad Siniora of Lebanon arrived in Baghdad on Wednesday, in the footsteps of King Abdullah II of Jordan, who earlier this month became the first Arab leader to visit Iraq since the American-led 2003 invasion.
Mr. Siniora appeared with Prime Minister Nuri Kamal al-Maliki at a news conference about an agreement to export oil to Lebanon. Iraqi oil was also prominent on King Abdullah's agenda.
Stephen Farrell and Thom Shanker's "
Draft of Pact Set on Forces From U.S. On Iraq Soil
:"
The difficulty in reaching a final agreement reflects its importance to Iraq and the United States. Technically, the document will provide the legal basis for American troops to remain in Iraq beyond 2008. But it will also amount to a political document, spelling out for the people of each nation the most difficult issues of this war, notably how long American troops will remain.
The main sticking points, in fact, are also the most delicate: setting a timeline for American troops to leave and declaring whether American forces would be granted immunity from Iraqi prosecution.
In Baghdad, Hoshyar Zebari, Iraq's foreign minister, said that the text of a draft had been agreed upon by negotiators on the technical and legal teams who had worked on it since March 11. But he cautioned that this fell short of a final agreement because it had yet to be approved by the political leadership in either country, including Prime Minister Nuri Kamal al-Maliki.
Anything that comes out will be a draft. (A point even the White House has made this week -- on Tuesday -- but is somehow lost by the press.) The fourth article? We'll address it in the next entry.
Lolis
notes
this from Team Nader
:
Kilmer, Sheehan, Morello with Nader in Denver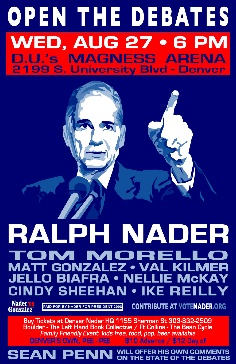 As late as yesterday, we didn't think we had a chance.
For the first time in this campaign, we were at serious risk of missing a self-imposed financial goal.
Then, yesterday, you came through.
And now, we're back in it.
Now, we're just shy of $42,000.
And we have a chance to hit our goal of $50,000 by 11:59 pm tonight.
But we're going to have to bust a gut to get there.


All out.
All day.
All night.
So, we are calling on 900 of you -- our most loyal supporters -- to donate $10 each now to push us over the top.
(900 times $10 equals $9,000, right?)
And for every $10 contribution you donate today, we will give free admission to a needy student who wants to come to hear Ralph Nader at our Open the Debates Super Rally at the University of Denver's Magness Arena. ($10 in advance, $12 at the door.)
Ralph will be joined by his running mate Matt Gonzalez.
And -- breaking news -- a star studded line-up will join Ralph and Matt in a call to open up the Presidential debates.
Featuring -- Val Kilmer, Cindy Sheehan and Rage Against the Machine's Tom Morello, Jello Biafra, Nellie McKay, and Ike Reilly.
So, please -- give a student a chance to attend this historic event.
Donate $10 now -- or whatever you can afford -- and send a student to raise the banner in Denver -- Open the Presidential Debates, More Voices, More Choices.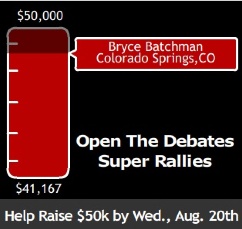 Keep an eye on our widget throughout the day.
Watch your name go up in lights.
And see if we blast through our goal.
And let's get it done.
Together, we will not be denied.
Onward.
The Nader Team.
PS: Last chance to get our two DVD Sicko/Awake from Your Slumber package. If you donate $100 or more by tomorrow night, we will send you the best argument yet made for single payer Medicare for all health insurance -- the DVD Sicko. Plus, we'll send Awake from Your Slumber -- the DVD starring Ralph Nader and Patti Smith -- autographed by Ralph.


The e-mail address for this site is
common_ills@yahoo.com
.
iraq
jonathan s. landay
mcclatchy newspapers
alexandra zavis
the los angeles times
stephen farrell
the new york times
thom shanker
campbell robertson
james glanz