Julian E. Barnes' "
$100-million Iraq sewer project a failure, report says
" (
Los Angeles Times
) covers the $100 million US tax dollars spent on doing nothing in Falluja:
Sewage continues to run in the streets, and the Special Inspector General for Iraq Reconstruction found that the system may never be properly connected to individual homes, lacks the necessary fuel to operate and is unlikely to ever cover the full city.
[. . .]
Once scheduled for completion in January 2006, the project, which had a budget of $32.5-million, now is supposed to be finished in April, while costs have shot up to $98 million.
It was originally to cover all 24,400 dwellings in Fallouja, but will serve only 9,300 houses, about 38% of the city, at a cost of more than $10,000 a home. But despite all the money allocated, no funds have been set aside to connect the homes to the sewer system.
Kim Gamel and Pauline Jenkins' "
PROMISES, PROMISES: Report details missteps in costly US-backed sewage project in Fallujah
" (
AP
) also addresses the issue:
The report describes U.S. Embassy officials frozen in "indecision" over how to finish and pay for the project. Last Nov. 2, "after more than 15 months of meetings, briefing charts, official memorandums, and countless e-mail exchanges," the report says, the officials decided to terminate outstanding contracts that were to be paid for by Iraqis and complete the remaining work with U.S. money, but make the project smaller.
[. . .]
The project to build Fallujah a treatment plant, pipelines, pumping stations and related facilities originally was to cost $32.5 million, a price now at $98 million. Started in July 2004, it was to completed in 18 months, by January 2006, and serve the entire city. The report by Inspector General Stuart Bowen said it now will take some 56 months in all and serve only 9,300 homes of the planned 24,400, or about 38 percent of Fallujah's residents.
Ernesto London (

Washington Post

) adds
, "South Carolina-based FluorAMEC began work in July 2004. By September 2005, amid concerns over delays and unforeseen costs, the contract was terminated. U.S. officials awarded 45 contracts to Iraqi companies to finish the work. The report does not allege that money was stolen and does not fault FluorAMEC."
How bad is Phyllis Bennis' "
US-Iraq deal awash in 'wiggle words'
" (
Asia Times
)? It might not be bad at all. I just may be damn sick of those who refuse to speak out (yes, Phyllis, choosing Iraqi lives over Afghani ones is silence and it does have a cost). Here's a sample:

The goal is to create an agreement between Washington and Baghdad that would replace that mandate. Even The New York Times agrees that if there is no agreement in place after December 31, and the Security Council has not extended the mandate, the US troops occupying Iraq would have no legal basis for their presence; legally, they would have to be pulled back to their bases and quickly withdrawn from the country.
Uh, even the
New York Times
? See, Bennis is all over the place, grass hopping from one crisis to another. Who gives a ___ what
NYT
says? The Democratic vice presidential candidate said that this year in an open session he chaired. That trumps the Times. He was far from the only one saying that. But Bennis is spread so thin that she seems to miss a great deal. Or maybe she's afraid citing Joe Biden will lead to a smack down from Tom Hayden who loathes Biden? I don't know. It's past time Phyllis started acting like a grown woman. The article doesn't do it for me, maybe it will for you. Again,
here's the link
. If it were trash, it wouldn't get one.
Remember
WBAI
today features
Judy Collins
. Collins and Kenny White appear on Janet Coleman and David Dozer's
Cat Radio Cafe
along with playwright Shem Bitterman. That begins airing (and streaming) at 2:00 p.m. EST.
Bonnie
e-mails to remind me to note that
Isaiah
's The World Today Just Nuts "
Me, Joe Biden
" went up last night. The comic features GOP vice presidential candidate Sarah Palin and Democratic vice presidential candidate Joe Biden. Staying with the presidential race,
Cynthia McKinney
is the Green Party presidential candidate, Rose Clemente is her running mate. Cynthia campaigns in Washington state today:
Monday, October 27, 2008
* 11am - 12:30pm
"The Power of Student Movements: How to Use Your Campus as a Tool to Change the World!"
Broadway Performance Hall
Broadway at Pine Street, Seattle
The public is invited.
Ms. McKinney will address the growing concerns of students, the need for student leadership, and how students can organize on campus to engage in and impact social justice struggles and make meaningful contributions to communities outside school. This event will be hosted by the Black Student Union of Seattle Central Community College.
Ralph Nader is the independent presidential candidate and Matt Gonzalez is his running mate.
Marcus
notes
this from Team Nader
:
Some of Our Best Videos thus Far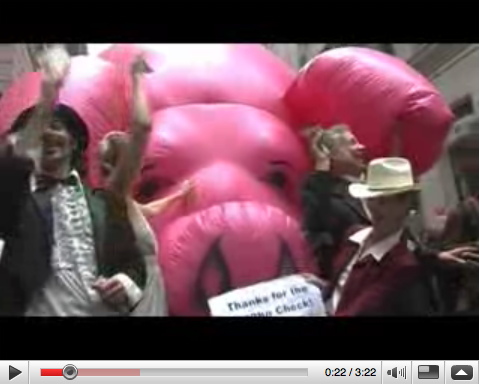 We wanted to give you an easy place to find some of the best videos we've made for the Nader/Gonzalez '08 campaign.
Now's the time to start sending the ones that you like best to your friends, family, and coworkers.
Give them a reason to check out www.votenader.org.

There are many other videos on our YouTube page. Please take some time this week to visit.
Many single issue videos are there as well.

We all have to get the word out!

Ralph Nader on Wall Street DVD! Now on Sale!

Nader Press Corps on the Road

7 Things You Can't Say in '08: In Memory of George Carlin

Tom Morello: This Land

Three Way Presidential Debate: Obama, McCain, and Nader

Vice-Presidential Candidate Matt Gonzalez on Biden-Palin "Debate"

Three Way Vice Presidential Debate: Palin, Biden, Gonzalez

Society of Apathetics: Start Here (Interactive)

Why I Support Nader: Ashley Sanders


Onward to Election Day!

The Nader Video Team


Vernon
notes
these events for the Republican presidential ticket of John McCain and Sarah Palin
:
10/27/2008 10:00:00 AM - Fredericksburg, VA
Please join Governor Sarah Palin for a Road to Victory Rally in Fredericksburg, VA on Monday October 27th.
---
10/27/2008 10:45:00 AM - Kettering, OH
Please join Senator John McCain for a Road to Victory Rally in Kettering, OH on Monday October 27th.
---
10/27/2008 3:30:00 PM - Salem, VA
Please join Governor Sarah Palin for a Road to Victory Rally in Roanoke, VA on Monday October 27th.
---
10/27/2008 4:30:00 PM - Pottsville, PA
Please join Senator John McCain for a Road to Victory Rally on Monday October 27th in Pottsville, PA.
---
10/28/2008 7:00:00 AM - Hershey , PA
Please join John McCain & Sarah Palin for a Road to Victory Rally in Hershey, PA on Tuesday October 28th.
---
10/28/2008 10:15:00 AM - Quakertown, PA
John McCain and Sarah Palin attend a Road to Victory Rally with John McCain and Sarah Palin.
---
10/28/2008 2:00:00 PM - Fayetteville, NC
Please join Senator John McCain and Special Guest Country Singer Hank Williams Jr. for a Road to Victory Rally in Fayetteville, NC on Tuesday October 28th.
---
10/28/2008 2:15:00 PM - Shippensburg, PA
Please join Governor Sarah Palin for a Road to Victory Rally in Shippensburg, PA on Tuesday October 28th.
---
10/28/2008 6:00:00 PM - University Park, PA
Gov. Sarah Palin attends a Road to Victory Rally in State College, PA with special guest Hank Williams Jr.
John and Cindy McCain have four children. Daughter Meghan McCain has her own website (
McCainBloggette.com
) and I am noting
this from it
:
We had a really busy day in Colorado last week. Our schedule was packed with TV interviews, stops at local HQ offices to thank supporters and even a few book signings were thrown in for good measure. Through it all, it never ceases to amaze me how wonderful everyone has been. I can't thank you all enough for the work you're doing to get Dad elected. I know it sometimes seems like an uphill battle, but as anyone who has followed my dad knows, he always loves proving the experts wrong. The best surprise of the day was catching up with Mom at our hotel where she surprised me with this really cute jacket for my birthday. As we head into the final week, stay tuned. There will be some surprising things ahead!
You can see some wonderful photos at the link and
click here to find out how Meghan spent her birthday Thursday
. (As disclosed before, I know and like Cindy. When possible, we'll note Meghan's blogging.)
The e-mail address for this site is
common_ills@yahoo.com
.
julian e. barnes
the los angeles times
phyllis bennis
the washington post
ernesto londono
wbai
cat radio cafe
janet coleman
judy collins
david dozer
the world today just nuts