This morning,
Amy Goodman (Democracy Now! -- link is text, audio and video) declared
, "A weekend of violence in
Iraq
has left at least 120 people dead. At least 104 were killed on Saturday in one of Iraq's deadliest days this year." 148 is the figure
Iraq Body Count
gives. They are the established metric for counting deaths in Iraq.
KUNA notes
the France's Foreign Ministry issued a statement condemning the attacks and noting "deep concern with the spiral of violence which has hit all the population in Iraq."
Petra notes
the kingdom of Jordan has condemned the attack:
Minister of State for Media Affairs and Communications Mohammed Momani reiterated Jordan's position, which rejects all acts of terrorism and violence, regardless of the motives and sources. He also deplored the targeting of innocent civilians in such attacks.
Momani, who is also the government spokesman, expressed the Kingdom's solidarity with the peoples of Iraq, Pakistan and Kenya in facing terrorism.
Of course, the US State Dept and White House have said nothing on the violence but they still haven't made time to even issue a statement congratulating the KRG on Saturday's elections.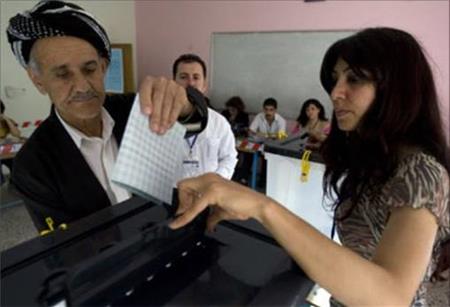 Saturday
, 1,129 candidates competed for 111 seats and over a million people voted in Erbil, Sulaimaniya and Dahuk. The voting took place without incident.
KRG Prime Minister
Nechervan Barzani and his wife Nabila Barzani (pictured below) were among the first to vote in Erbil
Saturday morning.
Ma'ad Fayad (Asharq Al-Awsat) reports today
:
The Iraqi Independent High Electoral Commission (IHEC) announced that approximately 73.9 percent of the autonomous region's population turned out to vote, with Duhok recording the highest turnout at 76 percent. Approximately 2.88 million people were eligible to vote.
The UN secretary-general's special representative for Iraq, George Boston, praised Kurdistan's high voter turnout.
Meanwhile, exit polls showed that the Kurdistan Democratic Party (KDP), led by KRG president Massoud Barzani, will likely secure the most votes. They are followed by Nawshirwan Mustafa's Gorran Party (Movement for Change), and then the Patriotic Union of Kurdistan, the party of Iraqi president Jalal Talabani.
Rudaw adds
:
With final results from Saturday's parliamentary elections in Iraq's Kurdistan Region still to come, the Patriotic Union of Kurdistan (PUK) has accepted defeat.
"Though we still have to wait to see the final results of the election, we are made anxious by the initial results," read a statement that followed a meeting Sunday of the PUK's political bureau.
"The early results conflict with the PUK's history of struggle, yet we accept the results," the party said after the meeting, which was headed by deputy secretary general Kosrat Rasul.
The results so far show that the PUK is behind Gorran by around a quarter million votes in Sulaimani.
Prashant Rao went to the KRG to cover the elections for AFP. His latest Tweets on the election:
World Bulletin adds
that while the KDP celebrated, "On Sunday evening, PUK officials met under leadership of party's Deputy Secretary General Kosrat Rasul to evaluate the results." The plan is for them to meet up again this weekend. It is highly unlikely that they will wait that long, especially as the results become official and as criticism of the PUK's campaign strategy (emphasizing Jalal Talabani in all their campaign material despite the fact that he has not even been in Iraq for a single day this year) mounts. I'd be surprised if they could make it until Friday without holding a meeting. If they do wait until the weekend, look for those wanting Talabani's post (President of Iraq, as much as leader of the PUK) to already implement plans to seize it.
In fairness to those who wish to seize leadership, someone obviously should.
You do not go easily from one of two dominant parties to defeated by a newly created political party. And if that happens, you do not make the situation worse by treating it as no big deal. This is an emergency situation for the PUK and if leadership honestly believes they can meet on Sunday and not meet again until this weekend, they lack a sense of urgency and need to be replaced.
Reminder,
Kat
's "
Kat's Korner: Cher's Closer To Perfection
" went up yesterday.
The e-mail address for this site is
common_ills@yahoo.com
.
iraq
amy goodman
democracy now
iraq body count
petra
kuna
asharq al-awsat
rudaw
maad fayad
afp
prashant rao
world bulletin
iraq
iraq
iraq
iraq
iraq
iraq
iraq
iraq
iraq
iraq
iraq
iraq
iraq
iraq
iraq
iraq
iraq
iraq
iraq
iraq
iraq
iraq
iraq
iraq
iraq
iraq
iraq
iraq
iraq
iraq
iraq
iraq
iraq
iraq
iraq
iraq
iraq
iraq
iraq
iraq
iraq
iraq
iraq
iraq
iraq
iraq
iraq
iraq
iraq
iraq
iraq
iraq
iraq
iraq
iraq
iraq
iraq
iraq