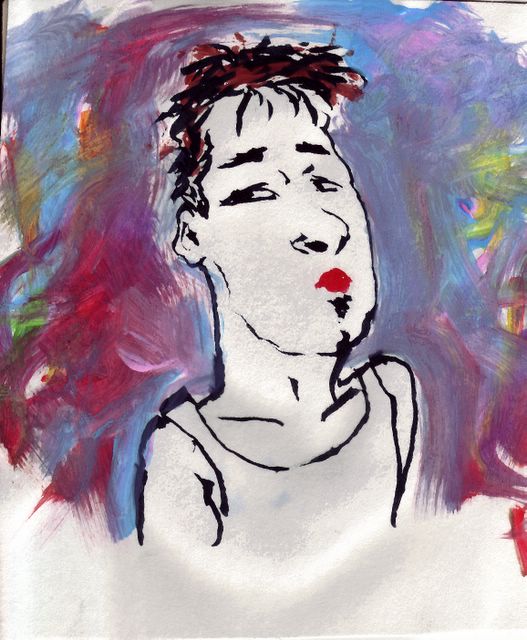 A Colorado Springs soldier thought he had a deal with the U.S. Army on Tuesday - return from Vancouver, British Columbia, after being absent without leave for two years and get a discharge in three to five days.
Instead, he was shipped from Fort Knox, Ky., to Fort Leonard Wood, Mo., possibly to face a full court-martial.
The soldier, 23- year-old Kyle Snyder, has been working as a welder and living in Canada for 18 months to avoid a second deployment to Iraq.
Snyder, a former combat engineer, believed he was going to Iraq to help rebuild the country and quickly became disillusioned with the mission.
"He gets to Iraq and is asked to point guns at children," said attorney Jim Fennerty, who represents Snyder. "It's not what he signed up for."
Snyder said he began to turn against the war when he saw an innocent Iraqi man seriously wounded by American gunfire. He believed the shooting was not properly investigated.
"I don't see a lot of positive things coming from this war," Snyder told reporters Tuesday morning at a Louis-ville church.
The above is from David Montero's "
Deal fails for AWOL soldier
" (
Rocky Mountain News
). The same military that lied to Kyle Snyder to get him to sign up, lied to him again.
Ruth wrote
about the need for coverage of war resisters (I won't say 'more coverage' since the reality, as
Ruth
explains, is that there is NO coverage for most the part in independent media). But little media can't be bothered. Right now they're too busy gas bagging and going to the horse races on the election. This summer they took six weeks off from covering anything Iraq related. It doesn't matter what the topic is, anything will do, so long as it's not about Iraq they will write word after word. They will gas bag. But when independent media's needed to cover the peace movement or war resistance, with few exceptions, they are nowhere to be found. Then FAIR wants to issue a study about how
The NewsHour
on PBS didn't offer any peace activists as guests for a six month period when the reality is FAIR's
CounterSpin
didn't offer any peace activist as a guest during the same six months. (See "
Are You On CounterSpin's Guest List?
")
They seem to think they're doing a better job than they're actually doing. From big media, the
Associated Press
, here's a section of "
U.S. soldier who fled to Canada surrenders
:"
. . . Kyle Snyder called his lawyer Tuesday afternoon to say the army wants to send him back to his original unit at Fort Leonard Wood, Mo., said the lawyer, James Fennerty of Chicago.
Snyder, a former combat engineer, left the United States in April 2005 while on leave to avoid a second deployment to Iraq.
Fennerty said he had reached a deal with army officials that would allow Snyder to be processed back into the army at Fort Knox and then be discharged. But he said Tuesday afternoon that the army wants to send Snyder back to his Missouri unit where commanders there can determine his future.
After arriving at Fort Knox Tuesday afternoon, Snyder refused to sign a form that would have hastened his return to his unit, said Fennerty, who negotiated the discharge of another war deserter from Kentucky earlier this month.
"We wouldn't have brought him back here if we knew this was going to happen,'' Fennerty said.
Here's today's hunch, all the gasbags from the left (faux and real) will weigh in on the White House attack on John Kerry yesterday. Now they won't anything of value because they don't appear a damn thing about Iraq. If they did, they'd did, you'd have seen more pieces like Wally's "
THE FAUX LEFT 'ADVISES' JOHN KERRY
" and Cedric's "
Taylor Marshall, advise yourself
" because that is the reality. That's the reality of how Steven D. Green got into the military. That's the reality of the military under Donald Rumsfled where they're currently working on implementing even more 'moral' waivers.
But they can't tell you about that because they haven't been paying attention to it.
Vanity Fair
has done a better job covering the reality of what Rumsfled (that's not a typo, it's his new name at this site) has done to the military than has independent media. John Kerry had nothing to apologize for. He was commenting on the reality of recruitment today under the lowered standards and the zeal to meet those quotas. That's been ongoing since the Bully Boy declared his illegal war.
But watch the same gasbags hide behind the military (maybe they'll hide behind the flag next week) and avoid dealing with the reality Kerry was addressing while they all weigh in that he shouldn't have noted what he noted (which is the obvious reality) while they also avoid covering Kyle Snyder.
On the heels of the 'summer break' from Iraq, the story of independent media in 2006 isn't a pretty one. Francisco noted that this summer. It's past time independent media stopped aspiring to the gas bags 'standards' of the chat & chews (which most of the copy appears to be an audition for) and started dealing with reality.
Marcia
notes that
Courage To Resist
posted this last night:
"At the end of the day, you have to ask yourself if this is something you can live with. It's your life and the choice is ultimately yours to make. I said NO and I will never regret it."--Kyle Snyder
Kyle Snyder turned himself in to Army authorities at Fort Knox, KY, Tuesday, October 31. Before turning himself in he held a press conference at 10am in nearby Louisville at Central Presbyterian Church where he continued to speak out against the war. Initial reports suggest that the Army may be reneging on a previously arranged deal with Snyders attorney, Jim Fennerty, to discharge him and may send him back to his unit! Donations are still needed for legal fees and other expenses. Please consider
donating
today!

AWOL Soldier surrenders at Ft. Knox
by Dylan T. Lovan, AP staff writer

Refusing to Fight: an interview with resister Kyle Snyder
by Karen Button, posted on Uruknet.info

Kyle Snyder speaks at Peace Arch Park August 13, 2006
The most recent U.S. "deserter" in Canada to go public, Kyle Snyder, speaks about his decision to take refuge from the Iraq War in Canada.
They'll be something else the gasbags will find to weigh in on today. There always is. But Kyle Snyder's story matters and so does Iraq. While the deaths pile up on all sides and the illegal war drags on, people need to start questioning where independent media's coverage is and has been?
The e-mail address for this site is
common_ills@yahoo.com
.
kyle snyder
david montero