Kamal was just 16 when gunmen snatched him off the streets of Baghdad, stuffed him in the trunk of a car and whisked him away to a house. But the real terror was about to begin.
The men realized he was gay, Kamal said, when he took his shirt off and they saw that his chest was shaved.
"They told me to take off my clothes to rape me or they would kill me immediately. This moment was the worst moment in my life," he said, weeping as he spoke of the 2005 ordeal.
"I was watching them taking off their clothes, preparing to rape me. I did not know what to do, so I started shouting loudly, 'Please do not do that! I will ask my family to give you whatever you want.'"
The above is from Frederik Pleitgen, Mohammed Tawfeeq and Wayne Drash's "
Gays in Iraq terrorized by threats, rape, murder
" (CNN) and, if you look really hard, you can find a few things that are news and are about Iraq. If you look really, really hard.
In terms of the papers, you're best skipping all but the New York Times. Want a lot of fluff about 'glamor' that ignores why Miramax, et al are 'helping' Kuridstand? Rush to the
Los Angeles Times
and take a garbage bag.
Richard A. Oppel Jr.'s "
8 Die in Iraq in Suicide Bombing, Apparently by Woman
" (
New York Times
) covers the bombing in Baquba yesterday:
If the explosion proves to have been carried out by a female suicide bomber it will be at least the 16th time that a woman has donned a bomb and exploded herself in Diyala Province since last year.
Wearing billowy, black head-to-toe garments, the female bombers have been able to conceal powerful explosives and slip into crowded areas too heavily guarded for a male suicide bomber to ease through undetected. While men often undergo physical searches, Islamic rules do not allow male security officers to pat down women.
It was not immediately clear how many of Mr. Dulaimi's guards and militia fighters were among the victims in Baquba. The dead also included two police officers, and six police officers were among the wounded. A local council member was also killed, according to an Iraqi security official.
Alissa J. Rubin covers
Iraqi collaborators with the US who are having immigration problems. We are not interested in that story. We will never be interested in that topic. If you are, there's a link. (And if you're confused, the widows, the children, the elderly, these huge, vast groups, have no advocates for them. The fact that the US military will advocate for the collaborators mean they have all the help they need.)
Returning to Oppel, he also contributes "
State Department Inspector to Investigate Texas Oil Company's Deal in Kurdistan
" which explores the continued attempts to get infomation about the deal Hunt Oil made with the Kurdistan region -- bypassing and undercutting the central government in Baghdad -- while the US State Dept did . . . what? Nothing? ". . . earlier this month a Congressional committee released internal e-mail messages and documents from the State Department and Hunt Oil that suggested that State Department officials did not try to dissuade Hunt Oil from signing the deal with the Kurds." State Dept Inspector General (acting), Harold W. Geisel has announced an investigation.
Turning to US politics, "
Why Workers World is endorsing Cynthia McKinney for president
" (
Workers World
):
Workers World newspaper in the past has supported the candidates of Workers World Party running for national office in the U.S. presidential elections and who have put forward a revolutionary socialist program. This time we are taking the unusual step of endorsing the candidacy of Cynthia McKinney because these are unique times and this is a unique candidate.
McKinney, a courageous Black woman and former U.S. Congresswoman from Georgia, has become one of the most militant leaders and voices for the U.S. left, progressive and Black movements.
Because of her militancy in the struggle against the war, the struggle to impeach Bush, as well as her struggle to expose the government's role in the displacement of survivors of Hurricane Katrina, she was branded too Black and too radical to walk the halls of Congress. She was pushed out, not once but twice, by the leadership of the Democratic Party. Last year, McKinney severed her ties to that party.
On July 12, McKinney and her running mate, activist Rosa Clemente, won the Green Party's nomination to run for president and vice-president, respectively. The Green Party's nomination will put McKinney on the ballot in about 20 states, which is no small thing in the U.S. where the ruling class has made it very hard for any electoral formation independent of, and even slightly to the left of, the two major ruling-class parties to get ballot status. The Green Party is not the reason why we are supporting McKinney.
McKinney's "Power to the People Campaign" gets most of its program from the draft program of the still-in-formation Reconstruction Party. Activists in New Orleans and the Gulf Coast, together with supporters nationwide, have been developing a Reconstruction Party as a mass political vehicle to fight for the reconstruction of the Gulf and justice for Katrina survivors.
The draft program of the Reconstruction Party is inspired by the program of the original Black Panther Party. The Reconstruction Party draft program calls for, among other things: self-determination for Black people, the relocation of displaced survivors of Katrina back to the Gulf, jobs, healthcare and housing, reparations for Black people, an end to racist terror and political repression, an end to the prison-industrial complex and an end to the war.
McKinney's campaign is laying the foundation for a radical coalition of Black, Latino, Asian and Indigenous activists, trade unionists, progressives and revolutionaries. This is important and timely.
We have no illusions regarding the difficulty that McKinney's campaign will face, because this presidential election is like none other before it.
The economic crisis and prospects for class struggle
Barack Obama is the first Black person to be the nominee of a ruling-class party, and he could be the first Black president of the U.S. Many are understandably excited about Obama's candidacy, especially Black people.
No matter how far Obama moves to the right, most likely Black people are going to come out in unprecedented numbers in November in the hopes of achieving something that very few thought possible a year ago. Apart from Black voters, many others will vote for Obama in November for reasons that are historically progressive. And some will not vote for Obama because of his name, because they think he's Muslim and because he's Black.
Race, or what some of us call the national question, is central to this year's election.
But then there is the negative side to this contradictory development. Should Obama win the election (a prospect that shouldn't be considered certain), the U.S. imperialist ruling class will have a gifted Black politician to help them save their troubled empire. An Obama presidency as the face of an imperialist state will not change anything fundamental, but on the surface it will mark a change, a new situation.
The U.S. capitalist class desperately needs to try something new to help them with their overlapping crises of deepening economic turmoil and imperialist war. In the board rooms of Wall Street, some are, no doubt, hoping that someone like Obama can delay or derail an uprising against widespread depression-level social conditions, or at least be the scapegoat for the unbearable misery that the ruling class has in store for workers.
The Obama phenomenon is more than anything else a sign that the period of political reaction, which has held the working class back and weakened revolutionary movements, organizations and their revolutionary ideas, is coming to an end.
No matter who wins the election, the magnitude of the spiraling crisis of world imperialism, centered here in the U.S., is going to challenge all the forces who share an anti-imperialist, working-class-centered socialist orientation to put aside narrow views, sectarian habits and small differences that have festered during a long and demoralizing period of world reaction.
The material conditions for resurgence of the working class may sooner than later reach levels not seen in this country since the 1930s. In order for the working-class movement to grow politically and organizationally, it will take time, experience in the class struggle, and the assistance of conscious political forces who are dedicated to reviving the struggle.
What is required of all of us who consider ourselves among the dedicated? At a minimum it is a higher level of clarity, seriousness, confidence, solidarity and coalition building.
McKinney's campaign is Black-led, anti-imperialist, working-class-centered and has a multinational radical base with the potential of unlimited growth.
Of course, we believe that the struggle should not be confined to the electoral arena, especially as the capitalist ruling class completely dominates the electoral process. We must be in the streets fighting the war, fighting foreclosures and evictions, fighting in solidarity with immigrant workers, etc. However, Workers World believes that supporting the McKinney campaign is a step forward towards the path that the movement needs to take.
Articles copyright 1995-2008 Workers World. Verbatim copying and distribution of this entire article is permitted in any medium without royalty provided this notice is preserved.
Workers World, 55 W. 17 St., NY, NY 10011
Email:
ww@workers.org
Subscribe
wwnews-subscribe@workersworld.net
Support independent news
http://www.workers.org/orders/donate.php
As noted in
yesterday's snapshot
:
Staying with women,
Cynthia McKinney
and Rosa Clemente (McKinney is the Green party presidential nominee, Clemente is her running mate) are not the first women of color ticket in a US presidential race. Amy Goodman repeated that nonsense on Monday (and we
called it out Monday
-- and
Jim
did with
the note he added to my morning entry
) and has refused to correct it. As
noted in the July 11th snapshot
and many times since: "
What About Our Daughters? explains
that, if McKinney is the nominee, this is the third time two women of color would be on the ticket with the first being Lenora Fulani and Maria Elizabeth Munoz in 1992 (New Alliance Party) and Monica Moorehead and Gloria La Riva (Workers World Party) in 1996." Workers World Party confirmed to Martha this week that, yes, Moorehead and La Riva were women of color and also noted that
the party's publication (Workers World) has endorsed a presidential candidate for this election
:
[. . .]
Thank you to
Martha
. Amy Goodman never issued a correction. She 'misses' a great deal such as efforts to attack democracy. Turning to BonusGate, where at least 50 Democrats conspired to keep Ralph Nader off the state's ballot in the 2004 eleciton. From John L. Micek's "
Nader wants feds to investigate state Democrats
" (
The Morning Call
):
Attorney General Tom Corbett, armed with a 74-page grand jury presentment two weeks ago, alleged that Democratic House employees worked to challenge the 51,273 signatures Nader and running mate Peter Camejo had gathered for access to the 2004 presidential ballot.
A dozen former and current House Democratic lawmakers and employees face theft, conspiracy and conflict of interest charges, partly for their alleged role in derailing Nader's campaign.
On Thursday, Nader's attorney, Oliver Hall of the Center for Competitive Democracy in Washington, D.C., took aim at House Majority Leader Bill
DeWeese's claims that he was unaware that his staff and his second-in-command, then-Democratic Whip Michael Veon, were engaged in allegedly illegal activity.
"Where was Bill DeWeese?" Hall asked. "He hasn't been indicted, but [former DeWeese chief of staff Michael] Manzo and Veon have. Attorney General Corbett has made clear that his investigation is ongoing, and we would urge him to focus on the role of Bill DeWeese. This needs to be clarified."
Charles Thompson's "
BONUS SCANDAL: Nader hits deceit in '04 fight on petition
" (
The Patriot-News
) continues the story:
Nader wants relief from an $81,102 penalty for legal costs following court battles over his presidential nomination petition in 2004. He said he will file a challenge with the state Supreme Court.
Nader said those damages should be dropped in light of criminal charges brought this month by Attorney General Tom Corbett against 12 people with ties to the state House Democratic caucus. Among allegations of illegal activities, Corbett said House Democratic staffers were deployed on state time in a successful effort to get Nader knocked off the ballot four years ago.
"This was one of the most fraudulent and deceitful exercises ever perpetrated on Pennsylvania voters," Nader said. He added that it was symptomatic of attempts to quash independent and small-party candidates across the nation.
And from Amy Worden's "
Nader to ask Pa. court to reopen presidential nomination case
" (
Philadelphia Inquirer
):
"According to the grand jury, millions of dollars in taxpayer funds, resources and state employees were illegally used for political campaign purposes - including to remove the Nader-Camejo ticket from the ballot," Nader said at a news conference here.
The Supreme Court in 2006 upheld a lower court order for Nader and his running mate, Peter Miguel Camejo, to pay the court costs.
In announcing the indictments of Rep. Sean Ramaley (D., Beaver), former House Minority Whip Mike Veon, and 10 former and current House Democratic staffers on July 10, Attorney General Tom Corbett described a "massive" effort by Democrats to oust Nader in order to help Democratic candidate John Kerry win Pennsylvania.
As many as 50 House staff members worked on a challenge to Nader's ballot petition, and more than half received state-funded bonuses, in part for their "Nader efforts," according to the grand jury report.
The grand jury report also cited Democratic efforts to bounce former Green Party candidate Carl Romanelli, who in 2006 challenged Democrat Bob Casey for a U.S. Senate seat, from the ballot. Last week, Romanelli asked the Supreme Court to reopen his ballot-access case on similar grounds.
Bonnie notes
this from the Nader Team
:
15 Dollars, 15 States, 15 Days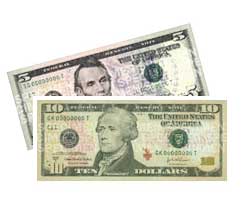 Drop fifteen dollars now on Nader/Gonzalez.
Why?
We now enter the most difficult and challenging ballot access stretch of the campaign.
We need to get on fifteen more states in fifteen days.
Last month, we laid out an ambitious ballot access plan.
Thanks to you, we have met stages one and two on time and on schedule.
Now, on to stage three -- 15 more states, a total of 30 states, by August 10 -- on our way to 45 states by September 15.
And we need to raise $100,000 by August 10 to fuel that drive and push us over the $2 million mark for the campaign.
Why is it important to put Ralph Nader on the ballot -- and get him into the Presidential debates this fall?
For one, because Nader is the only candidate who would take the bombing of Iran "off the table."
As Obama made clear yesterday in Israel, he's keeping the military option against Iran "on the table."
As would McCain.
And if you doubt the seriousness of the situation, check out Israeli historian Benny Morris' recent Op-Ed in the New York Times in which he predicts that Israel will bomb Iran within four to seven months.
Cooler heads must prevail.
While McCain and Obama are fueling the Israeli drive to bomb Iran, even some of their own advisors are warning about the disastrous consequences of such a policy.
Yesterday, Brent Scowcroft told the Israelis to "calm down" and Obama advisor Zbigniew Brzezinski said the "all options on the table" talk was "counterproductive." Brzezinski said he would tell Israel "don't do it."
That's of course why we need the strong Nader/Gonzalez off the table voice in the debates.
And the chances improve as we continue to poll at or above five percent -- see yesterday's NBC/WSJ poll here.
This was the third major poll putting us at five percent and above. (Remember, John Anderson and Ross Perot both got into Presidential debates because they met the then threshold of five percent.)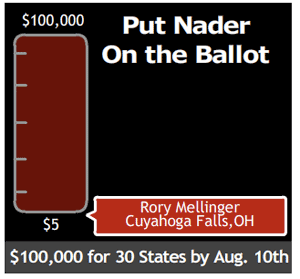 So, please, we need 1,000 of you, our loyal supporters, to hit the button now and contribute $15 each to kick off our drive to get to 30 states.
How will your generous donations help us on the ground?
Think about the more than 50 young at heart, dedicated road trippers working 10 and 12 hours, day after day -- working through blazing hot summer afternoons, ducking under covered awnings during heavy thunderstorms, and bringing the Nader/Gonzalez message to thousands of voters state by state.
We need your $15 donation to help buy gas for their rental cars, feed them, and help pay for thousands of photo copies.
We need your $15 donation to help buy Greyhound bus tickets, Amtrak tickets and airplane tickets.
Of course, we're always looking for one or two angels willing to max out and cover the "filing fees" -- like the one in West Virginia that will cost us $2,500.
How badly and urgently do we need your help?
Our New Hampshire crew needs to collect 4,000 signatures in 10 days -- that's 400 a day.
In Maine, starting Saturday, our crew has 12 days to collect 5,000 signatures.
Our people in Ralph's home state of Connecticut need to collect more than 700 signatures a day over the next 13 days.
In South Dakota, we need 1,500 signatures 10 days.
In Wyoming, we need 2,000 more signatures in 10 days.
In Virginia, we need to collect 600 signatures a day over the next couple of weeks.
In the Buckeye State, our Ohio crew needs to collect 11,000 signatures in the next couple of weeks -- 350 to 400 a day.
In short, our backs are up against the wall.
And the best way you can help get us on the ballot is to donate $15 now.
Help us lift off toward the debates in November.
Thank you for your generous support.
Together, we are shaking it up.
Onward
The Nader Team
The e-mail address for this site is
common_ills@yahoo.com
.
iraq
frederik pleitgen
mohammed tawfeeq
wayne drash
richard a. oppel jr.
the new york times
alissa j. rubin
workers world
john l. micek
charles thompson