If you've been paying attention this week, difficult due to a travelogue posing as news, Nancy A. Youssef's "
Iraqi forces aren't quite ready to take charge
" (
McClatchy Newspapers
) should have you remembering a boast earlier this week. From the article:
The troops mustered in darkness, relying for light on the headlamps of Iraqi Humvees, refurbished U.S. vehicles now crudely painted over with the red, white and black Iraqi flag. Some Iraqi soldiers weren't wearing armor. Fewer were wearing helmets. The brigade commander was riding in an unarmored pickup. His handgun was in its holster; his walking cane by his seat.
The 40-vehicle convoy was about to leave the base when the commander, Brig. Gen. Nabil Yassin Azadi, ordered everyone to stop. "Where is the map? How could you forget the map?" he screamed at his subordinates.
By the time they arrived at their destination, the city of Majir al Kabir, the sun led them in, and the militiamen whom they'd hoped to surprise had left, disappeared into the nearby marshes or perhaps across the border into Iran.
As you read on, you'll find that two women everyone agreed shouldn't be arrested were. Why? Because puppt of the occupation Nouri al-Maliki was having a fit. He wanted something to show for the raids, something to make himself look good. If it mean arresting two women (that no one thought were guilty), do it! The women would be released but it just goes to how a puppet is never about anything but show. Iraqi forces ready to take charge? Dropping back to
Tuesday's snapshot
:
Puppet of the occupation Nouri al-Maliki was in Berlin today where he met with German Chancellor Angela Merkel.
Deutsche Welle reports
al-Maliki declared, "Iraq is able to take the security situation into its own hands. We have achieved great success." It's an assertion that
Patrick Donahue (Bloomberg News) notes
and quotes him futher stating in the press conference with Merkel, "Iraq has the foundation and is capable of taking the security situation into its own hands. We can say with some pride that we're in the position and capable -- with our police and army and with our professional level -- to achieve that." However,
Nancy A. Youssef (McClatchy Newspapers) reports
that, in Baghdad Monday, Ali Dabbagh, al-Maliki's spokesperson, "announced that Iraq wants American combat troops to leave by the end of 2010." That would be 24 months after the next US president takes office. 24 months? Did al-Maliki say they were ready to takeover or not?
"Just this past week, we passed out of the U.S. Senate Banking Committee -- which is my committee -- a bill to call for divestment from Iran as a way of ratcheting up the pressure to ensure that they don't obtain a nuclear weapon," Obama said.
Why that's wrong: Obama is not a member of the Senate Banking, Housing and Urban Affairs Committee.
To be clear, Iraqi forces aren't ready. The US staying won't make them ready. But it's another lie (Iraqi forces are getting better!) that helps prolong the illegal war. Back to the US race for president.
The York Daily Record
reports
that Ralph Nader will be addressing BonusGate at 2:00 p.m. today "in the Capitol rotunda". This is about Democrats in Pennsylvania conspiring in 2004 to keep Nader off the ballot. If you're new to BonusGate, ask yourself why.
Click here
for the Pennsylvania Attorney General's press release. And ask why there's been no coverage of it from our leading 'alternative' media outlets? (Because they are
Panhandle Media
.) But Amy Goodman can make time for a sexist getting in bed with MoveOn and "Color of Change" -- the latter reveals the color is always: HATE WOMEN. Where are the 'feminist' 'leaders'? In the tank for Barack. Which is why you won't hear about it this week. (We're covering it at Third Sunday.
Wally
and
Cedric
already addressed it.) Remember, there are no standards. They disappeared at a tag-sale masquerading as a Barack fundraiser. On BonusGate, this is from Terry Madonna and Michael Young's "
State Legislature reels from bonus scandal
" (
GoErie.com
):
It has all the elements of a sensational fiction thriller -- an allusive title, "Bonus Gate," cold cash in the form of illicit bonuses handed out to both witting and unwitting accomplices, titillating sexual encounters, dirt surreptitiously uncovered and used on political enemies, and all mixed well with a cast of unlikely characters and comedic hijinks worthy of Hollywood's finest.
Are we describing the latest crime novel published just in time for summer reading on hot, crowded beaches? Alas, no! Hot reading this may be, but fictional it is not. It is all too real. And the real world crime alleged at its core has so far led to the indictments of 12 Pennsylvania House Democratic representatives and staffers.
Eddie
notes Alan Bernstein's "
Nader brings campaign to Houston on Sunday
" (
Houston Chronicle
):
Nader was unable to duplicate the feat this year, meaning he can glean Texas votes on Nov. 4 only as a write-in contender.
Regardless, he is scheduled to conduct a rally at 2 p.m. Sunday at the Hilton University of Houston hotel on the UH main campus.
He alleged that the two major political parties in Texas set the relatively early ballot petition deadline for May to eliminate competition.
"If it was in the marketplace, they would be both indicted and convicted under the anti-trust laws," he said.
Another problem in Texas (as members in that state have pointed out) is that Nader's petition was for a general election -- the general election in November. But a Texas law states that if you voted in a Texas primary (they held their primaries in March), you can't sign a petition for a general election canadidate.
Nader will also be in Utah. Cathy McKitrick's "
Rocky to open for Ralph Nader at U. of U.
" (
Salt Lake Tribune
) notes that
Nation
cover boy Rocky Anderson (Anderson was on the cover of the first issue of the weekly in 2007) will introduce Nader:
The longtime attorney, watchdog and consumer advocate brings his "People Fighting Back" campaign to the Beehive State July 31, with former Salt Lake City Mayor Rocky Anderson providing opening remarks.
"Ralph's a great friend, and I think he's done so much good for ordinary American people for decades," Anderson said. "I admire him immensely."
Third-party candidates help drive dialogue on issues that major party candidates often dodge, Anderson added.
And here's
the latest from Team Nader
: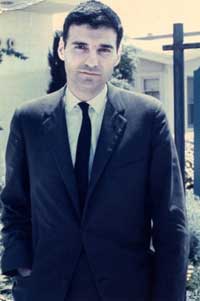 Yes, indeed.
You read that right.
You can win the grand prize -- a dinner with our main man -- Ralph Nader (at a mutually agreed time and place.)
How?
We're looking to build our e-mail list, to expand our grassroots support, and to spread the bedrock Nader/Gonzalez campaign message -- shift the power from the corporate controlled political parties back into the hands of the people.
So, we're having a contest.
The person who brings in the most e-mail sign-ups by August 7 at midnight to votenader.org wins.
Open to legal U.S. residents, 18 years or older at time of entry.
You invite your friends, family, neighbors and anyone else to sign up for Nader/Gonzalez updates.
The person who brings us the most e-mails wins the grand prize -- dinner with Ralph Nader.
(Check out our privacy policy here.)
During the course of the contest, you can keep track of how you are doing on our "Win Dinner With Ralph E-mail Contest Leaderboard."
It's sort of like kicking back on a Sunday afternoon and watching the PGA leaderboard.
Except that this isn't golf.
It's democracy.
And even if you don't grab the grand prize, there are a whole bunch of other prizes too.
Second prize is dinner with Ralph's VP running mate Matt Gonzalez (also at a mutually agreed time and place.)
Third prize is an invitation to our election night party in Washington, D.C.
Then the next seventeen people get an autographed copy of Unsafe at Any Speed and an autographed copy of the DVD An Unreasonable Man
Everyone who brings in at least 25 email sign-ups will receive a copy of the Declaration of Independence.
Are you ready to play?
You are?
Okay.
Get out your address book.
Start your e-mail engine.
And let 'er rip.
Click here to get started.
Remember, you can keep track of who's winning on our leaderboard.
(For the complete set of rules, click here.)
May the person who brings in the most e-mails to votenader.org win.
Onward
Sally Soriano,
Campaign Manager
Nader for President 2008
iraq
nancy a. youssef
mcclatchy newspapers
alan bernstein
the daily jot
cedrics big mix