In parliament Tuesday, there was no sign that negotiation will be easier than it was this summer. A loose but powerful coalition of Arab parties is wary of Kurdish control prior to elections; Kurds remain adamantly opposed to any law mandating power sharing in Kirkuk, as the current bill does.
"The struggle in Kirkuk is not only over who controls people but who controls the great natural wealth in Kirkuk," said Nassar al-Rubaei, a high-ranking member of the Shiite Sadrist party. "I do not support the stand of the Kurdistan Coalition in this matter."
Abdul Khalik Zengena, a Kurdish MP, said in meetings Wednesday, the coalition will argue for building on suggestions offered by United Nations special representative to Iraq Staffan de Mistura over the summer. According to Zengena, these include distributing Kirkuk's administrative posts equally among the region's Kurd, Arab and Turkmen populations and investigating voter rolls and postponing voting. Zengena said Kurds favored holding Kirkuk's elections along with the rest off the country's.
"The Kurds speak from the vantage point of controlling Kirkuk," countered Osama al-Nijiefi, of the secular Iraqiya Party. "Of course, based on their actions, they are ready to participate in elections to be held in Kirkuk . . . " He said he believed the power-sharing clause of the current bill will resolve the issue. "It will bring a situation of cooperation and understanding between components of the city, and that is why I will push for it," he said.
Another option floated Tuesday was simply to abandon the new election law and adopt an election law originally approved in 2005. But even that is problematic, said Hashim al-Taei of the Tawafuq Party, because of disagreements over closed versus open-list voting. "We didn't have accord about the former law, only opinions," he said. "And we still haven't discussed any of them."
That's Nicholas Spangler and Sahar Issa's "
Iraqi parliament still gridlocked over provincial-election law
" (
McClatchy Newspapers
) offering some reality regarding the still-postponed provincial elections in Iraq. For a more fictional and fanciful take refer to Campbell Robertson and Atheer Kakan's "
Iraqi Parliament Returns to Tackle Issue of Election Law
" (
New York Times
, A10) which makes for 12 highly creative paragraphs. Mahmoud al-Mashhadani is not liked by the
New York Times
who long ago falsely reported he was on his way out and that he would be arrested and blah, blah, blah he was hiding out in his home when the reality was he was out of the country on a diplomatic mission [see below for those who missed the never ending nonsense in real time]. So they whine about al-Mashadani and refuse to note he's the one steering today's meeting to resolve the issue of the Parliamentary elections. Equally cute is this: "Several options are on the table, lawmakers said. Parliament could adopt the plan drawn up by the United Nations last month, which would simply put aside the Kirkuk issue and let the election take place in the rest of the country." What? While the UN has said that could be considered, that's not the plan of the United Nations. The UN is working on a plan. Before we get to the plan, from
Monday's snapshot
:
On the legislative front,
Qassim Abdul-Zahra (

AP

) reports
that the Iraqi Parliament resumes sessions this week and that they hope to address both the issue of provincial elections and the treaties with the US but that provincial elections have been discussed while the the Parliament was on break and trial ballons floated were not embraced ("But weeks of private meetings and contacts among Sunni Arab, Shiite and Kurdish lawmakers have failed to produce any breakthrough on the issue, and it was unclear whether the bill would win speedy approval."). Sunday
Erica Goode (New York Times) reported
that the UN's special envoy to Iraq, Staffan de Mistura, had met with Grand Ayatollah Ali al-Sistani and that he "said later that in the meeting the two men discussed the problems that have blocked passage of a provincial election law by Iraq's Parliament." When the Parliament's regular session proved unable to pass a law for provinical elections, the United Nations announced they would study the issue, speak with various Iraqis and try to offer a proposal by the end of September of early October. Yet, as noted in the
September 4th snapshot
, Iraqi's Shi'ite vice president Adel Abdul-Mahdi has declared that provincial elections will take place regardless of whether a law is passed or not.
Why was Staffan de Mistura meeting with al-Sistani? Because the UN is working on a plan -- they have not yet presented a plan. From
Hurriyet
's "
U.N. hopes for 'grand deal' to resolve Iraq's Kirkuk
" August 21st:
The United Nations will publish an analysis of territory disputes between Iraq's Kurd, Arab and Turkmen communities by October in a bid for a "grand deal" to end tension over Kirkuk, its Iraq mission chief said on Wednesday.
"We will present between September and October options for a grand deal for the disputed areas including Kirkuk, which is the hottest issue in Iraq these days," said Staffan de Mistura, representative in Iraq for U.N. Secretary General Ban Ki-moon.
Twelve regions in northern Iraq, including oil-rich Kirkuk province, are currently disputed by various ethnic sects.
The "grand deal" would be the plan and it is still being worked on.
Mahmoud al-Mashhadani is the Speaker of Iraq's Parliament. For those who missed the propaganda attacks on him that have been ongoing for over two years now, we'll dip back into the recent past. From a
Sept. 25, 2006 entry
:
Richard A. Oppel and Abdul Razzaq al-Saiedi take a look at the delay (it's not stopped, just delayed) in the move from nation to federation in "Iraqis to Debate Bill on Creating Autonomous States:"

Moreover, Sunni negotiators emphasized that they did not agree to support the legislation that would be introduced this week but only to allow it to be debated, said Dhafir al-Ani, a leading Sunni lawmaker. "The issue is just to consider it and go with the process," Mr. Ani said.
The deal does allow supporters to put the issue before Parliament with a promise from rivals to debate the issue in good faith. When the bill was brought up earlier, it spurred an acrimonious fight. Mahmoud Mashhadani, the speaker of Parliament and a Sunni Arab, accused supporters of trying to sneak the bill past him, while other Sunni legislators said they had been double-crossed.
The political progress came as violence continued throughout Iraq. Two marines were killed as a result of "enemy action" in Anbar Province on Sunday, the United States military said.

The (US) administration is still kicking themselves over their failed attempt to oust al-Mashhadani. They almost pulled it off. Big media reported the 'shame' and left you with the impression that he was off licking his wounds in private while the parliament was in their August recess. (Little media? This was August, there was no interest in Iraq.) Reality was that he was off in Jordan working on trade negotiations. Reality is that he's still around. Reality is that the administration's plan for a (physically) divided Iraq have to wait a little longer. (They despise al-Mashhadani for a number of reasons including the statements he made preceeding the puppet of the occupation's visit to DC where al-Maliki parroted the Bully Boy. al-Mashhadani's statements included: "Just get your hands off Iraq and the Iraqi people and Muslim countries, and everything will be all right. What has been done in Iraq is a kind of butchery of the Iraqi people." -- and they were made at a UN conference on July 22nd -- click here for Al Jazeera's report.)
And it wasn't just the
New York Times
pushing that nonsense. From the
August 17, 2006 snapshot
:
Moving to an item a friend's wanted noted for the last two days: Where is Mahmoud al-Mashhadani? On Tuesday, Mahmoud al-Mashhadani was 'the' news in many Iraq reports. Was he on his way out? One report noted that al-Mashhadani didn't return a phone call -- why was that? Marie Cocco (Truthdig) offers today that he's "openly toying with relinquishing his post". From where? From where is he openly toying with the idea? Juan Cole (Salon) offers that "when the Iraqi parliament reconvenes next month, the first item on the agenda will be firing Mashhadani." Cole feels that al-Mashhadani "has put his foot in his mouth too many times." al-Masshadani may very well be on the way out next month but right now he is in Jordan working on a trade agreement. It's an interesting part of the story left out of the mainstream media's he's-so-out-of-here narrative. Whether or not he remains speaker after the parliament reconvenes may be influenced by what's going on in Jordan.
We could go on and on. al-Mashhadani clearly bothers the White House and he has been the subject of numerous rumors intended to weaken his position. Despite (repeated) reports that he would be forced out, stepping down, arrested, etc., he remains the Speaker.
Ralph Nader is the independent presidential candidate and
he will be taking part in a press conference this morning
:
Ralph Nader, Ron Paul Press Conference This Morning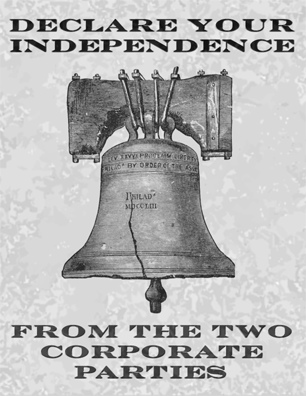 Drop $10 on Nader/Gonzalez now.

Why?
It's September 10.
And we're calling it Independents Day.
The day when Ron Paul and Ralph Nader will join together.
At the National Press Club in Washington, D.C.
With other independent minded candidates.


To call out the two party system.
Watch it on C-Span. (Check schedule here)
And on Thursday, Ralph Nader will appear on CNN with Lou Dobbs for his Independent Convention.
Over the past month, the Democrats and Republicans had their convention.
This week, we're having ours.
With Ron Paul.
And Lou Dobbs.
Nader/Gonzalez will be on 45 ballots on election day.
We're positioned to bring it home.
So, drop a 10 spot now on Nader/Gonzalez.
Help push our Get Out the Vote Fund to $80,000 by September 17.

(By the way, on day one -- yesterday -- you pushed us over $12,000. What a start!)
Now, declare your independence from the two parties.
Donate ten dollars to Nader/Gonzalez.
Then watch Ralph Nader and Ron Paul on C-Span today and Ralph Nader on Lou Dobbs Thursday.


Onward to November.
The Nader Team
PS: Remember, if you give $100 or more now, we will send you In Pursuit of Justice, the 520-page book of essays by Ralph Nader -- essays on corporate power, the Constitution, and transforming our country. If you donate $100 now, we will send you this historic collection -- autographed by the man himself -- Ralph Nader. (This offer ends at 11:59 p.m. September 17, 2008)
Lily
notes
this from Team Nader
:
Breaking News -- Nader/Gonzalez on in 45 States!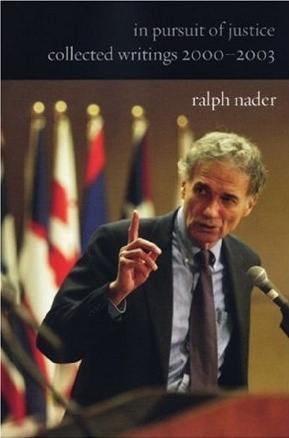 Drop $11 on Nader/Gonzalez.
Why?
We're celebrating.
At the beginning of this campaign, we made a promise:
Nader/Gonzalez on the ballot in 45 states by September 20.
Today -- Tuesday, September 9, 2008 -- eleven days ahead of schedule -- we declare victory.
We have completed our ballot access efforts and we're set to be on in 45 states.


On in more states than in 2000 (43).
On in more states than in 2004 (34).
On in 45 states.
Now, the American people will have a choice.
To vote for a campaign free from corporate influence.
But, as you probably have figured out by now, we are not a campaign that rests on its laurels.
So, today we are proud to announce the launch of our eight-week Nader/Gonzalez Get Out the Vote drive.
We need to raise $80,000 by September 17.
This money will be used to reach out to Americans throughout this country.
We're planning on deploying 30 full-time field staff.
Ordering tens of thousands of lawn signs.
Printing hundreds of thousands of pamphlets.
And making hundreds of thousands of phone calls.
To inform the American people that they now have a choice in November.
And to get them to vote for Nader/Gonzalez.
Want health care for all? Vote Nader/Gonzalez.
Need a living wage? Vote Nader/Gonzalez.
Want to transform the country to a solar energy economy? Vote Nader/Gonzalez.
Want to reverse course in the Middle East? Vote Nader/Gonzalez.
Help us celebrate this historic opportunity the only way we know how.
With action for a change.
So, donate $11 now to the Nader/Gonzalez Get Out the Vote Fund.
(If you give $100 or more now, we will send to you In Pursuit of Justice, the 520-page book of essays by Ralph Nader -- essays on corporate power, the Constitution, and transforming our country. If you donate $100 now, we will send you this historic collection -- autographed by the man himself -- Ralph Nader. (This offer ends at 11:59 p.m. September 17, 2008))
So, let's start to spread the word.
Nader/Gonzalez on in 45 states.
Time to crank it up.
And get out the vote.
Let's get it done.
Onward to November.
The Nader Team
The e-mail address for this site is
common_ills@yahoo.com
.
iraq
mcclatchy newspapers
sahar issa
nicholas spangler
the new york times
campbell robertson
ateer kakan
richard a. oppel
abdul razzaw al-saiedi
erica goode