President Bush's announcement Tuesday that he'll maintain troop levels in Iraq through the end of his presidency suggests that despite his claim that the surge of additional U.S. troops in Iraq has succeeded, the security gains could be temporary, defense officials and experts said.
"Here is the bottom line: While the enemy in Iraq is still dangerous, we have seized the offensive, and the Iraqi forces are becoming increasingly capable of leading and winning the fight," Bush said Tuesday in a speech before the National Defense University.
Bush, however, announced that he'll order only 8,000 more combat troops to leave Iraq by February, the month after his presidency ends, reducing the number there to about 138,000.
A Marine battalion and an Army brigade combat team from the Army's 10th Mountain Division that had been scheduled to deploy to Iraq will go to Afghanistan instead, Bush said.
The above is from Nancy A. Youssef and Jonathan S. Landay's "
Experts: Bush's Iraq withdrawal small because gains are, too
" (
McClatchy Newspapers
) and another worthy article to check out today on that topic is Michael Abramowitz' "
Most Members of Iraq Coalition Preparing to Pull Up Stakes
" (
Washington Post
):

President Bush tucked a little extra news yesterday into a speech largely devoted to informing the public that he plans to withdraw 8,000 more troops from Iraq: He also announced that most of the countries that have been partnering with the United States in Iraq over the past five years will be pulling their troops out as well.
[. . .]
The presence of other countries in Iraq, even if the troop contribution was modest, has long been used by the Bush administration as a way of deflecting criticism that its actions in Iraq were "unilateral." Now, Bush is portraying their departure as a sign of "return on success," his policy of bringing home troops as conditions improve in Iraq.
It's also a sign that the U.N. mandate permitting foreign troops to operate in Iraq expires at the end of the year. Any country that remains will have to negotiate a bilateral agreement with the Iraqi government, as the United States is now trying to do.
The United Kingdom is negotiating their own treaty currently to allow British forces to remain in Iraq.
Turning to the US presidential race. Ron Paul ran for the Republican Party's presidential nomination. Last week, he held a rally with his supporters in Minnesota.
NOW on PBS

has an online exclusive with Paul
and
they also examined his campaign in 2007
. Today, he will be in DC holding a rally with Ralph Nader (independent presidential candidate, now to be on the ballots in 45 states),
Cynthia McKinney
(Green Party presidential candidate) and
Bob Barr
(Libertarian Party presidential candidate.
Team McKinney notes
:
McKinney at Press Event, Ron Paul to Endorse Voting for Third Party Candidates
Wednesday, 10 September 2008 06:03
Cynthia McKinney will appear at an event hosted by Representative Ron Paul at the National Press Club Ballroom, September 10, at 10:00 am to encourage the public to vote for a Third Party candidate rather than mainstream contenders Barack Obama or John McCain. Cynthia McKinney, Bob Barr, Ralph Nader and others are scheduled to speak about their campaigns as independent or third party candidates. The event is open to press and public.
"In a press conference scheduled for Wednesday, September 10, at the National Press Club in Washington D.C., Congressman Ron Paul is expected to urge supporters to reject John McCain and Barack Obama and vote for "any" of the four smaller-party contenders in the coming presidential elections: Libertarian Party nominee Bob Barr, Green Party contender Cynthia McKinney, independent Ralph Nader or Constitution Party standard-bearer Chuck Baldwin.

So far, none of these alternative candidates has gained considerable traction or support, which is why Ron Paul's endorsement could prove very significant to one, several, all or none of them.

Ron Paul today repeated his assertion that he has no plans to run as a third-party candidate himself. However, as of late Tuesday Ron Paul supporters remained hopeful and did not rule out the possibility of a last minute surprise announcement of any kind."
http://www.ronpaul.com/2008-09-09/ron-paul-announcement/
Team Nader notes, "Watch it on C-Span. (
Check schedule here
) And on Thursday, Ralph Nader will appear on
CNN with Lou Dobbs
for his Independent Convention."
Micah
notes
this from Team Nader
:
Ralph Nader Takes Questions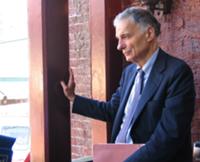 Karen Kilroy of the Nader/Gonzalez web team is posting video of recent Question & Answer sessions at the "Open the Debates" rallies in Minneapolis and Columbus, Ohio.

You'll find this all new and thought-provoking footage in our Issues Playlist at YouTube.

Bookmark the page and keep checking back, because there's more video on the way.

Also available online is a transcript of Ralph's remarks at the August 27 Denver Super Rally. Our sincere thanks to Swan's Commentary and Jan Baughman, co-editor, who prepared the transcript.
And our thanks to you. Your contributions are making it possible for us to bring America the coverage that the corporate media continues to ignore.
Onward to November!

The Web Team


Pravda on the Hudson
. Amy Goodman's trashed her own reputation. Yes, it is a whine-fest this morning.
Ava
and I will grab that segment for
Third
on Sunday. Whiney, out of touch, cry babies who need to grow up and also need to grasp NYC is not the center of the universe. It's interesting that she chooses to emphasize
ABC's

This Week
today. She doesn't go with what should have gotten attention which was the exchange below:
Barack Obama: You're absolutely right that John McCain has not talked about my Muslim faith --
George Stephanopoulos: You're Christian faith.
Barack Obama: My Christian faith.
People of faith know their faith and don't usually make mistakes like the above. Either Barack's not up to the campaign trail or he's not a person of faith. (Of either Muslim or Christian faith. )
As for Barack's phrase yesterday,
read

Rebecca

(she's correct)
and it will also be addressed at
Third
on Sunday.
The e-mail address for this site is
common_ills@yahoo.com
.
iraq
mcclatchy newspapers
nancy a. youssef
jonathan s. landay
michael abramowitz
the washington post
now on pbs
pbs
abc
this week
sex and politics and screeds and attitude