On July 4, former US soldier Robin Long was arrested by police in Nelson, BC, where he is legally residing, on a warrant issued by the Canadian Border Services Agency (CBSA). A hearing is scheduled in Vancouver tomorrow (Tuesday, July 8).
The CBSA is claiming that Long did not report as required to its Kelowna office by phone last Thursday and that he was staying with various friends in Nelson without reporting a change of address. Long has denied the allegations and the CBSA does not dispute that he reported in on schedule on July 3.
Long has lived openly in Nelson after coming to Canada rather than deploy to Iraq with his armored unit. He is well known by Nelson residents, and by the RCMP, who had no trouble locating him on Friday.
On June 3 this year the House of Commons passed a resolution supporting US war resisters remaining in Canada and called on the government to cease any removal orders against them. Citizenship and Immigration Minister Diane Finley has so far refused to implement the will of Parliament.
Meanwhile, on July 4 an appeal court sent the case of Joshua Key, another ex-US serviceman, back to the Immigration and Refugee Board. The court instructed the board, which had originally denied Keyes' refugee claim, to re-examine his application based on its failure to consider the brutality and illegality of activities in which American soldiers in Iraq are forced to
participate.
Polls show that a majority of Canadians support the war resisters being granted permanent residence.
"The actions of the CBSA amounts to harassment," says Lee Zaslofsky, spokesperson for the War Resisters Support Campaign. "This young man has complied with his requirements and his whereabouts were well-known. The Harper government is ignoring the will of the House of Commons and the Canadian people. It is doing the bidding of the Bush administration in seeking to remove these soldiers of conscience to face persecution in the US."
Bob Ages, of the Vancouver War Resisters Support Campaign said, "Our legal counsel will be asking that Robin Long be immediately released and members of Parliament will be taking up this matter with the government and the Canadian public."
The above is a press release from
The War Resisters Support Campaign
. US war resister Joshua Key will be interviewed from Canada on
KPFA
's
The Morning Show
today at 11:00 a.m. EST, 10:00 Central and 8:00 PST. (The interview will take place in the second hour of the show -- that's the time being listed, not when the show begins.) Aimee Allison and Philip Maldari co-host
The Morning Show
. With David Solnit, Aimee Allison co-wrote
Army Of None
.
Meanwhile, Nick Kyonka's "
U.S. deserter counts down final hours
" (
Toronto Star
) profiles Corey Glass and reveals the level of 'information' in Canada:
Other conversations at the bar involve what Glass calls "normal chit-chat." Family life, work, childhood stories and – of course – politics, both Canadian and American.
"Hopefully this war will be over when (Barack) Obama gets elected," says one resister. "Then this won't be an issue any more."
Glass says the best Grossman's evenings have been when the group put aside talk of war and politics. He recalls a night soon after he arrived when resisters from across the country were in town for a national meeting, and the whole group went to the bar after. "At that point, everything was looking good," he said. "The whole (legal) process was ahead of us, nothing really bad had happened ... It was just like a normal day, hanging out with friends."
Whether those days are behind him for good, Glass won't know until this week.
He does know that if he's allowed to stay, he expects to join the others at Grossman's for years to come.
"I'd love to live in Toronto," he says. "This is my home now."
Barack will end the illegal war? Reality travels slowly to Canada. Always has. Here's another bit of reality for war resisters in Canada: Should Barack become president, it doesn't mean a damn thing for you.
There is no pressure on Barack to do a damn thing for war resisters. In 1968, pressure was brought to bear on nominees, in 1972 ditto. When Gerarld Ford was president (a Republican -- who came into office on Tricky Dick's resignation) there was enough pressure to result in his clemency program. Jimmy Carter offered amnesty to draft dodgers only but did offer something. Where's the pressure today? Not on Barack. Even Bob Herbert in today's
New York Times
(a Barack Booster of the largest degree) moans from the floor, curled up in the fetal position, at all of Barack's flip-flops, at Barack's decision to cater to the right (because where are Democrats going to go). Here's Herbert, shocked to be waking up alone in bed: "There's even concern that he's doing the Obama two-step on the issue that has been the cornerstone of his campaign: his opposition to the war in Iraq." Concern? Try awareness setting in.
He was never 'anti-war
.' Herbert's column is "
Lurching With Abandon
" (and we'll provide a link for laughter only) or, as I prefer to think of it, the answer to the Shirelle's musical question: "Will You Still Love Me Tomorrow?" Poor Bob, woke up alone in bed and in the wet spot -- after so many months running the Barack Fan Club from the op-ed pages of the Times. And even now, so wounded the morning after, he can't see the biggest problem.
Some will always cut Barack slack. The Barack 'movement' in Canada will keep them in line. The same 'movement' that does so in the US. The real problem is Barack is a magazine cover with no definition to the millions of Americans (the majority of Americans) who skipped party primaries but will vote in November. Caving on FISA, on Iraq, pushing the death penalty for children (and for crimes that do not involve murder), go down the list. His fan club can defend him until they climax from their self-induced frenzy, it won't change the fact that the magazine cover is now a flip-flopper and caver to a huge number of Americans. That's the danger Bob Herbert can't put into words while fretting over his steady in print today.
It's really pathetic to hear war resisters today root on any candidate. They were a lot smarter during Vietnam but they weren't treated as child wards -- and treated as such by Americans in Canada (legally) who were running a Barack fan club. For war resisters in Canada, it doesn't matter whether the illegal war ends. There is no return to the US without punishment because there has been no efforts to pressure the presidential candidates. There was a lot more maturity during Vietnam -- on both sides of the border -- and lot less searching for a Daddy figure to worship. If you doubt that, read the article and note
the Vietnam era deserter
referred to as a "draft resister." Not in the mood for the crap or the lies this morning. Or the inability of so many to show some damn maturity. If you're still confused (or immature), check out the
Washington Post
's editorial today entitled "
Mr. Obama on Iraq: His hint of softening on his unrealistic withdrawal plan is only sensible
." Which is just the encouragement a candidate who stands for nothing needs to cave even further.
James Clark shows maturity responding to the nonsense from Rosie DiManno that the

Toronto Star

published yesterday
:
Five years after it began, the war in Iraq has been a complete disaster. And it remains illegal. A recent poll indicates that 82 per cent of Canadians oppose the Iraq war, with 59 per cent of Americans backing our government's decision to refuse to participate.
Many of the U.S. war resisters seeking refuge in Canada, like Joshua Key, have served in Iraq where they witnessed widespread abuse and human rights violations.
These young men and women show incredible courage for refusing to be a part of it, and should be allowed to stay in Canada. But Rosie DiManno dismisses their accounts, explaining that "this is what combat troops do."
Thankfully, the Geneva Conventions don't share that logic. If only more soldiers like Key had the chance to share their experiences, we might be moved to do more to end the war in Iraq instead of making excuses for it.
James Clark, Toronto
Iran's Press TV covers
the war resistance and notes:
The Canadian government, which is under pressure from US officials, is considering deportation of these soldiers to the US; however, more than 64 percent of the Canadian people and the Canadian parliament are against deportation proceedings against the American deserters.
The

Las Vegas Sun

carries the

AP

story
on
Judge Robert Barnes decision regarding Joshua Key's claims for refugee status
.
Veterans for Peace
issues the following press release:
The major U.S. organization representing 7,000 U.S. veterans has issued a public "Thank You" to the people of Canada and an appeal to the government on behalf of Corey Glass and other U.S. Iraq War conscientious objectors seeking refuge.
Veterans for Peace (VFP) whose members fought in WW II, the Korean, Vietnam and Iraq wars says: "Thank you, Canada, for providing a safe haven for young American men and women who, although they were in the military, decided they could not in good conscience participate in the illegal and immoral U.S. war and occupation of Iraq."
Expressing concern over the possible deportation of Corey Glass and other conscientious objectors, VFP warns that "if they are forced to return to the United States, they will be imprisoned only because they refused to fight in an immoral war."
VFP is joining with Courage To Resist and Project Safe Haven to organize actions at the Canadian Embassy and Consulates in 13 U.S. cities on Wed., July 9.
The War Resisters Support Campaign is calling on peace movements and concerned citizens in Britain, France, Germany and around the world to urge the Canadian Government to respect the June 3rd historic parliamentary motion calling for an end to deportations and the opportunity for conscientious objectors to apply to remain in Canada as permanent residents.
Lewis
notes Team Nader's "
What To Do Now?
":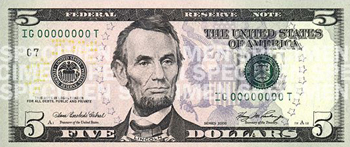 What to do now?
Drop a five spot on the real deal.
Donate five dollars for Nader/Gonzalez.
Why?
Five reasons:
Telecom immunity.
Gun control.
Death penalty.
Campaign finance.
Faith-based funding.
On July 4, the New York Times documented Obama's flip flops on each of these issues and then proclaimed Obama New and Not Improved.
When we ask our friends who support Obama about his recent flip-flopping on these and other issues, they say something like this:
You have to pander to become President.
Or:
It doesn't matter where Obama stands on the issues -- it's the symbolism of change that matters.
Okay, so if it's the symbolism of change that matters to you, and not the substance, then please go and support Obama.
But if you actually want a candidacy that stands steadfast for shifting the power from the corporations back to the people, then please drop a five spot now on Nader/Gonzalez.
You'll be supporting a positive, rock solid, steadfast campaign.
Already, we're penciled in in ten states.
Richard Winger, the King of Ballot Access (and editor of Ballot Access News) predicts that come November, Nader/Gonzalez will be on in 44 to 45 states - up from 34 in 2004).
We're at six percent in the most recent CNN poll.
If we hit 10 percent, Ralph Nader will be debating the candidate of perpetual war McCain and the panderer in chief Obama in the Google/Youtube debates in New Orleans.
(Check out John Nichols this morning calling on Google to let Ralph debate.)
If Ralph gets into the debates, we're convinced he'll move above 10 percent.
If he moves above ten percent, America will sense a three way race.
If America senses a three-way race, why would it be any different from when Jesse Ventura ran for Governor of Minnesota?
(Okay, Ralph doesn't wear a boa.)
(By the way, in case you missed it, here's Ralph's July 4 riff on patriotism.)
All things are looking up.
All systems are go.
But we need your help to propel this campaign to the next level.
Drop a five on the real deal now.
Together, we are making a difference.
Onward
The Nader Team
PS: We invite your comments to the blog.
Your contribution could be doubled. Public campaign financing may match your contribution total up to $250.
And
Kayla
notes the opening to Ralph Nader's "
Independence Day
" (Nader - Gonzalez '08):
One day when I was about eight years old, my mother tossed one of her frequent "out of the blue" questions at me:
"Ralph, do you love your country?"
"Yes, mother," I said, wondering where she was going with this.
"Well, I hope when you grow up, you'll work hard to make it more lovable."
Thus, began my education in the patriotism of deeds, the patriotism of advancing justice.
The e-mail address for this site is
common_ills@yahoo.com
.
robin long
joshua key
kpfa
the morning show
joshua key
aimee allison
philip maldari
david solnit
corey glass
nick kyonka
bob herbert
the new york times