London Topic
's "
War Resisters plan public rally in Victoria Park
" notes a 5:00 pm rally this evening in Victoria Park for US war resisters attempting to be granted safe harbor in Canada and among those participating will be MP Irene Mathyssen who states of
Judge Robert Barnes' decision in US war resister Joshua Key's case
, "The federal court is filling the void that is left by the lack of political will demonstrated by Immigration Minister Diane Finley." Multiple demonstrations will be taking place in Canada today. The
War Resisters Support Campaign
notes:
In Winnipeg, Toronto, Calgary, Vancouver and many other cities and towns, Canadians will be urging the Prime Minister and Immigration Minister Diane Finley to implement the June 3rd parliamentary motion. It called for an end to deportations of U.S. Iraq War conscientious objectors - including Corey Glass, Robin Long and others who have come seeking refuge - and extending the opportunity for all to apply to remain in Canada as permanent residents.
The full list of actions (updated hourly) can be viewed at [
here
].
Adding events since the link is not working:
Actions Across Canada on July 10th to stop deportations of War Resisters

CALGARY
Street polling in front of CityTV
5pm to 6:30pm (Southeast corner of 5th St and 7th Ave SW)
LONDON
Rally for Resisters
5 pm at Central & Richmond
(NW Corner of Victoria Park),
London War Resisters Support group londonresisters@yahoo.ca
http://www.facebook.com/home.php?#/event.php?eid=17192754751&ref=mf

MIDLAND
Meet at 11.00am on Thursday, July 10 outside the library on King St to leaflet and protest Corey Glass's deportation, scheduled for that day.
Organized by Peaceworks Midland.
ORILLIA
Meet in the Peace Garden with signs and sandwiches at lunch-hour.
OTTAWA
WHEN?: Noon, this Wednesday (July 9)
WHAT?: Peaceful rally to oppose the deportation of Sgt. Corey Glass
WHY:? to appeal for public support on this issue, and convey a message
to the PM's office
WHERE?: Corner of Elgin and Wellington Sts. -- in front of Langevin
Block (Prime Minister's Office)

TORONTO
Human Chain stretching from the Federal Court to U.S. Consulate
Thursday, July 10
4:30pm to 6:00pm
Northwest corner of Queen Street West and University Avenue
TTC: Osgoode Station
Bring banners and placards!

VANCOUVER
Rush hour rally in support of U.S. War Resisters
July 10, 2008 , 5:30-6:30 pm
Canada Immigration offices at 300 W. Georgia St (corner of W. Georgia and
Hamilton St.)
info: vanresisters@yahoo.ca
Meanwhile Patrick Arden does something amazing. In "
Army deserters fight for a haven in Canada
" (
Metro
), he tells the truth and does so from the start: "Canada was a safe haven for 60,000 U.S. military draft dodgers and deserters during the Vietnam War." Arden goes on to report:
At one of 14 rallies held in U.S. cities yesterday, anti-war demonstrators lined up in front of the Canadian Consulate here to protest the planned deportation of Corey Glass, a 25-year-old National Guard sergeant who served in Iraq before deserting while on leave in 2006. Hours later, Glass won a reprieve from a court deciding whether to hear his case.
The protesters expressed hope over the Canadian parliament's passage last month of a non-binding resolution to stop deportation proceedings, but they were also distressed by Monday's arrest of an AWOL U.S. soldier in British Columbia.
[ . . ]
Wearing his dog tags and waving a copy of the U.S. Constitution, Matthis Chiroux is a sergeant in the Army's Individual Ready Reserve. Last summer he was honorably discharged after five years of active duty that included a stint in Afghanistan. In February he received a reactivation order.
"I was supposed to report for deployment to Iraq on June 15," said Chiroux, 24, who intends to stay in Brooklyn. "They'll have to arrest me."
There's a great deal in that excerpt. The US rallies were sponsored by, as Gerry Condon noted on
KPFA
's
The Morning Show
yesterday,
Veterans for Peace, Courage to Resist, Project Safe Haven and Iraq veterans. Rallies in Canada will take place today. UPI notes that CBC had the news of Glass first late yesterday. From the CBC's "U.S. war resister granted stay of deportation order:"



Glass, 25, can stay in Canada while the court reviews and decides on his applications for leave and judicial review -- processes his lawyer said could take months.




Glass told CBC News that he had his bags packed and had moved out of his apartment, ready to be deported.




"I was shocked. I was just enjoying my last little bit of time I had in Canada," he said.




But the ruling comes on the heels of a news report that questioned whether Glass is actually a war resister.




ABC News reported recently that according to U.S. Army documents and officials, Glass was actually discharged from the California National Guard Dec. 1, 2006, four months after he arrived in Canada.




"He is not considered absent without leave. He is not considered a deserter," Maj. Nathan Banks, an Army spokesman told ABC News. "He is running for no reason. He is fully welcome in the United States. I cannot believe this is a big deal in Canada."




But Glass disputed Banks' interpretation of his status.

AP and Canada's GMA note

, "He is one of about 200 American deserters believed to have come to Canada to avoid service in Iraq. So far, Canadian immigration officials and the courts have rejected efforts to grant them refugee status."





The Victoria Sun

runs a paragaraph of

Canwest News Service

's report;

Ottawa Citizen

runs a longer version of the story:



Geraldine Sadoway, one of the lawyers for Mr. Glass, said the Iraq war veteran who served with the National Guard will remain in Canada while the court reviews and decides on his applications for leave and judicial review.




Meanwhile, Canadian anti-war groups and supporters of American army deserters from the war in Iraq are stepping up their fight to keep war resister Robin Long from being deported to the U.S.



Let's move to Robin Long. Rod Mickleburgh's "U.S. deserter's incarceration decried" (

Globe and Mail

) notes:



Mr. Long, 25, was arrested and taken into custody by Nelson police last Friday on a warrant from the Canada Border Services Agency.




The CBSA alleged that he had violated his release conditions by failing to inform them of his address changes in the charming Interior city, home to several other U.S. deserters seeking to remain in Canada. With no work permit allowing him to earn money, Mr. Long had been "couch surfing" at the residences of friends.




He was further shocked on Tuesday to learn for the first time that authorities were planning to deport him almost immediately, despite a key Federal Court ruling last week ordering the Immigration and Refugee Board of Canada to reconsider another deserter's failed refugee claim.




"His removal is imminent," CBSA lawyer Rick Lengert told a board hearing that approved Mr. Long's continued detention for one more week. The CBSA later agreed to make no move to have him deported until next Monday.




Nelson police chief Dan Maluta admitted that his department's cells are far from comfortable.



It would be nice if Dan Maluta could admit who he takes his orders from. Jack Keating's "American war dodger may be gone Monday" (

The Province

):



The surprise decision was revealed by a Canada Border Services lawyer at an Immigration and Refugee Board Hearing in Vancouver on Tuesday. Long, 25, is being held in the Nelson city jail after being arrested by police last Friday on an outstanding immigration warrant.




Last month MPs voted 137-110 that U.S. soldiers who fled to Canada to escape the war in Iraq should be allowed to stay here permanently.



"Gov't can't keep ignoring motion concerning war objectors: Clarke" is the title of a candidate's letter to the

Orillia Packet & Times

:


Letter to the editor:

The House of Commons passed a motion to recognize conscientious objectors of the illegal war in Iraq and allow them and their families to apply for permanent resident status in Canada. It also called for an end to deportation proceedings against them.

The Stephen Harper government has chosen to ignore the motion, and I would ask my Conservative opponent (Simcoe North MP Bruce Stanton) and his colleagues to reconsider this unprincipled position.

Their refusal to act is egregious in view of the very strong moral claim of these conscientious objectors. The Iraq-U. S. war is not sanctioned by the United Nations. Many people who agreed to one tour of duty are being sent back to Iraq without choice. Some signed up for the National Guard to serve domestically only to be sent to Iraq against their will. Others went willingly to Iraq in the belief they were participating in a noble cause, only to discover that the rhetoric of their government is at odds with reality When speaking to another motion passed by the House of Commons in 2005, Harper said, "The prime minister has the moral responsibility to respect the will of the House..." I only ask that the prime minister heed his own words today and respect the will of the House of the House of Commons on this very important motion pertaining to basic human rights.

Five years ago, the Liberal government made the principled decision not to participate in the War in Iraq. Harper was very critical of that decision and made it clear that, if he were prime minister, Canada would have gone to war. Harper got it wrong then, but he can make the right decision now and respect conscientious objectors and their families for making their own, very difficult, principled decisions.

In his very last speech in the House of Commons, our former MP, Paul DeVillers, said there should be no distinction between a person avoiding the draft and the one who refuses to join an unauthorized war. He called for treatment of U. S. war resisters today like that accorded to resisters of the Vietnam War. Paul was right, as are the majority of our elected parliamentarians who supported the recent motion to recognize conscientious objectors of the illegal war in Iraq.

The United Nations International Covenant on Civil and Political Rights requires that conscientious objectors be given protection by signatory states. It is time the government did what is right and lived up to this important agreement. It is time the government respected the will of Canadians as expressed by the majority of members in the House of Commons. And it is time the Simcoe North MP and his Conservative colleagues adopted a position on conscientious objectors that is more in line with Canadian values and less beholden to the discredited Bush administration.

Steve Clarke, Federal Liberal candidate for Simcoe North

Returning to Corey Glass, Colin Perkel's "U.S. war dodger wins deportation stay" (The Canadian Press via CNews:)



Articling lawyer Alyssa Manning, who was acting for Glass, said she was "definitely thrilled" at the deportation stay, which would likely last at least two months and much longer if the court actually agrees to hear the applications.




"The fact that the stay was granted in both cases means that the Federal Court judge decided that there was a serious issue to be decided in both of the applications," Manning said.




"That's a strong indication that leave will be granted."




[. . .]




Glass said he had mixed emotions in light of friend and fellow deserter Robin Long, who is now in jail in British Columbia awaiting deportation to the U.S.




Like Glass, Long also failed to win refugee status in Canada.




"It's bittersweet. It's awesome. But there's really no celebration until he gets out of jail," Glass said.




Federal New Democrat MP Olivia Chow said it was time for Prime Minister Stephen Harper's Conservative government "to stop wasting taxpayers' money" and offer some kind of residence program for the war dodgers before the courts force them to do so.




"In the meantime, we're wasting thousands and thousands of dollars throwing people in jail and attempting to deport them," Chow said.



Along with MP support, Amnesy International issued "
Canada: Stop the deportation of Conscientious Objector Corey Glass
" yesterday:

James Corey Glass

Update: The Federal court agreed not to forcibly remove Corey Glass on July 10. Corey now has the opportunity to submit new applications to remain in Canada. A final decision has not yet been made as to whether or not he will be allowed to remain indefinitely.
The Canadian authorities intend to deport US serviceman James Corey Glass on 10 July. He fled to Canada to avoid being sent back to Iraq because of his conscientious objection to the war there. If they deport him, he risks being court-martialled and jailed for between one and five years. Amnesty International would consider him a prisoner of conscience.
Corey Glass joined the National Guard in 2002, and was assigned to non-combatant duties. His unit was later ordered to deploy to Iraq, where he completed five months of active service in 2005.
According to a statement outlining his position, he had concerns about the legality of the war before he was deployed to Iraq. While serving there, he developed further serious objections to the war, including what he saw as the abusive treatment of civilians by US forces, and the military system's failure to address these abuses. He said he had reported his concerns to his superiors and asked to be relieved of duty. His request was denied but he was given two weeks' leave. He refused to return to his unit and went absent without leave (AWOL) in February 2006.
In August 2006 he went to Canada, where his application for protection as a refugee was rejected. His subsequent applications to remain in Canada were also denied and he was ordered to leave Canada.
Corey Glass has spoken out publicly about his objection to the Iraq war, and has become a member of a Canadian organisation, the War Resisters Support Campaign, which works to persuade the Canadian government to offer sanctuary to US military personnel who want to come to Canada because of their opposition to the invasion of Iraq.
US law recognizes the right to conscientious objection only on grounds of opposition to war in any form. Corey Glass would not qualify, because his objection is only to the Iraq War. Other US soldiers with similar objections, who have sought to register their conscientious objection and apply for non-combatant status, have been turned down.
Corey Glass would be the first US conscientious objector known to have been deported from Canada.
TAKE ACTION:
Please send a message immediately
urging the authorities to cease any removal or deportation proceedings which may have been commenced against James Corey Glass;


pointing out that US law recognizes the right to conscientious objection only on grounds of opposition to war in any form, and Corey Glass was unable to apply for conscientious objector status because his objection was solely to the Iraq war;


explaining that, although he went absent without leave, Corey Glass took reasonable steps to secure his release from military obligations, and asked to be relieved of duty, so Amnesty International would consider him a prisoner of conscience if he were jailed on his return to the USA.
WRITE TO:
The Right Honorable Stephen Harper
Prime Minister of Canada
80 Wellington Street
Ottawa, ON K1A 0A2
Fax: 613 941 6900
Email:
Harper.S@parl.gc.ca
or
pm@pm.gc.ca
Salutation: Dear Prime Minister
FURTHER BACKGROUND:
Amnesty International has recognised as prisoners of conscience a number of US soldiers refusing to deploy to Iraq because of their conscientious objection to the war. They include Camilo Mejía, who was sentenced to one year's imprisonment and Kevin Benderman, who was sentenced to 15 months' imprisonment.
Amnesty International believes the right to refuse to perform military service for reasons of conscience is part of freedom of thought, conscience and religion, as recognised in Article 18 of the Universal Declaration of Human Rights and Article 18 of the International Covenant on Civil and Political Rights, to which Canada is a state party.
Amnesty International considers a conscientious objector to be any person who, for reasons of conscience or profound conviction, either refuses to perform any form of service in the armed forces or applies for non-combatant status. This can include refusal to participate in a war because one disagrees with its aims or the manner in which it was being waged, even if one does not oppose taking part in all wars.
Wherever such a person is detained or imprisoned solely for these beliefs, Amnesty International considers that person to be a prisoner of conscience. Amnesty International also considers conscientious objectors to be prisoners of conscience if they are imprisoned for leaving the armed forces without authorization for reasons of conscience, if they have first taken reasonable steps to secure release from military obligations.
Amnesty International opposes the forcible return of any person to any country where he or she would face a substantial risk of becoming a prisoner of conscience.


Kevin Connor's "War resister stays in Canada, for now" (

Toronto Sun

) returns to the topic of the decision:



"We have not yet received the reasons for the decision but we are relieved and delighted," Glass's lawyer, Alyssa Manning, said yesterday.




The decision doesn't mean Glass can remain in Canada permanently, said Danielle Norris, a spokesman with citizenship and immigration.




"His deportation has just been stayed -- it doesn't mean he can stay and he hasn't been granted refugee status."




Gerry Condon
was interviewed on
KPFA
's
The Morning Show
yesterday and Joshua Key and Jeff Paterson (project director of
Courage to Resist
) by Aimee Allison and the broadcasts are archived and streamable online [for those needing text, see
yesterday's snapshot
for Condon's remarks,
the day before
for Key's]. Allison co-hosts the program with Philip Maldari and co-authored
Army Of None
with David Solnit.
Jeff Paterson has an article about the demonstrations at San Francisco Indymedia entitled "SF Protesters Rally to Support U.S. War Resisters in Canada" which also has six photos.

In US political news,

Sabina

notes
"
Five More States, $60,000, July 20
:"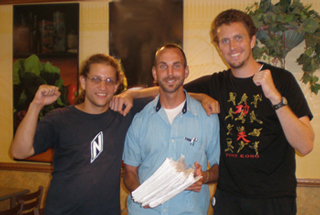 Ladies and gentlemen.
Today, it is July 9.
And thanks to you, we have met deadline one - get Nader/Gonzalez on the ballot in ten states by July 6.
Now, on to deadline two:
Fifteen states by July 20.
That's five more states - Missouri, Massachusetts, South Carolina, Rhode Island and Arkansas.
All by July 20.
And to get there, we need to raise $60,000.
In eleven days.
Here is what we propose.
Donate now - in whatever denomination suits you - $5, $10, $20, $50, $100.
And if you choose, your name will pop up on our fundraising widget - which shows every dollar we raise as we approach our $60,000 goal.
You will be supporting Albert, Nicole, David and Deborah.
They are four of more than 50 valiant roadtrippers - who have spanned out around the country to put Nader/Gonzalez on the ballot.
Thanks to them - and thanks to you - we are on our way toward our goal of 15 states by July 20.
In South Carolina, we need 20,000 signatures. Fourteen of our roadtrippers, led by Albert Marino, David Peyton and Tom Hanson (pictured above), collected 3,500 signatures over the July 4 weekend. We now have 14,000 in hand. We need another 6,000 in five days. Come on, Carolina, help get us there now.


In Massachusetts, we need 20,000 signatures. We have 12,000 in hand and need another 8,000 in the next 10 days to push us over the top. Bay Staters - push us over the top.


In Missouri, we need 20,000 signatures. As of today, we have collected 12,000. We need another 8,000 in the next ten days. Missouri - show us the money.

In Rhode Island, we just flew in five roadtrippers for Ralph to launch our New England team. They will be led by Nicole Brooks (pictured here) and Deborah Schagen. After Rhode Island, this team will help push us over the top in New Hampshire and Maine. Little Rhody, let's get it done.


And in Arkansas, we're just getting started. We need 2,000 signatures. Please, Razorbacks - step up now.
Nader/Gonzalez.
It's a happy crew.
Why?
Because happiness is participation in power.
Feeling down about the corporate takeover of our democracy?
You'll feel better.
And you'll help us meet our goal of $60,000 by July 20.
And we'll put your name in lights (if you choose).
Remember you can keep giving whenever you feel the urge - right up to the legal limit of $4,600 per person.
You might feel the urge, for example, this afternoon if Obama and McCain vote for the telecom immunity bill.
Again, thanks for your strong support.
Together, we are making a difference.
Onward
The Nader Team
PS: We invite your comments to the blog.
Your contribution could be doubled. Public campaign financing may match your contribution total up to $250.


If you're not noticing, war resisters is a very big topic in the news. You need to be paying attention to who is bothering to cover it and who is busy working out their Obama obsessions while begging you for more money because they're unable to maintain their jobs without being panhandlers (hence, Panhandle Media).

It's such a news topic that

The Nation

offers an 'online exclusive,' Will de Nova's
"Canada's War Resisters" -- and you know it's online because the term Katrina banned from print ("war resisters") pops up in the title. But the story opens with the 'struggle':



Former Private Kimberly Rivera is a long way from home.




Since moving to Toronto with her family a year and a half ago, the 26-year-old Iraq War veteran and mother of two has confronted struggles both personal and political: estrangement from her family back in Texas, long periods of unemployment and, above all, the imminent threat of deportation.




Kimberly would not have it any other way. To Canada's first female defector from the United States military, her adopted home is a "peaceful environment, somewhere I can raise my family, somewhere I can be me".




The American military calls people like Kimberly "deserters". To their supporters in Canada and the US, they are "war resisters."



War resisters is the term. It has been used for years. It was used throughout Vietnam in the MSM. That's how pathetic Panhandle Media is, a spoiled brat gets put in charge of a magazine she can't handle and she's so historically ignorant (and so fearful that it will 'hurt' the Democrats in elections) that she bans a term from print and everyone has to take their articles elsewhere (on this topic -- as well as non election topics). de Nova gets an 'online exclusive' and has to waste time explaining a term that a trip through the archives of any major daily newspapers will demonstrate is a term with widespread and historical use.

[And if you're laughing at

Democracy Now!

this morning -- as usual -- enjoy it. If you're wondering why three journalists and a diplomat bring up Mark Thatcher repeatedly but none of them know what happened to Thatcher -- well that's the state of Panhandle Media. Click here for Thatcher reality.]

The e-mail address for this site is common_ills@yahoo.com.


robin long
joshua key
patrick arden
rod mickleburgh
colin perkel
jack keating
kevin connor
kpfa
the morning show
joshua key

aimee allison

philip maldari
david solnit
jeff paterson
will de novi