An American Army deserter who sought refuge in Canada from the war in Iraq was expelled Tuesday to the United States. The deserter, Robin Long, a native of Boise, Idaho, is believed to be the first from the Iraq war returned by the Canadian government.
Mr. Long was expelled a day after the Federal Court of Canada rejected his request to delay his removal order pending further legal appeals.
That decision and Mr. Long's expulsion were somewhat unexpected. Two other American deserters received Federal Court permission this month to stay in Canada to continue their appeals. Since the Iraq war began in 2003, about 200 people have abandoned the United States military and fled to Canada, according to groups that represent their interests and provide them with support, legally and otherwise.

The above is from Ian Austen's "
Canada Expels an American Who Deserted During the War in Iraq
" (
New York Times
) and Austen continues to be the strongest reporter in the MSM with his facts (past and present) when covering the issue of war resisters. Four things to reference, Canadian
Judge Robert Barnes decision regarding Joshua Key's claims for refugee status
as well as
the motion the House of Commons passed June 3rd
), for more information on US war resisters in Canada
War Resisters Support Campaign
and
Courage to Resist
should have something up today on Robin if they don't already. Liam Lahey's "
Fear and loathing in Parkdale
" (
The Villager
) explores the reactions to the news:
Dale Landry is wanted by the U.S. Air Force for refusing to fight in Iraq after serving in Afghanistan. Landry spent the night of July 14 in full uniform outside the U.S. Consulate on University Avenue in support of Long. The Parkdale resident, who turned 23 this past week, lives with two other American military personnel in a small apartment."We're shocked after all the work that's gone into the campaign, the opinion polls, the people signing our petitions and all of the overwhelming public support, and still (Long's) going to be deported," he said. "It's really underhanded stuff that's going on."
Lee Zaslofski, co-ordinator of the Toronto-based War Resisters Support Campaign, said he's spoken with the 20 known war resisters based in this city and added there is much concern for Long.
"We're very disappointed and somewhat angry," he said. "It seems the Harper government is determined to act as an enforcement arm for the U.S. Pentagon. Robin Long is the first score they've had. The Canadian Border Services Agency will (deport) him when they feel like it and they may have already done it but we don't know. They're likely to do it in such a way as to avoid publicity."
Janice Tibbetts and Linda Nguyen's "
Courts send mixed messages to U.S. deserters
" (
Canwest News Service
) attempts to discern the meaning of the deporation:
"We've got a divided court," said Toronto lawyer Geraldine Sadoway, whose client, Justin Colby, recently lost his refugee bid, after fleeing to Canada two years ago following a one-year stint as a medic in Iraq.
Ms. Sadoway says she cannot figure out why the Federal Court rejected Mr. Colby's claim on June 26, only one week before it handed the first ever victory to deserter Joshua Key, who also served in Iraq.
The court ordered the refugee board to reconsider Mr. Key's claim, on the grounds that the U.S. soldier witnessed enough human rights abuses during a stint in Iraq that he could be eligible to qualify for asylum.
Ms. Sadoway attributes the apparently conflicting rulings to the fact that different judges decided the cases and that the court is still trying to find its way in the emerging issue of how to deal with dozens of army deserters whom the refugee board has concluded do not fit the traditional mould for asylum.
UPI cites
'word warrior' army Major Nathan Banks who "said Long would be returned to Fort Knox, Ky., for disciplinary procedures, which could include prison time." Many, like the
Detroit Free Press
and the Fort Worth Star-Telegram, cover the story in their around-the-world briefs roundup.
Thaindian News (via IANS) notes
:
Interestingly, the Canadian parliament had passed a motion in June to let American war resisters to stay permanently in the country. The House of Commons overwhelmingly supported a motion moved by opposition New Democratic Party (NDP) leader Olivia Chow, which "reflected ordinary Canadians' belief that George Bush's war in Iraq is wrong and that resisters should not be deported to jail".
The motion called on the Canadian government to allow all American war resisters and their immediate family members to stay in Canada permanently. Through that non-binding motion, the government was also asked to immediately withdraw any removal or deportation orders against war resisters.
However, the Conservative government of Stephen Harper, who is close to US President George Bush, paid no heed to the motion. Most of these US soldiers, who call themselves conscientious objectors, defected to Canada when they were ordered to go to fight in Iraq. Many say they were being sent to the war zone for the second time.
"Interestingly," IANS is not aware (as you'll see if you use the link) that, during Vietnam, Canada provided safe harbor to US war resisters who deserted.
Also interesting is not just how Judge Anne Mactavish could break up a home but how so many in the press seem unaware of that fact (or unwilling to share it). From Petti Fong's "
U.S. army deserter first to be deported
" (
Toronto Star
):
In Ontario, where he lived for a time, Long was engaged to be married and had a child, according to Sarah Bjorknas, one of his supporters.
About 50 American deserters are currently making refugee claims to stay in Canada, said Bjorknas, and a couple of hundred are presumed to be living quietly underground. In a 2006 interview with a weekly magazine in Boise, Idaho, Long said he hid out in a friend's basement before catching a ride to Canada in 2005.
Long, who enlisted when he was 19, said he had wanted to be in the army when he was growing up, but decided that he didn't want to go to Iraq after talking to people who had been there.
"These people came back and were telling these horrific stories and our superiors were egging people on, some people were actually volunteering to go over there and it just seemed like justified homicide," he said in the interview. "It didn't sit right in my stomach. I morally couldn't do it."
Both Robin and Renee presented Robin as the father. That should have been enough for any Canadian court. (Some form of immigration status should have been granted Robin since he was the father of a Canadian child. Check the laws -- something Mactavish appears not to have done.)
Turning to the US presidential race,
Molly
notes
this from Team Nader
:
Get Autographed Unreasonable Man DVD Now
And we'll send you an autographed copy of the DVD - An Unreasonable Man.
Autographed by Ralph Nader - the subject of this historic documentary.
All around us are people who don't want Ralph to run this year.
This movie is the perfect remedy. (Watch trailer here.)
Buy this DVD.
Show it to them, loan it to them, or just give it to them - but just make sure they see it.
Young people will learn and older people will remember what it means to stand for something, to fight for something, and to believe that your efforts will make a difference.
An Unreasonable Man is the movie that turns heads.
Show it to people who like Ralph.
Show it to people who don't like Ralph.
Show it people who think Ralph should run.
Show it to people who think Ralph should not run.
But get your own autographed copy now.
So you can show it to them all.
(Or if you already have a copy, get one as a gift.)
This limited offer is part of our ten day fundraiser.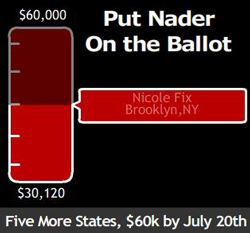 Our goal - raise $60,000 by July 20.
To put Ralph on the ballot on 15 states by July 20.
Over the last five days, we've raised over $30,000.
So, we're halfway there.
Now, let's push it past the finish line.
Donate $100 or more by 12 midnight Sunday July 20, and we'll send you an autographed copy of this explosive documentary of Ralph's public life of citizen activism.
(Only one DVD per donation of $100 or more. If you would like two copies, please donate twice. Three copies, donate three times. Remember - only one DVD per donation of $100 or more.)
Don't miss out.
Thank you.
Together, we will make a difference.
Onward
The Nader Team
PS: We invite your comments to the blog.
Your contribution could be doubled. Public campaign financing may match your contribution total up to $250.
The e-mail address for this site is
common_ills@yahoo.com
.
iraq
robin long
joshua key
ian austen
the new york times
janice tibbetts
linda nguyen
liam lahey
petti fong
iraq
iraq
iraq