Robin Long denied appealU.S. Iraq war resister Robin Long received word at 4:00 this afternoon, July 14th, in Vancouver that his appeal to have his deportation order stayed was denied, His deportation is currently expected to take place as early as tomorrow, Tuesday July 15th.Action on the West Coast - 9 amSupporters of Robin Long and the War Resisters coming from both sides of the border will gather in a peaceful protest under the Peace Arch at the border at 9 am Tuesday July 15.(while the Peace Arch is neutral ground, supporters should bring appropriate identification in the unlikely event they are required to pass through Canadian Customs)In the meantime, please take a moment to email or phone Stockwell Day, Minister of Public Safety, and ask him to immediately stop the deportation of U.S. Iraq war resister Robin Long. (The Canadian Border Services Agency falls under his ministry).Also ask him why the federal government is refusing to respect the clearly expressed will of Canada's Parliament, that U.S. war resisters should be allowed to stay and that deportation proceedings against them should cease?In a recent Angus Reid poll, almost two-thirds of Canadians said they want U.S. Iraq war resisters to be allowed to stay in Canada. Demand to know why the Harper government is unwilling to be accountable to Canadians.Minister of Public Security Stockwell DayEmail:
day.s@parl.gc.ca
(Ottawa office);
days1@parl.gc.ca
(Penticton constituency office)Phone: 613.995.1702 (Ottawa); 250.770.4480 (Penticton constituency office)Fax: 613.995.1154 (Ottawa); 250.770.4484 (Penticton)Please check the War Resisters Support Campaign website for updates on Robin's status and on emergency actions.For more information about the campaign please visit:
http://www.resisters.ca/
The above is from
War Resisters Support Campaign - Vancouver
. Twop things to remember as we go through the coverage, Canadian
Judge Robert Barnes decision regarding Joshua Key's claims for refugee status
as well as
the motion the House of Commons passed June 3rd
). Robert Matas' "
Canada will deport U.S. army deserter
" (
Globe & Mail
) offers some of what the defense argued yesterday:
Mr. Long, who fled to Ontario in 2005, had signed up to join the U.S. Army in July, 2003.
He believed at that time that his country was justified in going to war in Iraq, his lawyer Shepherd Moss said at the court hearing to halt the deportation. Mr. Long intended to train as a tank commander. "He wanted to go to defend his country," Mr. Moss said.
His perspective changed while in training at the army base at Fort Knox. After hearing that weapons of mass destruction had not been found in Iraq, Mr. Long thought the U.S. had no reason for being at war. Also, he was troubled by evidence of abuse of Iraqi detainees that came out in May of 2004, Mr. Moss said.
Mr. Long concluded the abuse was systemic and condoned by the U.S. administration, Mr. Moss said. After some soul-searching, Mr. Long decided he would not go to Iraq and would not participate or be complicit in what he believed were war crimes, the lawyer said.
Jeff Hodson's "
U.S. deserter loses court fight to stay in Canada
" (
Metro News
) offers more on the defense:
Shepherd Moss, Long's lawyer, had argued Long faced lengthy jail times and could even get the death penalty.
The judge ruled that a death sentence was only a "theoretical possibility" as the last soldier sentenced to death for desertion was during the Second World War.
As well, between 2002 and 2006, 94 per cent of deserters have been dealt with administratively, receiving less than an honourable discharge.
Long, from Boise, Idaho, joined the army in 2003, believing that the invasion of Iraq was just. He went AWOL in 2005, believing that if he was deployed to Iraq he would be complicit in war crimes.
Kim Bolan and Suzanne Ahearne's "
Deserter faces deportation
" (
Vancouver Sun
) opens with:
Robin Long will become the first U.S. war resister deported from Canada after the Federal Court of Canada on Monday rejected his last-ditch effort to stay in B.C.
The deportation of Long, one of about 200 U.S. deserters from the Iraq war living in Canada, is expected to be carried out today.
Brian Hutchinson's "
U.S. deserter loses last bid to stay
" (
National Post
) also notes the "first" aspect of the story:
Should he be deported today as ordered, Robin Long, 25, becomes the first U. S. deserter to be removed from Canada since the U. S.-led war in Iraq began five years ago. Several other U. S. deserters have sought refuge in Canada and while some have lost their court appeals, they remain in this country, pending further deportation procedures.
Madame Justice Anne Mactavish of the Federal Court of Canada heard legal arguments in a Vancouver courtroom yesterday morning before deciding that Mr. Long must return to the United States, where he could face prosecution by military authorities. He could also be deployed to Iraq and put into a conflict he decided, too late, he would rather avoid.
His case for avoiding deportation hinged on whether he faced "irreparable harm" should he be returned to the United States because of the high profile of his case.
But in a ruling issued yesterday afternoon, Judge Mactavish wrote that "Mr. Long has not provided clear and non-speculative evidence to support his contention that he would be singled out for harsh treatment by the Americans because of the publicity associated with this case."
Katie Mercer's "
Court orders U.S. deserter be deported
" (Canwest News Service):
Long, 25, is the first of an estimated 200 American army deserters who have sought refuge in Canada to be deported. Canada has had a policy of welcoming American draft dodgers and deserters since the Vietnam War.
Bob Ages, chairman of the Vancouver chapter of War Resisters Support Campaign, said he fears the decision marks the end of an era and will set a new precedent.
AP
has a really bad article that only gets worse as it goes along, ending with both a numerical claim it cannot back up and a false assertion of amnesty following Vietnam that's not really accurate (draft dodgers/evaders were granted amnesty, not deserters and, pay attention
AP
, you are writing an article on a deserter today).
The International Herald Tribune runs the article in full
. Louisiana's KATC runs a portion of it
here
.
Los Angeles Times
runs it
here
. Amazingly, the American outlet can't even think to note Boise, Idaho -- where Long hails from. As dumb as the
AP
article is, The Record's editorial tops it. From "
U.S. deserters aren't refugees
:"
In contrast with the Vietnam era, American soldiers today voluntarily agreed to join the armed forces of the United States. There is no draft; no one is forced to put on a uniform.
It may well be true that some American deserters oppose the war in Iraq and think the U.S. is pursuing an unwise course. But they alone are responsible for their decision to join the services of a nation that has been formally at war since 2001 either in Afghanistan or Iraq. The deserters, therefore, should accept the consequences of their own actions, which may well mean a period of incarceration in an American jail.
Again with the draft, again with the stupidity. The draft was not an issue for Canada during Vietnam. There is no "contrast." Canada welcomed those escaping the draft as well as those deserting. The latter category were not asked, "Did you enlist or were you drafted?" It was not an issue. The draft was never an issue. The 'movement' wasted many years before it began this month to repeatedly note that Canada welcomed deserters during Vietnam. Many idiots, like those on The Record's editorial board do not even know their own country's history. They have no idea what Canada did or did not do during Vietnam. So you get these idiotic editorials.
Canada's CBC offers
a brief which is as insulting when you consider it is a news organization and one of the most recognized around the world. The Canadian Press' "
Federal Court judge rejects U.S. army deserter's attempt to avoid deportation
" does a better job and this is Bob Ages, chair of the Vancouver chapter of the War Resisters Support Campaign:
Ages said he is unaware of any other recourse for Long and that he will likely be deported on Tuesday.
"We will be caucusing, trying to figure out what we can do," said Ages.
He said he expected that Long would be returned to Fort Knox, held in detention and court-martialed.
Ages said there wasn't likely enough time to take the ruling to the Federal Court of Appeal.
"I don't think there's time to even file papers," he said. "We're down to the wire here."
Ages said the Federal Court proceedings Monday were aimed at getting an order staying Long's removal while they fought an earlier negative ruling from an Immigration and Refugee Border official.
"She's refused us the ability to follow due process and exhaust all his legal avenues in Canada."

On the US presidentail race,
Kayla
notes
this from Team Nader
:
Six Days, $34,000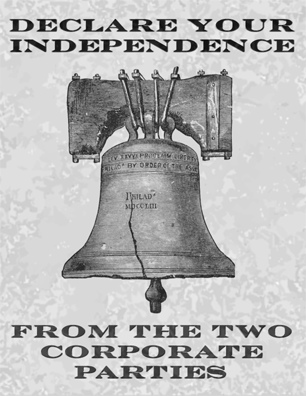 Four days ago we announced our goal of putting Ralph Nader on the ballot in five more states - for a total of fifteen states - by July 20 and that we would need to raise $60,000 to get it done.
How are we doing?
In those four days, we've raised - thanks to you - more than $26,000.
Later today in South Carolina, we will turn in more than 18,000, more than enough to get us on the ballot. We only need 10,000 valid.
South Carolina - check.
Later today in Rhode Island, we will turn in more than 2,000 signatures.
We need only 1,000 valid to get us on the ballot there.
Rhode Island - check.
In Massachusetts, we have about 17,000 signatures in hand. We need 10,000 valid. Our goal is 20,000.
We're well on our way in Massachusetts.In Missouri, we have 14,000 in hand. We need 10,000 valid. Our goal is 20,000.
We're well on our way in Missouri.
Our South Carolina road crew is being deployed to Arkansas this week.
They should knock out Arkansas by the end of the week.
So, by Sunday, July 21, as promised, we will have 15 states in the bag. (See updated map here.)
On the political front, McCain and Obama are in a dead heat. (See Rasmussen daily tracking poll here.)
CNN's most recent poll puts Ralph at six percent.
Ralph has been on the road campaigning, most recently in Charlottesville, Virginia. Check out this news video.
And as the panderer Obama moves to the right, many of his supporters are taking a new look at Nader/Gonzalez.
Check out, for example, Allison Kilkenny's Huffington Post blog titled The Other N Word.
And see also Greg Kafoury's After the Obama Betrayal.
Our short term goal - raise the remaining $34,000 by July 20. Help us get there now.
Our medium term goal, put Nader/Gonzalez on the ballot in 45 states by September 20.
Our long term goal - change the country.
Step by step.
Together, we are making a difference.
Onward
The Nader Team
PS: We invite your comments to the blog.
Your contribution could be doubled. Public campaign financing may match your contribution total up to $250.
The e-mail address for this site is
common_ills@yahoo.com
.
iraq
robin long
joshua key
robert matas
katie mercer
kim bolan
suzanne ahearne
jeff hodson
brian hutchinson
iraq
iraq