A8 of today's
New York Times
features Aliss J. Rubin's "
Iraqi Trade Officials Forced Out in Anticorruption Sweep
" which focuses on the Ministry of Trade in Iraq and the "three high-ranking officials" and "[t]hree lower-ranking ministry officials" were fired. The firings did not sit well with some members of Parliament who had "collected the 107 signatures they said they needed to discuss a no-confidence motion against the trade minister" who instead remains in office. Why focus on the Ministry of Trade? Parliament's Integrity Committee chair Sabah al-Saadi explains, "The reason to concentrate on the Ministry of Trade is because it gives direct services to the citizens. People cannot live without food. It's not like electricity where they can buy power from private generators. Its' related to poverty and hunger."
Rubin notes of the rations, began under Saddam Hussein, that the quality of them has seriously declined:
The basket consisted of flour, rice, tea, sugar, salt, dried milk for adults and for children, cooking oils, lentils, chickpeas, soap for washing and laundry, and occasional extras, such as tomato paste or cake flour.
During the past three years, both the selection of products and their quality have diminished, many Iraqis say. Milk has been missing for much of the past three years, although it recently made a reappearance, and there have been cases of rice with bugs in it and stale tea.
Dana Hedgpeth's "
$13 Billion in Iraq Aid Wasted Or Stolen, Ex-Investigator Says
" (
Washington Post
) was published Tuesday and reports on the hearing held Senate Democratic Policy Committee on corruption in Iraq. That's the hearing noted in yesterday's snapshot. The corruption is far beyond the Ministry of Trade and it does appear some easy targets were ousted from their jobs and the corruption will remain in that ministry (as well as in others). We'll pull this section from yesterday's snapshot:
Salam Adhoob: Based on the cases that I have personally investigated, I believe that at least $18 billion have been lost in Iraq through corruption and waste, more than half of which was American tax payer money. Of this $18 billion, I believe at least $4 billion have been lost due to corruption and criminal acts in the Ministry of Defence alone. [. . .] During my time at the agency, the CPI worked closely with the Bureau of Supreme Audit which is Iraq's version of the Government Accountability Office. In 2007, the BSA conducted an extensive audit of American reconstruction projects in Iraq. The BSA attempted to track every American-funded project in the country, visited project sites, interviewed Iraqi government officials about the status of the projects and reviewed contradicting documents that were available for inspection. In a report that has never been made public, the BSA revealed that it could not properly account for more than $13 billion in American reconstruction funds. During their audit of American reconstruction contracts, BSA officials uncovered ghost projects that never existed, projects that the Iraqi government deemed unnecessary and work that was either not performed at all or done in a shoddy manner by both American and Iraqi contractors. To cite just one example from the BSA audit, approximately $24.4 million was spent on an electricity project in Ninewa Province that the BSA concluded existed only on paper. While the BSA found that many of these projects were not needed -- and many were never built -- this very real fact remains: the billions of American dollars that paid for these projects are now gone.
Senator Robert Byrd: If your investigators uncovered evidence implicating American contractors or officials in case of fraud or corruption who was responsible for making that case and making those arrests and did you work with or receive good cooperation from your American counterparts?
Salam Adhoob: I was already responsible for a lot of investigations and some American counselors and advisers helped me; however, I have to say in order to be honest that not all the advisers and counselors at the American embassy were helpful. I would also go far as saying that some of these have helped the corrupt people. Here's an example that one American adviser specialized in human rights and he works for the Iraqi Ministry of Defence. He visited him [Adhoob, the translator begins going from "I" to "him"] in his office and he screamed at his face and this is recorded he says asking him not to investigate a particular case, screaming again and again, "Why are you investigating this case? This is American money. This is not your money." And he also sent a message in that regard. There are many, unfortunately many Americans, who are like that particular adviser who, again, asked him not to investigate with a particular American person because "the money is American money."
Senator Robert Byrd: Mr. Adhoob, if corrupt officials illegally move funds outside Iraq what resources did you have to continue investigation, make an arrest or recover the stolen funds?
Salam Adhoob: He's giving one example. He says, I'll give you one example here that there is a person an American who have helped the officials, some officials, in the Ministry of Defence, and Mr. [Nair Mohammed] Jummailly that he mentioned in his statement, he helped them to smuggle outside of Iraq, six hundred million dollars to Jordan and one hundred million to Beirut. And that person was an adviser to the Iraqi Central Bank. When the officials in the airport, in the Baghdad International Airport were again leaving or sending these sums of money, these huge sums of money to leave Iraq, he would use -- that adviser would use -- his influence with the central bank in order to overcome the objections of the officials of the international airport.

As noted in
yesterday's snapshot
, Private First Class Michael Barnes won CO status in a case he had to take to the federal courts. Today
AP

notes
:
"I have been trying to justify being a soldier and finding a way to do so while still being a Christian, because that is what I wanted to do since I was a kid," Barnes wrote in his request for conscientious objector status in December 2006.
"But I can no longer justify spending my short time in this world participating in or supporting war. ... I must try to save souls, not help take them."
Barnes remained in Iraq through the duration of his unit's 15-month deployment. His brigade returned to Anchorage last November.
Turning to the US presidential race,
Jonah
notes
this from Team Nader
:
Did You See the McCain-Nader-Obama Debate?!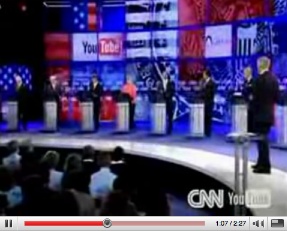 Friday is looming. The first presidential "debates." You know, the ones sponsored by the Democratic and Republican parties, along with their corporate sponsors.
Well, we have a preview for you -- of a different kind of debate. We think that you will demand more like it.



(Click here to watch the Nader/Obama/McCain debate video.)

Please send the video around to your friends and family.
And take a moment to subscribe to http://www.youtube.com/user/votenader08.
Please visit votenader.org/debates now. Get involved. Now is when the debate about the debates happens!
Also, call John McCain at (703) 418-2008. Hit 2 or 3 to speak with a campaign volunteer, 6 to leave a message in the general campaign voice mailbox.
Politely deliver the following message:
Hi, my name is ...

I was wondering if Senator McCain, being a believer in equal opportunity and equal rights, could insist that Ralph Nader and other ballot-qualified third party candidates be included in the upcoming Presidential debates?
After all, Nader is on 45 state ballots.
And he's polling well nationwide. And he could help Senator McCain challenge the corporate Democrats.
True, Ralph would critique Senator McCain for his corporate ties also. But isn't that what democracy is about? Could you please leave this message for the campaign manager? Thank you.
Raise it high, say it loud and clear:
"We must have open debates!"


Onward to November.
The Nader Team


The e-mail address for this site is
common_ills@yahoo.com
.
iraq
the new york times
alissa j. rubin
dana hedgpeth
the washington post
michael barnes