In this morning's
New York Times
, Erica Goode covers the legislative developments in Iraq with "
Iraq Passes Election Law, Setting Aside Kirkuk Status
" which explains how yesterday saw the Parliament pass a law for provincial elections that omits the issue of oil-rich city of Kirkuk but should allow elections to be held elsewhere in Iraq at some point in the next year. Provincial elections were a White House defined benchmarks. Obviously, the benchmark was not met since the elections will take place (barring any more roadblocks) in 2009 and after the US' next president is sworn in. Goode notes:
The law still must be approved by the three-member presidential panel led by President Jalal Talabani.
"We have written what the Iraqi people want, not what the Iraqi politicians wants," said Mahmoud al-Mashadani, the speaker of the Parliament, referring to the new legislation.
[. . .]
It took weeks of talks, brokered by the United Nations, for the Parliament to reach agreement on Wednesday.
[. . . .]
Other parts of the election law specify that 25 percent of the council representatives must be women -- a stipulation that was hailed by Ala al-Talabani, a member of Parliament, as "a victory for the Iraqi women" -- and place restrictions on the use of religious imagery in political campaigns.
As Goode points out, the last legislation was vetoed by Talabani. Tina Susman and Caesar Ahmad's "
Iraqi lawmakers pass provincial election measure
" (
Los Angeles Times
) provides more details:
The bill's passage came with some major hurdles attached, at least one of which was described as a "very dark" cloud by the United Nations' special representative, Staffan de Mistura.
That issue involves the northern city of Kirkuk, which Kurdish leaders want as part of the semiautonomous Kurdistan region. The city's Sunni Arab and Turkmen populations oppose the idea. All the groups had feared that holding provincial elections now in Tamim, whose capital is Kirkuk, would deny them the power they seek in the oil-rich region, so the decision was made to postpone voting there.
"In every great day there is a cloud," De Mistura said of the postponement. "It is very dark. It is the issue of minorities. This is a sensitive issue."
But the parliament speaker, Mahmoud Mashadani, said the fact that lawmakers didn't let the Kirkuk dispute derail the bill should be lauded.
The legislation mandates that a parliamentary committee review the Kirkuk issue and by March make recommendations on resolving it. Elections also will be delayed in the three provinces under the regional government in Kurdistan -- Dahuk, Irbil and Sulaymaniya.
Lloyd
notes Sudarsan Raghavan's "
Parliament Approves Elections Law in Iraq
" (
Washington Post
) which explains:
The election legislation was approved only after Kurdish, Arab and Turkmen lawmakers agreed to a compromise brokered by the United Nations that calls for the creation of a parliamentary committee to review the status of Kirkuk, which the Kurds seek to incorporate into their autonomous region.
Elections will be held in 14 of Iraq's 18 provinces by Jan. 31, lawmakers said. They acknowledged it would be difficult to hold any elections this year, as originally scheduled. Faraj al-Hadari, head of the country's electoral commission, said officials needed at least five months to prepare for the vote once the legislation is passed into law, suggesting that elections could be further delayed.
[. . .]
The elections are widely expected to give Iraq's Sunni minority a greater share of political power. Many Sunnis boycotted the last provincial election, in January 2005, enabling Shiite religious parties and the Kurds to gain power, even in some majority-Sunni areas.
Meanwhile
AP

reports
327 case -- confirmed cases -- of cholera in Iraq. At a time when the Iraqi people
may not be able to count on the UN
comes the news that another supporter of the people is in question. Amit R. Paley and Ernesto Londono's "
Iraqi Red Crescent Paralyzed by Allegations
" (
Washington Post
) reports:
The Iraqi Red Crescent, the country's leading humanitarian organization, has been crippled by allegations of embezzlement and mismanagement, including what Iraqi officials call the inappropriate expenditure of more than $1 million on Washington lobbying firms in an unsuccessful effort to win U.S. funding.
The group's former president, Said I. Hakki, an Iraqi American urologist recruited by Bush administration officials to resuscitate Iraq's health-care system, left the country this summer after the issuance of arrest warrants for him and his deputies. He and his aides deny the allegations and call them politically motivated.
Moving to the presidential race,
Kyle
notes
this from Team Nader
:
My Father and the Bank Bailout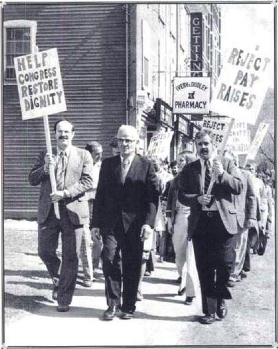 I was up on Capitol Hill yesterday among the swarm of big bank lobbyists.

And the first thing I thought of was something my dad -- Nathra Nader -- used to say:

"Capitalism will always survive in the United States as long as the government is willing to use socialism to bail it out."

Dad was old school.
Dad emigrated to the U.S. in 1912 when he was nineteen.


(Here is a picture of Dad in 1978, leading a demonstration in Winsted, Connecticut, my hometown, to protest a Congressional pay raise.)

"When I sailed past the Statue of Liberty, I took it seriously," he would say.

Dad ran a restaurant in downtown Winsted -- the Highland Arms.

People used to say -- "At Nader's place, for a nickel you got a cup of coffee and ten minutes of conversation."

Dad didn't hesitate to skewer the greed of big business.

He especially opposed the drive by the chain stores to destroy family owned small businesses.

Dad was a man of many sayings.

"Congress is the best big business investment in the country," he would say. "It's one big leveraged sell-out."

When we were young, Dad would tell us:

"Don't look down on anyone and don't be in awe of anyone."

Or this one:

"Almost everyone will claim they love their country. If that is true, why don't they spend more time improving it?"

Dad knew early on that both political parties were under the thumb of big business. (Where did you think I got it from?)

Anyway, being on Capitol Hill yesterday got me to thinking about an idea that would help us push our substantive agenda onto the front burner of American politics.

A few years ago, I sat down at my manual typewriter and typed in 100 or so of my Dad's most memorable sayings and proverbs.

I thought you would enjoy having a copy of them.

So, here's the deal.
Our goal during this current fundraising drive is to hit $150,000 by the end of the month. (Thanks to your generosity, we're already at $36,000.)
If you donate any amount that has the number 3 in it -- as in -- we want a 3-way race -- by midnight tonight, we'll e-mail to you a collection of my Dad's sayings and proverbs.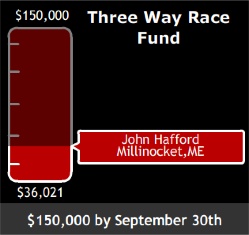 That simple.
So, you can give $3.
Or $13
.
Or $30
.
Anything up the to the maximum of $2,300.

But it has to have at least one three in it.

If it has a three in it, we'll e-mail you the 20 pages of Dad's sayings tomorrow.

You can share it with your friends and family.

Thank you for your ongoing support.

Together, we are making a serious difference -- and keeping our sense of humor.


Onward to November.
Ralph Nader

PS: And remember, if you donate $100 now, we'll ship to you a copy of The Ralph Nader Reader, a 441-page collection of my writings on Wall Street vs. Main Street, democracy, the corporate state, and our hyper-commercialized culture. If you donate $100 now, we will send you this diverse collection -- and I'll autograph it. (This book offer ends at 11:59 p.m. September 30, 2008.)


yesterday on The CBS Evening News with Katie Couric, Couric offered (video and text) the first of a two-part interview with GOP vice presidential nominee Sarah Palin
.
The second part of the interview with Governor Palin is scheduled to air tonight.
The e-mail address for this site is
common_ills@yahoo.com
.
iraq
the new york times
the los angeles times
tina susman
caesar ahmed
the washington post
sudarsan raghavan
amit r. paley
ernesto londono