Tonight
The New Adventures of Old Christine
makes it season debut on CBS. One of the few sitcoms featuring women and a very funny program starring Emmy winner Julia Louis-Dreyfus as Christine (old Christine). Clark Gregg plays Christine's ex-husband, Emily Rutherfurd plays (new) Christine, Hamish Linklater plays (old) Christine's brother Matthew and Wanda Sykes plays (old) Christine's business partner and friend Barb. As noted in "
Coming Up
" (
Third Estate Sunday Review
):
This Wednesday,
The New Adventures of Old Christine
has its season debut during prime time's first half-hour. This is a popular show with many readers -- many of whom have written to note that Ava and C.I. have been documenting CBS' attempt to disown the program for some time. Ava and C.I. note that the Wednesday move is not unlike when CBS attempted to get rid of
Murphy Brown
and
The Nanny
. You can make it harder for CBS to get rid of the show you enjoy by watching it on its new day. (It transitioned over the summer -- airing on both Wednesdays and Mondays but with the fall season now underway, it will air on Wednesdays.) Ruth and Marcia both wrote about it last week and intend to do a heads up in their Tuesday night posts. Seeing those posts last week led many of you to ask that we somehow note the change so that everyone is aware. As
Ruth
and
Marcia
pointed out, sitcoms have seen the disappearance of the female lead.
The New Adventures of Old Christine
not only offers a female lead, it offers what may be the funniest network sitcom. We will note the new air date again next week in another format. [
Click here for Ava and C.I.'s review of the show
, and
here
,
here
,
here
and
here
for some more commentary by Ava and C.I. That's not all the commentary, just all we're linking to for this short feature.]
Staying with TV, last week's
NOW on PBS
explored women and politics:
How have women in politics changed America and the world? NOW on PBS investigates with an hour-long special hosted by Maria Hinojosa: "Women, Power and Politics: A Rising Tide?"See the show on television this weekend or
watch online STARTING SATURDAY
[. . .]Show Description: Given the hoopla surrounding Sarah Palin and Hillary Clinton's historical political ascendance, why does the U.S. rank so low among countries for percentage of women holding national office? On Friday, September 19 at 8:30 pm (check local listings), in a one-hour special, NOW's Maria Hinojosa talks to women leaders around the world and here in the United States for an intimate look at the high-stakes risks, triumphs, and setbacks for women leaders of today and tomorrow. Among these women are President Michelle Bachelet of Chile, the first woman leader in Latin America who did not have a husband precede her as President, and former New Hampshire Governor Jeanne Shaheen, now in a tight race for a seat in the U.S. Senate.We also travel to Rwanda, where, 14 years after a horrific massacre left nearly one million people dead, women make up nearly half of parliament; and to Manhattan, where ambitious high school girls are competing in a high-stakes debate tournament."Women, Power and Politics," is also about the personal journey of mother and award-winning journalist Maria Hinojosa as she strives to answer the question: "What does to mean to be a woman in power?"Watch a preview and excerpt of this special program at
this web address
:
Use this directory tool
to find out where the show is airing in your area:
The NOW website
... will feature web-exclusive commentary from noteworthy women including Maria Bartiromo, Sandra Cisneros, and Tina Brown; a personal essay from Maria Hinojosa; an interactive debate over Sarah Palin's candidacy; as well as opportunities for all women to post and share their stories of ambition, success, and discouragement.(
The "interactive debate" over Sarah Palin's candidacy is live now
...)
The episode can be streamed (video) online.
NOW on PBS
' exec producer
John Siceloff has written a piece
explaining
NOW
's online polling policies.
Turning to Iraq, Tina Susman and Caesar Ahmad's "
IRAQ: Female bomber cartoon stirs anger
" (
Babylon & Beyond
,
Los Angeles Times
):
The weekly newspaper that calls itself Al Esbuyia, or Iraq Weekly, offers a regular diet of sports, culture, features and sarcasm to readers, and one of its key features is the cartoon that accompanies each new issue. Most of the cartoons poke fun at the hardships endured by regular Iraqis, but some Iraqi lawmakers found the one published Sept. 14 to be not very amusing.
It shows a Muslim woman clad in a burka holding a burning bomb fuse in her raised left hand, a la the Statue of Liberty, who stands beside her. The drawing reflects the growing number of female suicide bombers in Iraq, but members of Iraq's parliament denounced it as an insult to Iraqi Muslim women and voted Sunday to sue the newspaper for defamation.
It's too early to say where, if anywhere, the lawsuit will go. For months, Iraqi lawmakers haven't been able to pass pressing legislation to hold provincial elections or share the nation's oil wealth, so the chances of them getting organized enough to push through a lawsuit like this seem remote.
The cartoon is featured in the article for those who would like to see it.
Yesterday's snapshot
included this:
Today the
US military announced
: "A Multi-National Division -- Center Soldier was killed as a result of a small-arms fire attack west of Salman Pak Sept. 23."
McClatchy Mohammed Al Dulaimy reports
that Iraqi police state two US soldiers died, that 2 Iraqis were killed in the exchange and that "[p]olice said the attacker saw American soldiers searching an Iraqi woman using their hands, which prompted him to pen fire on the soldiers." The announcement brings to
4170
the number of US service members killed in Iraq since the start of the illegal war with
19
for the month thus far.
The numbers are now
4171
US service members killed since the start of the illegal war and
20
for the month thus far. And, yet again, the count goes up via DoD and not M-NF. Repeating, M-NF is supposed to announce deaths, DoD is supposed to identify the fallen.
Ralph Nader is the independent presidential candidate and we'll note
these upcoming appearances
(which start today):
And remember these actions to take to open the debates,
from Team Nader
:
Call Barack Obama, E-mail Janet Brown Now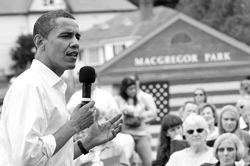 Okay, time for action.
The first Presidential debate is Friday.
And we're getting stonewalled.
They won't let Ralph Nader into the Presidential debates.
So, here's what we're going to do.
It's a two step process.
Step one -- call Barack Obama.
Tell Obama he should demand that Ralph Nader be included in the debates.
And step two -- e-mail the Commission on Presidential Debates.
And let them know you are onto their game.
Here are the details.
Step one:
Call Barack Obama at 866-675-2008.
Hit 6 to speak with a campaign volunteer.
Once connected, politely deliver the following message:
Hi, my name is ...
I was wondering if Senator Obama, being a believer in equal opportunity and equal rights, could insist that Ralph Nader and other ballot qualified third party candidates be included in the upcoming Presidential debates?
After all, Nader is on 45 state ballots.
And he's polling well nationwide. And he could help Senator Obama challenge the corporate Republicans.
True, Ralph would critique Senator Obama for his corporate ties also. But isn't that what democracy is about? Could you please leave this message for the campaign manager? Thank you.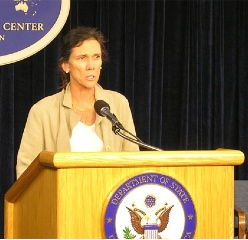 Step two:
E-mail Janet Brown, the executive director of the Commission on Presidential Debates.
Here's a sample e-mail:
Dear Janet Brown:
Greetings.
You must be busy.
Preparing for the first Presidential debate this Friday.
So, I won't take much of your time.
Just wanted to let you know that the American people were not born yesterday.
We know the deal.
Take that little private corporation that you run.
Controlled by the two corporate parties.
And funded by big business.
For the purpose of excluding independent minded candidates.
Friday, two Wall Street candidates are scheduled to be in the ring.
Barack Obama and John McCain.
The one candidate who represents the American people, Main Street, if you will, will be on the outside looking in.
So, here's a simple request.
Drop your exclusionary restrictions.
And let Ralph Nader into the debates.
It will be good for your conscience.
Good for the American people. (I believe it was The League of Women Voters that called your corporatized debates "campaign-trail charades devoid of substance, spontaneity, and honest answers to tough questions.")
And good for democracy.
Let the American people have a real debate for once.
Main Street vs. Wall Street.
Thank you.
Signed
your name.
Onward to November
The Nader Team
The e-mail address for this site is
common_ills@yahoo.com
.
iraq
caesar ahmed
tina susman
the los angeles times
julia louis-dreyfus
the new adventures of old christine
cbs
pbs
now on pbs
maria hinojosa