Burn Pits 360 December Update
As we get closer to the end of the year, we always like to look back at what we've accomplished here at Burn Pits 360 – and we're proud to say that it's a lot. From getting both federal and state legislation introduced that supports our cause, to having a seat at the table in Washington D.C. fighting for those that suffer from the toxic wounds of war, to having the grand opening of the Warrior Support Center right here at home in Robstown, we are grateful for your support along the way. With that being said, we have plenty of work a head of us. Below is a recap on the year and a preview of what we are hoping to accomplish in 2019.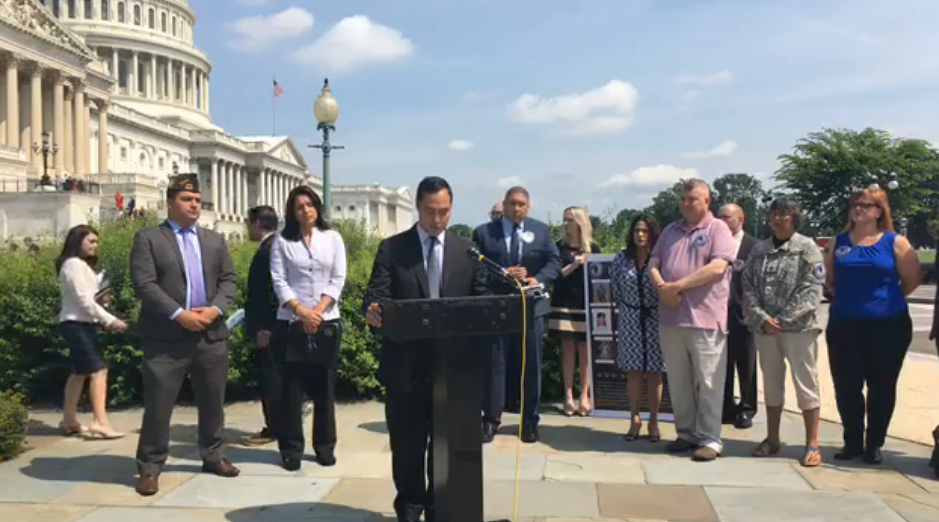 Congressman Joaquin Castro (D-TX) discusses how Congress can act on protecting burn pit victims.
Burn Pits 360 Founder Le Roy Torres shares his story on dealing firsthand with burn pits exposure.
Congressmembers Joaquin Castro & Raul Ruiz Remarks On Burn Pits Health Effects

Congressman Castro has spearheaded several legislative initiatives to assist with veterans' transitions back into civilian life following their service. One of those initiatives was the Family Member Access to Burn Pit Registry Act (HR 6027), which would allow for a family member to participate in the Airborne Hazards and Open Burn Pit Registry on behalf of a deceased veteran or service member – which is currently prohibited by the Department of Veteran Affairs. This would enable family members to document the experience of their loved ones while also helping the government analyze long-term health effects of burn pit exposures.

Click here to watch the full press conference.
Texas State Representative Abel Herrero Files Legislation to Create a Texas Burn Pit Registry

Texas State Representative Abel Herrero filed legislation to create a Texas Burn Pit Registry for the 86th Legislative Session. Filed HB 306 (Texas Open Burn Pit Registry), will help service members, veterans, medical providers, and the VA determine the effects of exposure to open air burn pits. Much like the Agent Orange and Gulf War registries, the Texas Burn Pit Registry will serve as a critical tool in examining this new type of toxic exposure to help stop medical misdiagnoses that often lead to denial of benefits and financial hardships for so many of our veterans. Texas State Senator Juan "Chuy" Hinojosa filed companion legislation in the Senate.
A 2018 Analysis of Burn Pits 360 Registry Data on Veterans by Augusta University in Georgia.
Burn Pits 360 teamed up with Augusta University in Georgia to develop more of an insight as to the consequences of our service members being in contact with burn pits. The study is called, "Deployed Veterans Have Higher Proportionate Cancer Mortality from Exposure to Open-Air Burn Pits." Researchers found that the more exposure service members had to burn pits while they served, the higher the chance of developing serious cancers and other ailments.
The authors of the study used data culled by a veteran advocacy group that began a registry of those who succumbed to illness after their exposure to burn pits, which were used during the wars in Iraq and Afghanistan to dispose of everything from trash to medical waste -- which was often set ablaze with jet fuel as an accelerant. The burn method released toxic clouds of smoke that hung over military bases. The registry was created in response to a separate registry created by the Veterans Administration that does not include veterans who died.

TO READ THE STUDY, CLICK HERE

TO READ FOX NEWS COVERAGE, CLICK HERE
Burn Pits 360 Founders Le Roy & Rosie Torres cut the ribbon with State Rep. Abel Herrero and local elected officials for the grand opening of the Warrior Support Center.
Earlier this year, we were proud to be at home in Robstown to have the grand opening of the Burn Pits 360 Warrior Support Center. In attendance were State Rep. Abel Herrero, Nueces County Commissioner John Marez, various local elected officials and community members. Read more at KRISTV.com
What we hope to accomplish in 2019...



2018 was a great year for Burn Pits 360 and our legislative goals. We heavily advocated and lobbied our federal and state elected officials to take the first steps in improving the lives of our veterans. While we made major strides this year, we are pushing to make bigger ones next year. Some of our top priorities for 2019 include:
Work with Congress to ensure that "constrictive bronchiolitis" – a well-documented ailment from being exposed to burn pits -- is covered under the Department of Veteran Affairs. Currently, the VA does not recognize this illness as a post-deployment sickness which leads to denial of benefits.
Our advocacy on burn pits and the toxic wounds of war has not gone unnoticed throughout the country. To further inform elected officials, we will be teaming up with other veterans' organizations to conducted a symposium in Washington D.C. for the 116th Congress to better educate them on the issue.
Burn Pits 360 will also be aiming to lobby the upcoming Texas State Legislature as well as US Congress in Washington D.C. to advance our legislative goals.
Publish the first post-deployment guide for veterans suffering from burn pits. The guide will serve as a tool for veterans to use to help become aware of resources available, latest research, policy updates, and more.
We can't do this without you.
Everyday we wake up, we feel empowered to continue the fight for our veterans that suffer from burn-pit exposure. We have accomplished so much – and it looks like we'll be accomplishing more very soon, which is why we need your help.
Burn Pits 360 is growing at a rapid pace, and we need your support to help keep up, which is why we hope you can pitch in $5, $10, $100, or even more to help us cover our costs. We are a pure volunteer-based organization that relies on generous supporters such as yourself.
Can you chip in right now to ensure we can keep up the fight for our veterans?
Every dollar counts. Every dollar helps us on our mission.
Click here to chip in today.
From our family to yours, we wish you a Merry Christmas, Happy Holidays, and a joyous New Year. We're excited about what the future holds for Burn Pits 360.
COPYRIGHT BURN PITS 360 2018

Our mailing address is:
Burn Pits 360 Veterans Organization
201 N. 4th Street
Robstown, Texas 78380