Defense Secretary Robert M. Gates yesterday criticized the shock-and-awe strategy of the 2003 Iraq invasion and said the Pentagon's narrow focus on conventional combat operations proved costly when U.S. ground troops had to switch gears to try to stabilize that country.
The Pentagon bureaucracy failed to respond quickly enough to the military's need for innovative counterinsurgency operations in Iraq and Afghanistan, Gates said, and he called for reforms to make the institution more agile and flexible.
The above is from Ann Scott Tyson's "
Gates Criticizes Conventional Focus At Start of Iraq War
" (
Washington Post
) and remember, when War Hawks look back at a war gone wrong, they focus on minor details, not on the nature of the war itself. Blah, blah, blah says Gates arguing that the problem with the Iraq War wasn't the war itself, it was strategy and tactics.

Ahmed Qassim spent Monday mopping up blood and sweeping broken glass from his clothing shop in Baghdad's Karrada neighborhood. It wasn't how he'd hoped to mark the close of Ramadan, Islam's holy month.
"Is this eidia for us?" asked Qassim, referring to the gifts that Muslims give each other to celebrate Ramadan's end. His Attar Street store sits about 150 feet from the site where at least 19 people died in a double bomb attack Sunday night.
"For me myself, I lost four friends," he said.
That's from Corinne Reilly's "
Once again, Iraq's Ramadan ends in violence
" (
McClatchy Newspapers
) and Ahmed Qassim faces reality. Gates wants to repackage the illegal war. On the Sunday attacks, Mohammed al Dulaimy and Leila Fadel "
A bloody Sunday in Baghdad, in spite of the surge
" offer:
Fadel Naama was inside "The Dragon" gym coaching patrons as they worked out in the central Baghdad neighborhood of Karrada when the two explosions turned the evening into a night of bloodshed. Shortly before the explosions, a teenage boy came to him apologizing that he couldn't train on Sunday because of a pulled muscle. Naama, who owns the gym, told him to go home and rest.
Just after the boy left with his friend, Naama heard the boom and felt the pressure of an explosion. The boy's friend ran up the stairs in shock, his white T-shirt stained red.
"Where is your friend?" Fadel recalled asking. "He's been torn to pieces, the police took him," he said. He'd come up to wash the blood from his hands and legs.
Naama went outside and was stopped by police from approaching the site of the explosion, worried that another would soon go off. Then he saw a flash of light as a second explosion killed more people. He dropped to the ground to avoid shrapnel and heard metal pieces lodge into the walls around him.
Outside he saw a young girl sobbing and clinging to her father's leg as he urged her and the rest of his family to cross the street away from the explosion, he said. Next to Naama's leg was a pile of human flesh and in front of him a burning motorcycle lit up the market.
On the issue of Ramadan (which continues through this week),
AFP

reports
that the US released 2,404 Iraqi prisoners "in four weeks of Ramadan" which is not the over 5,000 they "promised in early September". AFP states that 17,000 Iraqis remain imprisoned by the US in Iraq.
Meanwhile a 'handover' is supposed to begin tomorrow. From Pakistan's
Daily Times
' "
US to transfer anti-Qaeda fighters to Iraq control
:"
The US military will this week begin handing over control of 100,000 Sunni anti-Qaeda fighters to Iraq's Shiite-led government, a move that risks undermining hard-earned security gains.
The Iraqi government and the US military have agreed in principle to the transfer of responsibility of all "Sons of Iraq" from October 1, beginning with 54,000 men in the province of Baghdad.
The US military uses the term Sons of Iraq, or "SOIs," to refer to the militia, also known as Sahwa (Awakening) Councils, which it recruited from among Sunni tribesmen and former insurgents.
Iraq will start paying the salaries of Sahwa men in Baghdad -- a monthly bill of around 15 million dollars -- from November 10, Major General Jeffery Hammond, commander of US forces in the Iraqi capital, told reporters.
Turning to the US presidential race.
Cynthia McKinney
is the Green Party nominee and here's an important statement regarding her campaign:
Green Party National Women's Caucus challenges NOW to support the historic McKinney/Clemente presidential campaign
Monday, 29 September 2008 19:38
Distributed by the
Green Party of the United States
National Women's Caucus of the Green Party of the United States
For Immediate Release
Monday, September 29, 2008
Contact:
Morgen D'Arc, Spokesperson, 207-761-7797, morgenizer@yahoo.com
Linda Manning Myatt, Spokesperson, 248-548-6175, lmmyatt@wowway.com
Green Party National Women's Caucus challenges NOW to support the historic McKinney/Clemente presidential campaign
WASHINGTON, DC --
The National Women's Caucus of the Green Party of the United States
has sent an open letter to the National Organization for Women (http://www.now.org) urging support for the Green Party's presidential ticket. The text of the letter is appended below.

The letter cites Green nominee Cynthia McKinney's six terms in Congress and her unmatched dedication to the principles of equality and human rights championed by NOW. The National Women's Caucus emphasizes the historical role that alternative parties have played in the struggle for women's suffrage and rights, and notes that NOW has failed even to recognize the significance of America's first national campaign by two women of African descent: Ms. McKinney is African American and running mate Rosa Clemente is Black Puerto Rican.
OPEN LETTER TO NOW, THE NATIONAL ORGANIZATION FOR WOMEN

National Women's Caucus of the Green Party of the United States
Sunday, September 28, 2008
Dear National Organization for Women leadership and members:
The National Women's Caucus of the Green Party of the United States is dismayed that your recent endorsement of Senator Barack Obama for President of the United States did not acknowledge the first all-female ticket in recent U.S. history. Cynthia McKinney and Rosa Clemente are running for President and Vice President, respectively, on the Green Party ballot line.
Cynthia McKinney served six terms in the U.S. Congress and two terms in the Georgia General Assembly. She is a global human rights and peace activist with a substantial voting record supporting women. Rosa Clemente is a community organizer and journalist who was one of the founders and primary organizers of the first national Hip Hop political convention. Their "Power to the People" campaign goal is to ensure that public policy reflects the Green Party values of ecological wisdom, social justice, grassroots democracy, and nonviolence.
Cynthia McKinney has been a steadfast supporter of full reproductive rights for women throughout her legislative career, including funding for contraception and UN family planning, and opposition to "abstinence only" sex education. Rosa Clemente has been an outspoken advocate on issues affecting people of color, particularly women, and has directed her campaign toward the 48% of young people who don't vote, to encourage participation in the electoral process.
Additional positions of the McKinney/Clemente campaign that will benefit women include:
- Equal Rights
- End to forced sterilization and coerced or uninformed consent procedures,
- Immediate end to the War in Iraq and reinvestment of the money into our communities
- Single-payer, universal "Medicare for All"
- Election integrity where every vote is counted
- Right to same-sex marriage
- Free higher education
- End to the drug war
- Right of return of survivors of Hurricanes Katrina and Rita
- Withdrawal from corporate trade agreements such as NAFTA that are devastating economies worldwide
- Promotion of renewable energy (no coal or nuclear) to create hundreds of thousands of new manufacturing, construction and service jobs
Neither Obama nor his Republican opponent John McCain support these positions.
The National Organization for Women PAC repeatedly praised Congresswoman McKinney during her six terms in U.S. Congress; and her record, on every relevant issue, surpasses those of the male endorsees. But now, these two women of color -- powerful and power-challenging, real choices, and nominated by a political party that proudly boasts Feminism & Gender Equity among our Ten Key Values -- don't even receive acknowledgment.
The National Organization for Women, at all levels, has long struggled over diverging feminist paths -- choosing either to press for change within the existing power structure, and its institutions, or to step outside of the expected and challenge the institutions themselves. In the view of the National Women's Caucus of the Green Party of the United States, NOW has best served women when NOW has recognized, in the words of Audre Lord, that "when you look back on the road you've come, and see pain, and look forward to the road you're on, and see pain, then, step off the road, and make a new path."
We recall when NOW distributed buttons proclaiming that "Women were not born Democrats, Republicans, or YESTERDAY." We recall when the heroines of our heritage were Belva Lockwood, Alice Paul and Sonia Johnson, each willing to form her own political party, or run for president independently, or both. They were willing because that path provided fewer barriers to telling the plain truth, the truth that needed to be heard, than did service to the establishment parties. We even recall when NOW announced the formation of its own, alternative, political party, the "Party for the 21st Century," with Dolores Huerta at its head. We rejoiced when NOW sought to make a new path, because the old political road was simply too filled with the pain of condescension and compromise, deferment and settling for what was offered.
Even when NOW, through its political action committee, decided in the last two decades to bestow its endorsement on candidates from the over-represented political parties, it was to reward them for actually moving closer to the day when a woman might be president, with a Geraldine Ferraro and a Hillary Clinton sitting in the candidate car, and not just trudging behind it, pushing. But this past week, that endorsement reward was offered without even that, out of the same "fear of the alternative" that has driven women to set our own hopes, dreams and destinations aside, time and again, to let the men drive the car.
Belva, Alice and Sonia did not become president of the United States, but, with the support of the feminists of their time, speaking truth, each re-formed the vision that America had about women. While men can be feminists too, their institutions can only be deemed feminist if they produce equality. The dearth of elected women, at every level, is its own condemnation of the party structures that are the paved road of American democracy. It disappoints us greatly, that earlier this month, NOW has not made a new path. By failing to commend, or even comment on, the presidential candidacy of Cynthia McKinney and her Green Party running mate, Rosa Clemente, NOW is driving on the wrong side of history.
We invite the National Organization for Women, and feminists everywhere, to support the Green Party and the McKinney/Clemente campaign. Come walk the walk with us, and make a new path.
Sincerely,
National Women's Caucus, Green Party of the United States
Nan Garrett, Co-Chair
Ginny Marie Case, Co-Chair
National Women's Caucus Member Claudia Ellquist, National NOW Board member, 1990-94, participated in the drafting of this letter
National Women's Caucus
Green Party of the United States
1711 18th Street NW
Washington, DC 20009
202-319-7191
202-319-7192
MORE INFORMATION
Abortion and contraception: McKinney is a firm supporter of abortion rights, appearing on EMILY's List of pro-choice women.
She has also supported federal funding for contraception and U.N. family planning programs
.
Quite a long statement on Women, Families and Children
[. . .]
* Voted YES on reducing Marriage Tax by $399B over 10 years. (Mar 2001)
* Supported funding child care, child health, & child housing. (Jul 1999)
McKinney immediately challenged Georgia House rules requiring women to wear dresses by wearing slacks
Green Party of the United States
202-319-7191, 866-41GREEN
Fax 202-319-7193


Cynthia McKinney/Rosa Clemente 'Power to the People' Campaign for the White House
http://votetruth08.com
http://www.runcynthiarun.org
Cynthia McKinney on video
http://www.youtube.com/user/RunCynthiaRun
http://www.youtube.com/profile_videos?user=RunCynthiaRun
• Press conference, September 10 at the National Press Club in Washington, DC http://www.youtube.com/watch?v=w_5ivgS4asc
• Speech in Denver, August 24:
http://www.youtube.com/watch?v=rPxgcjOjUEc
• Music video:
http://www.youtube.com/watch?v=gx1NPlQjkqo
I've taken out link addresses typed up as "www . . ." and made them part of the sentence when they referred to something. It will appear in today's snapshot and it will appear at Third this Sunday. It is important (and the issue was noted in the
Sept. 16th snapshot
). Ralph Nader is the independent presidential candidate and Brandon notes
this from Team Nader
:
The MOB Hands Us an October Surprise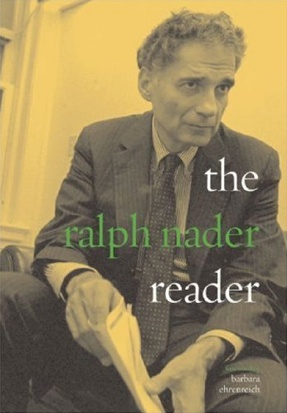 Opposed to the bailout of Wall Street crooks?

Donate $10 now to Nader/Gonzalez.

Why?

We're in the tenth month of our campaign.

And we're in the final two day stretch of our $150,000 Three Way Race Fundraising Drive.

Thanks to you, we're in striking distance.

We're at $110,000 with two days to go.

We need 4,000 of you, our loyal supporters, to donate $10 each.

Let's crank it up.

And get it done.

Our strategy all year long -- put Nader/Gonzalez in a position to break through.

And together, we did it.

We put Nader/Gonzalez on 45 state ballots -- and the District of Columbia.

Then, all of a sudden, here comes the MOB.

With an October surprise.

The MOB?

That would be McCain/Obama/Bush.

With the Mother Of all Bailouts.

McCain/Obama/Bush are pushing hard for the bailout of Wall Street crooks.

While Nader/Gonzalez stand with the American people in opposition.

Why are we in this mess?

As Richard Fischer, the president of the Federal Reserve in Dallas put it yesterday, we're in this mess because of "a sustained orgy of excess and reckless behavior."

Why then should we bail out those who engaged in the orgy?

We shouldn't.

And it's time to stand up and speak in one loud and clear voice.

No to the bailout.

Vote Ralph Nader.

The man who for his entire career has pushed for tough law and order regulation of Wall Street.

Regulation that would have prohibited the orgy of excess and reckless behavior.

The bailout of Wall Street crooks will be the number one issue throughout October.

And we need your help now to gear up to drive home the message.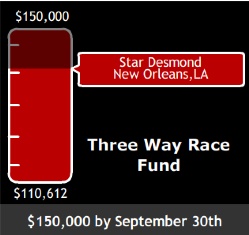 Throughout this campaign, you have never let us down.

We have met every fundraising goal we have set for ourselves.

Right now, we're at $110,000 in our Three Way Race Fund.

And we have to hit $150,000 by tomorrow midnight.

We have climbed this hill before.

Right now, we need 4,000 of you, our loyal supporters, to donate $10 each.

This week, Ralph Nader and Matt Gonzalez are traveling up the California coast.

Pounding home the message -- no bailout for Wall Street crooks.

There is crisis.

There is movement.

Which way will it turn?

It's up to you.

Our loyal supporters.

So, let's crank it up.

And get it done.



Onward to November
The Nader Team
PS: And remember, if you donate $100 now, we'll ship to you a copy of The Ralph Nader Reader, a 441-page collection of Ralph's writings on Wall Street vs. Main Street, democracy, the corporate state, and our hyper-commercialized culture. If you donate $100 now, we will send you this diverse collection -- and Ralph will autograph it. (This book offer ends at 11:59 p.m. September 30, 2008.)
The e-mail address for this site is
common_ills@yahoo.com
.
iraq
the washington post
ann scott tyson
mcclatchy newspapers
corinne reilly
mohammed al dulaimy
leila fadel
the daily times