Two suicide bombers targeting Shiite worshipers killed at least 20 people and injured dozens more at Baghdad mosques Thursday morning, officials said.
Both attacks took place around 8 a.m. in south east Baghdad, about four miles apart. They came as Shiites marked the first day of Eid, a three-day celebration that follows Ramadan, Islam's holy month.
Death tolls in both attacks will probably rise, officials said.
The above is from Corinne Reilly, Sahar Issa and Jenan Hussein's "
Blasts kill 20 Shiites worshippers in Iraq as they mark Eid
" (
McClatchy Newspapers
) on the violence already targeting Iraq today which
Peter Graff and Mohammed Abbas (

Reuters

) also document
including the Baghdad attack on worshippers that claimed at least 13 lives (forty-nine injured) and the Baghdad car bombing that claimed at least 7 lives (twenty-three injured) and eye witnesses are saying the first bombing was carried out by a 14-year-old male ("suicide bomber"). On the car bombing,
Vanessa Gera (

AP

) reports
:
A witness to the Zafaraniyah attack said he saw a white car speed toward the mosque and then heard a huge explosion that sparked a fire and heavy smoke. Ammar Hashim, 25, who runs a car parts shop nearby, rushed to the site and saw "a damaged and burned Humvee with dead and burned bodies and many injured people crying out in pain."
"Pools of blood and the smell of burned flesh was everywhere and I saw a man of about 70 bleeding and lying on the ground from injuries," said Hashim, whose brother was also injured by broken glass in his shop.
Meanwhile in the US, Tony Perry covers legal developments in "
IRAQ: Court-martial is told of bloody Fallouja battle
" (
Babylon & Beyond
,
Los Angeles Times
):
A pretrial hearing Wednesday at Camp Pendleton
got a brief reminder of the bloody nature of the Marines' battle with insurgents in Fallouja in November 2004.
Defense attorneys for Sgt. Ryan Weemer want to be able to call Sgt. Maj. Brad Kasal as a character witness during the court-martial. Weemer is charged with murder for allegedly killing a prisoner Nov. 9 in the first hours of the battle.
Kasal was not with Weemer that day, but the two were among the Marines three days later who fought what has become known as the battle of Hell House.
But, as Rick Rogers' "
Iraqi captives reportedly killed
" (
San Diego Union Tribune
) notes, *another witness* didn't testify:
Sgt. Jermaine Nelson took the stand in a pretrial hearing for Sgt. Ryan Weemer with the knowledge that Marine Gen. Samuel Helland had granted him immunity and ordered him to testify.
But Nelson wouldn't talk about what transpired during a Nov. 9, 2004, battle in Fallujah. He, Weemer and other Marines allegedly found several men during a house-to-house search, held them captive and then shot them to death after interpreting their superiors' comments over the radio as an order to kill.
"At this time, sir, I am going to continue to use my Fifth Amendment right," Nelson said in reply to questions from the prosecutor.
[C.I. note: "*" indicates a correction to the witness who didn't testify.
Kayla
caught my error and e-mailed. Thank you to
Kayla
.]
On the US presidential race,
Megan

notes this from Team Nader
:
Pass It On: The Obama Bubble Agenda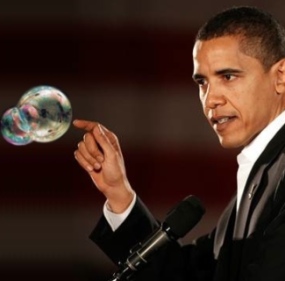 Many people tend to see the economic crisis as a problem from nowhere, divorcing it from the deliberate and systematic dismantling of regulation and oversight waged by the corporate sector in its fight for ever-greater profits. Many of these same people view Barack Obama's candidacy in similar but opposite terms, seeing him as the change candidate from nowhere who will save our economic and political our economic and political system--divorcing his hope message from his actual platforms and legislative history. In part two of her February analysis of Obama's campaign, Pam Martens makes the connection between our rootless critiques of the economy and our rootless support of Obama. When the same people causing a crisis are funding the man claiming to solve a crisis, we can expect more of the same.

Onward!
Ashley Sanders
The Nader Team
Today's Pass It On article appears below. It was written by Pam Martens and was published online by CounterPunch. This is the second of two parts. The first appeared in yesterday's Pass It On. You can read the original article here.
The e-mail address for this site is
common_ills@yahoo.com
.
iraq
mcclatchy newspapers
corinne reilly
sahar issa
jenan hussein
tony perry
the los angeles times
rick rogers