The
New York Times
discovers Iraq for one article, Erica Goode's "
Handshake Defuses a Standoff in Baghdad
" which makes the third story filed from Iraq in the paper since Saturday's edition (two of those ran on Tuesday). If you're not paying attention, you might miss Iraq slipping out of the news. Goode's article starts on A6 and focuses on "Awakening" Council 'commander' Ali Abdul Jabbar who fretted throughout Wednesday that Iraqi forces would arrest him.
A stronger article would have gone beyond the drama (he's not arrested and a warrant might or might not have been issued) to focus on the continued perception that the Iraqi 'government' has all of these warrants just floating out there and ready to issue them whenever someone displeases them. We've seen similar things with Ahmed Chalabi and Moqtada al-Sadr to name but two. A stronger article would have explored just how many warrants are out there or thought to be and exactly what action is required for them to be issued? What is the trigger?
We noted
Reuters
' journalist Ibrahim Jassam Mohammed's imprisonment
yesterday
.
CNN notes
that Ibrahim is one of two journalists imprisoned this week:
U.S. forces detained a cameraman employed by Baghdad TV -- a Sunni station -- early Thursday, after raiding his home in northern Baghdad's predominantly Sunni Adhamiya district around 2am local time, according to a Baghdad TV official.
He was detained along with several family members, including his father and two brothers, the official said. The U.S. military said it was looking into the report.
Baghdad TV is owned by the Sunni Arab Iraqi Islamic Party (IIP), the party of the country's Sunni Vice President Tariq al-Hashimi.
Yesterday US forces were responsible for killing Iraq forces in an incident being dubbed "friendly fire." Tina Susman and Ned Parker's "
Iraq reports 7 killed by U.S. friendly fire
" (
Los Angeles Times
) reports:
Wednesday's deaths were likely to rev up debate among Iraq's leaders about the issue of immunity for U.S. forces in this country. Though soldiers are immune from prosecution for incidents that occur on combat missions or that are deemed not the result of negligence or wrongdoing, friendly fire incidents invariably arouse anger among Iraqis who feel that American forces don't do enough to prevent such mistakes.
The immunity question has figured prominently in negotiations between the United States and Iraq over a deal that would allow U.S. troops to stay in the country after this year. The Iraqis are proposing that the Americans retain immunity on their bases and on combat missions authorized by the Iraqi government. But they would be brought before an Iraqi court in other circumstances, Iraqi officials said.
"Iraq cannot be expected to undervalue the lives of the Iraqis to give immunity to American soldiers working here in Iraq," Sheik Jalaluddin Saghir, a senior Shiite Muslim lawmaker, told The Times in an interview last weekend.
Sabrina
notes
this from Team Nader
:
Lights, Camera, Action for a Change -- Nader Flix!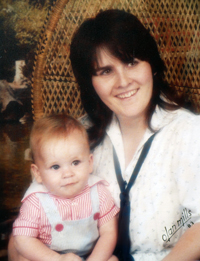 I've just arrived in Minneapolis to document events on the ground here -- from the police crackdown on dissent to the Nader/Gonzalez Minneapolis Super Rally on Thursday.
I'm on the Nader/Gonzalez media team.

You are making our campaign coverage possible, by contributing to the Nader Media Fund. We've just passed $70,000 and -- if the pace keeps up -- we will meet our goal of $100,000 by tomorrow night!
So, if you haven't donated yet to Nader/Gonzalez media -- now is the time. If just 3,000 of you -- our loyal supporters -- drop $10 each, we'll cruise to our goal.

In Minneapolis, smack dab in Republican territory, we will speak the words loud and clear that they cannot silence: Open up the Presidential Debates.
The shotgun mike and the video camera are mightier than the policeman's baton.
This is one lesson we've taken to heart again in recent days, as police in Minneapolis continue to violate the rights of citizens to free speech and assembly.
We're taking the story to you -- so that you can broadcast it far and wide.
In your living room, via email, spreading the word as sung by Tom Morello and spoken by Cindy Sheehan, Brooke Smith, and Sean Penn.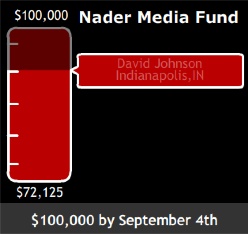 So, if you haven't contributed yet, please donate now to the Nader Media Fund.

Your contribution will allow us to continue to document this campaign through the coming weeks.
Right now, members of our media crew are busy editing video of the speeches and performances from last week's very exciting Super Rally in Denver.
And soon, we will be taking our cameras to Washington, D.C., and then out across America with you to spread the word -- and the video -- on the Nader/Gonzalez get out the vote effort.
Remember, if you give $100 or more now, we'll send you three DVDs -- the Denver rally, the Minneapolis rally, and a special debate DVD. (Three DVD offer ends September 4 at 11:59 p.m.)
The first one -- the DVD of the Super Rally in Denver -- featuring Sean Penn, Tom Morello, and Cindy Sheehan -- will be shipping next week.
You've done it every time and I'm sure you'll make that last push to get us over the top for the Nader Media Fund.
Onward to November
Karen Kilroy
The Nader Team
The e-mail address for this site is
common_ills@yahoo.com
.
iraq
the new york times
erica goode