Saturday, Sunday and Monday the
New York Times
filed zero reports in the paper (print edition) from Iraq. Yesterday, they offered two articles. Apparently that was exhausting which would explain why they have nothing to offer today. Amazing when you consider how much money the paper is spending on Iraq and how many are hopeful of laying the groundwork for a takeover. More than anything else in recent years, the cost spent on Iraq versus what's actually running in the paper (which is the reason to station journalists in Iraq). Amazingly, Campbell Robertson can report for the paper's Iraq blog -- even if the paper itself isn't interested. From Robertson's "
Rings of Death
" (
Baghdad Bureau
):
The graveyard was divided into thirds, or so people said: one section for Iraqis who were killed by Americans; one for Iraqis who were killed during the sectarian war; and one for those who died of natural causes. But in 2006 and 2007, Adhamiya, a Sunni island in a sea of Shiite neighborhoods, was a no-go zone for Western journalists. It was swarming with Al Qaeda death squads. To take a trip there was to invite a beheading.
At Baghdad Life (
Wall St. Journal
), Sarmad Ali offers "
Despite Iraq's Oil Oases, Its Citizens Still Live in Darkness
:"
U.S. policy makers and American consumers in the past few months have been immersed in concerns about soaring oil prices and how to lower them. Fuel prices are also expected to be a focal issue when American voters cast their ballots in the upcoming presidential elections.
But while I can understand Americans' fears about fuel prices and availability, I have a harder time understanding why Iraqis -- with their oases of crude oil reserves and untapped oilfields in the south and the north -- have had to put up with high oil prices and severe shortages of gasoline, diesel and cooking gas.
That's the opening. The
Los Angeles Times
actually includes Iraq in their physical paper. We'll note the article filed from Iraq in the next entry and here we'll note Paloma Esquivel and Christine Hanley's "'
Mentally unstable' Iraq veteran arrested in death of girlfriend, 19
:"


Late Monday night, when Orange County sheriff's deputies responded to a complaint about an argument at Needham's San Clemente condo, the 25-year-old veteran answered the door naked. He was belligerent and needed to be subdued with a Taser, deputies said. And in a bedroom they found his 19-year-old girlfriend, Jacqwelyn Joann Villagomez, severely beaten.
By Tuesday morning, Villagomez was dead and Needham was charged with murder and was being held in lieu of $1-million bail.
The alleged slaying capped a tumultuous period during which Needham was wounded in combat and returned home late last year with severe mental problems, his family said. He was still in pain from the shrapnel in his legs and back. He struggled with nightmares that left him screaming. He had been hospitalized and medicated, had consulted with therapists and had reached out for help.
The United Nations'
IRIN reports
:
At least five cholera cases have been confirmed in Baghdad and the southern province of Maysan, due to soaring temperatures and rundown water plants, the Health Ministry said on 2 September.
"Four cases have been confirmed in Baghdad and the fifth one has been confirmed in Maysan province. Of those, three are children younger than 10 years and the others are adults," Ihssan Jaafar, general director of the Health Ministry's general health directorate, told IRIN.
Turning to the US presidential race,
Eddie
notes
this from Team Nader
:
Third time's a charm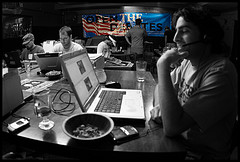 The general election campaign kicks off today.
To rev up our engines, drop $8 on Nader/Gonzalez now.
That's one dollar a week between now and election day--November 4.
I've worked on all three Nader campaigns--2000, 2004, and 2008.
And trust me on this one. This year, we have the best chance to break through.
Why?
There's a serious and growing independent movement away from the corporate Democrats and Republicans.
We're going to be on more state ballots this year -- 45 states (plus the District of Columbia) compared to 34 in 2004 and 44 in 2000.
We're heading toward double digits in a number of key state polls.
And because we are going to implement a nationwide get out the vote drive that will put 2000 and 2004 to shame.
Translation -- we're shooting for a three way race.
The last sixty days between now and election day will be a blur.
We have our Minneapolis rally coming up later this week. (If we don't all get arrested first -- apparently the police in Minneapolis arrest you for political organizing.)
We're in the process of transferring our ballot access crew over to our nationwide get out the vote drive.
And then it's going to be all out, pedal to the metal --- precinct by precinct drive --- until November 4--to let the American people know that they have a choice.
It's been one helluva year so far.
And it's going one knock down drag out fight.
Bring it on.
But first things first.
Thanks to your help, we have not missed one fundraising goal this year. And we don't plan to start now.
We're entering the home stretch of our most recent drive.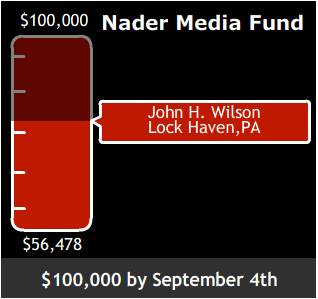 We're at $55,000.
But we need to hit $100,000 in three days -- by this coming Thursday September 4. That's $15,000 a day. It's go time.
So, give whatever you can afford now -- $10, $20, $50, $100.
And remember, if you give $100 or more now, we'll send you three DVDs -- the Denver rally, the Minneapolis rally, and a special debate DVD. (Three DVD offer ends September 4 at 11:59 p.m.)
Onward to November.
And what we hope will be a three-way race.
Jason Kafoury,
National Campaign Coordinator
The e-mail address for this site is
common_ills@yahoo.com
.
iraq
sarmad ali
campbell robertson
the new york times
the wall st. journal
paloma esquivel
christine hanley
the los angeles times