In today's
New York Times
, Sam Dagher offers "
Sunni Proponent of Reconciliation Is Killed
" which is a look at the "Awakening" Councils with an inital focus on the assassination of Fouad Ali Hussein al-Douri via a Saturday night bombing. From Dagher's article:

Administration of the Awakening program, which is made up of almost 100,000 mostly Sunni men countrywide on the American military payroll, is expected to be handed over to the government starting Oct. 1.
About 54,000 Awakening patrol members in Baghdad will start reporting to the government that day. There are serious concerns that many might be arrested for previous links to the insurgency or denied long-promised jobs in the army and the police.
The Awakening members, whose ranks include many former Sunni insurgents, backed by the Americans to fight militants, are often cited as a crucial factor in the improvement of security in Iraq. But they have long been viewed with deep suspicion by many Shiites in the government.
Though the paper skipped Iraq on Friday, they've now had one article filed from Iraq for the last three days, all written by Sam Dagher. One other section of the article to note: "Guards are paid a monthly salary of $300, and Jihad Guard leaders $450, by the American military." Actually, they are paid their monthly salary by the US tax payer. And on that note, we'll go to this from
Mohammed Abbas (

Reuters

)
:
Iraq does not need any financial aid from the United States, the government spokesman said, in the wake of criticism from some U.S. politicians that Washington is paying too much towards Iraq's reconstruction.
Since the U.S.-led invasion in 2003, U.S. taxpayers have paid $48 billion for stabilisation and reconstruction in Iraq, a congressional report said last month, adding Baghdad had spent little of its growing oil revenues on rebuilding infrastructure.
"I think we are in a position now not to ask for financial aid from anybody, even the United States," government spokesman Ali al-Dabbagh told Reuters at the weekend in the holy Shi'ite city of Najaf.
"I think we have enough money to spend and we are not in need of any money in the future."
Marshall
notes
this from Team Nader
:
In Honor of Peter Miguel Camejo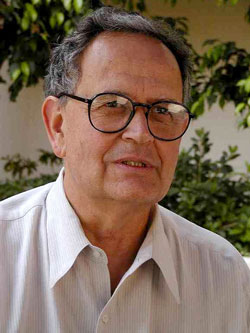 Peter Miguel Camejo, a civil rights leader, socially responsible investment pioneer, and magnanimo caballero for third party politics in the US, peacefully passed away early Saturday morning at his home in Folsom, CA with his wife Morella at his side -- only days after completing his autobiography.

The 68-year-old justice fighter had been battling a reoccurrence of lymphoma cancer, and his condition had rapidly deteriorated over the past few days.

Peter was a student leader, civil rights advocate, leader in the socially responsible investment industry with his own investment firm, Progressive Asset Management, Inc., and author of books on investment and history including Racism, Revolution, Reaction, 1861-1877, The Rise and Fall of Radical Reconstruction, California Under Corporate Rule, and his recent book, The SRI Advantage: Why Socially Responsible Investing Has Outperformed Financially.

Peter used his eloquence, sharp wit, and barnstorming bravado to blaze a trail for 21st century third party politics in the US. He was a third party candidate for state and national office, making three gubernatorial runs in California as a Green, including one in the 2002 election when he earned 5.3 percent of the vote. In the 2003 recall election, he debated Arnold Schwarzenegger and Gray Davis, and in the 2004 Presidential election, he was my running mate on our Independent Ticket.

Among the many causes Peter forcefully championed were a living wage, healthcare for all, and making the US the world leader in renewable energy. He was also a passionate advocate for electoral reform, pressing for proportional representation and instant run-off voting (allows voters to rank their top choices) in an effort to overturn the "200-year-old dysfunctional money-dominated winner take-all system that disrespects the will of the people."

Peter was a friend, colleague and politically courageous champion of the downtrodden and mistreated of the entire Western Hemisphere. Everyone who met Peter, talked with Peter, worked with Peter, or argued with Peter, will miss the passing of a great American.

Peter Camejo is survived by his wife Morella, his father Daniel, his daughter Alexandra, his son Victor, three brothers Antonio, Daniel, and Danny, and three grandchildren Andrew, Daniel, and Oliver.

When his autobiography (with the working title Northstar) is published, we will all be able to get a vivid sense of the great measure of Peter Camejo as a sentinel force for civil rights and civil liberties, and expander of democracy. His lifework will inspire the political and economic future for a long time.



Click here to view Peter Camejo at this summer's California Peace and Freedom Party convention, endorsing the nomination of Ralph Nader and Matt Gonzalez.
The e-mail address for this site is
common_ills@yahoo.com
.
iraq
the new york times
sam dagher