Thom Shanker and Stephen Farrell offer "
Odierno Succeeds Petraeus in Iraq
" in this morning's
New York Times
and their biggest 'contribution' may be noting that the handover took place in "an ornate palace built by Saddam Hussein". Tina Susman and Julian E. Barnes do a stronger job with "
Gen. Ray Odierno takes command of U.S. troops in Iraq
" (
Los Angeles Times
):
In his first news briefing minutes after the ceremony, Odierno said he hoped his job would involve more political and diplomatic wrangling than street fighting.
Odierno emphasized the need for provincial elections, which U.S. officials have long said would balance lopsided power structures that have contributed to sectarian and ethnic tensions. But Iraq's parliament has yet to pass legislation to clear the way for such elections, which are supposed to take place this year.
Odierno also said he wanted to see continued improvement in the Iraqi security forces and in the government's ability to provide essential services such as electricity and clean water.
When he took over as Petraeus' deputy, Odierno's reputation was not for having the finesse of a counterinsurgency expert such as his boss, but for being a hyper-tough officer who thought little about the unintended consequences of military action. But by almost all accounts, Odierno has transformed himself under Petraeus' watch into an expert in the nuanced war-fighting required to pacify an insurgency.
Yesterday,
Tina Susman reported
on Odierno's switch from "Raymond" to "Ray." I'm not making fun of him for that (and think it's a smart move on his part to draw a line between what he has done and what he will do) but it's really interesting to see which outlets note it and which pretend it didn't happen. If you've billed him as "Raymond" and are now billing him as "Ray" you need to inform your readers that it changed. (We noted Susman's report in
yesterday's snapshot
.)
For back story on Odierno, see Nancy A. Youssef's "
Odierno: Former door-kicker now reflects Iraq progress
" (
McClatchy Newspapers
):
For a soldier once known for his aggressive tactics and his impatience with local residents, his budding Arabic marked an extraordinary evolution.
When he arrived in northern Iraq in 2003 as the 4th Infantry Division commander, the physically imposing Odierno was more likely to level a community than reach out to it.
On his second tour this past year, he and his fellow soldiers mastered Iraq's tribal structure, customs and the finer points of counterinsurgency, which helped lead to a dramatic drop in violence.
Odierno, who succeeds Gen. David Petraeus, is charged with the task of maintaining the security gains of his predecessor while managing a U.S. troop drawdown.
From Team Nader, Charlie notes
this
:
To Be or Not to Be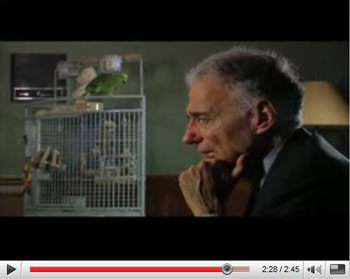 Cardoso, my feathered friend, you've come from flying over the Amazon jungle to a cage in Utah--albeit an open-door cage with a fine master. Do not feel alone, Cardoso. Millions of voters have also been put into a cage. It is a corporate-dominated, two-party cage with no open door unless they break out and vote for Nader/Gonzalez. This ticket stands tall for justice, peace and freedom within a competitive democracy.
The e-mail address for this site is
common_ills@yahoo.com
.
iraq
the los angeles times
tina susman
julian e. barnes
mcclatchy newspapers
nancy a. youssef