In 2003 and 2004, Odierno was a two-star general in command of the 4th Infantry Division (4th ID). The division "owned" much of the "Sunni Triangle," including such insurgent hotbeds as Tikrit (Saddam Hussein's home town) and Samarra (the future site of the Golden Mosque bombing that kick-started Iraq's civil war in 2006). Odierno's troops were notorious for their heavy-handed tactics: They conducted indiscriminate sweeps of Sunni towns, arrested thousands of Sunni men, and were often accused of excessive force. The division's approach was devastatingly critiqued by Dexter Filkins in the New York Times Magazine, and Tom Ricks' 'Fiasco' described the division as the poster child for a failed "search-and-destroy" approach to counterinsurgency that focused on killing and capturing the enemy instead of protecting the population. As Odierno prepared to return as the Corps commander in charge of day-to-day operations for all U.S. forces in late 2006, he made a concerted effort to alter this image. In pre-deployment interviews, he emphasized his understanding of counterinsurgency and the centrality of protecting the population in these operations. And, reflecting on a 2006 visit with Odierno, Petraeus noted, "There is no question at that time that he and his staff and subordinate leaders absolutely understood the principles that we had all come to accept as necessary for the conduct of counterinsurgency operations."
The above is from War Hawk Colin Kahl's "
The New Man in Iraq
" (
Washington Post
) and was noted by a visitor e-mailing the public account. War Hawk Kahl is an advisor to War Hawk Barack Obama. As
John Pilger (

New Statesman

) observed in May
:
On the war in Iraq, Obama the dove and McCain the hawk are almost united. McCain now says he wants US troops to leave in five years (instead of "100 years", his earlier option). Obama has now "reserved the right" to change his pledge to get troops out next year. "I will listen to our commanders on the ground," he now says, echoing Bush. His adviser on Iraq, Colin Kahl, says the US should maintain up to 80,000 troops in Iraq until 2010. Like McCain, Obama has voted repeatedly in the Senate to support Bush's demands for funding of the occupation of Iraq; and he has called for more troops to be sent to Afghanistan. His senior advisers embrace McCain's proposal for an aggressive "league of democracies", led by the United States, to circumvent the United Nations.
And Eli Lake (New York Sun) reported in May
:
A key adviser to Senator Obama's campaign is recommending in a cofidential paper that America keep between 60,000 and 80,000 troops in Iraq as of late 2010, a plan at odds with the public pledge of the Illinois senator to withdraw combat forces from Iraq within 16 months of taking office.
The paper, obtained by
The New York Sun
, was written by
Colin Kahl
for the center-left
Center for a New American Security
. In "Stay on Success: A Policy of Conditional Engagement," Mr. Kahl writes that through negotiations with the Iraqi government "the U.S. should aim to transition to a sustainable over-watch posture (of perhaps 60,000--80,000 forces) by the end of 2010 (although the specific timelines should be the byproduct of negotiations and conditions on the ground)."
Mr. Kahl is the day-to-day coordinator of the Obama campaign's working group on Iraq. A shorter and less detailed version of this paper appeared on the center's Web site as a policy brief.
"The security improvement is just in the media, it has nothing to do with reality," Iraqi grocer Ali Mahmoud tells Sam Dagher for Dagher's "
Conflicting Reports on Death Toll in Bombings in Baghdad
" (
New York Times
) on some of yesterday's violence. On yesterday's twin Baghdad bombings, Dahger writes:

Almost five minutes after the first blast, a second bomb exploded about 300 feet away, next to a kiosk that sells cigarettes and soft drinks. Iraqi and American soldiers cordoned off the area and cut off traffic on one of the capital's most congested thoroughfares, known as the Baghdad International Expo Street.
Smashed storefronts, burned vehicle remains and scattered debris were reminiscent of scenes that Baghdad residents have been anxious to forget.
A spokesman for the United States military, who placed blame for the attack on Al Qaeda in Mesopotamia, the homegrown terrorist group that the military says is led by foreigners, put the toll at three killed and 16 wounded. A source at Yarmouk Hospital, where some of the casualties were taken, gave a toll of five killed and 20 wounded. Discrepancies in tolls are common in Iraq.
And Hans-Edzard Busemann's "
Opposition says Germany covered up Iraq spy role
" (
Reuters
) reports:
German spies in Baghdad actively supported the 2003 U.S. invasion of Iraq despite government denials, opposition parties said on Thursday before the two secret agents' testimony to a parliamentary panel.
"The records unfortunately contradict completely the government's position that it was not involved," Norman Paech, a member of the investigative committee from the Left party, told reporters before the closed-door hearing.
The issue could embarrass Foreign Minister Franz-Walter Steinmeier, the Social Democrats' candidate for chancellor in next year's elections, who oversaw intelligence operations at the time of the U.S. invasion that toppled Saddam Hussein.
Both agents in Baghdad reported to Germany's BND intelligence agency, which passed on at least part of their information to the U.S. military. The parliamentary committee seeks to determine whether this actively helped the war effort.
Turning to the US presidential race,
Eddie
notes
this from Team Nader
:
Ridiculing Ralph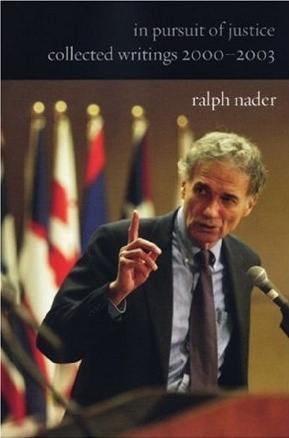 In a letter to Congress on July 23, 2008, Ralph Nader warned that the federal government's bank insurance fund may be insufficient to handle the developing crisis in the banking industry.
The day after Ralph sent out his warning, he was ridiculed in Congress.
One member, Spencer Bachus, at a Congressional hearing, mentioned Ralph's letter and said point blank "Our banks are well capitalized, our deposit insurance fund is sound. There's absolutely no factual basis for saying that there's not money there to pay."
Fast forward to September 17, 2008, today, less than two months after Ralph sent his letter.
And now we have an Associated Press story, featured prominently right now on the Drudge Report, with the headline "Federal bank insurance fund dwindling."
Here's the opening sentence from the AP report today:
"Banks are not the only ones struggling in the growing financial crisis. The fund established to insure their deposits is also feeling the pinch, and the taxpayer may be the lender of last resort."
The reality is that the Democrats and Republicans have screwed up royally.
They have screwed up because they are under the thumb of the big corporations.
The big corporations said -- weak regulation, weak law and order for corporations.
And the Democrats and Republicans delivered for their corporate paymasters.
The rest of us -- taxpayers and workers alike -- will now suffer the consequences -- through either increased taxes, lost jobs -- or both.
For his entire career, Ralph Nader has been sounding the alarm about the dangers of deregulation, about the dangers of a hands off approach to corporate power.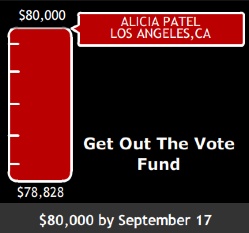 Time to listen up.
Reassert the public will.
And get behind the one Presidential candidacy that has the track record and will power to set things straight.
How?
If you haven't donated yet to Nader/Gonzalez -- do it now.
We're really close to meeting our goal of $80,000 by midnight tonight.
Donate now, whatever you can afford -- $10, $20, $50, $100.

And help push us over the top.

If you give $100 or more now, we will send you In Pursuit of Justice, the 520-page book of essays by Ralph Nader -- essays on corporate power, the Constitution, and transforming our country. If you donate $100 now, we will send you this historic collection -- autographed by the man himself -- Ralph Nader. (This offer ends at 11:59 p.m. tonight.)
Together, we will make a difference.

Onward to November.
The Nader Team


And as the Wall St. meltdown finds many candidates pointing the fingers at others (while hoping their Wall St. cash is shoved deep enough in their own pockets), Ralph actually can take a stand on the issue because he isn't compromised by it.
From Team Nader
:
Nader Releases 10-Point Plan to Recover from Financial Crisis
Tuesday, September 16, 2008 at 12:00:00 AM
Press Release
FOR IMMEDIATE RELEASE
Contact: Toby Heaps, 202-441-6795, toby@votenader.org


RALPH NADER PREDICTED WALL STREET MELTDOWN 8 YEARS AGO
Eight years ago, consumer advocate Ralph Nader correctly predicted that the Federal National Mortgage Association (Fannie Mae) and the Federal Home Loan Mortgage Corporation (Freddie Mac) were on track to follow the savings and loan industry of the 1980s and 90s into a big financial heap of trouble. Nobody listened, and taxpayers are now at risk of losing tens of billions of dollars. Wall Street is being shaken to its foundation. American International Group Inc., the biggest U.S. insurer by assets, is now teetering on the brink of ruin after suffering losses of $18 billion in the past three quarters, largely due to its sub prime mortgage exposure.
"Nader Rips Mae and Mac," declared the Milwaukee Sentinel Journal on June 16, 2000. "Ralph Nader, warning of a potential taxpayer bailout similar to the savings and loan crisis, urged lawmakers to cut government benefits to mortgage-market giants Fannie Mae and Freddie Mac -- which he called 'poster children for corporate welfare.'"
This year Nader, who is also running for president as an independent, is getting credit for his prescience.
"Give one presidential candidate credit for identifying the problem and getting the policy right -- and doing so before the twin government-sponsored enterprises (GSEs) Fannie Mae and Freddie Mac went into the tank in mid-July," wrote Lou Dubose in The Washington Spectator on Aug. 1. Dubose went on to quote Nader's June 15, 2000 Congressional testimony about HR 3703, a bill that would have reigned in some of the most dangerous tendencies of GSE's, had it passed.
In a letter to SEC Chairman Christopher Cox in 2006, Nader also criticized the exorbitant salary of GSE executives Jamie Gorelick, Daniel Mudd, Robert Levin and Timothy Howard, and noted that their financial incentives were in direct conflict with consumer financial security because of the grave moral hazard created by accounting manipulations they sanctioned that benefited their personal wealth, with no penalty for being caught.
"As you continue to investigate the Fannie Mae accounting debacle, we are writing to urge you to seek civil sanctions, including disgorgement, from senior executives who profited directly from the misconduct at Fannie Mae, and that you urge the Department of Justice to give careful consideration to criminal prosecution of these individuals," wrote Nader.
Candidate Nader has called for an immediate halt to the increase in the national debt, an end to corporate subsidies and unconditional taxpayer bailouts of corporations, and a start to the aggressive prosecution of corporate criminals.
Today, in his prepared remarks for New York Times editors in its Washington Bureau, Nader stated : "Given the contrast between the 'free market' ideology of the Republicans and the corporate or state socialism that is their increasing practice, the time is ripe for full Congressional hearings next year on the organized power, greed and lack of regulation that is shaking the foundations of Wall Street."
Nader added, "What we need to do now is find a just way to deal with the millions of homeowners facing foreclosure and make sure that this level of financial market manipulation does not happen again." He elaborated a 10-point plan to cool off the financial markets meltdown:
Immediate Changes Required for Any Bailout
- No bailouts without conditions and reciprocity in the form of stock warrants
- No more lobbying for any company that is bailed out
- No golden parachutes and get out of jail free cards for guilty executives
- No bailouts without public hearings
Changes to Housing Market
- Reduce the moral hazard in U.S. mortgage markets by introducing covered bonds for the majority of mortgage products as they do in Western Europe. That gives institutions that finance mortgages an incentive to be prudent, because they cannot just unload them and wipe their hands clean of the liability, but are instead on the hook if the homeowner defaults.
- Maintain neighborhood stability and housing security by passing a law with a sunset clause allowing below median-value homeowners facing foreclosure the right to rent-to-own their homes at fair market value rates.
- Avoid future housing bubbles by removing implicit government guarantees for new mortgages that exceed thresholds of greater than 15-20 times the annual fair market rent value of the home.
Structural Changes to Financial Markets
- Make the Federal Reserve a Cabinet Position, so it is accountable to Congress, as well as making sure all Federal Reserve Bank presidents are appointed by the President and answerable to congress.
- Reduce conflicts of interest by taking away power for auditor and rating agency selection from companies and placing it in the hands of the SEC to be administered on random assignment.
- Implement a securities speculation tax, starting with derivatives to deter casino-style capitalism.
For more information, visit votenader.org.
Sources:
RN's response to bailout on Vote Nader Web site:
http://www.votenader.org/blog/2008/09/10/bailing-out-fannie-and-freddie
Politico: Nader on bank woes: "I predicted this" Sept. 15, 2008
http://www.politico.com/news/stories/0908/13459.html
Washington Spectator - Ralph Nader was right (Aug. 1, 2008)
http://www.washingtonspectator.com/message.cfm?msg=notsubs2&PageName=Articles%2F20080801GSEs.cfm
Ralph Nader's letter to SEC Chairman Christopher Cox Sept. 25, 2006:
http://www.nader.org/index.php?/archives/669-Letter-to-SEC-Chairman-Cox-Regarding-Fannie-Mae.html
Ralph Nader's testimony on H.R. 3703—to the U.S. House of Representatives
Subcommittee on Capital Markets, Securities, and Government Sponsored Enterprises (June 15, 2000)
http://commdocs.house.gov/committees/bank/hba65224.000/hba65224_0f.htm
2000 American Enterprise Institute book about Fannie & Freddie Mac in which Ralph Nader wrote a chapter:
http://www.aei.org/publications/pubID.58,filter.social/pub_detail.asps
Serving Two Masters, Yet Out of Control - Fannie Mae and Freddie Mac
http://www.aei.org/books/bookID.233,filter.all/book_detail2.asp
Ralph Nader's chapter:
"How Fannie and Freddie Influence the Political Process." (starts on pg. 110)
http://books.google.com/books?id=SNhE9GCXTGMC&pg=PA110&lpg=PA110&dq=%22Serving+two+masters%22+and+%22Nader%22&source=web&ots=n_9cMLWE6C&sig=EXbGRoAPVFP7glg1rUn9mU1Vvoo&hl=en&sa=X&o
i=book_result&resnum=1&ct=result#PPA110,M1
Milwaukee Journal Sentinel (WI) (from June 2000)
Nader rips Mae and Mac
Published: June 16, 2000
Ralph Nader, warning of a potential taxpayer bailout similar to the savings and loan crisis, urged lawmakers to cut government benefits to mortgage-market giants Fannie Mae and Freddie Mac -- which he called "poster children for corporate welfare." But some lawmakers said that acting hastily could raise the cost of buying a home by increasing borrowing costs for Fannie Mae and Freddie Mac, which are called government-sponsored enterprises.
Copyright 2000 Journal Sentinel Inc.
-End-
Several times this week we've noted this Friday's
NOW on PBS
:
This week's NOW on
PBS
:
How have
women in politics
changed America and the world? NOW on PBS investigates with an hour-long special hosted by
Maria Hinojosa
: "Women, Power and Politics: A
Rising Tide
?"
See the show on television this weekend or watch online STARTING SATURDAY at:
http://www.pbs.org/now/shows/437/index.html
Show Description:
Given the hoopla surrounding
Sarah Palin
and
Hillary Clinton
's historical political ascendance, why does the U.S. rank so low among countries for percentage of women holding national office? On Friday,
September 19
at 8:30 pm (check local listings), in a one-hour special, NOW's
Maria Hinojosa talks
to women leaders around the world and here in the United States for an intimate look at the high-stakes risks, triumphs, and setbacks for women leaders of today and tomorrow.
Among these women are
President Michelle Bachelet
of
Chile
, the first woman leader in
Latin America
who did not have a husband precede her as President, and former New Hampshire Governor
Jeanne Shaheen
, now in a tight race for a seat in the U.S. Senate.
We also travel to Rwanda, where, 14 years after a horrific massacre left nearly one million people dead, women make up nearly half of parliament; and to Manhattan, where ambitious high school girls are competing in a high-stakes debate tournament.
"Women, Power and Politics," is also about the personal journey of mother and award-winning journalist Maria Hinojosa as she strives to answer the question: "What does to mean to be a woman in power?"
Watch a preview and excerpt of this special program at this web address:
http://www.pbs.org/now/shows/437/video-excerpt.html
User this directory tool to find out where the show is airing in your area:
http://www.pbs.org/now/sched.html
The NOW website at
www.pbs.org/now
will feature web-exclusive commentary from noteworthy women including
Maria Bartiromo
,
Sandra Cisneros
, and
Tina Brown
; a personal essay from Maria Hinojosa; an interactive debate over Sarah Palin's candidacy; as well as opportunities for all women to post and share their stories of ambition, success, and discouragement.
(The "interactive debate" over Sarah Palin's candidacy is live now at:
http://www.pbs.org/now/shows/436/debate.html
)
The e-mail address for this site is
common_ills@yahoo.com
.
iraq
colin kahl
the washington post
john pilger
eli lake
hans-edzard busemann