It's Monday -- also known as day two with no article filed from Iraq offered by the New York Times. Rather amazing when you consider the Baghdad bombings yesterday, the special session the Iraqi Parliament held, the US military announcements of deaths and the health care issues acknowledged in a Baghdad press conference staged by the US military. From the opening of Sudarsan Raghavan and Qais Mizher's "
Elections Bill in Iraq Stalls On Kirkuk
" (
Washington Post
):
Iraqi lawmakers on Sunday failed to settle a dispute over the oil-rich city of Kirkuk and pass a provincial elections bill viewed as vital for national reconciliation, despite intense pressure from the United States and the United Nations.
The political stalemate came as a car exploded in a predominantly Sunni neighborhood of northern Baghdad, killing 12 and wounding 22, according to police. Later Sunday, a car bombing in front of a coffee shop in the southern city of Hilla killed one person and injured 12, police said.
Ned Parker and Caesar Ahmed's "
Iraq lawmakers again fail to approve election law
" (
Los Angeles Times
) provides the backstory on the apparently (yet again) postponed provincial elections:
U.S. officials believe the elections, initially scheduled for October, are necessary for Iraq's long-term stability.
Sunni Arabs, formerly the country's elite, boycotted the last such elections, in January 2005, leading to the creation of provincial councils dominated by Shiite Muslims and Kurds. The absence of Sunni Muslims from local government helped strengthen the Sunni-led insurgency across central and northern Iraq.
A similar dynamic played out in Iraq's Shiite south, where anti-Western cleric Muqtada Sadr's populist Shiite movement skipped the 2005 vote and then grew angry over its political rivals' dominance in the southern provinces.
The stalemate emphasized the fissures and entrenched positions among Arabs, Turkmens and Kurds in northern Iraq, which often threaten to spill over into violence. Last week, a suicide bomber struck a Kurdish demonstration in Kirkuk and sparked ethnic riots that along with the bombing left 25 people dead.
We noted Leila Fadel and Sahar Issa's "
Battle over oil-rich city threatens to derail Iraqi elections
" (
McClatchy Newspapers
) on this topic yesterday. Let's move to the US deaths. ICCC's count is off. There were two deaths
we noted last night
(and linked to the US military's announcement).
AP

reports
: "The U.S. military also said two American soldiers were killed in non-combat incidents Saturday — one southwest of Baghdad and another north of the capital. A total of three soldiers were injured in the two incidents, the U.S. said." And
AP

reports
this morning that 2 more are dead from a Baghdad roadside bombing (which tooks places today) with a third injured. That would be four announced deaths so far this month and
ICCC
says three. One Sunday death resulted in two press releases from MN-F so that may be where the confusion stems from.
From last night's entry
, this is the death they don't seem to be counting currently:
The number should be 4129 because ICC does not currently include
this announcement
(and show one death for the month of the August): "A Coalition force Soldier died in the vicinity of Forward Operating Base Grizzly as a result of a non-battle death incident August 2. Two Soldiers were also injured as a result of the non-battle death incident. "
From Team Nader,
Jill
notes
this
:
News Flash: Nader/Gonzalez on the Ballot in California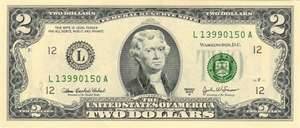 Drop a two dollar bill on a winner.
That would be Nader/Gonzalez.
Why?

We're celebrating again.
Just now - on Saturday, August 2, today, at 5:10 p.m. PST.
In Sacramento, California.
The statewide convention of the Peace and Freedom Party chose Ralph Nader to be its candidate for President.
And Matt Gonzalez to be its candidate for Vice President.
Nader/Gonzalez is on the ballot in California.
Thank you Peace and Freedom delegates.
With California, we're now on 21 state ballots.
On our way to 30 states by August 10.
And 45 states by September 20.
The Peace and Freedom ballot line ensures that the Nader/Gonzalez campaign will be a national one.
Securing the California ballot line is a huge victory for Nader/Gonzalez and will give millions of Californians the opportunity to vote for a candidacy that will shift the power from the corporations back into the hands of the people. (In 2000, 418,707 Californians voted for Nader/LaDuke--representing nearly 15 percent of our national vote total that year.)
Blocked out by the mainstream media, we've still polled five percent and above in four separate polls this year - including the most recent CNN poll this week putting Nader at six percent.
Again, thank you Peace and Freedom delegates.
Together, we will make a difference.
Onward to November.
The Nader Team
P.S. Remember, only one day left on the Chris Hedges
three book offer
. For a
donation of $200
or more to Nader/Gonzalez by Sunday August 3 at midnight, we'll ship to you three anti-war books by former New York Times reporter and current Nader supporter Chris Hedges - Collateral Damage, What Every Person Should Know About War, and War is a Force that Gives Us Meaning.
The e-mail address for this site is
common_ills@yahoo.com
.
iraq
the washington post
sudarsan raghavan
qais mizher
the los angeles times
caesar ahmed
ned parker
mcclatchy newspapers
leila fadel
sahar issa