From
Courage to Resist
:
Iraq War resister Robin Long jailed, facing three years in Army stockade
Free Robin Long now!
Support GI resistance!
By Courage to Resist
August 7, 2008
Last month 25-year-old U.S. Army PFC Robin Long became the first war resister since the Vietnam War to be forcefully deported from Canadian soil and handed over to military authorities. Robin is currently being held in the El Paso County Jail, near Colorado Springs, Colorado, awaiting a military court martial for resisting the unjust and illegal war against and occupation of Iraq. Robin will be court martialed for desertion "with intent to remain away permanently" --Article 85 of the Uniform Code of Military Justice -- in early September. The maximum allowable penalty for a guilty verdict on this charge is three years confinement, forfeiture of pay, and a dishonorable discharge from the Army.
In order to expedite Robin's trial, it appears that his unit command, the Fourth Brigade Combat Team, Fourth Infantry Division is opting to not charge Robin with speech-related violations of military discipline; opting to try and convict Robin as fast as possible.
Robin went absent without leave (AWOL) from the Army in 2005, realizing that he had significant moral opposition to the war and the lies he had been told regarding the reason for invasion and occupation of Iraq. After being transferred to an Iraq bound combat unit, Robin went to Boise, Id. (his home town) where he stayed for several months, before traveling to Canada.
Robin recently talked to Courage to Resist about why he enlisted. "When the U.S. first attacked Iraq, I was told by my president that it was because of direct ties to Al-Qaida and weapons of mass destruction." Robin explained that while he was uneasy about his personal role in fighting, the Iraq War seemed justified. So when his recruiter promised him a non-combat position within the U.S., he took it. Regarding his decision to resist later, Robin explained, "I made the best decision. Regardless of what hardships I go through, I could have put Iraqi families through more hardships. I have no regrets." When asked by the Boise Weekly, in May of 2006, if he was prepared to go to jail, Robin replied, "Yeah if it came down to that, I'd be willing to go to prison because I know I did the right thing and I can sleep at night and my conscience is still good."

On July 27th, 2008 Garrett Reppenhagen of Iraq Veterans Against the War, Lee Zaslofsky of the War Resisters Support Campaign (Canada), members of the Springs Action Alliance and more joined James Branum, Robin Long's civilian lawyer in Pioneer Park to demand Robin Long's freedom. Garrett praised Robin, declaring "I support Robin Long because he is a Soldier of Conscience. There is a huge propaganda campaign in this country to get young men to join the military. He bought the hype. He signed up for a promised [non-combat] job, but it turned out not to be so. He decided to go to Canada and follow his conscience instead."
As Robin awaits trial by military tribunal, a general court martial, he sits in the El Paso County Jail -- surrounded by other military inmates, as well as civilians serving time on convictions or awaiting criminal prosecution. In the past Robin would have been held in pretrial confinement in an Army stockade, but with rising troop level needs, the Army has chosen to shut down many stockades and outsource confinement of soldiers to civilian authorities. With the exception of Robin's Lawyer, James Branum, all of Robin's visitors must communicate with him via a camera and real time video screen. Robin is allowed out of doors for only one hour a day, and even then cannot see anything but a thin strip of sky, directly overhead.
Despite the deprivations of the El Paso county jail, Mr. Branum reports that Robin is "... in considerably good spirits, especially considering all that he is going through." In a recent phone interview with Courage to Resist Robin reported that he was very happy with Mr. Branum calling him "awesome" as well as his military assigned defense lawyer "a smart cookie" in Robin's words. He has received many visitors -- pastors and members of local congregations, members of the IVAW among them. He wants everyone to know that the cards and the letters of support he receives are most welcome and give him of true sense of the support that is swelling for him, outside the confines of his cell. Lee Zaslofsky, of the Canadian WRSC reports that Robin is "... aware of what he might have to face, and is prepared to face it with courage and without bitterness."
The fact remains, however, that the Iraq War is unjust and illegal. The U.N. Charter, the Geneva Convention and the Nuremberg principles all bar wars of aggression. The U.S. Constitution makes such treaties part of American law as well. Robin Long is a hero for not only recognizing these truths, but putting his future on the line to courageously resist participating in an immoral occupation. The least we can do is support Robin, and demand his immediate freedom.
---
What you can do now to support Robin
1. Donate to Robin's legal defense
Online: http://couragetoresist.org/robinlong
By mail: Make checks out to "Courage to Resist / IHC" and note "Robin Long" in the memo field. Mail to:
Courage to Resist
484 Lake Park Ave #41
Oakland CA 94610
Courage to Resist is committed to covering Robin's legal and related defense expenses. Thank you for helping make that possible.
Also: You are also welcome to contribute directly to Robin's legal expenses via his civilian lawyer James Branum. Visit girightslawyer.com, select "Pay Online via PayPal" (lower left), and in the comments field note "Robin Long". Note that this type of donation is not tax-deductible.
2. Send letters of support to Robin
Robin Long, CJC
2739 East Las Vegas
Colorado Springs CO 80906
Robin's pre-trial confinement has been outsourced by Fort Carson military authorities to the local county jail.
Robin is allowed to receive hand-written or typed letters only. Do NOT include postage stamps, drawings, stickers, copied photos or print articles. Robin cannot receive packages of any type (with the book exception as described below).
3. Send Robin a money order for commissary items
Anything Robin gets (postage stamps, toothbrush, shirts, paper, snacks, supplements, etc.) must be ordered through the commissary. Each inmate has an account to which friends may make deposits. To do so, a money order in U.S. funds must be sent to the address above made out to "Robin Long, EPSO". The sender's name must be written on the money order.
4. Send Robin a book
Robin is allowed to receive books which are ordered online and sent directly to him at the county jail from Amazon.com or Barnes and Noble. These two companies know the procedure to follow for delivering books for inmates.
War resister
Robin Long was extradited from Canada
. Many US war resisters remain in Canada and the message can be sent that the world is watching. To pressure the Stephen Harper government to honor
the House of Commons vote
,
Gerry Condon
,
War Resisters Support Campaign
and
Courage to Resist
all encourage contacting the Diane Finley (Minister of Citizenship and Immigration -- 613.996.4974, phone; 613.996.9749, fax; e-mail
finley.d@parl.gc.ca
-- that's "finley.d" at "parl.gc.ca") and Stephen Harper (Prime Minister, 613.992.4211, phone; 613.941.6900, fax; e-mail
pm@pm.gc.ca
-- that's "pm" at "pm.gc.ca"). Courage to Resist collected more than 10,000 letters to send before the vote.
Now they've started a new letter you can use online here
.
The War Resisters Support Campaign's petition can be found here
. Long expulsion does not change the need for action and the War Resisters Support Campaign explains: "The War Resisters Support Campaign is calling on supporters across Canada to urgently continue to put pressure on the minority conservative government to immediately cease deportation proceedings against other US war resisters and to respect the will of Canadians and their elected representatives by implementing the motion adopted by Parliament on June 3rd. Please see the
take action
page for what you can do." The Robin items mentions
Garrett Reppenhagen
and
Lee Zaslofsky
and you can refer to the
July 28th snapshot
for some coverage of their actions to show support for Robin. There's a transcript of James Branum discussing Robin's case (and a link to
this video
) in the
August 5th snapshot
.
Since we're on the topic of Canada, let's again note this upcoming event for the
Ralph Nader
campaign:
Ralph Nader to speak on Monday August 11, on the trading floor of old Toronto Stock Exchange building.
Please circulate and post widely.
Event also features partial screening of the biographical documentary, An Unreasonable Man.
Now at over 5 percent in national polls, Nader is on his third run for President of the United States.
Find out why he runs and what's at stake for Canada this election.
Ralph Nader is the only major candidate for President of the United States standing up to implement Canadian-style universal healthcare, a Dion-style Carbon Tax, and ending the war in Iraq with a full 6-month withdrawal. Over ten million Americans say they will vote for him, and another 20 million say they would if they thought he had a chance of winning. He's on track to be on the ballot in 45 states, and has a shot at getting in the Google Presidential Debates to be held in New Orleans this September. Come see him this Monday August 11 at the Design Exchange in Downtown Toronto.
Event Program:
Screening of a portion of An Unreasonable Man, the acclaimed documentary on Ralph Nader

Ralph Nader Remarks

on the US

Presidential Election

: What's at stake for Canada?
Q and A with Ralph Nader
Where: Design Exchange, 234 Bay Street, Toronto, Ontario M5K 1B2.
Time: 7:00 to 9:30 pm
Ticket Price: Free, donations appreciated, RSVP to ensure seating.
To RSVP, email toronto@votenader.org or call Rashi Khilnani at 647 286 0396 for more details.
Please circulate and post widely.

That is this Monday. Let's move to Iraq and we'll note Sudarsan Raghavan and Ernesto Londono's "
In Iraq, Regional Politics Heats Up
" (
Washington Post
) which is a lengthy article and apparently other US reporters stationed in Iraq tired themselves out just watching the two produce the article. That would explain yet another day of no article filed from Iraq in the
New York Times
today.
McClatchy Newspapers
is always working -- Sahar Issa, Laith Hammoudi, and all the other Iraqi and US reporters stationed in Iraq. Leila Fadel's "
U.S. agrees to set withdrawal date with Iraq
" offers a look at what's being said about the upcoming treaty:
The United States and Iraq are nearing completion of negotiations on a security agreement that would pull American troops out of Iraqi cities by next July and foresees all U.S. combat troops gone from Iraq by 2011, according to two Iraqi officials who are familiar with the negotiations.
"The tactical team is finished and it's a closed deal, but remember that we've been through this before and every time we close a deal it's reopened," said a senior official who's been participating in the talks.
The official said that the deal, once completed, would be perhaps the most restrictive agreement the United States had with a country where it had troops.
"We've seen all the status of forces agreements with other countries," the official said. "This is the best that the Americans have conceded."
The official asked not to be identified because the deal is still being negotiated.
Another official, Ali al Adeeb, a senior member of Prime Minister Nouri al Maliki's Dawa party, said he'd been briefed on the negotiations and he confirmed the details.
Megan
notes
this from Team Nader
:
Last Chance to Have Your Contribution Doubled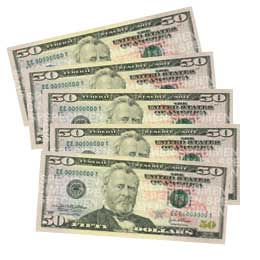 This is it.
Our accounting team has decided to cut off our primary season online donations this Monday.
This means no more matching funds from the federal government after this weekend.
If you've already contributed, but have yet to donate up to $250, then this is your last chance to bump it up to $250 and have it matched.
If you haven't donated at all this is your last chance to have your contribution -- up to $250 -- doubled.
If you give $50, the government will give us $50.
If you give $100, the government will give us $100.
If you give us $250, the government will give us $250.
But we are running out of time.
We need you to do two things now:
One -- forward this urgent matching funds call to action to everyone you know.
And two -- make your donations double by giving up to $250 right now.
Our green eye shade people tell us it's time to shift to the general campaign.
It's time for Ralph to mount his 50 state campaign. It's time to mount an effort to get Ralph in the debates.
And whatever our green eye shade people tell us to do, we do.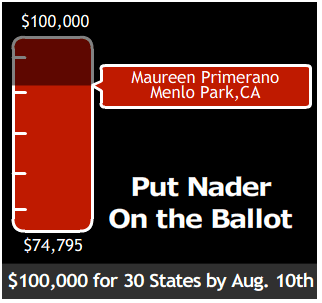 So, here we go.
Time is running out.
And double your money, double our possibilities.
And after you hit contribute, sit back and watch Ralph Nader later today on C-Span.
Ralph will be discussing his plan to empty the prisons of non-violent drug offenders and fill them with corporate criminals at a 10am EST press conference. (Click here for C-span daily TV schedule.)
And remember, for a contribution of $100 or more to our campaign between now and Sunday night, we will send to you an autographed copy of Ralph's rousing call to arms -- Civic Arousal and a copy of No Debate -- the classic expose of the corporate control of the Presidential debates.
So, donate now.
We'll ship you the books.
And sit back and watch Ralph on C-Span.
Together, we are making a difference.
Onward
The Nader Team
PS: What you did yesterday was nothing short of remarkable. We raised close to $15,000 yesterday on our way to our $100,000 goal by Sunday night. We're only $25,000 away. Thank you. Now, we're real close. Let's push it over the top.
Your contribution could be doubled. Public campaign financing may match your contribution total up to $250.
---
If you're e-mailing about the garbage on
Democracy Now!
this morning,
Ava
and I will address that nonsense Sunday at
Third
. Preview?
An Embarrassment of Democratic Cheerleading and Artistic Ignorance
.
And we're expecting to include
Bill Moyers Journal
in it -- not the segment worth watching ("the business of poverty") but the stand-up routine a columnist will offer. You won't want to miss it.
NOW on PBS
features Pakistani documentarian Sabiha Sumar discussing her film
Dinner With the President
-- her documentary on Pervez Musharraf, the President of Pakistan. On PBS'
Washington Week
, it's just Gwen and the fellows.
AP
's Charles Babington and
Wall St. Journal
's David Wessel are among the guests. All three PBS shows begin airing tonight in most markets but check your local listings because local stations may air at different times and on different days -- especially true last week for
Billie
who e-mailed she just wanted to catch Moyers last Friday but instead got a really bad (badly lit, badly shot) oldies concert (for some PBS stations, it's pledge drive time again).
The e-mail address for this site is
common_ills@yahoo.com
.
iraq
robin long
leila fadel
mcclatchy newspapers
the washington post
sudarsan raghavan
erensto londono
now on pbs
washington week
charles babington
david wessel
bill moyers journal