The anti-American cleric who launched the Shiite insurgency in Iraq four years ago, sparking a cycle of violence that killed scores of U.S. soldiers and led to a sectarian war, will transform his militia into a mostly nonviolent social organization, his office tells ABC News.
Moqtada al-Sadr's decision to focus on education and science instead of violence cements a shift that began almost one year ago, when he asked his followers to freeze their actions against the U.S. military and the Iraqi government.
The freeze was one of the main reasons that violence in Iraq has dropped to the lowest levels in four years for both civilians and troops. But before today, he had never stepped so far back from the armed insurgency that gave him a widespread following.
The above is from Ali al-Mashakheel and Nick Schifrin's "
Anti-U.S. Cleric to Lay Down Weapons
" (ABC News)and
Wisam Mohammed (

Reuters

) adds
the most important detail:
Influential Iraqi Shi'ite cleric Moqtada al-Sadr would dissolve his Mehdi Army militia if the United States starts withdrawing troops according to a set timetable, a spokesman said.
As noted in yesterday's snapshot, a number of editorial boards weighed in on the topic of who pays for Iraqi reconstruction. This morning, others join in. From the
San Francisco Chronicle
's "
America borrows, Iraq banks billions
:"
While the United States pours money into rebuilding efforts, Iraq can't be bothered to spend its own money on essentials like water, sewer, power or road systems. The billions in petrodollars are sitting in the bank while U.S. taxpayers continue paying a long-distance infrastructure program that's cost $48 billion since the invasion five years ago.
The reasons aren't convincing. Iraqi officials claim their fragile central government isn't ready for the challenge of a major rebuild, an answer that's distressingly similar to excuses about why American troops are still needed to prop up Baghdad.
More time - for either political or brick-and-mortar work - isn't an option. Baghdad needs to get going on both fronts, and the unspent billions should ease the way. The country is at a new point where Iraqi leadership, political compromise and billions in reserves could produce a more stable society.
The
New York Times
offers "
Time for Iraq to Pay the Bill
:"
In truth, Iraqis have had little incentive to spend their own money given the willingness of the United States Congress to keep writing blank checks for President Bush's disastrous adventure there. Congress has appropriated $48 billion for rebuilding in Iraq since 2003 and committed all but $6 billion of that amount, mostly for oil, electricity, water and security projects.
By contrast, between 2005 and 2007, when all that oil revenue was piling up, only $3.9 billion of Iraq's budget went to reconstruction. An even tinier amount went to maintaining United States and Iraqi-financed projects like roads, bridges, buildings, water and electrical installations. That raises serious questions about the wisdom of making those capital investments in the first place if they are not going to be properly tended.
One of the Bush administration's most damaging postinvasion decisions is at the heart of this problem. In its ill-considered dismissal of everybody who had any connection to Saddam Hussein's Baath Party, American overseers depleted the ranks of Iraqi bureaucrats who had the skills and experience to run an oil-producing country of about 27 million people.
The
Idaho Mountain Express and Guide
offers "
Americans stiffed by Iraq
"
The Government Accoutability Office finds that by year's end, Iraq will have a $79 billion surplus languishing in banks, while hapless and helpless American taxpayers have been fleeced of $48 billion to rebuild the war-shattered Iraq.
Worse, $10 billion of the Iraqi surplus now sits in New York banks drawing interest--$435.6 million so far, according to the GAO.
One comparison shows the extent to which Americans are being stiffed.
While President Bush has ordered $23.2 billion to be spent on rebuilding Iraq's water, oil, electricity and security systems, Iraq has spent only $3.9 billion on the same services.
What really should steam taxpayers are the empty promises made by White House officials, especially Vice President Cheney and his war hawks, that the war would only cost a pittance because Iraq's oil revenues would cover expenses.
Turning to election news, independent presidential candidate
Ralph Nader
needs no beauty rest or vacation from the campaign trail*, he just keeps going and now he's going to Canada:
Ralph Nader to speak on Monday August 11, on the trading floor of old Toronto Stock Exchange building.
Please circulate and post widely.
Event also features partial screening of the biographical documentary, An Unreasonable Man.
Now at over 5 percent in national polls, Nader is on his third run for President of the United States.
Find out why he runs and what's at stake for Canada this election.
Ralph Nader is the only major candidate for President of the United States standing up to implement Canadian-style universal healthcare, a Dion-style Carbon Tax, and ending the war in Iraq with a full 6-month withdrawal. Over ten million Americans say they will vote for him, and another 20 million say they would if they thought he had a chance of winning. He's on track to be on the ballot in 45 states, and has a shot at getting in the Google Presidential Debates to be held in New Orleans this September. Come see him this Monday August 11 at the Design Exchange in Downtown Toronto.
Event Program:
Screening of a portion of An Unreasonable Man, the acclaimed documentary on Ralph Nader

Ralph Nader Remarks

on the US

Presidential Election

: What's at stake for Canada?
Q and A with Ralph Nader
Where: Design Exchange, 234 Bay Street, Toronto, Ontario M5K 1B2.
Time: 7:00 to 9:30 pm
Ticket Price: Free, donations appreciated, RSVP to ensure seating.
To RSVP, email toronto@votenader.org or call Rashi Khilnani at 647 286 0396 for more details.
Please circulate and post widely.

*Beauty rest? Vacations? Did you miss
Cedric
's "
Barack needs his beauty rest
" and
Wally
's "
THIS JUST IN! BARACK'S BEAUTY REST!
" (joint-post)? Elections take place in November. The
Green Party
is mounting a large slate of candidates across the country. Here is some information on Green John Anthony La Pietra's run in Michigan:
John Anthony La
Pietra
* For the People *
County Clerk-Register
=====================
386 Boyer Court
Marshall, MI 49068
http://www.jalpForThePeople.org
jalp@triton.net
La Pietra Announces Opening of Campaign Website
===============================================
Address Restates Basic Theme: "For the People"
Featured Page Renews Public Invitation to Take Part
in Survey of Voting Conditions in County Precincts
Coming Soon: Bio, Description of GPMI's Ten Key Values,
A Way Schools Can Teach About Different Voting Methods
John Anthony La Pietra, the Green Party of Michigan (GPMI)
candidate for
Calhoun County Clerk-Register
of Deeds, has
opened up a campaign Website at:
http://www.jalpForThePeople.org
The very name of the site reflects the main theme of John's
campaign: better service from the Clerk-Register's position
*for the people* of
Calhoun County
.
The
front page outlines
ideas for improvements in several
areas: running elections,
managing public records
, and
making government work better -- all *for the people*.
La Pietra will discuss these ideas in greater detail on
the Website in the near future.
Hoping to Hear from Citizens
About the
Primary Election
--------------------------
The featured page on the Website at present is a renewal
of John's open invitation to the public to participate
in a citizens' study of voting conditions in the county.
The page has a letter John sent out to county newspapers
on July 18 -- a week before he decided to run for office.
That letter also offers a link to an e-mail John sent to
local clerks in Calhoun County a month earlier asking for
similar information.
The survey asks voters to tell La Pietra how many election
inspectors their precincts had as well as how many voting
stations, including touch-screen or "direct-recording
electronic" (DRE) machines.
John pledges to report on the results of the study by
Labor Day. He also plans to call on citizens to observe
their voting conditions again in the fall, and to put out
those results in time for the next holder of the office
to use them.
Campaigning on Issues and Information
-------------------------------------
John aims to continue this informative style of campaigning
on other issues as well. For example, one of the next pages
he will post on the Website will be a one-page handout that
describes different ways that some places cast their votes.
La Pietra will present this handout at next Monday's school
board meeting in Marshall, where he lives. And he will help
any school system in the county adapt the form and content
of the handout for use in government classes or otherwise.
Another addition coming soon to the Website will be a brief
description of the Ten Key Values of the
Green Party
. Many
of them are directly related to the work of a
county clerk-
register
, John believes -- in particular, two of what Greens
call the "Four Pillars":
grassroots democracy
and social
justice.
Some basic biographical information will also be forthcoming.
And John invites suggestions for other things to be included.
"I want to carry out this public office for the people -- so
my campaign has to be for the people as well."
To contact John's campaign for Calhoun County Clerk-Register,
please feel free to e-mail
jalp@triton.net
or call
269-781-9478
For more information on GPMI and its other candidates, contact
Green Party of Michigan
548 South Main Street
Ann Arbor, MI 48104
http://www.migreens.org
734-663-3555
# # #
prepared and distributed
(with donated labor) by
John Anthony La Pietra
* For the People *
County Clerk-Register
=====================
386 Boyer Court
Marshall, MI 49068
http://www.jalpForThePeople.org
Micah
notes
this from Team Nader
:
Two Books from Ralph Nader to You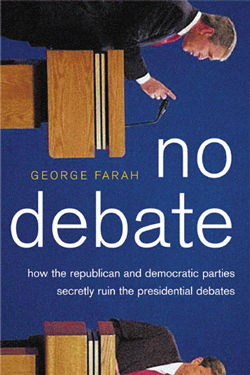 It was a breakthrough day with the mainstream media.
Yesterday morning, Ralph Nader met with a group of reporters at a breakfast meeting sponsored by the Christian Science Monitor.
The meeting resulted in a slew of articles - including those that appeared in the Christian Science Monitor, USA Today, the Cleveland Plain Dealer, the Miami Herald, the National Journal and US News and World Report.
One of the points that Ralph made at the meeting yesterday was that if he is given the opportunity to debate the two corporate candidates - McCain and Obama - it will become a three-way race.
Yes it will.
But right now, the debates are controlled by the Commission on Presidential Debates (CPD) - which is controlled by the two major parties and the corporations that fund them.
But fear not.
We'll be campaigning over the next couple of weeks to bust up the corporate hammerlock on free speech in this election year and to get Ralph and Matt into the debates.
To first step is to create a viable candidacy.
And the candidacy can't be viable if we're not on enough state ballots.
As the Miami Herald headline put it today: Nader Sets Goal to be on Most Ballots.
Our goal: 45 states.
And thanks to you, we're on track - on in 28 now, 30 by Sunday, 45 by September 20.
But right now, we need your help to fund this massive, nationwide ballot access drive.
We need your help to meet our target of $100,000 by Sunday, August 10.
We're at over $61,000 with only four days to go.
So, here's the plan.
We need 390 of you - our loyal supporters - to donate $100 each now.
And in return, we'll ship you No Debate, the classic expose of the Commission on Presidential Debates.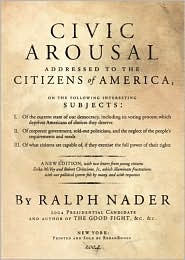 And we'll also send you an autographed copy of Ralph Nader's 49-page political manifesto - Civic Arousal.
To help us bust open the debates this year, you'll need these two books - No Debate for the rock solid expose and criticism of the corporate-controlled debates.
And Civic Arousal for a healthy dose of homegrown Ralph inspiration.
(In Civic Arousal, Ralph reports the following: When we were youngsters, our father would ask us provocative questions. One day he asked - What is the most powerful, event-producing force in the world? We guessed and guessed. His answer: Apathy. What? Yes, he said. Apathy. Because huge numbers of apathetic citizens, or victims, allow bad guys to create all kinds of problems on the ground - from dictatorial regimes, to repressed economic conditions, to health and safety hazards, to corruption, to wars.)
If you already have these books, get yourself another set.
They make a great gift for young and old alike in this election season.
And you'll help put Nader/Gonzalez on the ballot.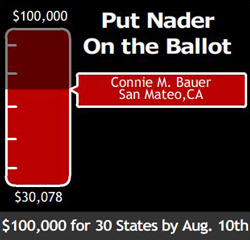 So, do it now.
Drop that $100 spot on Nader/Gonzalez.
Don't delay.
We need to get 'er done this weekend.
(Only one set of books per donation of $100 or more. If you would like two sets, please donate twice. Three sets, donate three times.)
Help push us past our $100,000 goal.
And get these two classics now.
Thank you.
Together, we will open up the debates.
Onward
The Nader Team
PS: This offer expires Sunday August 10 at 11:59 p.m.

PPS: While you're waiting for your books to arrive, here are some new videos to check out:
– Ralph at the Christian Science Monitor breakfast
– Am I Losing You (Ralph on subprime mortgages)
Your contribution could be doubled. Public campaign financing may match your contribution total up to $250.
The e-mail address for this site is
common_ills@yahoo.com
.
iraq
ali al-mashakheel
nick schifrin
wisam mohammed
the san francisco chronicle
the new york times
idaho mountain express and guide