We're going to start with Ali al-Mashhadani.
Dropping back to the July 31st snapshot
:
Meanwhile,
AP

reports
that journalist Ali al-Mashhadani is being held by the US military at Camp Cropper. al-Mashhadani works for
Reuters
, BBC and NPR.
Dean Yates (

Reuters

) reports
that (as usual) no charges have been brought against Ali and quotes David Schlesinger (Reuters Editor-in-Chief) explaining, "Any accusations against a journalist should be aired publicly and dealt with fairly and swiftly, with the journalist having the right to counsel and present a defense."
The Committee to Protect Journalists has released a statement
:
U.S. military authorities should present charges against a Reuters cameraman detained since last Tuesday, or they should release him immediately, the Committee to Protect Journalists said today.
[. . .]
A spokeswoman for the Multi-National Forces-Iraq told CPJ that al-Mashhadani was detained because he posed a security risk and that his case would be reviewed within a seven-day period that began on July 29.
"This is the third time U.S. forces have detained Ali al-Mashhadani without charge," said CPJ Deputy Director Robert Mahoney. "The military has never substantiated any wrongdoing by him. The authorities must make evidence against him public or release him immediately."
Reuters

violence wrap up this morning includes
violence today and yesterday: Sheikh Ibrahim al-Karbouli ("Awakening" Council leader) was killed last night in a home invasion in Baghdad, 1 Baghdad roadside bombing today left six people wounded, 3 people were shot dead in Kirkuk by "Awakening" Council members, 1 corpse was found in Mosul (today) and a child's corpse was found in Mosul yesterday while 2 corpses were fished out a river ("handcuffed") and a third was "near the river."
Moving over to the US presidential race, and we'll start with a reminder,
Isaiah
's
The World Today Just Nuts
"
Captain Caveman and the Teen Angels
" went up Sunday and notes yet another cave from St. Barack.
US News and World Reports
' "
CAMPAIGN NEWS
" focuses on some of the media reactions to Barack's latest cave:
A widely-distributed AP story also says Obama's proposal "includes two significant reversals of positions he has taken in the past," noting that "as recently as last month" he "argued against tapping into the petroleum reserve," while USA Today reports Obama's proposals include "two reversals of positions he has taken in the past." A widely-syndicated McClatchy pieces is titled, "In Another Switch, Obama Calls For Tapping U.S. Oil Reserve," and says "Obama's revised position on a key energy issue was his second shift in three days." Likewise, the New York Times titles its piece, "Obama, In Shift, Urges Tapping Oil From U.S. Reserve."
However, the Wall Street Journal reports that Obama aides defended the move, saying Obama "had met with economic advisers and business leaders in Washington last week, and they had advised him to call for tapping the government reserve." The New York Daily News adds, "Team Obama cast the proposal as a 'refinement,' rather than a flip-flop, on Obama's previous opposition to tapping the 770-million barrel reserve."
In an editorial, the San Francisco Chronicle says that Sen. Obama's "energy policy is offering more flip flops than a Lake Tahoe souvenir stand." The New York Post editorializes, "One more week, one more Barack Obama reversal on a key issue. Actually, make that two reversals. ... So much for principles."

Free Speech Radio News had an audio report on the issue (don't go by their text which makes the story seem much weaker than it actually was). Turning to independent presidential candidate Ralph Nader, Tim Carpenter (Capitol-Journal) reports on Nader's filing to be on the ballot in Kansas:

Kansas is the 22nd state in which Nader's forces filed papers since his campaign began in February.
"Today's turn-in takes the campaign one step closer to reaching its goal," said Matthew Bruenig, a University of Oklahoma student who helped coordinate the signature drive.
To qualify for Kansas' ballot, state law mandates signatures from 5,000 registered voters. About 10,050 signatures were submitted to the Kansas secretary of state's office, said David Peyton, a Milwaukee high school teacher and Nader volunteer.

John Geluardi (San Francisco Weekly) covers the Nader and running mate Matt Gonzalez' campaign stop Sunday night:


At a Sunday night campaign rally at the College of Marin, Gonzalez warmed up the crowd of 200, which included actor Sean Penn, by bashing Barrack Obama's voting record on the re-authorization of the Patriot Act, immunity for telecommunications companies that spy on American citizens and class action reform that has made it harder for workers to bring wage-an-hour suits against mega companies like Wal-Mart.
Gonzalez challenged Obama's vote to turn over public lands to multinational mining companies who make millions while paying next to nothing for mineral rights. "How is he going to 'change' the culture of Washington if he can't stand up to these corporations," Gonzalez says taking a jab at Obama's campaign theme.
Nader took the podium to a standing applause and broadened out the attack to include the entire Democratic Party, media pundits and, of course, corporations. He took aim at pervasive corporate influence that is spread through advertising and the American education system.
"We now grow up corporate. When you start looking at ads when you're two, three, four years old, pretty soon the world is Madison Avenue," Nader says. "Then in college it's computer skills, computer skill, computer skills. What about civic skills? Young people think they live in a Democracy because they can vote for American Idol."


Richard Winger (Ballot Access News) reports Nader is now on the ballot in Michigan. AP notes the campaign plans to file for the ballot today in South Dakota. And the Nader campaign notes Alaska ballot access is sought today:

Nader/Gonzalez Campaign To Submit More Than 5,000 Signatures To Secure Alaska Ballot Line
Monday, August 4, 2008 at 12:00:00 AM
News Advisory
FOR IMMEDIATE RELEASE
Contact: (Washington) Chris Driscoll, 202,360,3273, chris@votenader.org
(Alaska) Sam Dunham, Alaska Campaign Chair, 907-720-6446

NADER/GONZALEZ CAMPAIGN TO SUBMIT MORE THAN 5,000 SIGNATURES TO SECURE ALASKA BALLOT LINE
WHO: Alaska Supporters of Ralph Nader
WHAT: Turn in of ballot petitions
WHEN: 11:00 a.m., Tuesday, August 5
WHERE: Alaska Division of Elections, 2525 Gambell St. Suite 100, Anchorage, AK 99503 (across from the Fireweed Theater). A news conference will follow the petition turn-in.

Alaskan supporters of Independent Presidential Candidate Ralph Nader will turn in more than 5,000 petition signatures to the Division of Elections Tuesday. The required number of signatures is 3,128.

In 2000 the celebrated consumer advocate won three precincts in Alaska (Haines, Girdwood, and Talkeetna) and earned over 10 percent the vote. In this historic and pivotal election, Alaskans can now vote for a candidate who continues to fight against the special interest groups and multi-national corporations.

Mr. Nader is at 6 percent in the latest CNN poll. There can no longer be any justification -- if there ever was -- for Mr. Nader not being included in every national poll.
For more information, visit: VoteNader.org
-End-
Lewis notes this from Team Nader:

Biggest Ballot Week for Nader/Gonzalez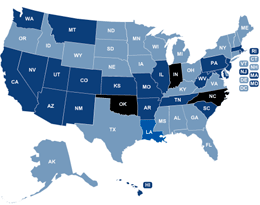 This is a biggest ballot access week of the campaign to date for Nader/Gonzalez.
With the addition of California on Saturday, we're currently at 23 states with seven to go to meet our goal of 30 states by the end of the week -- on our way to 45 states by September 20.
This is what we need today:
We need more roadtrippers to collect signatures to put Nader/Gonzalez on the ballot.
Optimum profile for a Roadtripper for Ralph -- energetic, youthful spirit, personable, fun loving, adventure seeking, democracy warrior.
If you can commit a week or more to get Ralph on the ballot in the Mountain West, the South, the Midwest, and the East Coast, contact mark@votenader.org.
This week, we'll be turning in signatures in Maryland, Kansas, South Dakota, Alaska, Connecticut, New Hampshire and Iowa -- to put us at 30 by the end of the week.
We're halfway to our goal of $100,000 by August 10 to fund this 30 state drive.
So, please, donate now whatever you can afford $20, $50, $100 -- let's get it done this week.
Finally, two more installments to the Obama Flip Flop Watch:
Number one:
On May 4, Obama told Tim Russert on Meet the Press that he was willing to debate with "any of my opponents about what this country means, what makes it great."
But on Saturday, Obama campaign manager David Plouffe backed off, saying that Obama would debate only Senator McCain and only in the three rigged debates sponsored by the two parties and paid for by major corporations.
Number two:
Prior to last week, Obama said he was opposed to offshore oil drilling.
Last week, he said he was okay with it.
As we move toward November, and as Obama reveals himself to be the corporate candidate that he is, a significant portion of the American electorate will demand an alternative.
That's why it is so important to put Nader/Gonzalez on the ballot in as many states as possible.
And that is the important ground work we are completing now.
Come September, we will be in a position to demand open debates.
And present the American people with a viable candidacy that will shift the power from the corporations back into the hands of the American people.
If we meet our goal.
So, please, donate now, whatever you can.
And help push us toward our goal of $100,000 by the end of the week.
Together, we will make a difference.
Onward to November.
The Nader Team
The e-mail address for this site is
common_ills@yahoo.com
.
iraq
u.s. news & world reports
tim carpenter
john geluardi
richard winger
free speech radio news
the world today just nuts