"A church in the northern city of Mosul was bombed Tuesday as Christians continued to leave the city to escape recent violence that has been directed at them," opens Sam Dagher's "
Iraqi Christians Flee Mosul in the Wake of Attack
" on A10 of this morning's
New York Times
. The article tells you that Moqtada al-Sadr sent surrogates to a Baghdad meet-up with Iraqi Christians ("at the Virgin Mary Church") to express that, "We will not hesitate to turn into human shields for our Christian brothers if need be." al-Sadr's not the only Shi'ite expressing support and Hazem al-Araji ("Shiite cleric") maintains that "his movement would send trucks with food, mattresses and blankets to aid displaced families." Shukria Youssef speaks of his sister, who is a nun at a Mosul orphanage, stating "As long as there are people my sister and the other nuns will not leave. They consider themselves spiritual soldiers."
This morning
AP

reports
that Jawdat Ismaeel has tabulated the number of Christian families who have left "Mosul since last week" and it is "1,390 -- or more than 8,300 people." Note that the count is only for those who have left in the last week. The targeting of Iraqi Christians in Mosul has been going on since last month. Using similar numbers (1350),
CNN provides an attribution
:
Nineveh Deputy Governor Khasro Goran said the new numbers were provided by the provincial city's office of immigration and displaced persons.
The families fled, reportedly frightened by a series of killings and threats by Muslim extremists ordering them to convert to Islam or face possible death, Iraqi officials said.
Fourteen Christians have been slain in the past two weeks in the city, which is located about 260 miles (420 kilometers) north of Baghdad.
Yesterday's snapshot noted Jerry L. Van Marter's "
Religious leaders issue prayer appeal as spate of killings decimate Christian community in Iraq
" (
Church Executive Magazine
) and the article also includes an e-mail from Haitham Jarzawi who is a pastor in Kirkuk:
"Dear brothers and sisters in Christ the Lord,
This email is a prayer request for Iraq, the people in general and especially the city of Mosul (known also as Nineveh) and the Christians there.
During the last 4-5 days, around 25 Christians (some say 40) were killed in the streets in different parts of the city for religious and political causes. In the past people used to be kidnapped, threatened, and a ransom was paid to be freed. Now they're being killed without prior notice and the government hasn't done anything so far. Even the media didn't cover it until the third day.
Many Christians fled to the nearby villages and cities where they're living under severe conditions (families are actually sleeping in their cars). Fear and worries fill the place.
We're praying for the terrorists who think that they're doing so for God to wake up and know who''s the real God. We're praying for the believers and the nominal ones to get closer to Jesus, for the many families who lost a loved one, their houses and money that they'll never forget that no matter what we lose, we'll still have the places Jesus is preparing for us in Heaven.
And finally, we're praying for Christians who live in the safer area that they remember and do as Jesus asked: "For whoever will give you a cup of water to drink in my name, because you are Christ's, most certainly I tell you, he will in no way lose his reward" (Mark 9:41).
We're starting to fast to three days for Iraq and its people like the days people of Nineveh fasted at the time of Jonah. For that our suffering will turn the eyes towards our savior. Let's lift our hands together asking for Peace from the King of peace in Jesus' name.
"I will do whatever you ask in my name, so that the Father may be glorified in the Son. If you ask me for anything in my name, I will do it" (John 14:13-14).
Grace and peace to all of you.
Melane Bower's "
Protecting Christians in Iraq
"(Christian Freedom International) notes this of St. George's church:
But the church's high number of daily visitors, particularly to its new medical clinic, has only increased its vulnerability to violent Islamic attacks. To help ensure the safety of the clinic staff and congregation members, the church has been forced to hire eight 24-hour security guards, each of whom is paid $550 per month. With the Iraqi and U.S. governments having done little to help persecuted Christians in the region, believers have been left with no choice but to defend themselves.
CFI is providing a grant to St. George's Church to help pay for the guards' salaries, but we can only do it with your help -- we simply cannot wait for government or U.N. programs to provide a solution to this problem. As brothers and sisters in Christ, we must do everything we can to help make sure that the church doesn't disappear in Iraq.
Youssef, quoted by Dagher, belongs to St. George church.
Asia News
' "
Islamic conference condemns attacks on Iraqi Christians
" covers something in yesterday's snapshot but we'll note it again:
The Organization of the Islamic Conference has condemned the violence against the Christians of Mosul, "unprecedented in the history of Iraq." Ekmeleddin Ihasanoglul, president of the organization that includes 57 Muslim countries, has called upon Baghdad authorities to "prosecute the culprits who are behind these acts, to end the suffering of Christian brothers and provide them with protection." Ihasanoglul also recalled that the OIC always urges "respect for minorities in the Muslim world."
Moving over to the US presidential race,
Brady
notes
this from Team Nader
:
Dear Donna: A Letter to the AP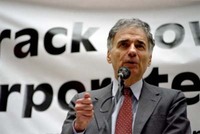 Dear Donna,

While local AP bureaus have done an excellent job in many states covering the Nader/Gonzalez campaign, we have noticed what can only be described as a 'lights out' policy from AP's Washington, DC national political desk.

After waiting six months for a national AP news story, we get a third party story that is really about Barr ("Bailout angst provides a push for Libertarian Barr.")

You couldn't even dedicate resources inside AP to research our campaign and write up the story, though given the present state of repair, Mr Runyan was probably less biased than what you would have offered from in house.

We are running third place, polling 100% higher than Barr according to Ipsos, have been warning on the financial crisis for two decades, and have a thoughtful alternative proposal to the bailout that would work for Americans. Nader is also polling 4-8 per cent in six swing states and has raised almost $4 million dollars--about four times as much as Barr.

And for that, we get a squib marginalized by a headline.

The AP's treatment of this campaign to date will go down in history as a blight on your professionalism--allowing personal animosity to black out your role of informing people of the important things that are happening. Your sports writers did a considerably better job in Beijing than your politics desk is doing this election in Washington, DC. There were ample reports about Americans who won bronze medals, coming in third place, exactly where Nader is sitting right now. To add insult to injury, the Olympics is only 2.5 weeks, and we have been in this contest for over six months. When did it become the role of the press to only write about winning candidates, winning corporations, and winning sports teams, completely blacking out everything else no matter how thoughtful, interesting, or relevant to the discourse and development of the nation?

It is simply unbelievable that you have done nothing on Nader's bailout plan.

As the most relied upon news organization for print media in the world, one would expect a shred of professionalism for the third-highest ranked Presidential candidate.

Every day, we hear from people that say they did not even know Nader was running. When he pulls in more than a million votes on November 4th, and many more people see his name on the ballot for the first time in print (as his name will be before roughly twice as many voters this time), they will wonder what in the heck the news media was doing for them to have not yet heard he was running. One national story all campaign does not a newswire make.

I hope you take the opportunity to return to your proud traditions which are quickly turning into receding laurels.

As the government continues to do a new multi-billion dollar bailout each week, the least you could do is a story on Nader's alternative plan to the bailouts. See below a release detailing it.

http://www.votenader.org/media/2008/09/16/meltdown/

Not a happy camper,

Toby Heaps
National Media Coordinator
202 471 5833


Feel free to reach out to Donna, and ask why she hasn't done one national story on us since launch, a story on the bailout, and Nader's alternative plan, dcassata@ap.org, 202-641-9421
If Donna is not responsive, try the Washington Bureau chief, Ron Fournier, rfournier@ap.org, 202-641-9402

Ralph Nader will speak at Cooper Union (NYC) at six p.m
. and the following day the independent presidential candidate at noon "
Ralph will take to the street in front of the NYSE to protest the bailout at Federal Hall, 26 Wall St. NYC
."
John McCain is the Republican presidential nominee and Sarah Palin is his running mate.
Becky
notes
this from Ben Olson at the McCain-Palin '08 campaign's blog
:
Former Clinton Administration Official Endorses John McCain for President
Former Ambassador under President Clinton, Mark Erwin, wrote today that he is endorsing John McCain for President.
Click here
to read the entire article.
Sen. Obama does not yet have sufficient leadership experience. He has never led so much as a Boy Scout troop. I am not comfortable thinking of him as the leader of the greatest nation on earth as his first real executive job. In 2007, his running mate, Sen. Joe Biden, said, "I think he can be ready, but right now I don't believe he is. The presidency is not something that lends itself to on-the-job training."
The e-mail address for this site is
common_ills@yahoo.com
.
iraq
the new york times
sam dagher
jerry l. van marter
melane bower
cnn