More than 1,300 Christians recently
fled
the city of Mosul after 14 were killed -- perhaps by Al Qaeda in Iraq -- following a protest about an election law that didn't provide Christians with fair representation on provincial councils. But that is only the latest exodus of Christians from Mosul, which served as a refuge for those driven out of Baghdad, and from Iraq as a whole. A Chaldean Catholic archbishop has warned that Christians in his country face "
liquidation
."
In opposing the invasion of Iraq, the late
Pope John Paul II
was motivated primarily by a concern about the carnage on all sides that a war would produce; but he also had reason to worry about the fate of Iraqi Christians once Saddam Hussein was deposed. Despite his crimes, Hussein offered protection for Christians against militant Muslims.
The religious cleansing of Christians in Iraq is part of a larger pattern in which a faith with origins in the Middle East is being driven out of its native region.
The above is from the
Los Angeles Times
' "
A Christian exodus
" and wonder where the other major daily papers are with their editorials? The crisis took off in September. It's gotten press attention since the start of the month. What are they waiting for? The United Nations'
IRIN explores
the confusion over who is behind the persecution:
"Christians, like other Iraqi communities... have been subjected to killings and displacement since 2003, but in the past few weeks anti-Christian violence has increased and taken a new turn," said Hisham al-Hamdani, head of the provincial council of Ninevah Province.
"There must be urgent solutions to stop these attacks. This will be achieved only by deploying more security forces to ensure security in all areas, especially where Christians are dominant," al-Hamdani said.
He blamed "saboteurs and `Takfiris' [Sunni extremists] from the terrorist group of al-Qaida in Iraq who are trying to impose a perverse interpretation of Islam by killing non-Muslims, or converting them to Islam".
However, a priest who spoke on condition of anonymity as he is not authorised to comment on the issue, said: "We have been targeted since 2003 by extremists but I can't explain the latest events which I believe are politically-motivated."
Parliament recently abolished the quota system in future local council elections in six of Iraq's 18 provinces, meaning that these local bodies will not be able to have specially reserved seats for ethnic and religious minorities. The reason for the decision was the lack of census data on the numbers of Christians, Yazidis and followers of other religions in specific areas.
Christian leaders have since then been lobbying parliament to pass a new law setting aside a number of seats for minorities, including Christians, fearing they could be further marginalised. Demonstrations and protests have been staged in cities where these minorities live.
"They want to weaken us and then exclude us from political life," the priest said, without identifying who might want to marginalise them.
In their daily news brief,
Crosswalk.com

offers
a summary of recent events:
Mission News Network reports that the exodus from the city of Mosul continues after a church was bombed Oct. 14, the latest incident in violent attacks against the city's Christians. Iraqi Christians are sending desperate text messages to SAT-7, a satellite television service for the Christians of the Middle East and North Africa. "The Christians who are there have been fleeing. One person wrote, 'We left with only our souls.' It's really terrible. According to the reports that we've received, what's happened is that some of the extremists that were in other parts of the country have moved north and come to Mosul where there has been a vibrant Christian community," said David Harder of SAT-7. The station then disseminates the messages on screen. Many of the messages ask for prayer for the terrorists, "that they would have a 'Pauline experience'--that instead of being persecutors, they would become lovers of Jesus through what's happened."
Tina Susman's reports all over this morning. Her own paper runs "
The missing ingredient for an Iraq recovery: trust
" (
Los Angeles Times
):
But as I learned from shop owner Faiz Khalil, he may be confident enough about the future to have added even more outdoor displays, but he's not confident enough to call the shop by its original name. That would identify it as a Sunni-run business in a mainly Shiite city, where calm is spreading but where trust remains as rare as the French-made oboe on his store shelf.
So the store named Khalil has become the store named Sadiq.
"It's a common name," Khalil, a short, stocky man, said with a shrug during a nearly two-hour conversation in the cramped store overlooking one of central Baghdad's busiest streets.
His wide grin and friendly banter hide what he acknowledges is his deep sadness about the situation in his country. He soothes himself by listening to violin music, because it too is sad.
"It reflects life," Khalil said.
Call it distrust, fear, wariness or suspicion. Even now, with violence down about 80% in the last year, the sense of uncertainty is epidemic among Iraqis. That has not changed since I first spotted Khalil's store, and it is proving one of the most stubborn challenges to Iraq's recovery.
I thought back to February 2007, when the first of an additional 30,000 U.S. forces were arriving in Baghdad to quell sectarian bloodshed. I went on a patrol with some as they tried to coax information about neighborhood militiamen from residents. The people we met, both Shiite and Sunni, lived in terror and wanted protection, but they were afraid to give much information to the troops.
"Everybody has a weapon," one man told us that night. "I don't even trust my brother-in-law."
The
New York Times
' owned
Boston Globe
runs Susman's "
Iraq too perilous for many professionals: Brain drain from nation in last 5 years is dramatic
:"
In June, the government raised civil servant salaries 50 to 75 percent to bring back state employees such as teachers and doctors, many of whom were fired after the 2003 US-led invasion that toppled Saddam Hussein. Iraq's Ministry of Displacement and Migration says tens of thousands of people have returned to Iraq since last fall.
But with more than 2.5 million Iraqis having fled the country, political, and business leaders believe it will be many years before the loss of professionals can be reversed.
Many people continue to leave. The Office of the United Nations High Commissioner for Refugees said it monitored numbers at the main border crossing linking Iraq to Syria from January to July 2008 and found that 7,200 more Iraqis left than entered. And some say a new US policy opening the door to more Iraqi refugees each year is exacerbating the situation.
"It's counterproductive," said Raad Ommar, president of the Iraqi American Chamber of Commerce and Industry in Baghdad. "They're trying to achieve their goal on one hand of taking Iraqis to the United States, and on the other hand they're trying to get Iraq stabilized and improve the economy and everything else. The flight of qualified Iraqis is not going to help that."
Turning to the US presidential race and starting with the GOP vice presidential nominee for this from Scott Conroy's "
Palin Becomes Increasingly Accessible To The National Media
" (CBS News):
It was less than two weeks ago when Sarah Palin astonished her traveling press corps by lifting the curtain (literally) and journeying to the back of her campaign plane to
answer reporters' questions
for the first time after 40 days on the campaign trail. But the candidate who has been criticized for having a bunker mentality when it came to the national media can now lay legitimate claim to being more accessible than either Joe Biden or Barack Obama.
In the past two days alone, Palin has answered questions from her national press corps on three separate occasions. On Saturday, she held another
plane availability
, and on Sunday, she offered an impromptu press conference on the tarmac upon landing in Colorado Springs. A few minutes later, she answered even more questions from reporters during an off-the-record stop at a local ice cream shop.
By contrast, Biden hasn't held a press conference in more than a month, and Obama hasn't taken questions from his full traveling press corps since the end of September. John McCain--who spent most of the primary season holding what seemed like one, never-ending media availability--hasn't done one since Sept. 23.
John McCain is the GOP presidential candidate and, despite the media ignoring it [the way all but one ignored the cool reception Barack received in one state -- he was very shocked (obsessed says a friend with the campaign) that several women refused to shake his hand], he has been raking up newspaper editorials as well. McCain-Palin '08 notes the
endorsement from the

Bristol Herald Courier

Editorial Board
:
Sen. John McCain has earned the reputation as an architect of bipartisan compromises and a disciplined budget hawk. At no other time in our nation's history have we needed a leader with those skills more than now.
Sen. Barack Obama, while a gifted orator and a truly inspirational figure, has a skimpier record of bipartisan work and is proposing new taxes and additional government spending at a time when restraint and frugality are imperative.
For these reasons, the Bristol Herald Courier's editorial board endorses McCain, the Republican candidate for president.
That's an excerpt. And the campaign notes the
Dallas Morning News

' endorsement
:
The United States is in crisis. The economy is melting down. Our military is at war on two fronts. Americans approach this election in understandable fear and anger, especially at the incumbent Republican president who, however unjustly, bears the brunt of the blame for the crisis.
Americans want change, yes, but banking on change alone is a risky proposition. Both Barack Obama and John McCain offer new deals to a tense, weary nation.
In better times, America could afford to consider entrusting the White House to an appealing newcomer like Mr. Obama and giving control of the presidency and Congress to the same party.
But in this time of great anxiety, the American people need a leader of experience guiding the ship of state. Mr. McCain offers the continuity, stability and sense of authority people want, as well as a decisive break from the Bush years.
The Democrat talks about change, but only the Republican has made change happen. Only one candidate has a solid record of standing up to his own party on principle and working hand in hand with legislators from the opposing party to get things done.
That candidate is John McCain, a progressive conservative we recommend.
And the campaign notes
the endorsement of the

Tampa Tribune
:
The direction of the nation is at stake in this election.
Hard economic times, a disappointing Republican administration and the seductive promises of a master orator are pushing America toward a European-style social democracy.
If you don't want that to happen, vote for Republican Sen. John McCain.
First, it must be acknowledged that Democratic Sen. Barack Obama gets a lot of things right, especially when emphasizing what has gone wrong. Studiously unflappable, he is the most inspirational campaigner in memory.
McCain, too, has many ideas for improvement, but his changes build on what has worked in the past to make our nation the strongest in the world.
McCain understands that U.S. companies must compete worldwide and shouldn't have to pay one of the world's highest corporate tax rates. He knows that federal spending is out of control. He knows that economic growth only comes from hard work and real investment, not through wholesale redistribution of tax dollars as Obama promises.
Those are excerpts. You can refer to the below -- noted by
Becky
-- for more.
Ralph Nader is the independent presidential candidate and
Micah
notes
this from Team Nader
:
Nader Buffalo T-Shirt Blow Out Sale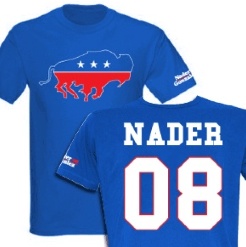 News Flash!
The Nader Buffalo T-Shirt Sale was a total blowout.
In less than 24 hours this weekend, we sold out our entire inventory of 600 Nader Buffalo T-Shirts at $20 each.
So, we called our t-shirt guy and said — t-shirt guy, how quickly can you print another 1,000?
And he said — we can get it to you this week — but it's going to cost you.
This will probably be our last printing.
And if you want one — or if you want another one — you need to get it now (men's or women's).
So, donate $30 now to Nader/Gonzalez, and we'll ship you the newly printed, heavy-duty 100 percent cotton Nader Buffalo T-Shirt (men's or women's).
(The price jumped to $30 because it's a rush final order.)
These are definitely going to be a collector's item.
And we want you — our loyal supporters — wearing them in the last days of the campaign.
So, if you haven't bought one yet, do so now (men's or women's).
And if you have bought one, buy another (men's or women's).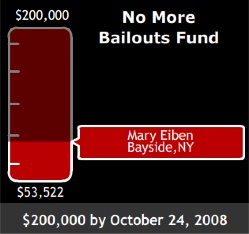 For your children.

Or grandchildren.

Or cousins.
Or friends.

Or neighbors (men's or women's).

Some day, maybe some day soon, the Buffalo — powerful, persistent and forward-looking — will rise to challenge the donkey and the elephant.
You can say you were on the ground floor.
When the Buffalo was first introduced.
As the mascot for the American civic renewal.
Within days, the last printing of the Nader Buffalo T-Shirt will be out of print.
So, don't miss out (men's or women's).
Buy your Nader Buffalo T-Shirt now (men's or women's).
And wear it with pride.
Join the movement to upend the political status quo.

Onward to November.
The Nader Team
Green Party presidential candidate
Cynthia McKinney's campaign
notes
Indigenist Intelligence Review

editorial
:
While many people have celebrated the historic inclusion of a Black man and a woman in the 2008 presidential primaries, there has been less said about the equally notable participation of a presidential candidate who is both Black and a woman.
Green Party presidential candidate Cynthia McKinney and her Puerto Rican vice presidential candidate, Rosa Clemente, also represent another first - the first all-women of color ticket in U.S. presidential history.
McKinney served six terms as a Democratic congresswoman from Georgia in 1993 - 2003 and 2005 - 07. She was the first Black woman to represent Georgia in Congress.
Clemente, a community organizer, journalist and hip-hop activist, is a graduate of the State University of New York at Albany and Cornell University. She has been delivering workshops, presentations and commentary for more than 10 years.
While the Green Party candidates currently are running at about 1 percent in the polls in the 40-plus states where they are on the ballot, McKinney has pledged to use her candidacy "to advance the preservation of democracy."
The Greens advocate for social justice, peace, democracy and respect for the Earth. In an e-mail exchange with Indian Country Today, McKinney detailed how the party would apply these values to Indian country.
She sees tribal sovereignty, treaty obligations, and religious and cultural preservation as intertwined. The U.S. government has "selective amnesia" and never intended to honor the treaties, but it is obligated to do so without question, McKinney said, and also to adequately fund programs for the betterment of American Indians and affirm their religious rights.
"How can a people survive, let alone thrive, absent their religion, spirituality, culture, language and sense of place? I support and strongly encourage religious and cultural preservation in Indian country and urge protection of sacred sites, whichever side of the map boundary they fall upon."
On IHS funding, McKinney said that the Green Party's call for universal single-payer health care would provide medical, mental and dental benefits to everyone within the United States, including Native women and veterans. She also embraces traditional indigenous medicine and healing.
And back to the McCain-Palin ticket,
Meghan McCain (

McCainBloggette.com

) writes about her campaign stop in Boston
: "We made a trip to Boston College on the Straight Talk and met enthusiastic voters at a bunch of stops along the way. These are some of the most exciting times of the campaign. Momentum IS building and you can feel it and see it on the faces of the volunteers and supporters we meet every day!" Her post includes some wonderful photos.
Bonnie
notes
Isaiah
's
The World Today Just Nuts
"
Barack's Wipings
" went up last night.
The e-mail address for this site is
common_ills@yahoo.com
.
iraq
the los angeles times
tina susman
scott conroy
cbs news
the world today just nuts