Just as the situation seemed to be stabilizing, a spate of murders in recent weeks targeting the Christian community of the nearby city of Mosul
has sparked a new exodus
. Another 1,500 families have fled Mosul in the past month, with many of those arriving at St. Josephs, looking for shelter and food.
"Christians have always been targeted by different groups in the Middle East because we are the only people without a tribal system to protect us or the political power to give us security," the bald, soft-spoken priest said as we chatted inside the stone-walled compound of St. Joseph's, which from the street looks as much like a castle than a place of worship. "The church is weak. The Vatican does not have tanks."
Just as worrying for Father Sabri are those who are leaving Ainkawa. Theyre not returning to their homes, but headed for new lives in the West, leaving Iraq behind. As much as half of Iraqs prewar Christian population of 800,000 is believed to have emigrated since 2003.
"Everyone is leaving. If the situation continues the way it is for another 10 years, 20 at most, you won't see any Christians left here."
The above, noted by Vic, is from Mark MacKinnon's "
The plight and flight of Iraq's Christians
" (
Globe and Mail
) and the priest being quoted is Father Sabri al-Maqdessy. On the same topic,
Crosswalk.com

includes
this paragraph in today's news summary:
Mission News Network reports that the situation facing Christians in the Iraqi city of Mosul is not improving. "I'm a afraid it's actually getting worse," said President of Open Doors USA Carl Moeller. "The Christian community continues to be terrorized by extremists and basically are being forced out of homes at gunpoint, children and elderly people being murdered. This is a real crisis. Not just a Christian crisis, but a real humanitarian crisis for the country of Iraq." Coalition forces in the area are not authorized to aid Christians, however, as the situation is viewed as an internal matter. "[I]t's really an international crisis where the Christian community is in danger of being extinguished completely in Mosul... The city itself is being religiously cleansed of Christians." Moeller believes al Qaeda is behind the attacks.
Ed West's "
Global Persecution of Church intensifies
" (United Kingdom's
Catholic Herald
via
Catholic Online
) examines the issue worldwide and notes the following of Iraq specifically:
In other countries instability or anarchy has led to increased persecution. Several thousand Iraqi Christians remain displaced after two weeks of violence in the city of Mosul that left at least 13 Christians dead. A church was firebombed in the city last Tuesday as the country's leading Shia cleric condemned the ongoing attacks.
Some 800 Christians have been murdered since the US-led invasion in 2003 and half the country's 800,000 faithful have fled the country. Last week Iraq's leading Catholic churchman, the Chaldean patriarch Cardinal Emmanuel-Karim Delly of Baghdad, described the "disastrous and tragic" situation in his country at the Synod of Bishops on the Bible in Rome, saying life in Iraq was like the Way of the Cross for many people."Peace and security are lacking, just as the basic elements for daily life are lacking," he said, drawing applause from more than 200 bishops.
The suspected fragging murders in Iraq of 1st Lt Lou Allen and Capt Phil Esposito continue. From Robert Gavin's "
Wives talk in frag case
" (
Albany Times Union
):
"Occasionally he makes eye contact with me,'' Siobhan Esposito told a military prosecutor on the first day of testimony in Martinez's double-murder trial, "and it's with contempt."
Her husband, Capt. Phillip Esposito, 30, of Suffern, and 1st Lt. Louis Allen, 34, of Milford, Pa., were on a military base in Tikrit, Iraq, when a devastating Claymore mine exploded outside Esposito's living quarters and office about 10 p.m. on June 7, 2005. The men, who had been playing the board game Risk at the time, died the next day.
[. . .]
Capt. Esposito's widow, who now lives in Virginia, battled tears as she testified in the military courthouse, at Fort Bragg just outside Fayetteville. She last spoke to her husband, with whom she has a 5-year-old daughter named Madeline, on June 6, she said, and last saw him the prior New Year's Eve.
[. . .]
Allen's widow, Barbara Allen, next testified, but said nothing about Martinez on witness stand. But after the court session, when asked by reporters, she said there had been a "few occasions where he actually walked up to me" and looked her up and down. She said she brought it to the attention of military police, who took measures to avoid similar interactions.
Meanwhile
Eddie
notes this from "
Fact check: Biden on Iraq
" (
Dallas Morning News
):
CNN says this
statement by Joe Biden is misleading
: "George Bush is now backing the plan that Barack Obama suggested, which is to set a timeline for withdrawal from Iraq and turn over responsibility to the Iraqis." CNN said the Bush administration, like the Obama campaign, is considering a troop withdrawal timetable. But the Bush proposals are based on security improvements in Iraq, while Obama's are based on a 16-month timetable.
Joe Biden is the Democratic vice presidential nominee, Barack Obama is top of the ticket. Staying with the US presidential race,Green Party presidential candidate
Cynthia McKinney
will appear Saturday October 25 on NPR's
Weekend Edition Saturday
. Cynthia's running mate is Rosa Clemente and Cynthia will be in Seattle:
The Washington State Power To The People Campaign has announced that Green Party Presidential Candidate Cynthia McKinney will be visiting Seattle on Sunday, October 26th and Monday, October 27th. Scheduled activities include:

Sunday, October 26, 2008

* 3pm - 7pm
"Vote...Then What?
From The Day After The Election Onward: Strategies for Community Organizing, Greening & Reconstruction"
Umojafest Peace Center
24th Ave & E Spring St, Seattle
The public is invited to attend.

Cynthia McKinney will be speaking in support of grassroots and institutional solutions to violence and other issues plaguing urban communities nationwide. This event is hosted by the Umojafest Peace Center and the McKinney/Clemente 2008 Power To The People Campaign. The program will include hip-hop and spoken word performances, speakers from youth and community based organizations, and a showing of the award-winning film, American Blackout.

Monday, October 27, 2008

* 11am - 12:30pm
"The Power of Student Movements: How to Use Your Campus as a Tool to Change the World!"
Broadway Performance Hall
Broadway at Pine Street, Seattle
The public is invited.

Ms. McKinney will address the growing concerns of students, the need for student leadership, and how students can organize on campus to engage in and impact social justice struggles and make meaningful contributions to communities outside school. This event will be hosted by the Black Student Union of Seattle Central Community College.
In addition, today, Cynthia is on:
Friday, October 24
C-SPAN
Washington Journal
9:00 am EST
John McCain is the Republican presidential candidate and Sarah Palin is his running mate.
Becky
notes
this from McCain-Palin
:
McCain-Palin 2008 Launches New Television Ad: "Ladies And Gentlemen"
ARLINGTON, VA -- Today, McCain-Palin 2008 released its latest television ad, entitled "Ladies and Gentlemen." The ad highlights Joe Biden -- Barack Obama's own running-mate -- guaranteeing an international crisis if Barack Obama is elected. Because of Barack Obama's inexperience, Joe Biden has guaranteed the American people that the world will test Barack Obama within the first six months of being elected. If Barack Obama's vote against the surge and response to the Russia-Georgia crisis are any indication, Americans can't afford to see if he passes the test or not. The ad will be televised in key states.
VIEW THE AD HERE
:
Script For "Ladies And Gentlemen" (TV :30)
ANNCR: Listen to Joe Biden.
Talking about what electing Barack Obama will mean.
JOE BIDEN: Mark my words.
It will not be six months before the world tests Barack Obama.
The world is looking.
We're going to have an international crisis ... to test the mettle of this guy.
I guarantee you it's gonna happen.
ANNCR: It doesn't have to happen.
Vote McCain.
JOHN MCCAIN: I'm John McCain and I approve this message.
AD FACTS: Script For "Ladies And Gentlemen" (TV :30)
ANNCR: Listen to Joe Biden. Talking about what electing Barack Obama will mean. JOE BIDEN: Mark my words. It will not be six months before the world tests Barack Obama. The world is looking. We're going to have an international crisis ... to test the mettle of this guy. I guarantee you it's gonna happen. ANNCR: It doesn't have to happen. Vote McCain. JOHN MCCAIN: I'm John McCain and I approve this message.
Joe Biden: Mark my words. Mark my words. It will not be six months before the world tests Barack Obama like they did John Kennedy. ... The world is looking. We're about to elect a brilliant 47-year old senator president of the United States of America. Remember I said it standing here if you don't remember anything else I said. Watch, we're gonna have an international crisis, a generated crisis, to test the mettle of this guy. And he's gonna have to make some really tough - I don't know what the decision's gonna be, but I promise you it will occur. As a student of history and having served with seven presidents, I guarantee you it's gonna happen. I can give you at least four or five scenarios from where it might originate. And he's gonna need help." (Joe Biden, Remarks, Seattle, WA, 10/19/08)
Ralph Nader is the independent presidential candidate and Matt Gonzalez is his running mate.
Samantha
notes
this from Team Nader
:
Help Ralph Get Into Guinness Book of Records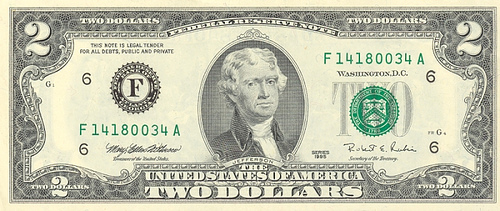 Drop a $2 bill on Nader/Gonzalez.
C-Span 2 is going to air the Third Party Debate live tonight at 9 p.m. EST.
Former New York Times reporter Chris Hedges is going to moderate.
If you are in the Washington, D.C. area, please come on down to the Mayflower Hotel and watch live and in person.
Also, we consider the $2 bill a good luck charm.
And we're going to need all the luck we can get on Saturday.
Why?
Because it's now official.
Our national media coordinator just got off a long distance phone call to the UK with the head of the Guinness Book of World Records.
He just confirmed it.
With your help, Ralph will make it into the Guinness record book this Saturday.
Ralph will campaign in 21 cities and towns across Massachusetts in one day.
Guinness says that if hits 15, he'll be in the record books — most campaign speeches in a 24-hour period.
But we're shooting for 21.
Each speech will last ten minutes and will tackle a separate issue — single payer, poverty, Palestine — you get the idea.
On Saturday, Ralph is scheduled to deliver 315 minutes of speeches — and we'll be driving 365 miles.
In one day.
Events are now scheduled in the following towns:
Boston, Cambridge, Southborough, Somerville, Medford, Arlington, Lexington, Concord, Waltham, Watertown, Newton, Worcester, Auburn, Springfield, Chicopee, Holyoke, Northampton, West Springfield, Westfield, Stockbridge and Sheffield.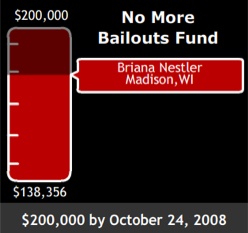 If you are in the Massachusetts area, come on out and meet Ralph and the Nader Road Crew as we zip across the Commonwealth. (For complete schedule, including times of each stop go to votenader.org/marathon)
If not, donate $2, or $20, or whatever you can afford now to fund Nader's Mass Marathon.

We need to rent the cars and vans, pay the advance teams, feed the hard working Nader's Raiders road crew, rent the multiple GPS systems.

And we need to meet our latest fundraising goal of $200,000 by tomorrow midnight.
So, donate now and then watch the widget zoom to the goal line.

And deliver Ralph into the Guinness book.
Onward to November
The Nader Team
PS: If you donate $100 or more now, we will ship to you our corporate crime package. The package includes two books and a DVD: Gangster Capitalism by Michael Woodiwiss, The Cheating of America by Charles Lewis, Bill Allison and the Center for Public Integrity, and a DVD of our Wall Street rally. (This offer ends October 24, 2008 at 11:59 p.m.)
In public radio news,
WBAI
Monday features
Judy Collins
. Collins and Kenny White appear on Janet Coleman and David Dozer's
Cat Radio Cafe
along with playwright Shem Bitterman. Public television?
NOW on PBS
offers:
Nurses Needed
[Streaming video of this program will be available online after broadcast]
According to a government study, by the year 2020, there could be a nationwide shortage of up to one million nurses, which could result in substandard treatment for hundreds of thousands of patients. Just as alarming, fewer nurses are choosing to teach the next generation of professionals, resulting in tens of thousands of applicants being turned away from the nation's nursing schools.
"If there was ever a time in the history of this country when one thought about the match between a profession and the changing needs of people in the country, this is the time," Dr. Mary Naylor of the University of Pennsylvania School of Nursing tells NOW on PBS. Dr. Naylor points out the growing population of older people, many of whom are living with chronic conditions, is significantly increasing the demand for nurses.
This week, NOW on PBS takes a hard look at how the shortage of nurses is placing strains on the entire medical system, as well as innovative efforts to reverse the trend.
Can America solve its nursing crisis?
NOW on PBS
begins airing on many PBS stations tonight (check local listings) as does
Washington Week
which finds Gwen joined by journalists Shailagh Murray (
Washington Post
), Michael Viqueira (NBC) and David Shribman (
Pittsburgh Post-Gazette
) and, for the child-at-heart, Gwen also provides two circus clowns on the panel.
The e-mail address for this site is
common_ills@yahoo.com
.
iraq
mark mackinnon
ed west
ayan mittra
robert gavin
wbai
cat radio cafe
janet coleman
judy collins
david dozer
now on pbs
shailagh murray
washington week
pbs