Mr. Askari said that two provisions particularly worried the Iraqis. The first is an option that would allow the Iraqi government to extend the American presence beyond 2011 if the government decided it wanted the soldiers to stay. The Iraqis worry that the Americans might press a new Iraqi government to extend the American presence.
The second is a provision setting up a committee that would review suspected crimes of soldiers and determine if they should be referred to Iraqi courts.
The above is from Alissa J. Rubin and Suadad al-Salhy's "
New Doubts Cloud Iraqi Security Pact With U.S.
" (
New York Times
). al-Askeria is Nouri al-Maliki's adviser Sami al-Askeri and he's also noted in Mary Beth Sheridan and Ernesto Londono's "
Shiite Bloc's Demands Stall U.S.-Iraq Pact
" (
Washington Post
, front page,
Times
article buried on A5):

Key members of the Iraqi parliament's largest political bloc have called for all American troops to leave this country in 2011 as a condition for allowing the U.S. military to stay here beyond year's end, officials said Sunday.
The change sought by the influential United Iraqi Alliance would harden the withdrawal date for U.S. troops. A draft bilateral agreement completed this week would require American forces to leave by December 2011 but would allow for an extension by mutual agreement.
Ned Parker and Saif Hameed's "
Iraq sends draft of U.S. security pact to Cabinet
" (
Los Angeles Times
) charts the expected chain the treaty will go through:
Iraqi Prime Minister Nouri Maliki had emphasized that the agreement should be debated by the Political Council for National Security before being sent to the Cabinet for approval. The council met Sunday night, but the meeting ended with neither the main Shiite Muslim nor Sunni Arab factions endorsing the pact.
Nonetheless, it was decided that discussions would begin Tuesday before the country's Cabinet, the final stop before a vote in parliament.
Further muddying the waters, one senior official, Nasser Ani, the chief of staff of Iraq's presidency council, said the council would continue to review the text.
"The Cabinet session [on Tuesday] will be for studying it, not voting on it," Ani said. "The Political Council for National Security will continue to discuss it as well."
Perhaps the biggest obstacle for the agreement, which would set conditions for the status of U.S. forces in Iraq after Dec. 31, is the absence of prominent voices supporting the deal, which could provide the foundation for a long-term strategic relationship with the Americans.
Turning to the US presidential race,
Lyle
wants
this from Team Nader
noted again:
Breaking Point: We're Not Alone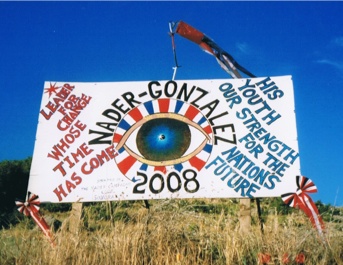 As a sociology professor drummed out of my teaching spot at Colorado State University in 2004 for my critique of Bush and his illegal war, I stand 100% with Mr. Nader as America's Lifetime Patriot. His intelligent, passionate, and courageous positions

DO

reach Americans despite media disinterest and concern only with "the next cool thing." I am especially disappointed in Amy Goodman's suggestion (on the day of the first Presidential debate) that Mr. Nader encourage his followers to support Obama in battleground states. I live in one of those states (Colorado), and I know first-hand how media outlets can misrepresent or deny coverage to difficult and complex issues, when "the truth" could save lives, careers, and the environment.

Mr. Nader, thank you for being our voice in these decades of electoral corruption. Like you, we will never, ever, ever give up.

-Steven G. Helmericks

—Photo and sign above provided by Daniel and Kat Penisten of

CA
Send me your Breaking Point story to share at loralynne@votenader.org, so the growing numbers of independent voters can join our voices, and together, we can change the system.
Loralynne Krobetzky
Communications Director
Nader for President 2008
Keesha
notes
this from Team Nader
:
Pass It On: Technocracy vs. Democracy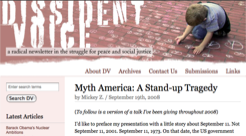 In his wide-ranging article, Mickey Z goes beyond the he-said-she-said of policy battles and reminds us that we do not live in a technocracy—where we discuss moral issues as strategic issues—but in a democracy—where we should use our freedom of speech to demand real equality for everyone. Mickey's critique of a national philosophy based on violence, greed, and unjust power takes him through a myriad of political and social issues, from the exclusion of third parties to corporate power to the devastating policies of Bush and Gore. Mickey's article reminds me of something Ralph Nader has been insisting on for years: that our politics must be based on the idea of justice and fairness for all people, and that a national boundary should not be an excuse to hide our violence behind our homage to a nation-state.
Onward!
Ashley Sanders
The Nader Team
Today's Pass It On article was written by Mickey Z. and was published in Dissident Voice. You can read the original article here.
This week Green Party presidential candidate Cynthia McKinney makes two appearances on NPR
:
Green Party presidential candidate Cynthia McKinney is scheduled to appear on two nationally broadcast shows on National Public Radio (NPR) this month;

Wednesday, October 22


Talk of the Nation
NPR Radio, Washington, DC
2:40 pm EST


Saturday, October 25

NPR News
Weekend Edition Saturday
Scott Simon, host
8:10 am EST

Be sure to listen and tell your friends about these important opportunities to hear another point of view in this election from a progressive woman of color running on a third party ticket.
Friday's snapshot
included a portion of McCain-Palin '08's "
JUST WORDS: Barack Obama's Medicare Malpractice And Lies
" which is below in full:
ARLINGTON, VA -- Today, in Virginia, Barack Obama committed malpractice by accusing John McCain of trying to cut Medicare services and benefits. Nothing could be further from the truth. Check out Barack Obama's top Medicare lies below:
OBAMA MEDICARE MALPRACTICE #1: The Very Same Reforms That Barack Obama Calls "Cuts" Under John McCain, He Says Will "Strengthen" Medicare Under His Program
THE MALPRACTICE: While Saying Today That John McCain's Reforms Will "Cut" Medicare Spending, Barack Obama Says He Will "Strengthen" Medicare With His Reforms. OBAMA: "So what would Senator McCain's cuts mean for Medicare at a time when more and more Americans are relying on it? It would mean a cut of more than 20 percent in Medicare benefits next year. ... I think every single American has a right to affordable accessible health care. We can strengthen Medicare by eliminating wasteful subsidies to big HMOs in Medicare, and making sure seniors can access home-based care, and letting Medicare negotiate with drug companies for better prices. That's the kind of change we need." (Barack Obama, Remarks As Prepared For Delivery, Roanoke, VA, 10/17/08)
THE TRUTH: Just Two Days Ago, Barack Obama Highlighted His Own "Cut" To Medicare Spending. OBAMA: "And some of the cuts, just to give you an example, we spend $15 billion a year on subsidies to insurance companies. It doesn't -- under the Medicare plan -- it doesn't help seniors get any better. It's not improving our health care system. It's just a giveaway." (CNN, Presidential Candidate Debate, Hempstead, NY, 10/15/08)
THE TRUTH: One Such "Cut" That John McCain Must Support Under Barack Obama's Logic Is A Reform That Today, Barack Obama Said Would "Strengthen" Medicare. MCCAIN: "Government programs such as Medicare and Medicaid should lead the way in health care reforms that improve quality and lower costs. Medicare reimbursement now rewards institutions and clinicians who provide more and more complex services. We need to change the way providers are paid to focus their attention more on chronic disease and managing their treatment. This is the most important care for an aging population. There have been a variety of state-based experiments such as Cash and Counseling or The Program of All-Inclusive Care for the Elderly, called PACE, that are different from the inflexible approaches for delivering care to people in the home setting. Seniors are given a monthly allowance that they can use to hire workers and purchase care- related services and goods. They can get help managing their care by designating representatives, such as relatives or friends, to help make decisions. It also offers counseling and bookkeeping services to assist consumers in handling their programmatic responsibilities. In these approaches, participants were much more likely to have their needs met and be satisfied with their care. Moreover, any concerns about consumers' safety appeared to be misplaced. For every age group in every state, participants were no more likely to suffer care-related health problems." (John McCain, Remarks, Tampa, FL, 4/29/08)
OBAMA MEDICARE MALPRACTICE #2: Barack Obama Implies The Wall Street Journal Reported John McCain Plans To "Cut" Medicare By $882 Billion -- The Number Is Not Reported By The Journal But Made Up By The Obama-Supporting Center For American Progress
THE MALPRACTICE: Today, Barack Obama Implied That The Wall Street Journal Reported John McCain Plans To "Cut" Medicare By $882 Billion. OBAMA: "But the Wall Street Journal recently reported that it's actually worse than we thought. It turns out, Senator McCain would pay for part of his plan by making drastic cuts in Medicare -- $882 billion worth. $882 billion in Medicare cuts to pay for an ill-conceived health care plan, even as Medicare already faces a looming shortfall." (Barack Obama, Remarks As Prepared For Delivery, Roanoke, VA, 10/17/08)
THE TRUTH: Barack Obama Is Basically Citing His Own Campaign Because The Report Comes From The Liberal-Leaning, Obama-Supporting Center For American Progress. "Sen. John McCain (R-AZ) disclosed this week that he would cut $1.3 trillion from Medicare and Medicaid to pay for his health care plan. ...The McCain plan will cut $882 billion from the Medicare program, roughly 13 percent of Medicare's projected spending over a 10-year period." (Peter Harbage, Karen Davenport and Ellen-Marie Whelan, "McCain's Latest Health Care Strategy," Center For American Progress, 10/7/08)
OBAMA MEDICARE MALPRACTICE #3: Barack Obama Accuses John McCain Of Not Being Forthcoming About His Health Care Plan Just One Day After His Own Campaign Refused To Answer Questions About His Plan
THE MALPRACTICE: Today, Barack Obama Said That John McCain Has Not Shared All The Detail Of His Health Care Plan. OBAMA: "Senator McCain has been eager to share some details of his health care plan -- but not all. Like those ads for prescription drugs, you have to read the fine print to learn the full story." (Barack Obama, Remarks As Prepared For Delivery, Roanoke, VA, 10/17/08)
THE TRUTH: Just Yesterday, The Obama Campaign Said That It Had "No Plans" To Detail How Much Of A Fine Small Business Not Offering Health Insurance Would Have To Pay Under The Obama Health Care Plan. "As the presidential candidates push their competing health-care plans, Sen. John McCain regularly presses Sen. Barack Obama to tell voters how big a fine he would impose on companies that don't offer their workers health insurance. ... Obama officials say the campaign has no plans to answer that question before Election Day on Nov. 4. Neera Tanden, a top Obama policy adviser, said the fine is intended to discourage employers from dropping coverage, not to raise significant revenue." (Laura Meckler, "McCain Presses Obama On Health-Plan Penalties," The Wall Street Journal, 10/16/08)
THE TRUTH: Barack Obama's Plan Has "Little" To Say About The "Immediate Challenge" Of Taming The "Soaring Costs Of Medicare And Medicaid." "While Senators Hillary Rodham Clinton and Barack Obama fight over who has the better health plan for the uninsured, they say little about a more immediate challenge that will confront the next administration, whether Democratic or Republican: how to tame the soaring costs of Medicare and Medicaid." (Robert Pear, "About Those Health Care Plans By The Democrats," The New York Times, 3/3/08)
THE TRUTH: Barack Obama Has "Not Focused On The Dour Forecast For Today's Workers Who Hope Someday To Be Enrolled In Medicare." "Clinton and Obama have also said they would raise the current income tax rates on upper-income people to help pay for offering insurance to younger and middle-aged Americans who now have none. But their health insurance rhetoric has not focused on the dour forecast for today's workers who hope someday to be enrolled in Medicare." (Tom Curry, "Next President To Inherit Medicare Morass," MSNBC News,
www.msnbc.msn.com
, 3/25/08)
The e-mail address for this site is
common_ills@yahoo.com
.
iraq
the new york times
alissa j. rubin
suadad al-salhy
the washington post
mary beth sheridan
ernesto londono
the los angeles times
ned parker
saif hameed