Let's start with something from
yesterday's snapshot
:
Today the
US military announced
: "A Multi-National Division - Baghdad Soldier and an Iraqi interpreter were killed when the vehicle they were riding in was struck by an improvised-explosive device in northwest Baghdad at approximately 10:10 a.m. Aug. 13." With that announced death, the month of August (not even half over) has already passed the month of July for most US fatalities. The monthly toll thus far is
14
with
4141
the number killed since the start of the illegal war.
As July wound down and August began, you couldn't get away from the waves of Operation Happy Talk: Only 13 US service members killed in Iraq! August isn't at the half-way point. It is now August 14th and, not only have 14 US service members been announced dead thus far, it has now surpassed July's death toll. But no one's got time to cover that or to notice it apparently.
It's really embarrassing and pathetic. So is the absence of coverage on Iraq in today's papers.
At
Babylon & Beyond
(the
Los Angeles Times
' Iraq blog), Tony Perry filed "
IRAQ: High hopes for Hit stymied by corruption
" yesterday:
Hope was in the air in February when the U.S. Marines turned security responsibility for the city of Hit back to the Iraqis.
The Marines and the Iraqi security forces had wrested control of the Euphrates River Valley community away from insurgents. Now the local government, backed with advice and money from the U.S., could begin improving the lives of Hit residents, repairing damage done by decades of neglect under Saddam Hussein and then months of bloody fighting with insurgents.
The optimism has proved misplaced.
Instead, according to Marine and State Department officials, the Americans have gotten a lesson in the tangled alliances between local officials, Sunni sheiks, oil smugglers and remnants of the insurgency movement.
While the
New York Times
print readers search in vain through today's sorry ass edition for any news of Iraq, Campbell Robertson filed "
Bloody Blessing Goes Unnoticed
" at the paper's
Baghdad Bureau
yesterday:
The ritual killing of sheep at an official dedication ceremony isn't particularly noteworthy in the Middle East, but for a Westerner it adds an element of drama to what would otherwise be a dull official press event. There isn't much along those lines at dull official press events in the United States; we do have an odd thing with the president and a turkey, but the turkey gets let off the hook.
On Sunday morning, Prime Minister Nuri Kamal al-Maliki was the honored guest (or respected guest, or excellent guest, depending on which welcome sign you were looking at) at a ceremony for the opening of the future meeting place of Parliament, which is also the former meeting place of Parliament during the Saddam era.
The positive takeaway of the day was that this building is outside the Green Zone: just outside, completely surrounded by blast walls and closely guarded by Iraqi police, but outside nonetheless. It was a symbolic toe in the water for the Iraqi state.
At
Baghdad Life
, one of the
Wall St. Journal
's Iraqi correspondent files "
An Iraqi Family's Disillusions with the Past, Present
:"
In early 2003 just before the war began, Sadiq's father and mother were very happy about the pending U.S. invasion, although they hoped it wouldn't be a big war. They prayed for salvation from Saddam, as U.S. President George Bush had promised.
Sadiq's family called April 9, 2003, the day that Baghdad fell, "liberation day" and refused to call it other names as others did, such as the "occupation era" or "the day of the fall." They started to see the light at the end of the tunnel and they were very happy that their son could witness those days.
They started to make plans for their son's future. Even though his son was too young at 2 years old to understand, Sadiq's father told him that he was free from Saddam and he would never be forced to serve in the army. He would be able to travel out of Iraq and go to America and Europe. "You will have a good education, a better life, better food and even better toys," Sadiq's father told him.
But these dreams never came true, and as the years passed, those hopes began to fade day by day. Sadiq's mother began to feel sorry for her son and thought she had brought him into a world that was more horrible than before.
And there's also Gina Chon's "
Coalition's Face-Off Against al Qaeda Enters Rocky Phase
" on yesterday's press conference for the for-show action:
Major General Mohammed al-Askari, spokesman for the Iraqi Ministry of Defense, said during a press conference today that the orchards and palm groves in Diyala gave insurgents, criminals and others that the government is hunting down a lot of places to hide. Diyala lies northeast of Baghdad and borders Iran.
All of the above appears to exist to serve notice on how worthless the print editions of papers currently are and how management doesn't give a damn and actually wants to drive away their print audience. That's probably not the case but when they next whine about cutbacks and about circulation figures and ad revenues, remember they are the ones making themselves useless.
Joan
notes
this from Team Nader
:
Denver, Minneapolis, Here We Come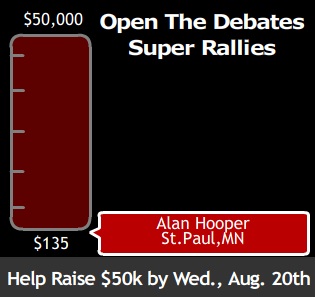 Are you ready to rumble?
If yes, make a contribution now to help fund our protest rallies in Denver (August 27) and Minneapolis (September 4).
Thousands of Americans will be in Denver and Minneapolis to protest the pro-war corporate controlled Democrats and Republicans.
Nader/Gonzalez has rented arenas in both cities to rally Americans opposed to the Iraq and Afghanistan wars and corporate control over all aspects of our lives.
And to lay down one simple demand - open the Presidential debates.
As Ralph put it the other day, if we are allowed into the debates - and reach tens of millions of Americans with our message - it will be a three-way race.
Thanks to your help, we are on track to be on 45 states ballots by September 20 (Currently, we are on 31.)
If we get into the debates, our six percent in the polls will jump to 15 percent or more.
And the American people will sense a three-way race.
Then everything is possible.
But first, we have to pay for our up front costs in Denver and Minneapolis.
And we need to raise $50,000 before August 20.
To pay for sound, lights, office, arena, phone lines, staff, lodging, 100,000 handbills.
We've taken some of our best road-trippers and flown them into Denver to promote the rally. We have also opened an office in downtown Denver. (See today's Denver Post article here.)
Our staff is lining everything up to make them memorable rallies.
But we've got bills to pay now.
So, drop $10, $20, $50, $100 or whatever you can -- give to your heart's content -- but not more than the legal limit of $4,600.

Then watch your name go up in lights on our new super rallies widget.
And see us move toward our goal of $50,000.
Let's crank it up.
And get it done.
Thank you in advance.
See you in Denver and Minneapolis.
Onward to November
The Nader Team
PS: Here's our most recent Open the Debates video. Please pass it around to friends and family. Thanks.
PPS: Ralph will be on NPR's Talk of the Nation between 2 p.m. and 3 p.m. EST today.
The e-mail address for this site is
common_ills@yahoo.com
.
iraq
tony perry
the los angeles times
campbell robertson
the new york times
gina chon
the wall street journal