Tina Susman's "
Iraq suicide bomber a man in woman's garb
" (
Los Angeles Times
) covers the assassination attempt (using a bomber) on Diyala Province governor Raad Tamimi and notes that the bomber was "a man dressed as a woman" which begs the question of does the New York Times do corrections on stories they run? A8, the
New York Times
runs "Female Suicide Bomber Kills 2 in Iraqi Province." The author?
Associated Press
. Not only is the article wrong, it's not even by anyone working for the paper. They spend how much money for the Baghdad operation and they're running
AP
articles to cover Iraq? Well they ran it, will they correct it?
From Susman's article:
Tamimi, the governor, said the bomber was walking on the sidewalk but headed into the street as the convoy neared.
"He tried to head toward us but we were careful, because suicidal attackers are common in Diyala," Tamimi said, adding that everyone had believed the bomber to be a woman because he was wearing a long, flowing traditional abaya.
The military warned months back that Al Qaeda in Iraq was finding it harder to recruit men and had turned to women to stage suicide attacks. At least 28 women have carried them out this year, according to U.S. Army figures, compared with seven last year.
Initial reports identified Tuesday's bomber as a woman, but the military said it had determined the attacker to be a man dressed as a woman.
Ernesto Londono (

Washington Post

) covers
the efforts to build Iraq's air force and
notes, "U.S. lawmakers appropriated $8.5 billion to train and equip Iraq's security forces in 2007 and 2008. Of that sum, roughly $457 million went to the Iraqi air force."
Turning to the US presidential race,
Oliver
notes
this from Team Nader
:
Daily Audio Message from Ralph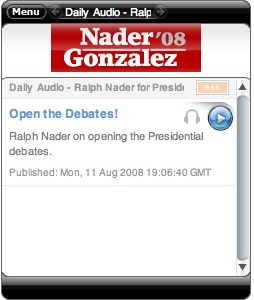 We are launching a new feature on votenader.org.
It's a daily audio message from Ralph Nader.
Anyone who has traveled with Ralph marvels at his encyclopedic knowledge of the workings, failings, and potential of our democracy, from the marketplace to the workplace to liaisons between corporations and government to the courageous stands politicians used to take once in a while.
From now until Election Day, five days a week, we will feature new, short audio recordings from Ralph.
It starts with a message on opening the debates.
You can download the podcast, or listen at your computer.
Unlike the corporate candidates who stick to a narrow message until their handlers allow them to take a half-step, Ralph expresses himself freely on issues that affect you each day.
So, listen in.
It'll be like traveling the road with Ralph.
Tell your friends about it.
And look for future recordings from Matt Gonzalez as well.
Thanks for checking in.
Onward to November.
The Nader Team
PS: We invite your comments to the blog.
The e-mail address for this site is
common_ills@yahoo.com
.
iraq
the los angeles times
tina susman
the washington post
ernesto londono