Iraq's drive to forge ties with Sunni-led Arab neighbors, who it says have shunned its Shiite Muslim leadership, got a boost Monday when Jordan's King Abdullah II became the first leader of an Arab nation to visit since the fall of Saddam Hussein.
The visit is the latest in a series of moves by Arab states that Iraqi and U.S. officials say could improve security and counter the influence of Shiite-led Iran, a player here in economic, diplomatic and security matters.
The circumstances of the visit were in stark contrast to those surrounding a trip here in March by Iranian President Mahmoud Ahmadinejad. Abdullah's visit was not announced in advance, there were no public appearances, and he stayed just a few hours. Ahmadinejad's arrival was trumpeted well in advance. He received a red-carpet welcome, made several public appearances and was in Iraq for two days.
The above is the opening of Tina Susman's "
Jordan's King Abdullah II visits Iraq
" (
Los Angeles Times
). The visit was news but lots of luck finding coverage of it. The
New York Times
files nothing from Iraq* and turns the front page over to the text equivalent of
The Dating Game
. First up, Evan Bayh! If Bayh's not selected to be the Democratic vice presidential nominee, everyone should remember that -- in their rush to predict the news -- the
New York Times
elected to ignore actual news of an ongoing illegal war because it was more important that they tease out a rumor and get the Barack campaign on the front page. Leila Fadel covers the visit in "
Jordan's King Abdullah makes first visit to post-Saddam Iraq
" (
McClatchy Newspapers
) and below is the last section of her report:
Jordan now joins other Arab nations who've named ambassadors to Iraq. But no Arab nation has reopened an embassy in the county. Egypt was the final Arab nation to close its diplomatic mission in 2005, when the Egyptian envoy was kidnapped and killed.
Abdullah's visit was
announced weeks ago
and a date was set, but the king's visit was postponed because of security concerns. Iraq had planned to give the monarch a state welcome but instead the king arrived and left with no fanfare. The announcement of his visit came as he boarded a plane to leave Iraq. Abdullah's security detail requested the secretive nature of the visit, Zebari said.
The Sunni monarch's visit was in stark contrast to the visit by Iranian President Mahmoud Ahmadinejad earlier this year.
Ahmadinejad announced his visit and was welcomed on a red carpet, did a series of news conferences and drove through Baghdad to visit a revered Shiite shrine. He then boasted about the visit by poking fun at President Bush, who arrives in Iraq unannounced and informs the world of his trip upon his departure.
AP

notes
that "U.S. officials had been urging King Abdullah to visit Iraq to bolster ties between the two countries as part of Washington's campaign to shore up support for the Iraqi government as a counterweight to Iranian influence."
Deutsche Welle

points out
, "Jordan hosts about 500,000 Iraqi refugees who have fled violence in their war-torn country, and Amman has estimated the costs of sheltering them so far at more than 1.3 billion euros ($2 billion)."
*ADDED: Apologies to Stephen Farrell who files a very brief (AP heavy, though AP gets credited) article A13. It's on the bottom fourth of the page, bracketed by a two column story on Afghanistan and a large ad for ETrade.
In political news, Iraq War vetergan (and
IVAW
member)
Jason Wallace
continues his race for the US Congress. From Jo Ann Hustis' "
Green's Wallace limiting spending, sticking to issues
" (
Morris Daily Herald
):
Green Party congressional candidate Jason Wallace is running a unique campaign this fall that caps his expenditures at $10,000.
"Nobody is getting paid," he said of what he defines as a true grassroots drive in the 11th Congressional District. "We're all volunteers, including all the staff and myself as the candidate."
In lieu of conducting fund-raising activities in his 10K08 campaign, Wallace is going to people throughout the district for in-kind contributions.
"That way, they don't have to worry about spending a lot of money," he said. "Also with the economy, we're concerned average citizens aren't going to want to pay to a political campaign.
"They don't necessarily have the budgets to donate to politicians. We're aware of that. We're more focused on people just giving us their time rather than money."
Turning to the US presidential race, Ned highlights
this from Team Nader
:
Nader Super Rallies Set for Denver, Minneapolis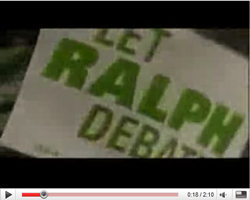 Well, you did it.
Two weeks ago, we asked you for $100,000 to get us on the ballots in 30 states.
You came through with flying colors - over $120,000 - with half of that - $60,000 - coming in the last four days.
Thank you to everyone who helped make that happen.
In return, we did it.
Nader/Gonzalez is now done with our ballot access effort in 30 states, on our way to 45 states by September 15.
This is all good news.
And now add this:
I just got in the office - took the red eye from Denver - where I spent the weekend laying the groundwork for a Nader/Gonzalez Super Rally.
On Wednesday, August 27, right during the heart of the Democratic National Convention, we will be holding a Super Rally for 5,000-7,000 people at the University of Denver Magness Arena. (Check out our new Nader/Gonzalez video promoting our rallies here.)
And we'll be hosting a second super rally in Minneapolis on September 4th at the Orchestra Hall during the week of the Republican National Convention.
Why?
To protest the corporate control over our political system and to call for opening the presidential debates.
During his 2000 campaign, Ralph Nader drew sellout crowds to super rallies in arenas from Portland's Memorial Coliseum to Madison Square Garden.
After the election, the NewsHour's Mark Shields called the Nader Super Rallies "the most exciting political development of the campaign year."
"My apology to Ralph Nader for not demanding that he be included in the debates," Shields said.
In 2004, the Democratic Party - along with its Republican allies - smothered the Nader campaign with phony lawsuits in a coordinated campaign of petition sabotage.
We had a tough time keeping our heads above water.
Just last month, legislative leaders responsible for illegal use of tax money to keep us off of the ballot in Pennsylvania in 2004 were indicted by a grand jury in Harrisburg.
Now, in 2008, Nader is back, and - thanks to you - on track to be on the ballot in 45 states - we were on only 34 in 2004 - and the Nader/Gonzalez ticket is at six percent in the latest CNN poll.
Now, we need your help for another breakthrough.
We are launching a campaign to Open the Debates.
In its first phase, the super rallies will rise again in Denver and Minneapolis during the Democratic and Republican conventions.
We call all of our supporters to action from every corner of the United States: come to our first rally in Denver on Wednesday, August 27, 2008.
Plan to make the trip to Denver - or Minneapolis - or both.
These rallies will be part of an massive outpouring of protest in Denver and Minneapolis against the two corporate controlled parties and their policies of perpetual militarism and war.
We'll be filling in the details on the two rallies in the days to come.
But for now, we need you to spread the word.
Nader/Gonzalez is aiming to bust open the presidential debates.
As Ralph says, if tens of millions of Americans can hear the Nader/Gonzalez message through the
Presidential debates, it will be a three way race.
Send this e-mail message to your address book.
Tell friends and family.
The super rallies are back.
Time to get on board.
Onward to November
Jason Kafoury
National Campaign Coordinator
The e-mail address for this site is
common_ills@yahoo.com
.
iraq
the los angeles times
tina susman
leila fadel
mcclatchy newspapers
jason wallace
jo ann hustis