On the front page of the
New York Times
, Campbell Robertson's "
Iraq Government Rolls Soar As the Private Sector Falters
." Iraq's increased their government payrolls from 1.2 million in 2005 to 2.3 million today and . . . And? Isn't the whole talking point of the puppet's office that they do not have a strong enough bureaucracy? (And trained.) Is it a story? Probably. Is it front page news? Not as written. But considering that Sunday was yet another day the New York Times couldn't even find Iraq, maybe we shouldn't complain?
Inside the paper, A8, Robertson teams with Suadad Al-Salhy for "
Attacks Across Iraq Ill 13, Including a U.S. Soldier
." Seems much more appropriate as front page news, doesn't it? But 13? Look at the numbers
from last night
-- just
McClatchy
and
Reuters
and mainly McClatchy -- and you've got over 25 deaths (that includes 3 corpses discovered in Baghdad). On the plus side, at least the paper is finally reporting deaths of US service members. Anyone getting their news only from the print edition of the New York Times would have no idea that
11
US service members have already been announced dead this month.
In the Los Angeles Times, Tina Susman's "
U.S. soldier, 17 Iraqis killed in suicide blast
" offers "Sunday's attacks showed the challenges still facing American forces in Iraq, who number about 140,000, and the Iraqi security forces who ultimately will have the task of protecting the country." and notes this:
Iraqi police said the dead included three Iraqi soldiers, eight civilians, and six Awakening members, along with two U.S. soldiers, but the U.S. military said in a statement that one American was killed and two were wounded. There was no explanation for the discrepancy.
ITV (like the second
Times
article) talks about what might be in a treaty between the White House and the puppet of the occupation in "
Iraq seeks US withdrawal timeline
:"
Iraq has said the US must provide a "very clear timeline" to withdraw its troops from the country.
Iraqi Foreign Minister Hoshiyar Zebari said it is required as part of an agreement to allow US troops to stay beyond this year.
US President George W Bush has long resisted setting a firm schedule for pulling troops out of Iraq.
Last month, however, the White House began speaking of a general "time horizon" and "aspirational goals" to withdraw.
If the treaties (Strategic Framework Agreement: SFA; Status of Forces Agreement: SOFA) don't come be (July 31st was the self-imposed deadline of the White House), the UN mandate (covering only the occupation and not retroactively giving permission for the illegal war) can be extended. It expires at the end of the year.
AP

's Bushra Juhi reports
that Nouri is saying the for-show operation in Diyala Province is taking a one-week vacation "to give insurgents time to surrender".
Kyle
notes
this from Team Nader
:
Ralph's Weekend Audio Message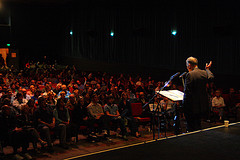 Click here for Ralph's Saturday audio message.
This is Ralph Nader.
I'm very proud of the millions of Americans who are standing with me and my running mate Matt Gonzalez in this momentous election year.
To the scores of signature gatherers around the country who have beared bad weather -- thank you.
To those of you who have written letters to your local newspapers and defended our candidacy to friends and neighbors -- thank you too.
To the thousands of you who have fueled the Nader/Gonzalez campaign with your generous donations -- our gratitude.
We have polled over five percent in a number of national polls -- most recently six percent in the CNN poll last week.
Nader/Gonzalez is projected to be on the ballot in 45 states come election day.
I was at a breakfast meeting with reporters this week in Washington, D.C.
And a reporter asked me if I thought Nader/Gonzalez had a chance to win.
Well, I said, if we get into the debates, before tens of millions of voters, it would be a three way race.
But before we get into the debates, we have to get on the ballots.
And as you know, we're in the stretch run of our ballot drive.
We're very close to hitting our target of $100,000 by tomorrow night.
We're closing in.
So, help push us over the top.
After this weekend, we move from the primary to the general election period.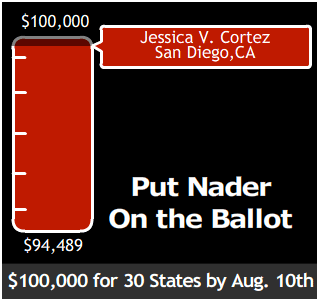 That means that this is the last weekend where your online contributions will be matched by the federal government.
More specifically, every dollar you give online this weekend, up to $250, will be matched or doubled by the government.
After this weekend, no match for online contributions.
Help push us over the top on our current ballot access fundraising drive.
Go to votenader.org and hit the contribute button.
You can give to your heart's content---up to $4,600 that is---that's the legal limit.
You will be fueling a campaign that will shift the power in specific ways from the giant corporations back into the hands of the American people---whether as voters, consumers or taxpayers.
Thank you again for your support and your considered dedication.
Onward to November.
And below is the audio of the message.

And on the race for president,
Alain Jean-Robert (

AFP

) reports
:
A leading conservative voice and champion of individual liberties, Barr, a former Republican, broke with the Bush administration after the Patriot Act was introduced in the wake of the 9/11 attacks.
Barr will appear on the ballots in at least 34 states, some of which, such as northern Ohio and western Nevada, are seen as key swing states this year.
In Georgia, where polls give McCain only a seven-point advantage over Obama, Barr's presence could significantly muddy the vote.
Barr himself faces competition from another former Republican, Chuck Baldwin, who is running as a candidate for the Constitution Party, which has an election manifesto very similar to the Libertarian's. Baldwin is standing in at least 24 states.
Nader, 74, is making his fifth tilt at the White House, this time as an independent and will be running in at least 29 states, including key battleground Michigan.
Nader, who is of Lebanese origin, could win significant support among the large Arab-American community in the northern state, and according to some polls, could even take some 25 per cent of their vote.
"You have in Ralph Nader's candidacy a genuine Arab-American who has a lot of notoriety and publicity. It would be detrimental to Obama's candidacy," said Morley Winograd, former chairman of the Michigan Democratic Party.
The Green Party has chosen as its candidate African-American former Democratic congresswoman Cynthia McKinney, who will be on the ballot in 24 states.
Her presence could handicap Obama by slicing into his support among women and pacifists against the Iraq war.
"Obama cannot take the peace vote for granted. There are peace candidates running from across the political spectrum," said Kevin Zeese, executive director of Voters for Peace.
There are others mentioned, we focused on on
Bob Barr
,
Cynthia McKinney
and
Ralph Nader
-- and Nader is the one the community is supporting. The e-mail address for this site is
common_ills@yahoo.com
.
iraq
the new york times
campbell robertson
suadad al-salhy
the los angeles times
tina susman