A woman pretending to be a Shiite Muslim pilgrim en route to a religious festival blew herself up Thursday at a rest house catering to pilgrims and killed at least 20 other people, most of them women.
It was the worst of several attacks on Shiites walking to Karbala, 50 miles south of Baghdad, and it raised the specter of more bloodshed as the pilgrimage route becomes crowded before the event Saturday.
The above is from Tina Susman's "
In Iraq, female suicide bomber kills 20 Shiite Muslims
" (
Los Angeles Times
) and we'll stay on the bombing for a bit with some reported reactions. From Campbell Robertson and Riyadh Muhammed's "
Bomber Kills 18 on Shiite Pilgrimage in Iraq
" (
New York Times
):
"I saw smoke, and I smelled the very bad smell of burned flesh and blood," said Ali, an 18-year-old who lives at the apartment complex and gave only his first name.
"The reactions were a little less than at the last blast," Ali added, referring to the February attack, "maybe because they already have been shocked."
Local security officials had been concerned about attacks on pilgrims, particularly in the so-called triangle of death, a largely Sunni area south of Baghdad that has been the site of intense violence since 2003. Shiite pilgrims must march along a highway through Sunni towns in the area on the way to Karbala.
Sudarsan Raghavan and Saad Sarhan's "
Suicide Bomber Kills 18 In Iraq
" (
Washington Post
) contains a passage that should find many nodding along:
Col. Ali al-Zahawi, Iskandariyah's police chief, said a shortage of female police officers in the town helped the assailant go undetected. He said three policemen became suspicious when they noticed the bomber's thick clothes on a brutally hot evening. When they approached her, she detonated her explosives, killing the three policemen and several pilgrims. A female suicide bomber struck at nearly the same location during last year's pilgrimage, he said.
"The army will replace the police in Iskandariyah after this security violation," said Capt. Muthanna Ahmad, a spokesman for the Babil province police. "The police are not capable to deal with the suicide attacks. They don't have detectors and the necessary equipment for these kind of attacks."
Wow. Not enough female police officers. Hey, remember when women were being purged? Remember when female police officers were informed they could not carry fire arms? And remember how the pig and thug and puppet Nouri al-Maliki was pleased as punch with all of that and shocked when a few (very few reports) objections were raised? The puppet needs the illegal war to stay in power. And the White House doesn't give a damn about the rights of Iraqi women. So it was the perfect blend for pigs everywhere.
Yesterday Iraqi president Jalal Talabani had heart surgery in the US. The
Times
of New York and Los Angeles mention that detail in passing and buried at the end.
Yesterday's snapshot
included:
Moving on to Iraq and file it under "No surprise."
October 21, 2007 we noted
: "In today's
New York Times
,
Andrew E. Kramer tells you
that Iraq's president, Jalal Talabani, is upset with Syria for publicly endorsing the Turkish parliament's vote to approve the Turkish military being sent into Iraq to fight the PKK. 'Usually I refrain from commening on Syrian positions to maintain our historical good relations,' Talabani (who stuffed his face with fatty foods` on his recent trip to the US to visit the Mayo Clinic, just FYI -- the heart trouble is not going to be cured by pigging out in hotel rooms)." Talabani's face stuffing (of fatty foods) never made the press but it's all anyone could talk about. It should have made the news. We returned to that topic over and over. (And he reportedly visited a book store on that trip and staggered, nearly passing out. It took the support of several men for him to make out of the bookstore.)
June 16th we were 'harping again
' (as one drive-by e-mailed) with: "Meanwhile
AP

notes
that the president of Iraq, Jalal Talabani, is in the US and will receive treatment at the Mayo Clinic. A brief mention is made of the fact that this is not his first visit or that moments after leaving last time, he was spotted gorging on fatty foods in public. (And 'gorging' is putting it mildly.) He's 73-years-old and really can eat whatever he wants -- if he steps down as president. But while he's president (or 'president') of an occupied country, there's really no point in treating him if he's going to completely ignore doctors' orders and it's not as if the average Iraqi is going to be flown to the Mayo Clinic."
Deborah Haynes (Times of London) reports
that the Iraqi president is "said to be in 'good health' today after undergoing heart surgery in the United States, an operation that left some Iraqis wondering whether he is still fit for the job."
Peter Graff (Reuters) points out
that, prior to today, the press was told he was in the US for "a knee operation."
CBS and AP state
: "A statement by the presidential press office said Talabani entered the Mayo Clinic in Rochester, Minnesota on Aug. 2 for knee surgery but 'the medical team found out that he suffers from a problem in one of the heart valves'." That's a sweet way to put "We thought we could lie but
Reuters found out the truth, broke the story and now we have to admit to the heart surgery
." "I think he's too old to continue as President," Fadel Dawish
tells Deborah Haynes
in Baghdad while "Nassar al-Rubaie, a senior Shia politician, said the medical reports from the hospital would determine whether the heart operation would affect Mr Talabani's ability to work."
In terms of what I have written here, it was never a secret. The press has always known that Talabani had heart problems and that he refused to watch his diet. The man's 74-years-old and doesn't need to be eating cheese steaks to begin with but certainly not hours after leaving the hospital where he was strongly warned to improve his diet immediately. Within the US State Dept, Talabani's health has always been an issue on the horizon. (That may have been where I first heard of it.) In terms of the bookstore incident, that was raised in a group Ava and I spoke to about the illegal war. It was right after Talabani's check up. When it was raised, I called friends in the press and the State Dept and it was confirmed. (The student raising it witnessed it -- and worked in that bookstore.) None of this has ever been a secret from the press.
Here's what the State Dept's currently worrying about: succession.
If Talabani has to step down for health reasons or because he passes, who takes over as president? Article 69, Section C of the Iraqi Constition: "If the position of president of the republic is vacant, for whatever reason, a new president will be elected in order to fill the vacancy for the remaining period of that president's term."
The Iraqi people do not elect their president. If Talabani should step down before the end of his term or if he should pass away before his term expires, the Iraqi Constitution requires that the Council of Representatives hold an election as they did with Talabani. (The same rules would apply, 2/3 of the Representatives must vote and the winner is whomever gets the majority -- no majority means the two highest vote getters compete in a second election.)
What would it mean if Talabani left office? The White House wanted the provincial elections (to put on a show and pretend 'democracy' was in Iraq). The resolution made it through the Iraqi Parliament -- despite the walk-out of the Kurdish bloc. It then went to the Presidential Council -- composed of Talabani (Kurd), Adil Abd al-Mahdi (Shi'ite) and Tariq al-Hashimi (Sunni). Talabani killed it. Talabani out would not necessarily mean a change on that issue because the council is supposed to be composed of a Shia, a Sunni and a Kurd. Talabani's position was one held by Kurds. It is also questionable whether, when the Iraqi Parliament returns from it break, MPs would attempt to push through the same bill regarding elections. With no alterations, the fate of it would seem fairly clear ahead of time.
But there is talk about what would happen (talk in the State Dept) if Talabani left office and what effects that might have.
Turning to the US presidential race,Team Nader is releasing daily audio of Ralph Nader (with Matt Gonzalez expected to participate as well).
Ralph's Daily Audio
is the web page and below is the transcript to Ralph's "Corporate Tax Cheats:"
A report just out by the well regarded US Government Accountability Office concludes that about two-thirds of corporations operating in the United States did not pay taxes annually from 1998 to 2005. Imagine that. Senator Byron Dorgan, the Democrat of North Dakota, called the findings "A shocking indictment of the current tax system."
He continues, "It's shameful that so many corporations make big profits and pay nothing to support our country. The tax system that allows this whole sale tax avoidance is an embarrassment and unfair to hard working Americans who pay their fair share of taxes. We need to plug these tax loopholes and put these corporations back on the tax rolls."
Senator Carl Levin says, "This report makes clear that too many corporations are using tax trickery to send their profits overseas and to avoid paying their fare share in the United States."
The GAO report said that 28% of large corporations paid no taxes during that period between 1998 to 2005. It's suspected that a lot of these global corporations were using transfer pricing to reduce their tax bills. This allows these multi-national corporations to transfer their goods and assets between their internal subsidiaries so they can record in the jurisdiction with low tax rates like the Bahamas.
David Cay Johnston, in his great book Perfectly Legal concluded, and I paraphrase him, he said, "These global companies have now reached a point of power and manipulation where they can decide how much taxes they're going to pay, where they're going to pay these taxes, and when they're going to pay these taxes."
That's the leading tax reporter for the New York Times, a Pulitzer Prize winner, David Cay Johnston. It's something to think about when we ponder the double standard between working people on the one hand under our tax system and those tax escapees the global corporations on the other. This is Ralph Nader.

Marci
asked if we could note that one again (and another that will be in the next entry) and
Domingo
notes
this from Team Nader
:
Two DVDs from Ralph Nader to You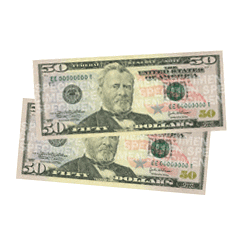 Are you a crazy Nader voter?
If yes, prove it.
Michael Moore yesterday called you "crazy" for supporting and voting for Ralph Nader for President.
Michael Moore says we're all crazy.
For supporting a life long crusader for justice who stands with us against corporate control of our society?
Last year, in his movie Sicko, Michael Moore made a passionate argument for a single-payer, Medicare for all health care system.
As he points out, the majority of doctors, nurses and the American people support single payer.
Michael Moore supports single payer.
Ralph Nader supports single payer.
But Obama opposes single payer.
And Michael Moore supports Obama?
And he calls Nader's voters crazy?
No, what's crazy is supporting someone opposed to what you believe in.
(What about the third party voters who supported abolition of slavery and women's suffrage? Were they crazy too?)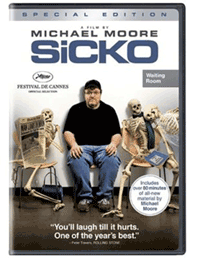 In honor of Michael Moore calling all of us crazy, here's what we are going to do.
For a donation of $100 or more now to our campaign (must be received by 11:59 p.m. Wednesday August 20), we will send you a copy of Michael's classic DVD -- Sicko.
The DVD includes a whole bunch of great extras including:
SICKO Goes to Washington
This Country Beats France
Uniquely American
What if you worked for G.E. in France?
Sister Mary Fidel
Who Would Jesus Deny?
More with Mike & Tony Benn
A Different Kind of Hollywood Premiere
'Alone Without You' Music Video Performed By The Nightwatchman and Interview Gallery
You'll be getting a copy of the best argument yet for single payer.
And you'll be supporting the most viable single payer campaign in the nation.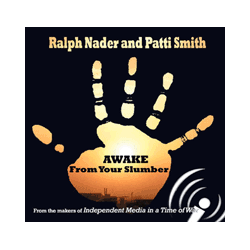 Plus, we'll send you a copy of the classic anti-war DVD -- Awake from Your Slumber -- featuring Ralph Nader and Patti Smith -- autographed by Ralph Nader.
The DVD features a sweeping 2005 anti-war speech by Nader plus an opening poem by Patti Smith titled Shock and Awe about the bombing of Baghdad.
It ends with Patti's rousing anthem -- People Have the Power.
In addition the 28-minute video, the DVD includes three additional songs performed by Patti Smith and an interview of Ralph Nader by Amy Goodman on corporate power.
So, that's two powerful DVDs -- Awake from Your Slumber autographed by Ralph Nader and Sicko -- for a $100 or more contribution to our campaign now.
Today, let's all of us crazy ones band together.
And push the Nader/Gonzalez campaign into the debates.
And into a possible three-way race.
For Medicare for all.
And against the corporate Democrats and their ongoing spinelessness that will lose another election --- a la Dukakis, Mondale, Kerry, and Gore.
We need 480 of you to donate $100 or more now.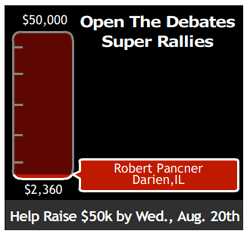 To reach our goal of $50,000 by August 20.
And we'll send to you -- crazy Nader voter -- a copy of Sicko. (Even if you already have it or have seen it, get another copy and pass it on to a friend. Tell them you are a crazy Nader voter for single payer.)
Plus a copy of Awake from Your Slumber.
Join the legion of crazy Nader voters.
Together, we are making a difference.
Onward to November
The Nader Team
The e-mail address for this site is
common_ills@yahoo.com
.
iraq
tina susman
the los angeles times
the new york times
campbell robertson
riyadh muhammed
the washington post
sudarsan raghavan
saad sarhan
deborah haynes