U.S. officials familiar with the new National Intelligence Estimate said they were unsure when the top-secret report would be completed and whether it would be published before the Nov. 4 presidential election.
[. . .]
The new NIE, which reflects the consensus of all 16 U.S. intelligence agencies, has significant implications for Republican John McCain and Democrat Barack Obama, whose differences over the Iraq war are a major issue in the presidential campaign.
The findings seem to cast doubts on McCain's frequent assertions that the United States is "on a path to victory" in Iraq by underscoring the deep uncertainties of the situation despite the 30,000-strong U.S. troop surge for which he was the leading congressional advocate.
But McCain could also use the findings to try to strengthen his argument for keeping U.S. troops in Iraq until conditions stabilize.
For Obama, the report raises questions about whether he could fulfill his pledge to withdraw most of the remaining 152,000 U.S. troops -- he would leave some there to deal with al Qaida and to protect U.S. diplomats and civilians -- within 16 months of taking office so that more U.S. forces could be sent to battle the growing Taliban insurgency in Afghanistan.
That's from
McClatchy Newspapers
' "
New U.S. intelligence report warns 'victory' not certain in Iraq
" and with three writers, Jonathan S. Landay, Warren P. Strobel and Nancy A. Youssef, you would think they could grasp what Barack implied he was promising (which was taken back June 5th on CNN by Barack). And refusing to call out what Barack's offering allows a false 'peace' position to be presented that is no peace at all.
A false SOFA (it's really a treaty) may be coming down the pike. Erica Goode's "
Negroponte Calls Security Deal on Iraq 'Close'
" (
New York Times
) reports on yesterday's press conference in the Green Zone that Deputy Sec of State John Negroponte and Iraq's Foreign Minister Hoshyar Zerbari:
Mr. Zebari, who noted that Mr. Negroponte had been helpful in moving the talks forward, said that further progress would call for "bold political decisions."
In September, Iraqi and American officials said that the legal immunity issue was threatening to derail the negotiations. The United States has argued for the same legal protections that apply in other countries where American troops are based. The Iraqi government has been adamant that any crime committed outside of a military operation should be subject to prosecution in Iraqi courts.
In negotiating the pact, the United States has already agreed to withdraw combat troops from Iraqi cities by next June and from the rest of Iraq by the end of 2011, assuming that conditions in the country remain stable.
[. . .]
Also on Tuesday, an Iraqi panel led by President Jalal Talabani approved the provincial elections legislation passed by Parliament late last month. The panel's action clears the way for elections to take place by Jan. 31. The elections are seen by many American and Iraqi officials as critical to reconciliation among Iraq's political and religious factions.
Although the presidential panel approved the elections measure, it also recommended that Parliament vote separately on an article of the bill dealing with political representation for Christians and other minorities.
Also addressing the talks is Jeffrey Fleishman's "
Iraq, U.S. near deal on military future
" (
Los Angeles Times
):
The negotiations come at a critical time for both nations. An emboldened Iraqi Prime Minister Nouri Maliki, determined to show that he is independent of Washington, wants more control over security and is insisting on an American troop withdrawal by the end of 2011. The U.S. is facing a widening financial crisis at home and a public growing wary of the high cost of keeping 146,000 troops in Iraq.
Iraqi military forces have made strides in taking over many operations in recent months, but Washington is concerned that ceding too much responsibility to the Iraqis too quickly could jeopardize the country's security gains. Two bombs exploded outside the Green Zone near the Iraqi Foreign Ministry shortly before Zebari and Negroponte met with reporters.
Among the contentious points in the negotiations are a specific withdrawal date and Washington's demand that U.S. troops in Iraq have immunity from prosecution by local courts. Maliki is facing pressure from nationalists not to allow troops to escape prosecution. American troops have faced U.S. military courts- martial for alleged crimes such as the rape and killing of Iraqis.
One thing the illegal war has done is make a despot more likeable. Leila Fadel's "
Saddam now seen as 'Father of Martyrs' by visitors to his grave
" (
McClatchy Newspapers
) reports:
Here at Saddam's gravesite men slip off their shoes in a show of respect and walk into the hall of Saddam. They walk to the tomb, hold up their hands and pray. Then they take pictures next to his grave to mark the occasion.
The room is quiet save the clicking of cell phone cameras. The curtains are woven with the words, "The Hall of Martyrs," and a guestbook is signed by hundreds, with little notes to the man who once ruled here with fear and intimidation.
"God rest your soul, father of martyrs and a crown on the heads of Iraqis always," one says.
"Visitor of the grave of the Sheikh of the Mujahedeen — the martyr of the Arab Nation," another reads.
Falah Hassan al Neda, 35, the son of the head of Saddam's tribe, stands near the tomb.
"When I come here, it is like I'm coming to the grave of my father," he said. "Put aside the political mistakes ... he was our father, he was generous."
In the US presidential race,
Domingo
notes
this from Team Nader
:
Protest Gallup's Exclusion of Nader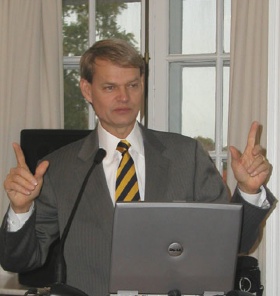 Donate $5 to Nader/Gonzalez now.

Why?
To protest the sheer arrogance of the Gallup Organization.
In a recent WSJ/NBC national poll, Ralph Nader pulls 5 percent.
Contrast that to the most recent Gallup national poll, where Nader polls a fraction of one percent.
Why the big difference?
Answer: Gallup, the 800-pound gorilla of the polling world, doesn't list Ralph Nader as one of the Presidential candidates in the primary polling question.
Are you kidding me?
No.
We are not kidding you.
And guess who the Commission on Presidential Debates depends on to do its polling to see which Presidential candidates get to debate before tens of millions of Americans tonight in Nashville?
You guessed it: Gallup.
I called Frank Newport. (pictured above)
Newport is the editor-in-chief at Gallup.
I asked Newport:
Is there an objective standard you use to keep Ralph off your primary polling question?
"No," Newport said.
"We use our internal judgment to decide."
Whoa!
Gallup's "internal judgment" keeps Ralph Nader out of their polling.
So, I tried again.
Any ballpark levels of support Gallup looks to as a threshold?
"No," Newport said.
Again, it was just subject to unidentified "internal judgment criteria."
What a total crock of you know what.
There are some polling agencies -- such as Ipsos/McClatchey and CNN/Opinion Research Corp. -- that include all the major third party candidates.
Not Gallup.
So, we propose two ways to protest Gallup's arrogance in keeping Ralph Nader out of the Gallup polls, thereby denying him the chance of having a chance to debate McCain and Obama.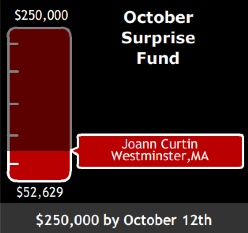 Protest method number one:
Donate $5, $10, $100 -- whatever you can afford -- up to the legal limit of $2,300 -- to Nader/Gonzalez now.

The stronger we become in October, the more difficult it will be for even Gallup's "internal judgment" to ignore us.
We're in the middle of our October Surprise fundraising drive.
And we need to reach $250,000 by the end of the week.
So, if you haven't donated yet, hit that there contribute button now.

Protest method number two:
Call up Gallup's Frank Newport.
Give him a piece of your mind.
Nader/Gonzalez is on more state ballots (45) than any other independent or third party candidate.
And we're polling five percent and higher in other polls nationwide.
Why is Gallup keeping Ralph Nader out of their polls?
What standards does Gallup use to determine who is included in their Presidential polls?
You can call Newport at: 609-924-9600
Or you can e-mail him directly at: frank_newport@gallup.com

Thank you for your ongoing activism and support.

Onward to November.
Toby Heaps
National Media Coordinator

PS: If you donate $100 or more now, we will send you an autographed copy of Ralph's classic -- The Seventeen Traditions (HarperCollins 2007). The 150-page hardcover book details the seventeen traditions that Ralph grew up with and is the closest thing so far to a Ralph Nader autobiography. So, don't miss out on this limited edition offer. (This offer ends October 12 at 11:59 p.m.)
Cynthia McKinney
is the Green Party presidential candidate:
Green presidential candidate Cynthia McKinney will 'join the debate' via VoterWatch.com blog Tuesday evening
Tuesday, 07 October 2008 19:09 Cynthia McKinney will add her commentary to tonight's Presidential debate, which she has been wrongly excluded from participating in, since she has ballot lines in enough states to win the electoral college vote if she won the popular vote. She also has more legislative experience than the Democratic candidate, and more progressive politics than either of the candidates in the current debate. Her values represent the majority of the American public, but she is not allowed to make them public by the Debate Commission.
To view her comments and responses following the debate, see the Voter Watch website:
http://www.bloggingthedebates.com
A visitor to the public account asks that we note
this from the Republican presidential campaign
(Senator John McCain is the presidential nominee, Governor Sarah Palin is the running mate):
ICYMI: Obama Campaign Now Claims Obama Didn't Know About Ayers' Past

"Our Jim Acosta talked with your senior strategist David Axelrod about this. In 1995, William Ayers held kind of a get-to-know you event at his place where he was introducing Barack Obama to the political culture there in Chicago when he was running for the State Senate for the first time. David Axelrod said that at that meeting Senator Obama was not aware of Ayers' radical background." -- CNN's John Roberts
CNN's "American Morning"
October 6, 2008


CNN's John Roberts:
"I just want to try to get to the heart of it so that people at home can understand. Our Jim Acosta talked with your senior strategist David Axelrod about this. In 1995, William Ayers held kind of a get-to-know you event at his place where he was introducing Barack Obama to the political culture there in Chicago when he was running for the State Senate for the first time. David Axelrod said that at that meeting Senator Obama was not aware of Ayers' radical background. Is that true?"
Obama Senior Strategist Robert Gibbs:
"Look, if that's what David said, that is true. Look, again, this is a relationship, excuse me, that Barack Obama has condemned the actions of Bill Ayers. This is somebody that The New York Times said Barack Obama's not close to, and, again, John, this is a way of distracting the American people from what's important."
Watch The New Obama Campaign Defense
FACT CHECK: Axelrod Has Said Ayers And Obama Are "Certainly Friendly," And The Obama Campaign Has NEVER BEFORE SAID Obama Didn't Know Ayers' Radical And Violent History -- But Has Referred To Him As "Respected Advisor" To Chicago Mayor
When Politico First Reported On Obama's 1995 Meeting At William Ayers' Home Reportedly Launching His Campaign, The Obama Campaign Never Said He Didn't Know Ayers' Radical History.
"In 1995, State Senator Alice Palmer introduced her chosen successor, Barack Obama, to a few of the district's influential liberals at the home of two well known figures on the local left: William Ayers and Bernardine Dohrn. While Ayers and Dohrn may be thought of in Hyde Park as local activists, they're better known nationally as two of the most notorious -- and unrepentant -- figures from the violent fringe of the 1960s anti-war movement. ... I can remember being one of a small group of people who came to Bill Ayers' house to learn that Alice Palmer was stepping down from the senate and running for Congress,' said Dr. Quentin Young, a prominent Chicago physician and advocate for single-payer health care, of the informal gathering at the home of A yers and his wife, Dohrn. [Palmer] identified [Obama] as her successor.' Obama's campaign dismisses the notion that his relationship with Ayers should be seen through the lens of the latter's violent past, or his present lack of regret for the bombings. ... He described Ayers as a professor of education at the University of Illinois-Chicago and a former aide to Mayor Richard J. Daley,' referring to printed reports that he had "advised" Daley on school reform. Dr. Young and another guest, Maria Warren, described it similarly: as an introduction to Hyde Park liberals of the handpicked successor to Palmer, a well-regarded figure on the left. When I first met Barack Obama, he was giving a standard, innocuous little talk in the living room of those two legends-in-their-own-minds, Bill Ayers and Bernardine Dohrn,' Warren wrote on her blog in 2005. They were launching him -- introducing him to the Hyde Park community as the best thing since sliced bread.'" (Ben Smith, "Obama Once Visited 60s Radicals,"
The Politico
, 1/22/08)
When Senator Hillary Clinton Made Similar Attack, Obama Campaign NEVER Made Argument That He Didn't Know About Obama's Radical And Violent Past.
(Obama For America, "Fact Check On Obama And Ayers,
factcheck.barackobama.com
, 4/17/08)
Obama Campaign Argued That Ayers Was "Respected Advisor" To Chicago Mayor Daley, And That "Charges Against Ayers Were Dropped And He Served No Time."
(Obama For America, "Fact Check On Obama And Ayers,
factcheck.barackobama.com
, 4/17/08)
Axelrod Has Previously Said Obama And Ayers Are "Certainly Friendly."
AXELROD: "They're certainly friendly, they know each other, as anyone whose kids go to school together." (Ben Smith, "Ax On Ayers,"
www.politico.com
, 2/26/08)
Two Years After Meeting Ayers, Obama Published "Rave Review" Of Ayers' Book In The Chicago Tribune, And Jointly Appeared On Academic Panels Together.
"The two men were involved in efforts to reform the city's education system. They appeared together on academic panels, including one organized by Michelle Obama to discuss the juvenile justice system, an area of mutual concern. Mr. Ayers's book on the subject won a rave review in The Chicago Tribune by Mr. Obama, who called it a searing and timely account.'" (Jo Becker and Christopher Drew, "Pragmatic Politics, Forged On The South Side," The New York Times, 5/11/08)
The e-mail address for this site is
common_ills@yahoo.com
.
iraq
mcclatchy newspapers
leila fadel
nancy a. youssef
jonathan s. landay
warren p. strobel
erica goode