Today the
US military announced
the death of one soldier:

A Multi-National Division -- North Soldier died of wounds sustained from a small-arms fire attack in Mosul, Oct. 7.
At approximately 12:30 a.m., a local family reported to Iraqi Police that a suspected Al-Qaeda in Iraq member entered their home wearing a suicide vest, and the family fled. Iraqi Police approached the house and received small-arms fire from suspected AQI members who had entered the house. The IPs established a cordon around the home and Coalition forces arrived shortly after to provide additional support.
The IP and CF Soldiers approached the house again and began taking small-arms fire from the house. Air support was called in and all local citizens were cleared in the surrounding area before CF dropped an ordnance on the home destroying it. Structural fires were observed and local Iraqi fire department was on scene.
One IP officer and an AQI member were killed during the attack.
The name of the deceased is being withheld pending notification of the next of kin and release by the Department of Defense.
The announcement bring to
4179
the number of US service members killed in Iraq since the start of the illegal war with
3
for the month thus far.
Now we're going to move to the topic in e-mails. Remember the lie, Barack was only eight-years-old. Barack couldn't know because he was only eight-years-old.
Bernardine Dohrn the reputed leader of the radical Weather Underground who went into hiding in 1970 after being indicted on Federal and local riot charges, has offered to turn herself in to the authorities if a plea-bargaining arrangement can be worked out. Negotiations toward the surrender of the 38-year-old Miss Dohrn, who led violent demonstrations by the group, then known as Weatherman, protesting the American involvement in the Vietnam War, are being conducted by Micheal Kennedy, a New York lawyer.
Mr. Kennedy remained unavailable on behalf of Miss Dohrn and William Ayers, who has been in hiding since 1970, when he fled Federal prosecution on the riot charges, were confirmed by Gregory Ginex, head of the felony trail division of the Cook County State's attorney office.
The above is from Nathaniel Sheppard Jr.'s "
2 in Weather Underground Are Bargaining to Surrender
" (
New York Times
, November 24, 1980.) When that article ran, Barack Obama was not eight-years-old. November 27, 1980 the
Times
would offer Josh Barbanel's "
Bernardine Dohrn Reportedly Seen on the West Side
" in which Leah Sullivan would explain, "When I saw the picture on television I made the connection." The article will also cite US Attorney Thomas Johson explaining "that a Federal fugitive warrant against Miss Dohrn had been dismissed in 1979, after Chicago officials indicated that they would not extradite her if she were found." Laying the groundwork for the feeling that Bill Ayers' father had bought their freedom -- a feeling not only among some in the general public, but also a feeling among some in Weather Undeground. Bernardine and Bill were frequently in the news.
October 21, 1970, The CBS Evening News would note
that she was reported in Algeria.
Time
magazine's November 16, 1970 "
WANTED BY FBI
" would note:
The newest additions are three women. Bernardine Dohrn, 28, a leading Weatherwoman, is charged with violating the federal antiriot law in Chicago during last fall's "Days of Rage." Susan Saxe and Katherine Power, 21-year-old former Brandeis students, are wanted, among other things, for taking part in the September robbery of a Boston bank in which a policeman was killed.
Barack Obama was born August 4, 1961. He stopped being eight years old August 4, 1970. His grandmother was in banking (a vice-president), the Weather targeted banks with bombings. They were in the news repeatedly. December 4th, 1980 (when Barack would 19), Nathaniel Sheppard Jr. offered "
Bernardine Dohrn Gives Up To Authorities in Chicago
" which opened:
Still espousing revolutionary causes, Bernardine Dohrn, the 38-year-old reupted leader of the radical Weather Underground, surrendered to authorities here today, 10 years after going into hiding to avoid Fedearl and local riot charges.
[. . .]
Mr. Ayers was also indicted on Federal charges in connection with the disorders, but the Federal charges against Miss Dohrn, Mr. Ayers and other Weathermen were dropped in 1979 when a court ruled that the Government's evidence had-been obtained through illegal telephone wiretaps.
[. . .]
An associate of Miss Dohrn said privately that she might have come forward now partly because of fear that her treatment under the administration of Ronald Reagan could be harsher than under the Carter Administration.
A December 7, 1980
UPI
article the paper ran ("
F.B.I. Disputes Assertion That Dorhen Surrender Spells End of Weather Underground
") notes of Bernardine, "She was at the forefront of a factional fight in 1977, an apparent last gasp to keep the group alive, two of its former members said."
November 4, 2001, John W. Fountain's "
Northwestern Alumni to End Donations if Ex-Radical Stays
" (
New York Times
):
It was old news. Bernardine Dohrn, formerly head of the radical Weather Underground group and once among the F.B.I.'s most wanted fugitives, is a faculty member at Northwestern University Law School. But her husband's recently released memoir about their days as Weathermen has apparently opened new wounds.
What that has amounted to in recent weeks for Northwestern University is complaints from some two dozen alumni, about half of whom said they would withhold future donations. All but one complaint was spurred by a Wall Street Journal editorial on Monday that focused on concerns over Ms. Dohrn's position on the law school faculty.

Bernardine and Bill were always in the news. One example from Robert T. Zintl, Joseph J. Kane and Edwin M. Reingold's "New Roles for an Old Cast" (Time magazine, April 15, 1985):

The best-known Viet Nam figures still rate headlines. General William Westmoreland fought his war against CBS for 18 weeks in federal court, emerging with a stalemate at best; Henry Kissinger's voice remains influential in Washington; former Secretary of State Dean Rusk, a law professor at the University of Georgia, was feted in the capital last year. Some of the home front's angriest protesters have reached a separate peace with society: Weather Undergrounders William Ayers and Bernardine Dohrn, fugitives until December 1980, are married and live in New York; last year Dohrn passed her bar exam. Other veterans of the era have gone about building new lives, less turbulent but often still inspired by the idealism or commitment of the war years. Here is an update on some of them.
Time
magazine would note in "
Aging Radical Comes Home
" (September 26, 1977):
Indeed, Rudd's band, known as the Weather Underground Organization,* has not claimed responsibility for any revolutionary activity since the bombing of a New York bank in 1975. The group, moreover, has been racked by bitter quarrels over whether the fugitives should try to change U.S. society from above ground. The dispute came sharply to a head last year, after five of the radicals--Kathy Boudin, Bernardine Dohrn, Cathy Wilkerson, Bill Ayers and Jeff Jones—outraged their colleagues by willingly appearing in Director Emile de Antonio's film Underground. Dohrn later had second thoughts. Said she in a statement: "The portrayal of ourselves as gentle, reasonable, well-educated and white was a move to disassociate ourselves from the alleged 'extremism' of prison struggles, the Black Liberation Army, the Symbionese Liberation Army and the F.A.L.N. [the militant Puerto Rican nationalist group]."
A
January 29, 1975

CBS Evening News

broadcast
would note Weather's bombing at the State Dept (and Weather claiming responsibility for the bombing).
"Obama was eight-year-old" lied Amy Goodman today. No and the liars need to stop lying. With Goodman, her attitude may be must summed up in this paragraph from David Aikman's "In Seattle: Up from Revolution" (Time, April 14, 1980):

He is Charles C. Marshall III, 35­"Chip" to his friends­former member of the national committee of Students for a Democratic Society, leading figure of the Seattle Liberation Front (a sort of 1970-ish club of leftist clubs), and a key defendant in the 1970 "Seattle Eight" conspiracy trial. Today three of Marshall's top S.D.S. colleagues of the tumultuous 1960s are still under ground. One of them, Weather Under ground Leader Bernardino Dohrn, has become something of a cult role model for the dwindled, sullen ranks of the New Left.
"Bernardino" is their typo not mine. In 2007,
The Nation
felt the need to whine about Dohrn and others in Weather Underground in Christopher Phelps' cover story "
The New SDS
:"
From the outset, the new SDS sought interaction with older radicals, in particular veterans of the first SDS. This, however, has proved more vexing than anyone anticipated. The new SDS's adult counterpart, Movement for a Democratic Society (MDS), has been riven by divisions rooted deep in SDS history. Power has resided largely with three figures: historian Paul Buhle, once editor of the original SDS journal Radical America; Thomas Good, a 48-year-old Communist-turned-anarchist who created the new SDS website; and Bruce Rubenstein, a Connecticut personal-injury attorney. Left on the outs have been Haber, a kindly bearded sage, and a small "democracy" caucus whose best-known member is historian Jesse Lemisch.
The MDS tensions trace in part to distinct pasts. Both Haber and Lemisch were present at SDS's founding convention in 1960; Rubenstein was part of Weatherman, a faction that scuttled SDS in 1969, and its successor, the Weather Underground, which bombed corporate and government targets. Bitter sniping on group listservs has been a more recent source of estrangement. Substantively, the dividing lines surfaced in an early discussion about whether to bring young and old together in one big-tent SDS. That proposal proved a dead letter when the students stated their desire for autonomy. A more gnawing issue is whether processes in MDS have been transparent, legitimate or democratic. A final matter is the residual influence of Weatherman.
The Weather controversy erupted when Bernardine Dohrn, a Weather leader who now teaches law at Northwestern University, was invited to speak at the first new SDS conference, held in Providence, Rhode Island, in April 2006. Dohrn received a rousing welcome, but when Bob Ross, an early SDSer, used his talk to lament that "the largest legal and unarmed movement in the history of the West" turned "ineffectually violent and useless," he was received coolly. At the first new SDS national convention in Chicago, in August, Good opened the proceedings by reading greetings from Dohrn. Moreover, Rubenstein, MDS's treasurer, is unapologetic about his Weather history and says that if it were 1969 he would "do it all over again," but that he does "not endorse those tactics" for SDS today.
The article was offensive. We called it out at
Third
["
Chrissy Explains It All (finally),
"]. We weren't the only ones. Bernardine Dohrn called it out as well. At
CounterPunch
(where a typo renders her "Bernadine"), she contributed "
The New and Old SDS
" which begins:
Christopher Phelps has written a timely but ultimately disappointing article in The Nation about the vibrant and growing student movement. [The New SDS (April 16, 2007)] He transforms the tough challenges of movement-building into a set of tepid formulas about what not to do. The new wave of student activism in America and around the world is a hopeful development worthy of our active participation and respect.
Now the radical left (including Amy Goodman) think minimizing Weather's actions is "good" and "helpful" to Barack (whom they are trying to elect). It's really pathetic. Weather's actions are what they are. If you're opposed to them, you need to decry them. If you're in support of them, you certainly don't need to minimize them. So the supporters who keep trying to act like Weather was no big deal, thanks for thoroughly discrediting the left. Debate over Weather has gone on within the left for decades now. But because some snake-oil salesman wants to get in the White House, we're all supposed to stop debating it (supporters, opponents and those undecided) because Saint Barack is more important than the entire left and, in fact, the history of the left. The left is the most pathetic thing in the world today.
It can't stick up for anything or stand by any principle. It's prostituted its soul and its integrity for a Corporatist War Hawk. There are no standards left, just one LIE AFTER ANOTHER. It is pathetic. In 2007,
The Natio
n's calling out Dohrn and others, in 2008, it's acting like that never happened.
Kyle
notes the campaign of Ralph Nader. While I've allowed many outlets to get links in campaign press releases, I'm deleting the link to
Aging Socialite's Cat Litter Box
. You make 'jokes' about mentally challenged children, you're not linkable. You can
click on the link to this at the Nader-Gonzalez site
to get Arianna's link:
Pass It On: Moore of the Same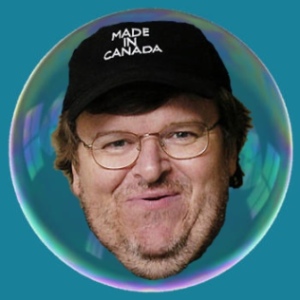 The House and Senate buckled and passed the economic bailout. But we can still keep the pressure on by pushing our demands.
So: In the next few days, we will bring you substantive suggestions from social commentators on how to resolve the financial crisis, suggestions you can remember as you continue the fight. The first one's by Michael Moore--a ten-point plan to revive the economy while reforming the institutions that caused it.
There's just one thing, though. Despite his intelligent laments and critiques, Moore has endorsed Obama. That's right. After spending ten point proving that he understands the roots of the ecnomic crisis, Moore refuses the candidate who most shares his views--Nader--and supports the candidate who doesn't--Obama--banking on the Obama Movement to make up for what Obama the Candidate lacks.
This article, then, is not just a plan for reviving our country. It is also a classic example of contradictory progressive politics in America, in which commentators criticizing the speculative bubble economy are busy buying hope and change futures in a speculative bubble democracy.
Onward!
Ashley Sanders
The Nader Team
The e-mail address for this site is
common_ills@yahoo.com
.
iraq
nathaniel sheppard jr.
josh barbanel
john w. fountain
robert t. zintl
joseph j. kane
edwin m. reingold
david aikman
christopher phelps