Naqi Shakir sits on a sagging mattress pushed against a wall. His wife and two daughters perch on tattered sofas and chairs crowded into the one room of the house with signs of family life: personal photographs tacked to the wall, a TV, books, and knickknacks on dusty shelves.
Except for a folding table and chairs in the kitchen, nearly everything has been sold so the family can bolt as soon as someone rents the two-story home in a relatively safe Baghdad neighborhood.
At a time when the Iraqi government is encouraging its citizens to return and the U.S. military is highlighting security gains across Iraq, the Shakirs want out. They see no future here for Iraqis such as themselves: well educated, affluent, secular or non-Muslim.
The above is from Tina Susman's "
Iraq too dangerous for many professionals
" (
Los Angeles Times
) and you can pair that with Leila Fadel's "
Displaced Iraqis, now told to go home, fear for their lives
" (
McClatchy Newspapers
) which both indicate just how little has done to assist the internal refugees in Iraq (at a time when Jordan is flying and busing back in some external refugees). Tom A. Peter's "
Innkeeper's log chronicles ebb and flow of Iraq war
" (
Christian Science Monitor
) also makes the case for how little has been done for the internal refugees (estimated to number over 2.5 million people):
The Johara Hotel was a backpacker's delight. Rooms were just $12 at the tiny, 10-room inn that was part youth hostel and part rooming house. European, Asian, and American tourists stayed there, even as embargoes tightened on Iraq ahead of the invasion.
When war came, the Johara was the unofficial residence for freelance reporters, aid workers, and activists. But eventually they checked out – or left Iraq altogether – as Baghdad grew more dangerous.
Osama Johara has been forced to close his hotel twice during the war. Today, however, he has a full roster of guests. All of them are Iraqis, however, who for one reason or another have been driven from their homes and are still unable to return.
In many ways, Mr. Johara's hotel registry tells the story of the war. When the insurgency terrorized the city, guests vanished and the Johara closed. Now that car bombings and kidnappings are scarcer, he faces one of Iraq's biggest unresolved issues: What to do with its refugees from the war.
It's time for more waves of Operation Happy Talk and the reason is because the puppet government in Baghdad wants to make what they hope are upcoming provincial elections (some estimates put elections taking place in late January). Before the waves of Happy Talk overwhelm all, check out Elizabeth Ferris "
Iraqi elections and displacemen
t" (
Relief Web
):
Despite the plethora of media covering triumphant Iraqi voters raising ink-stained fingers in the 2005 elections, not all Iraqis bought into the process. Key political groups boycotted the vote and IDPs were not able to make their voices heard. Interestingly though, arrangements were made so that Iraqis living outside the country could register and vote - and apparently they did so in large numbers. This year the situation has been reversed: those living outside the country are not allowed to vote while provisions have been made for internally displaced Iraqis (those displaced by the violence after April 2003) to participate. Iraqis overseas – particularly those displaced since the start of the war – should be able to vote in the upcoming elections. And IDPs should be encouraged to register and to turn out to vote. While mechanisms are in place this time around to ensure IDP voting rights, the Wall Street Journal reports that only 100,000 IDPs have registered to vote in the provincial elections while other sources put the figure even lower.
Participation of Iraq's refugees and IDPs in the provincial elections is critical to a legitimate electoral process, national reconciliation, and regional stability. Many of the Iraqi refugees currently living in harsh conditions in Jordan, Syria, Lebanon, Egypt, Turkey, and the Gulf were displaced because of their religious or political beliefs or because they favored a secular Iraq. To exclude these Iraqis from the process is to let the militias' efforts to rid the country of secularists, intellectuals, Catholics, Yezidis, and many other minority groups win.
How IDPs' votes are counted - or actually where they are counted – is another key issue in the upcoming elections. The problem with requiring IDPs to vote for provincial leaders who will govern in their place of origin is the fact that many IDPs will likely never return to their home communities. Some may have found jobs and established new lives in their host communities, some may be too frightened to think about returning; others may be planning to move elsewhere or even to seek refuge abroad. There are other problems with requiring displaced Iraqis to vote for officials to govern their current location as well; if they do plan to return home, should they have a say in electing officials in their temporary settlement? Given the ethno-sectarian cleansing that has gripped many of Iraq's multi-ethnic and multi-religious cities, IDP voters could strongly influence the election outcomes. For example, allowing Sunni IDPs to vote in their former place of residence – perhaps now dominated by Shi'a communities – defies the efforts of militias to segregate Iraqi civilians along sectarian lines. However, it also might be too optimistic to assume that the majority of IDPs will ever benefit from provincial policies adopted in their home governorates.
Meanwhile northern Iraq remains a hotbed over border tension with Turkey.
Lloyd
notes
Ellen Knickmeyer's "
Retaliatory Turkish Airstrikes Target Kurdish Rebels in Iraq
" (
Washington Post
):
Turkey staged retaliatory airstrikes against Kurdish rebels in northern Iraq on Sunday as thousands of Turks attended rain-lashed funerals for 15 soldiers killed by the rebels in a cross-border attack.
Public anger mounted in Turkey at the inability of civilian leaders to stop attacks by the rebel Kurdistan Workers' Party, or PKK. The group has waged a 24-year-old guerrilla war for greater autonomy for Turkey's minority Kurds from bases in southeastern Turkey and northern Iraq.
Mourners booed President Abdullah Gul and Prime Minister Recep Tayyip Erdogan at funerals Sunday for two of the soldiers killed near the border with Iraq on Friday.
Ibon Villelabeitia (

Reuters

) reports
Turkey has launched air strikes today and notes:
The incident has strained ties between Iraq and Turkey, which accuses its neighbour of not doing enough to combat rebels of the Kurdistan Workers Party (PKK) based in mountainous northern Iraq. Two soldiers were also wounded and two more were missing and possibly dead after rebels used heavy weapons.
On May 12, 2007, Byron Fouty and Alex Jimenez went missing in Iraq following an attack and were assumed (and were in fact) kidnapped. An attack claimed the lives of 4 US service members and 1 Iraqi translator. Three were originally classified missing; however Joseph Anzack body was found almost immediately. Fouty and Jimenez remained missing. The attack was noted in the
May 14, 2007 snapshot
:
On Saturday an attack took place outside Mahmudiya.
Damien Cave (New York Times) reported
: "A cooridnated attack on seven American soldiers an Iraqi Army interpreter Saturday morning south of Baghdad left five of them dead and three missing". Initial reports, based on what the US military was saying, included that five US service members were killed. The US military corrected this on Sunday: 4 US soldiers died as did 1 Iraqi translator. Three US soldiers are still missing.
Scott Canon (McClatchy Newspapers) reported
that approximately 4,000 US service members were searching for the 3 missing soldiers on Sunday.
Tina Susman (Los Angeles Times) reports
that at least one of the five dead had "gunshot woundes, though it was unclear whether he was shot before or after blasts enveloped the soldiers' two vehicles in flames, said U.S. Army Lt. Col. Christopher Garver, a military spokesman."
Joshua Partlow (Washington Post) notes
that the group was "parked in two Humvees in an area 12 miles west of Mahmudiyah" when the attack took place with "a roadside bomb . . . followed by gunfire, officials said. The two vehicles went up in flames and were spotted 15 minutes later by a surveillance drone, after a nearby unit that heard explosions could not make contact with the Humvees. The extent of the damage made it difficult to identify the slain soldiers."
Stephen Farrell and Tom Baldwin (Times of London) note
that the Islamic State in Iraq has claimed, via a website, responsibility for the raid and that they have the three missing US soldiers.
Scott Canon (McClatchy Newspapers) noted
that the grop has "offered no proof".
CBS and AP report
that the group claiming to have the three American soldiers issued a warning: "'If you want their safety do not look for them,' the Islamic State of Iraq said on a militant web site. 'You should remember what you have done to our sister
Abeer
in the same area,' the statement said, referring to five American soldiers who were charged in the rape and killing of 14-year-old
Abeer Qassim al-Janabi
and the killings of her parents and her younger sister last year. Three soldiers have pleaded guilty in the case."
AFP notes
that, in June of last year, two US soldiers were captured and their "bodies . . . were later found outside a power station south of Baghdad, mutilated and bearing signs of torture." That attack was also seen as resulting from the gang-rape and murder of Abeer in Mahmoudiyah on March 12, 2006 and, as
Gregg Zoroya (USA Today) reported
last September, Justin Watt came forward with what he was hearing about Abeer and her family when the June attack on US soldiers took place. Though the statement put up by the group claiming to have the 3 missing US soldiers is cited often in part, most outlets have avoided noting the mention of Abeer. (But then many avodied reporting on the Article 32 hearing last August or much that has happened since. As CBS and AP noted, 3 US soldiers have confessed to their part. Steven D. Green, who has been portrayed as the ringleader in press accounts as well as the testimonies of those who have pleaded guilty, maintains he is innocent.)
Julie Rawe and Aparisim Ghosh (Time) reported
last June, "Abeer's brother Mohammed, 13, told TIME he once watched his sister, frozen in fear, as a U.S. soldier ran his index finger down her cheek. Mohammed has since learned that soldier's name: Steven Green."
Jiminez and Fouty remained classified as missing in action. The
June 4, 2007 snapshot noted
:
Al Jazeera reports
that a web posting by a group reported to be linked to al Qaeda is video of the 2 US soldiers and contains the photo ID cards of Byron Fouty and Alex Jiminez.
CBS and AP report
that the group and posted video (they display the ID cards for Fouty and Jiminez in a screen capture) "offered no proof for its claims that the soliders had been killed and buried" and that the US military is continuing to search for Fouty and Jiminez.
It would be over a year later before the MIA status changed. From the
July 6, 2008 snapshot
:
Early this morning,
Patrick Donahue (

Bloomberg News

) reported
AP
was stating -- but the DoD has not confirmed -- that Alex Jimenez and Byron Fouty's corpses have been discovered while
David Aguila (AP) cited
Fouty's step-father as confirmation that the corpses of both were "found in the Iraqi village of Jurf as Sakhr."
Jeannie Nuss and Milton J. Valencia (Boston Globe) speak
with Ramon "Andy" Jimenez (Alex's father) who states that, in his grief, "It comforts you when you accept something, and Alex did what he wanted to do."
Korie Wilkins (Detroit Free Press) quotes
Byron's friend Ashley Tremble stating, "What was important [for him] was the here-and-now. There is no bad to Byron" while his mother Hilary Meunier states, "A part of me believes he's already gone, but I still have hope." And please note, there's no mention of his body being found in Wilkins' article.
David Aguilar spoke with his step-father Gordon Dibler who said Byron's corpse was found on Thursday
.
Boston's NECN has video
of the family of Alex Jimenez gathering and lighting candles.
O'Ryan Johnson (Boston Herald) quotes
Ramon Jimenez stating of his son, "He always had the hope that he would return back to the city. But due to the nature of where he was, it was difficult for him to return alive."
Mark E. Vogler (Eagle Tribune) reports
that, in Lawrence, "American flags fly at half staff on municipal buildings throughout the city today in honor of the late Army Sgt. Alex Jimenez." This afternoon the
US Dept of Defense released a statement
: "
The Department of Defense today announced the deaths of two soldiers previously listed as "Missing-Captured" while supporting Operation Iraqi Freedom. On July 10, the Armed Forces Medical Examiner positively identified human remains recovered in Iraq July 9 to be those of two soldiers who had been previously listed as 'Missing-Captured.' . . . J

imenez and Fouty were part of a patrol that was ambushed by enemy forces south of Baghdad on May 12, 2007. They were assigned to the 4th Battalion, 31st Infantry Regiment, 2nd Brigade Combat Team, 10th Mountain Division (Light Infantry), Fort Drum, N.Y. The Department of Defense previously announced the names of soldiers killed in the attack. They were Pfc. Joseph J. Anzack, Jr., 20, of Torrance, Calif.; Sgt. 1st Class James D. Connell, Jr., 40, of Lake City, Tenn.; Pfc. Daniel W. Courneya, 19, of Nashville, Mich.; Cpl. Christopher E. Murphy, 21, of Lynchburg, Va.; and Sgt. Anthony J. Schober, 23, of Reno, Nev."
AP

reports
today that Fouty's parents believe their son was tortured before he was killed and quote Charles Meunier (his step-father and quoted via the San Antonio Express-News) stating, "We think they held him for up to four months, and those four months must have been hell." The AP explains that the autoposy results finally arrived last month with a cautionary note to Fouty's mother that she not read them alone but with people "such as your minister, family friend or a counselor" and
AP
summarizes the report as follows:
But the one-page autopsy report and its four-page supplement offer clues that the 19-year-old may have been beaten and dismembered before he and Staff Sgt. Alex R. Jimenez, 25, were killed and buried in a shallow grave. The report's last page said that Fouty's nose had been broken but had "well healed prior to death."
The report also described foot bones detached from commingled remains of Fouty and Jimenez, and finger bones wrapped in a blanket. Part of a pair of handcuffs was found.
In the US presidential race,
Bryan
notes
this from Team Nader
:
Gallup's Black Box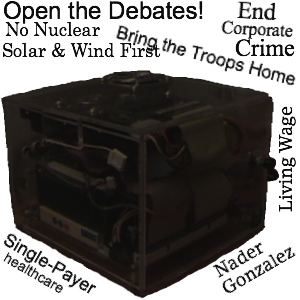 We do fairly poorly on the Gallup poll, generally registering less than 1 percent (or about 5 times less than the recent WSJ poll). This is probably because they don't mention Ralph Nader's name in the question--just Obama and McCain.
So I phoned up Gallup's Editor-in-Chief (609-924-9600), and asked him if they had any kind of objective threshold which we could strive toward so that Ralph Nader's name could be included as part of the primary question.
His answer: "No. We use our internal judgment to decide. We do some open-ended questions and variety of other criteria, and then our editorial team makes a decision." I asked if there were any ballpark levels of support in the open-ended question they looked to as a threshold, and he repeated his mantra, that it was subject to "internal judgment criteria," and then jumped off to take another call.
He was kind enough to leave me with his e-mail to follow up. Anyone who wants to let Newport know what you think of his internal judegment, please call him or e-mail him at frank_newport@gallup.com.
The e-mail address for this site is
common_ills@yahoo.com
.
iraq
the los angeles times
tina susman
mcclatchy newspapers
leila fadel
the washington post
ellen knickmeyer
elizabeth ferris
tom a. peter
the christian science monitor