Since the 2003 U.S.-led invasion, more than 5 million Iraqis -- one of five citizens -- have fled their homes, according to the International Organization for Migration. Only a small fraction have returned.
In Hurriyah, of the more than 7,000 Sunni families who fled in late 2006, roughly 325 have reclaimed their houses, mostly in the past month. A middle-class enclave in western Baghdad, Hurriyah is a sprawling jigsaw of tan mosques, shop fronts and modest houses.
U.N. officials and human rights groups are concerned that a speedy resettlement could touch off new strife, in part because sectarian segregation has helped to reduce violence. Already, Shiites who occupied Sunni houses are being pushed out, often by force, and returning Sunnis have come under attack. U.S. military officials, wary that a sudden influx of returnees could undermine security gains, say they are proceeding carefully.
The above is from Sudarsan Raghavan's "
For Sunnis, an Uneasy Return Home
" (
Washington Post
) on the forced returns and the risks involved. In the US tragedies continue as well. John Latimer's "
Vet's widow sues VA hospital
" (
Lebanon Daily News
) reports that the wife of Donald Woodward, Tiera Woodward, has brought a $2 million law suit against the Lebanon VA Medical Center for "wronful death and medical malpractice" in the death of her husband who shot himself to death in March of 2006. Donald Woodward was an Iraq War veteran and beginning in July of 2005, the family was attempting to get help for him following a suicide attempt. Latimer notes, "Although he screened positive for depression and PTSD, it was determined that Woodward did not meet the criteria for a 'major depressive order'." Also covering the story, Carrie Cassidy's "
Lawsuit blames VA hospital for suicide
" (
The Patriot-News
):
The lawsuit states that Donald Woodward had also tried to commit suicide three times before he succeeded, though he tried to get help before that, the lawsuit states.
The Lebanon VA staff failed to diagnose him with a "major depressive disorder" earlier. A psychiatrist eventually diagnosed him with the disorder on Feb. 2, 2006, about a month before he died, the lawsuit states.
The family is united on this, Larry Alexander's "
Family sues over soldier's suicide, Says VA center failed Penn Manor grad
" (
Lancaster Online
) explains:
Woodward's mother, Lori Woodward, said Monday the family is not commenting on the suit at this time.
"It's in her (his widow's) name, but I'm the one behind it," she said. "And we're not going to comment on it until it's settled."
Alexander also provides one of the most detailed timelines of the shoddy care and treatment Donald Woodward received.
In the US presidential race,
Sondra
notes
this from Team Nader
:
The Dating – er, Debating – Game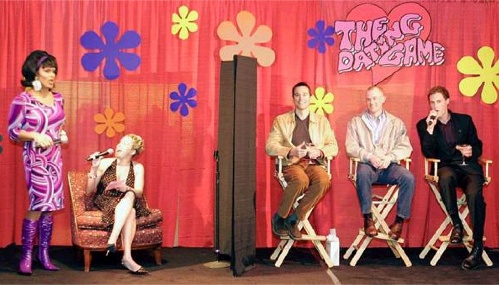 You've heard of the Dating Game, right?
Well, today, you can play the Debating Game.
Are you ready?
Good.
As you know, Obama and McCain will debate tonight at 9 p.m. EST in Nashville.
Ralph Nader was excluded from the debates by the two-party controlled, corporate-funded debate commission.
But, thanks to the wonders of modern technology, when the debate is over, Ralph will be streaming live his thoughts on the Obama/McCain debate.
And he'll be answering questions from you.
You can send your questions to Ralph -- E-mail them now to yourquestion@votenader.org.

Ralph will answer as many questions as time permits.
So, at 11:00 p.m. EST, click here to watch Ralph Nader live.

During the corporatized Obama/McCain debate from Nashville, to help you stay awake, you can join with Nader/Gonzalez supporters around the country and play The Debating Game.
Here's how it works.
Add up every time that Obama says -- I agree with Senator McCain.
And every time that McCain says -- I agree with Senator Obama.
And every time McCain or Obama says any of these key words or phrases:
Middle class
Safe nuclear
Clean coal
Biodiesel
Troop surge
Rescue package
Terror
al Qaeda
Countries that don't like us
Dependence on foreign oil
Capture and kill
Change
Innovation
Bipartisan
Failed economic policies
Tax cuts
Fundamentals
Maverick
Grave threat
Reform
Working familes
Then add to that total the words, phrases and issues that Ralph Nader would have mentioned had he been on the stage (but that Obama and McCain do not mention), words and phrases like:
Working class
Taft Hartley Act
Labor Unions
Consumer Protection
Military Industrial Complex
Poverty
Single Payer Healthcare
Impeachment
No to nuclear power, yes to solar
Carbon tax
Corporate power
Corporate welfare
Corporate crime
Living wage
Bailout
Open Presidential Debates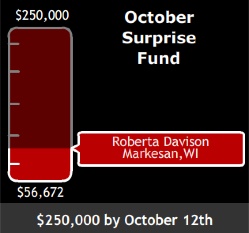 Add all of that.
And multiply the number you get by $1.
(We guess the number will be around 40 or so)
And donate that amount to Nader/Gonzalez.
Or you can just assume right now that Obama and McCain will do their regular corporate Obama and McCain thing.
And they won't do their Nader imitations.
And donate $40 to Nader/Gonzalez.
So, tune in to the corporate debates.
Play The Debating Game.
Then watch Ralph live on votenader.org.

For those of you organizing debate parties, remember to blog to your heart's content at these sites using these talking points as a guide.


Onward to November
Jason Kafoury
The Nader Team

PS: If you donate $100 or more now, we will send you an autographed copy of Ralph's classic -- The Seventeen Traditions (HarperCollins 2007). The 150-page hardcover book details the seventeen traditions that Ralph grew up with and is the closest thing so far to a Ralph Nader autobiography. So, don't miss out on this limited edition offer. (This offer ends October 12 at 11:59 p.m.)
Ralph Nader is in the independent presidential candidate, Matt Gonzalez is his running mate.
Cynthia McKinney
is the Green Party presidential candidate and her running mate, Rosa Clemente, has a series of upcoming campaign events:
Rosa Clemente in New York October 9-11
Tuesday, 07 October 2008 23:01
from Rosa Clemente
Peace and Hello to all my New York City People:
As the billionaires on wall street get bailed out, and more and more people are tired of a two party stranglehold, join me, as I celebrate my electoral independence, I am in town, for three exciting days of campaign activities, attending a press conference for assistance and solidarity for Haiti, marching for the freedom of Politcal Prisoners and Prisoner of War, as well as these media appearances, hope to see you! "The Green Party is not the alternative, it is the imperative!" Rosa A. Clemente, Green Party Vice-Presidential Candidate
GritTV, with Laura Flanders, to air Wednesday October 8th, 2008, at 8:00pm & 1:00am ET, on Free Speech TV(DISH Network ch. 9415) www.lauraflanders.com
Where we Live, with Sally O'Brien Thursday October 9th, 2008 at 8:00pm on WBAI 99.5FM, www.wbai.org
The Truth, with Jeff Johnson on to air on BET Friday October 10th, 2008 at 10:00pm (EST)
________________________________________________________________
WEDNESDAY OCTOBER 9th, 2008 @ 7pm-10pm
THIS IS AN HISTORICAL MOMENT...BUT ONLY SOME OF IT WILL BE TELEVISED!
You are invited to the home of Gloria Mattera & Sean Sweeney and host M1 of dead prez
for light fare, drinks and lively discussion with special guest:
Rosa Clemente is a nationally known hip-hop activist, independent journalist, community organizer and Green Party vice presidential candidate. She helped organize the National Hip-Hop Political Convention in 2003, to create a national political agenda for the hip-hop generation.
Let's help Rosa and Cynthia raise the funds needed to get their message of peace and justice out to voters throughout the country!
Campaign Merchandise will be on hand!
Location: 437 2 Street between 6/7 Avenues in Park Slope Brooklyn
F train to 7 Ave; Q/B to 7 Ave (at Flatbush); R train to Union St
RSVP: gmattera@gmail.comThis e-mail address is being protected from spambots. You need JavaScript enabled to view it or 718 369-2998
________________________________________________________________
THURSDAY OCTOBER 9th, 2008 @ 3:30pm
Open Community Forum with Green Party Vice Presidential Nominee ROSA CLEMENTE,
to be televised on Manhattan Public Access
@ MNN Television Studios
Manhattan Neighborhood Network
537 West 59th Street,
New York, NY 10019
(between 10th and 11th Avenues)
Green Party VP Candidate -
Discusses the Economy, Foreign Policy, Education, Gender Equity, Racism, Social Justice, & the Environment
LIVE WITH THE COMMUNITY
Featuring Community Organizations:
-Grassroots Artists MovEment (G.A.ME)
-UHURU Movement
-Brenda Stokely from NY Solidarity Coalition With Katrina / Rita Survivors
- La Peña del Bronx
Performances:
-Hasan Salaam
-Video Screening of Final Outlaw's"HIP HOP 4Ever"
THIS IS A LIVE TO TAPE EVENT: IT IS IMPERATIVE THAT ALL AUDIENCE MEMBERS ARRIVE AT 3:00PM SHARP!
Please Contact: (917) 940-8961 or (917) 239-8992 with Questions or to RSVP for this event
ABOUT G.A.ME - The Grassroots Artists Movement (G.A.ME) is a membership organization dedicated to addressing sociopolitical and economic realities facing low-income Black and Latino communities. Galvanizing the influence of hip-hop artists and culture, G.A.ME unites artists and community members to work side-by-side for social justice. G.A.ME runs youth leadership and community development programs that provide tools for positive change.
________________________________________________________________
FRIDAY, OCTOBER 10th, 2008
12:00 NOON
YES! to international assistance and solidarity to Haiti, NO! to the military occupation of Haiti and the attacks on Haitian sovereignty!
The Brecht Forum, 451 West St. @ Bethune St. in West Village, between W. 12th St. and Bank St.
Tel. 212-242-4201
3:00pm
Rally at Madison Square Park at 5th Ave and 23rd St.
www.jerichomovement.com
9:00pm
Evening Concert to Benefit the Prisoners@ the Knitting Factory @ 74 Lenard St., NYC • 9 p.m. until . . .Featuring: Inmesyah Soul, Hassan Salaam, X-Vandals, Emperor,
Rebel Diaz, The Wordstock Poetry Collective, Maroon Society,
Gist the Essence, Collective Flow, United Front
6:30pm
New York Univeristy(NYU)
________________________________________________________________
Jericho 10th Anniversary Weekend of Resistance
www.jerichomovement.com
Saturday, October 11, 2008 @ 12 Noon
Rally at the Harlem State Office Building
(Corner of 126th St. & A.C. Powell Blvd.)
March through Harlem @ 1 p.m.
Closing Rally in Morningside Park @ 2 p.m.
Between 112th & 114th near Morningside Ave. entrances
Ralph Nader and Cynthia McKinney were shut out of last night's debate as were Bob Barr and Chuck Baldwin. The Republican and Democratic presidential candidates 'debated.' Who won?
Jill Hazelbaker, McCain-Palin 2008 Communications Director, declares
:
"Tonight, John McCain won the debate. He was the only man who demonstrated he had the independence and strength to take on everything that's broken in Washington and on Wall Street. John McCain had a clear plan for improving the lives of Americans -- keeping them in their homes through his American Homeownership Resurgence Plan. From Barack Obama, we heard half-truths and contradictions between what he says and what he has done. He said he supported offshore drilling but has opposed it for months. He talked about tax cuts but he voted for higher taxes 94 times and promises increased taxes on small businesses. He talked about reducing the size of government but has proposed hundreds of billions of dollars in new government spending. Tonight, Barack Obama had an opportunity to level with the American people, but instead all we heard was more of the same."
For different reasons, I would call it for McCain as well and Ava and I will cover it Sunday.
Rebecca

noted
that Barack declared war on Social Security,
Elaine

noted
Barack's rush for more war,
Mike

found the debate a waste of time
,
Cedric
&
Wally
(joint-post) noted how Barack got his way,
Marcia

skipped it and noted the crony ways of Barack in Chicago
, and
Kat

explored
the liars and cover-up artists in the press while
Ruth

focuses
on the way that campaign (with press assistance) repeatedly lies.
Since Amy Goodman uses the public airwaves to pimp her candidate, we'll note McCain for fairness. (Pay attention to her headlines and note whose campaign gets to speak and whose campaign doesn't -- and notice how she's yet to cover Barack's non-American donors.)
From the McCain-Palin campaign
:
What They're Saying About John McCain at the Nashville Debate

ABC News' Rick Klein:
"[M]cCain is roaming the stage, playing to his strength. And comes out with a policy proposal to help people stay in their homes -- a strong lead answer, to have a meaty response to that. McCain looks confident early." (Rick Klein, "Live Debate Blog,"
ABC News
' "Live Debate Blog," blogs.abcnews.com, 10/7/08)
The New York Times' Katharine Q. Seelye:
"Mr. McCain is developing a chatty rapport with Mr. Brokaw about the candidates exceeding their time limits. He seems relaxed, as if he knows he is making a connection on a personal level. He roams the stage. Mr. Obama, who once stood in front of classes as a college professor, stands still while delivering his answers, and this one on health care sounds more like a lecture." (Katharine Q. Seelye, "McCain Warms To The Setting,"
The New York Times
' "The Caucus" Blog, thecaucus.blogs.nytimes.com, 10/7/08)
The Politico's Jonathan Martin:
"McCain, taking a question from a naval retiree, gives him a pat on the shoulder and a firm handshake. 'Everything I ever learned about leadership, I learned from a chief petty officer,' says one old sailor to another. It was surely a moment that won a lot of nodding heads from vets all over the country." (Jonathan Martin, "Vets And Servicemembers Had To Love This Moment,"
The Politico's
"Jonathan Martin" Blog, www.politico.com, 10/7/08)
Martin: "McCain unveils a new pork-barrel project to be condemned: an overhead projector for a planetarium in Chicago that was included in Obama's earmarks." (Jonathan Martin, "The New Bears In Montana!!!" The Politico's "Jonathan Martin" Blog, www.politico.com, 10/7/08)



Martin: "A strong close by the GOPer with: 'We can't afford somebody who needs on the job training, my friend.'" (Jonathan Martin, "McCain In Comfort Zone On National Security," The Politico's "Jonathan Martin" Blog, www.politico.com, 10/7/08)


Martin: "Right at the outset, [McCain] offers empathy: 'Americans are angry, they're upset, and they're a little fearful.'" (Jonathan Martin, "McCain's 'I Feel Your Pain' Moment," The Politico's "Jonathan Martin" Blog, www.politico.com, 10/7/08)
CNN's Candy Crowley
: "McCain seemed to answer first question [on a rescuing main street] better." (Candy Crowley, "How Tough Is Too Tough?" CNN's "Political Ticker" Blog, politicalticker.blogs.cnn.com, 10/7/08)
CNN's Bill Schneider
: "That's a pretty fundamental question should there be for profit health care? Obama's answer...he's not answering the question." (Bill Schneider, "Obama Not Answering The Question," CNN's "Political Ticker" Blog, www.cnn.com, 10/7/08)
Schneider: "McCain's tone is better at talking to the audience..." (Bill Schneider, "Are The Candidates Relating To The Audience," CNN's politicalticker.blogs.cnn.com, 10/7/08)
MSNBC's Pat Buchanan

: "I think McCain did come in with more heart and more fight. And I agree with you, he was the aggressor. He was throwing the punches. He did it in a better way than he did it last week when I thought he had won on points. Here he smiled. He looked at his opponent. He looked at Tom Brokaw. He talked to the audience, and he did it in a more calm fashion. And I think he clearly scored more points than Barack Obama did." (MSNBC, 10/7/08)



National Review's Lisa Schiffren

: "Is it necessary to explain the basics? McCain is doing really well with the audience in the room by doing so. Does it translate to the TV audience? McCain is really sounding clear, energetic and firm." (Lisa Schiffren, "Talking Down To The Audience,"

National Review's

"The Corner" Blog, corner.nationalreview.com, 10/7/08)



Commentary's John Podhoretz

: "This is McCain's mantra. I know how. I know how. Here's what I will do." (John Podhoretz, "I Know How To Do That,"

Commentary's

"Contentions" Blog, www.commentarymagazine.com, 10/7/08)



Commentary's Daniel Casse

: "[M]cCain is delivering tight, crisp, and extremely effective answers. Every answer has a similar structure: (a) I care about this issue (b) I've stood up against Bush/special interests on this issue (c) Obama has never taken a stand, never acted on this (d) so let's compare records." (Daniel Casse, "McCain's Well-Structured Answers,"

Commentary's

"Contentions" Blog, www.commentarymagazine.com, 10/7/08)



And more from the McCain-Palin campaign:


What They're Saying About John McCain at the Nashville Debate Volume 2

CNN's David Gergen: "I thought John McCain was more effective than he was last time on domestic policy. I thought his answers in general were more organized and he made his points more effectively." (CNN's "Anderson Cooper 360," 10/7/08)

Fox News' Charles Krauthammer: "McCain won the first hour on domestic (issues)." (Fox News' "Presidential Debate," 10/7/08)

ABC's George Stephanopoulos: "I thought Senator McCain started out very strong when he said we have to address this financial crisis by having a plan to buy up all of the bad mortgages in the country showed real compassion and empathy there..." (ABC's "The Candidates Debate," 10/7/08)
Stephanopoulos: "I was also struck in the way that both candidates handled the stage tonight ... As we know Senator McCain wanted these town hall meetings all year long against Senator Obama. He made a crack against that. He is comfortable in this setting." (ABC's "The Candidates Debate," 10/7/08)
ABC's Charlie Gibson:
"I do think if there was any new proposal in the debate, it was what John McCain said about buying up the struggling home loan mortgages and renegotiate them at a new value, have the government do that." (ABC's "The Candidates Debate," 10/7/08)
The Washington Post's Chris Cillizza:
"Nice moment for McCain: he claps a man (Terry Scherry) who asks about Iran on the shoulder and they shake hands." (Chris Cillizza, "The Nashville Skyline Debate,"
The Washington Post's
"The Fix" Blog, www.washingtonpost.com, 10/7/08)
NBC's Chuck Todd:
"[M]cCain did get stronger, I think, as the night went on. When it turned to foreign policy, you can see his comfort zone and you could see him getting more comfortable " (NBC's "Presidential Debate Coverage," 10/7/08)
NBC's Andrea Mitchell:
"I think he was very comfortable in the format ... McCain was walking around approaching some of the questioners. Thanking them. Actually coming quite close to them. ... And as Chuck has pointed out, with the economy in such a tail spin, he came armed with a new proposal to have the government buy up failing mortgages ... That was a gutsy move." (NBC's "Presidential Debate Coverage," 10/7/08)
The Politico's Ben Smith:
"Really, the first of the night. McCain takes a question from a Navy veteran. 'Everything I ever learned about leadership, I learned from chief petty officer,' he says, walking over to the man and patting his shoulder." (Ben Smith, "A Connection,"
The Politico's
"Ben Smith" Blog, www.politico.com, 10/7/08)
Commentary's Jennifer Rubin:
"On Afghanistan, Iraq and Russia McCain talks in action words what we will do, what will work and what our goals will be. Although he obviously wants to assure voters he will show restraint, his real strength is projecting a force of will and determination." (Jennifer Rubin, "National Security,"
Commentary's
"Contentions" Blog, www.commentarymagazine.com, 10/7/08)
National Review's Mark Levin:
"And he has shown more energy than usual. Obama is supposed to be the great orator (what happened to the messiah and the fainting?). The 72-year-old McCain has the upper-hand on the 47-year-old messiah, IMHO." (Mark Levin, "In Defense Of McCain,"
National Review's
"The Corner" Blog, corner.nationalreview.com, 10/7/08)
CNN's Bill Bennett:
"The last comments [John McCain] made, I thought, were quite impressive and quite moving." (CNN's "Anderson Cooper 360," 10/7/08)
Katharine Q. Seelye live blogged the debate for the New York Times
.
Bob Barr is the Libertarian presidential candidate and Wayne Root is his running mate. The
Barr-Root campaign notes
:
October 7th, 2008 by Russ Verney
Once again this evening Barack Obama and John McCain will take center stage. And, once again they will prove what I've been saying for the past month. There isn't a dime's bit of difference between the two.
They will skirt around the issues of liberty and freedom and instead focus their attacks on each other in one round after another of finger pointing. Two weeks ago we were told that the Bush/Obama/McCain Bailout (BOMB) would save our economy and reassure investors. We were told that our retirement plans would recover.
Today the Dow Jones Industrial Average is down for the fifth straight day and losses during this period have been nearly 1,000 points - or 10%. From its peak, the Dow is now down 34%.
Housing values are similarly down. But I'm not trying to depress you!
There is hope. Every day that the BOMB inflicts more damage, the more people realize that they've been bamboozled (again) by their government, and particularly, the Bush Administration.
If you want more of the status quo, more of the same old corrupt politics of the Democrats AND Republicans, do nothing. That's what you are going to get.
If you want meaningful change and a return to fiscal sanity, then Bob Barr is ready to lead our nation out of it economic troubles and into a period of prosperity based on free market principles, less government intervention, lower taxes and more freedom.
I ask you to invest in this campaign to win the hearts and minds of American voters and elect Bob Barr our next President.
Your gift of $50, $100 or whatever you can afford today (given the tough economic times, I understand if you can't send more) will equip us with the resources to tell more voters that they have a real choice.
Please, click here to invest in our future.
Chuck Baldwin and Darrell Castle are the Constitutional Party's ticket
. They've released no press statement (nor have they updated their website) since last month.
For campaign updates from the Barack Obama campaign, see
Democracy Now!
where Amy Goodman pretends to be a journalist and slants the hourly 'public' radio show for Barack every damn day. Did she address Barack's alarming remarks about Social Security? No. And she never will. Listen to her for laughs only.
The e-mail address for this site is
common_ills@yahoo.com
.
iraq
the washington post
sudarsan raghavan
iraq
john latimer
carrie cassidy
larry alexander
katharine q. seelye
the new york times
like maria said paz
kats korner
sex and politics and screeds and attitude
the daily jot
cedrics big mix
mikey likes it
ruths report
sickofitradlz