A suicide bomber rushed into a neighborhood celebration for a man who had just been released from detention Sunday night, detonating his explosives and killing at least 25 other people, police said.
Also Sunday, the military announced the arrest of a key Al Qaeda in Iraq figure believed to have planned the abduction of U.S. journalist Jill Carroll in 2006. In a statement, the military said Salim Abdallah Ashur Shujayri, also known as Abu Uthman, is a Baghdad leader of Al Qaeda in Iraq who oversaw some of the group's most heinous activities.
The suicide attack occurred about 18 miles west of Baghdad in the suburb of Abu Ghraib, a mainly Sunni Muslim area. It was one of several attacks that left about 40 people dead and underscored the threat still posed by insurgents despite improved security nationwide.
From Tina Susman and Saif Hameed's "
Iraq suicide attack kills 25
" while Amit R. Paley's "
Suicide Blast Kills 25 At Celebration in Iraq
" (
Washington Post
) reports that the gathering was for Sami Hanoush, the son of Adnan Hanoush -- an "Awakening" Council member, who had recently been released from Camp Bucca and that the assault, which was carried out by "a stranger in his late 20s," "was one of the deadliest attacks in recent months." Erica Goode and Stephen Farrell's "
Bomb Shatters Party, Killing 25 Iraqis
" (
New York Times
) notes the gather was "a large dinner" and that the stranger was "a man wearing a yellow dishdasha, or large robe" and quotes Abdullah Hamdan stating, "I just lost my brother, but I pray to God to save my son."
Meanwhile
AFP

reports
the death toll from the bombing has risen to 30.
Yasser Faisal (

Reuters

) reports
that burials of the dead have already started and includes this, "At Toufash Kroush's home, where the bombing took place late on Sunday, pools of blood covered the floor. Flies swirled over mounds of rice and lamb, set out in the garden for the outdoor feast Toufash had arranged to celebrate the release of his son Sami from a U.S. prison camp."
Meanwhile
Gulf Daily News

reports
Grand Ayatollah Ali al Sistani is stating he is not "seriously ill."
The Scotsman

quotes
him stating, "Recently, untrue rumours have caused anxiety among believers inside and outside Iraq."
BBC provides
this perspective: "He rarely intervenes in politics but he has played a critical role in Iraq at key times since the fall of Saddam Hussein - notably when the constitution was being drafted and during the Shia uprising. His judgement is respected by both politicians and ordinary people alike in Iraq, correspondents say. He underwent heart surgery in London in 2004."
The
Los Angeles Times
' Saad Fakhrildeen gets a sit-down with al-Sistani and reports on it in "
IRAQ: My meeting with Grand Ayatollah Ali Sistani
" (
Babylon & Beyond
):
Sistani sat on a mattress, dressed in his black robes and matching turban. He shook our hands and we wished him success. He beckoned us to sit with him. We sat on both his left and right. The room had about seven thin mattresses and one large rug. A small plastic bag held coins. The lights went out briefly and then a generator started up and emitted a steady roar. Sitting with him, I was so happy, I wanted to cry.
Sistani smiled and his voice sounded normal. The oldest reporter in our group asked the grand ayatollah about the rumors that he was sick. Sistani told us: "It was circulated recently some news about my health, which was not correct. It caused some anxiety to the believers in Iraq and the world. I advise journalists to deal with the news honestly."
He let us know how much he valued our profession and told us he was upset over how many reporters had been killed and harassed in Iraq. "I am proud of you and your work, your work is important in transferring the truth to the people," Sistani said. Listening to him, I felt such words from such a man meant journalists are important.
Lloyd
asks that we again note
this from Team Nader
:
Nader Team Arrives in Denver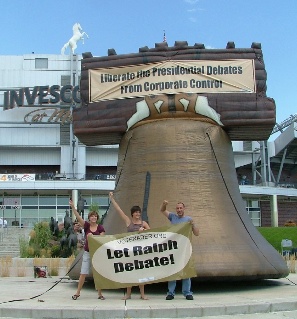 Dear Senator Obama:
The Nader Team just arrived in Denver for the DNC.
We wanted to see what all the fuss was about, so we paid a visit to Invesco Field, the site of your upcoming speech.
Ironically, it was easier for us to get in there than it was to get in one of your debates.
Here we are protesting that fact.
As you can see from this photo, we managed to inflate a huge liberty bell at Invesco Field.
You know, liberty: the freedom to speak and debate.
A liberty that third party candidates are routinely denied by the mainstream press and mainstream candidates.
We want to change that.
So we are issuing a challenge to the Commission on Presidential Debates -- liberate debates from corporate control and end the anti-democratic exclusion of third party candidates.
And we are issuing a challenge to you.
You are the candidate of hope and change.
Consequently, we hope you will change your mind and make good on your offer to debate anytime, anywhere.
Participate in the Google debates in New Orleans on September 18th and urge them to include third parties.
John McCain said he'd do it.
How about you?
Do it for hope.
Do it for change.
Give people a real choice this election.

Onward to November!


Ashley Sanders
The Nader Team


The e-mail address for this site is
common_ills@yahoo.com
.
iraq
the new york times
stephen farrell
erica goode
the los angeles times
tina susman
saif hameed
saad fakhrildeen