Supporting J&P
I speak on my own behalf, not for any organization. As a longtime Pikes Peak Justice & Peace Commission member and civil-rights attorney, I was privileged to serve as civilian co-counsel for defendant Robin Long in his general court martial on desertion charges. I was impressed with the integrity of his conscientious resistance to the illegal Iraq war. Pete Haney, J&P dynamic peacemaking director, was the first witness on Robin's behalf and did an excellent job.
The Indy did not cover the trial or two demonstrations J&P organized. However, the New York Times, other national media, local TV stations and the Gazette did so. Also not present were the persons a recent Indy article publicized on their opposition to J&P.
In regard to that: According to J&P records, Eric Verlo called a meeting of a group he recently formed, "Active for Peace and Justice." J&P's longtime newspaper is called Active for Justice, creating potential confusion. It was announced via e-mail the meeting would take place at J&P though no one asked to be placed on the calendar, the procedure followed by everyone for years.
Staff asked the group to meet elsewhere. Yet, an e-mail went out at 5:15 p.m. saying the meeting would take place at the J&P at 6. The board chair called police to ask them to make sure no one was inside the building. Subsequently, one group members called for people to stop contributing to J&P because "its members never actually support a (social justice) cause as they claim to."
J&P members have consistently followed rules regarding meetings. It has an exemplary 30-year record as the primary local voice for justice and peace and remains true to its long-standing values.
-- Bill Durland
Colorado Springs
The above is a letter to the

Colorado Springs Independent
or '
Independent
.'
As we were saying yesterday
:
While they stood up "White boy" (read his article -- better yet, don't)
Nathaniel Hoffman (Boise Weekly) blathers on
about the DNC convention (24 paragraphs) before including this: "Now for a few updates on the home front. Army deserter Robin Long, a Boise native, was sentenced to 15 months in jail, after being kicked out of Canada and returned to his unit at Fort Carson, Colo. He will also get a dishonorable discharge." That would be Robin's local weekly and that's all they have to offer. Never forget the 'alternative' press always has something else to do. Robin was court-martialed last Friday and
Courage to Resist spoke to Robin spoke with him later that day
[. . .]
They just don't care. The
New York Times
article, by the way, was Dan Frosch's "
Soldier Who Deserted to Canada Draws 15-Month Term
." Also, there have been a variety of ages given for Robin in the press. He is 24-years-old, he was born May 2, 1984. From the
War Resisters Support Campaign
:
ALL OUT SEPTEMBER 13…


September 13th is a pan-Canadian Day of Action to support U.S. Iraq war resisters and to demand that the Harper government immediately stop the deportations. Actions, demonstrations, and pickets will take place in cities and towns all across Canada. Click here to see a list of actions and to download materials.
If your city is not listed, consider organizing a local action for September 13th. Whether it is petitioning in your local farmer's market, picketing a Conservative MP's office or rallying at a federal building, we need to go all out to stop the deportation of resisters like Jeremy Hinzman and Corey Glass!
… and on September 14th, organize local screenings of Breaking Ranks

Canada's Prime Minister is about to deport Jeremy Hinzman, American Conscientious Objector to the Iraq War, as well as his wife Nga and two children by September 23rd. Jeremy is featured in Michelle Mason's documentary BREAKING RANKS.
• USE THE FILM: Check your local library or borrow a copy of BREAKING RANKS featuring Jeremy Hinzman, from the National Film Board Of Canada (contact Jane Gutteridge at j.gutteridge@nfb.ca) and host a day of action and/or living room screening. Check www.nfb.ca for upcoming screenings of Breaking Ranks in Toronto this September, and in your community.
Coordinated screenings of Breaking Ranks on the eve of Parliament reconvening gives supporters the opportunity to organize letter writing parties afterwards, so that federal ministers' mailboxes are stuffed in the first days after MPs return to Ottawa.
In the
New York Times
today (A12), Erica Goode offers "
U.S. to Hand Iraqis Authority for Anbar Province's Security, a Delayed Milestone
" which results in an e-mail from a visitor who loves Goode's article and insists
yesterday's snapshot
included a falsehood:
At the US Pentagon today Gen James Conway declared that there might be a drawdown of some marines because "to do more in Afghanistan, our marines have got to see relief elsewhere". No, that would not be withdrawal, no that would not be troops home. Now or later. It is an acknowledgement -- public -- by a marine commander ("The Commandant of the Marine Corps," says the Defense Dept) that the US military is stretched to the limit fighting two illegal wars that neither the White House nor the Congress has the guts or desire to end.
If it were true (the quote) and not a lie (he uses "falsehood"), then Goode would have reported it.
Take your complaint to Erica Goode. Conway was quoted here correctly. Here is Conway:
Should our leadership determine that more U.S. forces are needed in the fight in Afghanistan, it's no secret that the Marine Corps would be proud to be part of that undertaking. However, in order to do more in Afghanistan, our Marines have got to see relief elsewhere.
In fairness to the e-mailer, the press briefing wasn't up at the DoD website yesterday (he didn't write that he looked but he may have). It is up now. I didn't get it from the DoD website, I got it from a reporter attending the briefing. The reporter had already been informed that quote would not be used so ___ passed it on to me in a voice mail. (Thank you to ____.) Conaway said it.
The transcript is now up at DoD
. Did anyone report it?
CNN did
. That was it domestically as far as I know. But it was stated and, now that it should be clear that it was stated, the question should be why outlets didn't report it?
Susan
notes
this from Team Nader
:
Time/CNN Poll: Nader at 8 Percent in New Mexico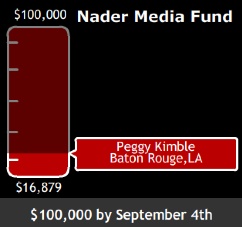 Drop $8 on Nader/Gonzalez now.

Why?
We're celebrating again.
Because Ralph just polled 8 percent in New Mexico.
It is just remarkable.
Approaching zero media publicity.
And Nader is still polling at six, seven and eight percent in the polls.
Check out this one just in from Time/CNN.
In three battleground states, Ralph is a factor.
In New Mexico, Nader polls 8 percent.
In Pennsylvania, Nader is at 7 percent.
In Colorado, Nader is at 7 percent.
And in Nevada, Ralph is polling 6 percent.
And the poll shows that Ralph is pulling votes from across the board.
Like we said at the beginning.
Build it and they will come.
We're scheduled to be on 45 state ballots by September 12.
And we're ready to rumble.
We're flying under the radar.
But not for long.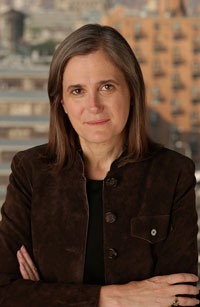 So, help us continue to build the big mo.
We need to hit our goal of $100,000 by September 4.
And -- breaking news -- this just in.
Ralph Nader will be on Democracy Now! with Amy Goodman.
Tomorrow -- Thursday August 28, 2008 at 9 a.m. EST.
You can listen and watch live on the Internet at democracynow.org.
Spread the word.
Together, we are making a difference.
Onward to November.
The Nader Team
The next Super Rally takes place next week
:
Sept. 4th, 7:30pm (Doors @ 6:30pm)

"Open the Debates" Super Rally at the RNC
Speakers/Performers: Nellie McKay, Cindy Sheehan, Tom Neilson, Ike Reilly and more
Orchestra Hall
1111 Nicollet Mall, Minneapolis, MN 55403
(202) 299-4053 or events@votenader.org
Wyoming's Jackson Hole Star Tribune includes the following in their briefs round-up today:

CHEYENNE -- Independent presidential candidate Ralph Nader plans a press conference in Cheyenne.
Nader's campaign says he will be at the State Capitol in Cheyenne at 12:30 p.m. today.
Nader plans to speak about what he says are critical issues the major party candidates aren't addressing. He says those include a comprehensive, negotiated military and corporate withdrawal date from Iraq, as well as health care, energy issues and an end to corporate welfare.
Yesterday's evening community sites had a theme, Backstabbers. Rebecca's "ellie smeal, katha pollitt and red betty," Ruth's "Naomi Wolf," Kat's "Kate Michelman," Marcia's "Rachel Maddow," Elaine's "Katrina vanden Heuvel's misguided dreams" and Mike's "Laura Flanders" cover that. Cedric's "Denver and bust" and Wally's "THIS JUST IN! THE DENVER SUICIDE PACT!" (joint-post) covers the Denver nonsense. And remember Trina's "Pesto in the Kitchen" and Betty's "Nader Rally and Cathy Pollit sums herself up" went up this weekend. LIE FACE Melissa Harris-Lacewell will appear on Democracy Sometimes! with the Hu**ler publishing Amy Goody today. Be sure to catch what the serial liar has to say. I mean Harris-Lacewell but it actually applies to both, doesn't it? For those not in the know see the link to Democracy Sometimes! as well as "TV: Goodman and Rose 'honoring' bad TV past" for Melissa amazing ability to LIE to the press. And for people to allow her to lie. She can slime Tavis Smiley and reference a campaign against him on PBS and never mention she not only took part in the campaign but started it at her own website. Her lies are legendary. And it takes a Red Diaper baby and non-journalist like Amy Goodman to keep Melissa's LIES alive.

The e-mail address for this site is
common_ills@yahoo.com
.
iraq
robin long
jeremy hinzman
dan frosch
the new york times
eric goode
like maria said paz
kats korner
sex and politics and screeds and attitude
trinas kitchen
the daily jot
cedrics big mix
mikey likes it
thomas friedman is a great man
ruths report
sickofitradlz