U.S. forces have arrested a deputy of Ahmad Chalabi, who was once the Bush administration's favorite Iraqi politician, and implicated him in bombings that killed Americans and Iraqis, Chalabi and Iraqi government officials said Thursday.
That's the opening to Nicholas Spangler and Hussein Kadhim's "
Chalabi aide arrested on suspicion of Baghdad bombings
" (
McClatchy Newspapers
) and whether the man, Ali Faisal al Lami, is guilty or not, who knows? Chalabi is a notorious liar.
Oh no, not me,
We never lost control,
You're face to face,
With the man who sold the world
And he sold the illegal war.
Lynda
notes
this from Team Nader
:
Sean Penn Hit it Out of the Park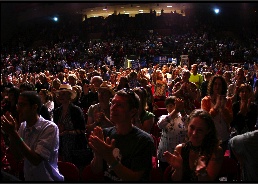 Last night in Denver was a wild party for democracy.
Four thousand people jammed into Magness Arena.
Sean Penn hit it out of the ballpark.
Tom Morello sang a glorious version of Woody Guthrie's This Land is Your Land.
Cindy Sheehan ripped into the dastardly twins (Democrats and Republicans).
Two new supporters came out of the woodwork to support Nader/Gonzalez.
When we asked for donations, Brooke Smith, star of ABC's Grey's Anatomy, rose out of the crowd, took the stage, pledged her support -- and $4,600 -- to the Nader/Gonzalez campaign.
Then we had another convert.
A 21-year-old African American from Phoenix -- Rev. Jarrett Maupin -- gave an eloquent speech as to why he's breaking with the Democratic Party, and vowed to organize the Latino and African American communities for Nader/Gonzalez.
And off course, Ralph laid it on the line, as usual.
Free Speech TV was slammed.
So, few people were able to watch on line.
Our apologies.
But highlights from the rally have now been posted on the internet. Click here to watch. Then click on the icon that says FSTV Coverage: Ralph Nader at the Open the Debates.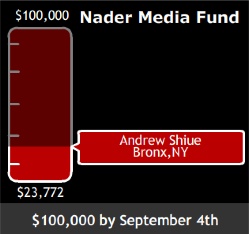 So, take a peek at this amazing show, and then get the DVD (see below).
As you know, we're in the middle of a fundraising drive to raise $100,000 by September 4.
We're off to a great start, hovering around $25,000 in just four days.
But we have to crank it up to meet our goal (we haven't missed one yet -- good job troops).
Let's get it done.
Remember, if you give $100 or more now, we'll send you three DVDs -- the Denver rally, the Minneapolis rally, and a special debate DVD. (Three DVD offer ends September 4 at 11:59 p.m.)
Onward to November.
The Nader Team
We don't normally post videos on Friday but those didn't get noted yesterday. By Saturday night, I will have enough up that the videos aren't up. (Videos are a problem for people with dial up. Not only is it slower for the page to load, they also receive some Adobe Acrobat error.)
Baylie Davis (Wyoming Tribune-Eagle) reports on Ralph's campaign stop in the state in "
Wind, sun power Nader selling points
:"
Nader, who is running for president as an Independent this year, spoke to the media and several residents in the Capitol Rotunda.
In his speech, he said the government has been "hijacked" by corporations, which are controlling the debates and not allowing third-party candidates to participate.
This means they can "control the gateway to tens of millions of viewers," he said "There's no other western democracy in the world that would tolerate something like that."
One goal of his campaign is to be allowed to participate in the presidential debates, his regional campaign coordinator Benjamin Drendel said.
AP

notes
this of the campaign stop:
"The release of carbon dioxide is massive in this country," said Nader, a longtime consumer rights advocate and a perennial political candidate.
Nader said wind resources could provide electrical power to the country without leaving a legacy of pollution.
Julie
steers us to
this press release
:
Nader Polling 6-8% in 4 Key Battleground States
Wednesday, August 27, 2008 at 12:00:00 AM
News Advisory
FOR IMMEDIATE RELEASE
Contact: Marc Abizeid, 831-818-7736, marcabizeid@votenader.org; Chris Driscoll, 202-360-3273, chris@votenader.org

NADER POLLING AT 6-8% IN 4 KEY BATTLEGROUND STATES

A new Time/CNN poll shows Ralph Nader polling 8 percent in New Mexico, 7 percent in Colorado, 7 percent in Pennsylvania, and 6 percent in Nevada (See poll here).

"It's clear that Ralph Nader could again have a significant impact on the Presidential race – though in highly unpredictable ways," Time/CNN pollsters concluded." In Nevada, Nader was the choice of 6% of respondents, and his presence flattened Obama's lead into a 41%-41% tie. Yet in New Mexico, where Nader polled at 8%, he drew votes almost equally from both major candidates, while in Pennsylvania he siphoned off significant support from McCain; a three-way race there would give Obama 47%, McCain 38% and Nader 7%."

The Nader/Gonzalez campaign is on track to be on 45 ballots by September 20.
For more information on the Nader/Gonzalez campaign, visit: votenader.org.


-End-
Ralph discussed that (and more) yesterday on

Democracy Now!
Green Party presidential nominee
Cynthia McKinney
campaigns this weekend:
Ecological Wisdom
*
Social Justice
Grassroots Democracy
* Non-Violence
Green Party of Michigan
~~~~~~~~~~~~~~~~~~~~~~~
www.migreens.org
** News Release/ **
** News Advisory **
** ------------- **
August 22, 2008
For More Information, Contact:
-----------------------------
Fred Vitale, State Coordinator
McKinney/Clemente Campaign
313-580-4905
FredDetroit@sbcglobal.net
OR
chair@migreens.org
John Anthony La Pietra, Media Committee
jalp@triton.net
Cynthia McKinney
,
Green Party Candidate
for President,
Will Spend
Labor Day Weekend
Visiting Michigan
==============================================
(
Detroit
) --- Cynthia McKinney (
www.votetruth08.com
),
Presidential candidate
of the
Green Party
of the United States
(GPUS;
www.GP.org
) and head of the first nationwide ticket
putting two women of color on ballots across the US, will
visit
Michigan
for Labor Day weekend August 30 - September 1.
The
Green Party of Michigan
(GPMI; www.MIGreens.org) will
be hosting a press conference for Congresswoman McKinney at
7pm Saturday, August 30 at the International Institute (111
E. Kirby, Detroit). The press conference will be followed by
a rally with other GPMI Federal, state, and local candidates
at 7:30pm at the same location. The rally is open to the
public, and free.
The following evening -- Sunday, August 31 -- Congresswoman
McKinney will deliver a key policy speech on the elimination
of poverty at the National Welfare Rights Union (
www.MWRO.org
)
Awards Dinner. The dinner, starting at 6:30pm, will be held
at St. Paul of the Cross Retreat House, 23333 Schoolcraft,
Detroit.
On Monday,
Labor Day
, Congresswoman McKinney will be joining
thousands of union members in Detroit celebrating Labor Day by
marching down Woodward Avenue.
Other campaign events during the visit will be announced
as the details are finalized.
The Green Party of Michigan welcomes Cynthia McKinney to
Michigan. She will lead GPMI's 2008 slate -- which includes
* Harley Mikkelson of Caro, retired after service with
the Army in
Vietnam
and for 26 years in Michigan state
government, for
US Senate
(
www.harleymikkelson.com
);
* Rev. Edward Pinkney, a
Benton Harbor community
activist
currently unjustly imprisoned at
Hiawatha Correctional
Facility
, running to represent his home 6th Congressional
District in the US House (see also
BHBANCO.blogspot.com
);
and
* 30 other Michigan Greens running for Federal, state, and
local offices.
Cynthia McKinney is a six-term former Congresswoman from
Georgia who quit the
Democratic Party
on her birthday in 2007
because the Democratic Party no longer represented her values.
She joined the Green Party, campaigned for its Presidential
nomination, and was nominated in
Chicago
at the Green Party
National Convention
on July 12 (www.votetruth08.com).
During her time in Congress, Cynthia McKinney
* consistently opposed funding for bloated military and
secret intelligence budgets;
* introduced
Articles of Impeachment
for
George Bush
,
Dick Cheney
, and
Condoleezza Rice
;
* introduced, championed, and passed in the U.S. House
the Arms Trade Code of Conduct, prohibiting the sale
of arms to known human-rights abusers; and
* passed legislation to extend health benefits for
Vietnam
War veterans
still suffering the health effects of
exposure to the
defoliant Agent Orange
.
She currently serves on an International tribunal on
Hurricanes Katrina and Rita and on the
Brussels Tribunal
on
Iraq
. She is also participating in
War Crimes
prosecutions
in
Spain
, and working with the Malaysian Peace organization
to criminalize war.
Cynthia McKinney's long-time advocacy for poor people
and her recent participation as a Commissioner in the Truth
Commission for Water Rights held in Detroit May 3 prompted
anti-poverty leaders to invite her as the guest speaker for
the Awards Dinner at the National Welfare Rights Union Retreat.
Currently on the ballot in 25 states that hold a majority
of electoral votes -- and with a good chance to make it on in
several more states -- the Green Party presidential ticket is
breaking new ground
, and breaking down barriers, in American
politics with the Cynthia McKinney-Rosa Clemente campaign.
The campaign has also crossed the fundraising threshold
in 14 states (including Michigan) out of the 20 required to
qualify for matching
Federal funds
for the primary season.
The deadline to qualify in at least six more states, and
earn matching funds, is September 4.
The McKinney/Clemente campaign offers a profoundly pro-
people, anti-corporate program for this election. Congress-
woman McKinney will bring the troops home -- all the troops --
not only from Iraq and
Afghanistan
, but from every country
where US troops are stationed. She will reduce significantly
the bloated Pentagon budget, and spend the money here at home.
She supports an immediate moratorium on foreclosures. She
wants to convert the prisons for profit into money spent on
education. She supports universal, single-payer healthcare.
As her
running mate
, Congresswoman McKinney chose
Rosa
Clemente
(
www.RosaClemente.com
). Ms. Clemente brings strong
credentials to this race. She is a founder of the Hip-Hop
Convention, a community activist, and a scholar.
For complete information on the Green Party's historic
Presidential ticket, please visit the candidates' Websites:
http://www.votetruth08.com
and
http://www.rosaclemente.com
For the latest information on the candidates, issues, and
values of the Green Party of Michigan, please visit GPMI's
Web site:
http://www.MIGreens.org
# # #
created/distributed using donated labor
Green Party of Michigan
548 South Main Street
Ann Arbor, MI 48104
http://www.migreens.org
734-663-3555
GPMI was formed in 1987 to address environmental
issues in Michigan politics. Greens are organized
in all 50 states and the
District of Columbia
. Each
state Green Party sets its own goals and creates its
own structure, but US Greens agree on Ten Key Values:
Ecological Wisdom
Grassroots Democracy
Social Justice
Non-Violence
Community Economics
Decentralization
Feminism
Respect for Diversity
Personal/Global Responsibility
Future Focus/Sustainability
Again, we'll note
Deeky (Shakesville) explaining
"I'm a gay man, and so refer Mrs. Ephron to one
Donnie McClurkin
. And when she's done making herself familiar with McClurkin, I'd like to point her toward
James T. Meeks
. You see, there are other things that are important to me; this isn't a one issue election. And I have a very big problem voting for a candidate that uses anti-gay bigots as part of their campaign, regardless of the threat McCain may pose to
Roe v. Wade
."
The e-mail address for this site is
common_ills@yahoo.com
.
iraq
mcclatchy newspapers
hussein kadhim
nicholas spangler
baylie davis