Q: Two questions:
1) In your interview with Gen. Petraeus, you noted that 100,000 Iraqis are on the U.S. payroll as peacekeepers. I'm assuming they are not part of the Iraqi military. What happens if we stop funding them?
2) Rightly or wrongly, I have long thought that the best coincident indicator of progress in Iraq would be the repatriation of refugees. Any signs folks are coming home?
— Posted by Ken Gilpin

A: Dear Ken: Super good questions. Those 100,000 guys -- ­the members of the Sunni Awakening -- ­are one of the main reasons why the violence has dropped so much. A lot of them are former insurgents, a lot of them are unsavory. So I think if the U.S. stopped paying them, there would be a big problem immediately.
On refugees: Some have come, but not a lot, and many of those who have come home have not returned to their old neighborhoods. It seems they are too frightened, for now, that the violence will return.
That's "
Q&A With Dexter Filkins
" and there are hundreds of unintended laughs to be found in it (
Baghdad Bureau
,
New York Times
' blog). I loathe Dexter (or, as he would put it, I "super loathe" him) but, if nothing else, he can claim he didn't take part in The Myth of the Great Return. It is not a past myth, it is one that the US military and especially Nouri al-Maliki is interested in reviving. They try to float it weekly. So, if nothing else Dexy ever gets credit for from me, he deserves credit for at least once not taking part in the ongoing myth. Over 4 million Iraqis are refugees. That's internally and externally. It is the largest refugee crisis in the world. That reality doesn't make for easy waves of Operation Happy Talk around Iraq, so
The Myth of the Great Return
is a ploy to make it look not only like things are better but like al-Maliki is some sort of leader. For his vanity and to sell the illegal war yet again, Iraqis around the world are at risk. When the myth is repeated uncritically by an outlet (or, worse, presented as truth), it can be responsible for an Iraqi returning. From the United Nations to the International Red Cross and every credible agency in between, the message is loud and clear: Iraq is not safe and refugees should not be returning. [Damien Cave and Cara Buckley of the
New York Times
were the domestic reporters to break the myth. Cave's "
Pressure for Results: The Politics of Tallying the Number of Iraqis Who Return Home
" ran November 26, 2007. Buckley's "
U.S. Military Plans to Bolster Iraqi Sentry Forces by 10,000
" ran November 29th. ]
From Alexandra Zavis' "
In Iraq, displaced families return to ruins
" (
Los Angeles Times
):
When the family of 12 returned to Hay Askari in mid-July, little remained of the
prosperous market village they remembered from a year ago. Every facade had been sprayed with bullets. Entire blocks had been reduced to charred shells. In a daze, they picked out the place where their house had stood. All that remained was a pile of rubble.
"We were all crying," said Salar Kadim, the head of the family.
When Iraq plunged into civil war in 2006, Hay Askari was caught on the front line between the country's two main Muslim sects. Sunni Arab militants pushed into the village from the north, and Shiite Muslim fighters fought back from the south. Hundreds of families of both sects fled.
The return of about 230 of the families since June is a sign of the uncertain calm taking hold in some of Iraq's most treacherous corners. Whether the peace lasts, however, hinges on whether Iraq's traumatized communities can set aside their hurt, whether there will be sufficient forces to protect them, and whether the government can provide the financial help they need to start over. Already, the government's attempts to compensate for losses are mired in allegations of corruption and sectarian bias.
No, Alexandra, it is not a sign of calm -- uncertain or not -- and you should really have known better. Nor is "about 230" a large number of returnees nor is it a number used consistently by the puppet government. This is how The Myth of the Great Return takes off yet again -- people start loosening the standards on what they will accept as fact. And let's remember when "calm" is tossed around, the International Organization for Migration continues to maintain its "Baghdad office" in Amman, Jordan due to the very real safety concerns. PDF format warning, IOM's most recent study on Iraqi migration, published earlier this year, can be found
here
. That report concluded:
While the rate of displacement has slowed to a trickle and returns are increasing, Iraq's approximately 2.8 million internally displaced continue to face deteriorating living conditions with poor access to shelter, food, health care, water, and other basic services. 70% of those IDPs assessed by IOM report intermittent or no access to PDS rations, 14% have no access to health care, and 30% cannot access the medications they need.
IDPs cite shelter, employment, and food as their priority needs. Currently, eviction from public buildings and land is a major concern for squatting IDPs. In addition, skyrocketing food and rent prices and little hope of employment exacerbate their already difficult siuations.
61% of assessed IDPs wish to return home, and that figure grows to 82% when IDPs were displaced within the same governorate. 26% of assessed IDPs say that their property is occupied, 15% say it is destroyed, and 43% of assessed returnees have found their property in use or partially or completely destroyed upon returning home. Some returnees may begin to reintegrate neighborhoods once homogenized by sectarian violence, especially in Baghdad, other IDPs have been killed upon returning home, and still others refuse to come back for fear of violent reprisals. However, the GoI is working to improve security and assist Iraqis to return home.
Despite limited funding and insecurity, IOM continues to assist the displaced, returning Iraqis, and host communities with emergency food, water and household item distributions, community assistance projects, and advocacy. However, overall assistance to these vulenerable communities remains inadequate. Until long-term stability is realized, rule of law improved and basic services restored, internal displacement in Iraq will remain a serious humanitarin crisis that calls for urgent assistance.
At
McClatchy
's
Baghdad Observer
, Leila Fadel provides an update to
her earlier report
on the female would-be suicide bomber in "
Rania, Her Story Changes
:"
At first she told police that she had no idea where the vest came from, the next day she told me her husband's relatives gave it to her but she didn't want to die, she didn't know what the vest was.
Today her story changes yet again. She tells us that her husband told her about the beauty of death, convinced her that paradise awaited her if she killed herself and others for the cause of Al Qaida in Iraq.
Today she may be telling the truth as she sits in a small cell with three other women and once again recounted her tale with new lies and new truths.
Ralph Nader held his Super Rally in Denver yesterday. Jesse A. Hamilton's "4,000 Blow Off Biden, Clinton for Nader, Penn" (

Hartford Courant

) reports:
But at a University of Denver auditorium right now, a collaboration of the disaffected have come together. It is nominally a Ralph Nader presidential rally, but it's acted in a larger sense as an Everybody Else town meeting. (Though it's possible that one significant draw for the young crowd is the several musicians performing between those issuing political rhetoric.)
Sean Penn just spoke. He's clearly not into the offerings of the Republicans and Democrats. He called McCain "the Man Who Would Be George Bush the Third." He did seem to be pretty impressed with Nader, but he said he didn't know who he'd vote for yet. He also blasted the media -- at some length.
[Hey, Sean, I own "Dead Man Walking" and "Mystic River" and, if we want to recall how you weren't always so serious, "Fast Times at Ridgemont High." Maybe it's time you buy a copy of The Courant?]
[. . .]
Nader got major cheers during his amnesty talk for non-violent drug offenders. Replace them in the prisons with corporate criminals, he said.
Nader cautioned about his fellow politicians: "Every politican I've ever known from the major parties ... starts flattering the people. Oh, how they flatter the people! Because that's what gives the people weak knees. ... Well, we have got to start getting tough with each other." He said he's disappointed about the percentage of people 18-24 who don't vote. "Read the grim lesson of history, here and abroad. When people do not turn on to politics, politics will turn on them."
"If only you knew the power you have at this young age," he said. "Chuck the iPod once in a while. Stop listening to non-stop music, which is blowing out your mind. And get serious."
Lloyd
notes
this from Team Nader
yesterday:
D-Day Denver: Nader Protest Rally Tonight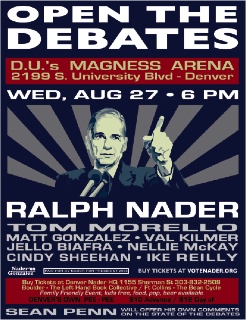 D-Day.
Denver tonight 6 p.m.
University of Denver Magness Arena.
Sean Penn, Tom Morello, Cindy Sheehan, Jello Biafra, Ralph Nader and Matt Gonzalez will be there.
Standing up to the corporate two-party controlled debate commission.
Calling for an opening up of the Presidential debates.


If you are in the area, see you at the event.
If you know people in the area, call them, text them, e-mail them -- and give them the details.
Free Speech TV will be streaming the event live on the Internet. (Wednesday, August 27, 7 p.m. Mountain time, 9 p.m. Eastern.)
Just click here to watch.
Also, Free Speech TV will be broadcasting the event live on Dish Network Channel 9415.
If you are home watching convention coverage on cable, watch for Ralph.
He'll be in the DNC belly of the beast at the Pepsi Center today.
He'll be on Fox TV with Neil Cavuto in this afternoon at about 4 p.m.
And MSNBC with Dan Abrams tomorrow morning at about 10 a.m.
Other mainstream media interviews are being nailed down as we speak.
Stay tuned for more details.
The bottom line is this.
The conventions are supposed to be about democracy.
But in fact, they're two big corporate parties.
Talk about corporate crime and corporate power, and you are drummed out of the building.
Talk the happy corporate talk, and they invite you in for a drink.
Thank you Ralph Nader for having the guts to stand up.
For the American people.
Against the corporate takeover of our democracy.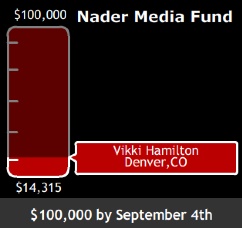 Stand with Ralph today.
If you are in Denver, come on down and join with us at the Magness Arena tonight at 6 p.m.
If you are not in Denver, give whatever you can afford -- $10, $20, $50, $100 -- to help defray the costs of tonight's event. (Renting the arena, sound, lights, stage hands, video crew and equipment, flying in road trippers, printing of 100,000 fliers -- you get the picture.)
By the way, great start on the fundraising drive -- we're at close to $15,000 after just two days. But we have to hit $100,000 by September 4. So, let's get 'er cranked.
Thank you for your ongoing support.
With your help, tonight, we will shake it up.
Onward to November.
The Nader Team
PS: Remember, if you donate $100 or more, we'll send you three DVDs -- the Denver rally, the Minneapolis rally, and a special debate DVD. (Three DVD offer ends September 4 at 11:59 p.m.)
The e-mail address for this site is
common_ills@yahoo.com
.
iraq
dexter filkins
the new york times
the los angeles times
alexandra zavis
mcclatchy newspapers
leila fadel
jesse a. hamilton
cara buckley
damien cave