U.S. Iraq war resister Robin Long, arrested and deported by the Harper government this summer after living in Canada, has been sentenced to 15 months in prison and a dishonourable discharge – a felony conviction that will last his whole life. His only "crime" is that he opposed the Iraq war and came to Canada.
Justice MacTavish claimed he would not suffer "irreparable harm" if deported. How is a military jail sentence and a felony conviction not irreparable harm?
No soldier should face jail for opposing the illegal and immoral war in Iraq. And Stephen Harper must be held to account for deporting Robin Long when he knew full well the persecution and punishment he faced in Bush's America.
David Fox, Toronto
Since it is now clear that deporting war resisters to the U.S. does indeed produce irreparable harm, the Harper government must enact the motion passed in Parliament to stop the deportations and let the war resisters stay.
Jesse McLaren, Toronto
The above are two letters to the
Toronto Star
under the heading "
Irreparable harm, indeed
." US war resister Robin Long was court-martialed in Colorado Friday and
Karen Linne, Fort Carson Public Affairs Office, explained Friday afternoon
that he was sentenced to 15 months behind bars, reduced in rank (to E1) and given a dishonorable discharge. Robin was held at the Criminal Justice Center in El Paso Country while awaiting the court-martial and he will receive credit for the time he has served ("about 40 days"). The
War Resisters Support Campaign
notes:
ROBIN LONG SENTENCED TO 15 MONTHS –
SHAME ON THE HARPER GOVERNMENT
We have just learned that Robin Long was sentenced today, August 22, to 15 months in prison at a military penitentiary. He also received a dishonourable discharge which will follow him the rest of his life. It is a felony conviction. Robin was deported from Canada when federal Justice Anne McTavish ruled that he had not proven that he faced irreparable harm if returned to the U.S. Sadly, today his sentence proves how flawed that decision was. It shows all too clearly what U.S. Iraq war resisters face if they are forcibly returned to the U.S. by our government. Shame on Stephen Harper for allowing this courageous and peaceful young man to be jailed. Stop the deportations. Let the War Resisters stay. Implement the motion passed on June 3rd in the House of Commons.
Emergency picket to protest Robin Long's sentencing:
Monday, August 25
4:00 - 5:30 p.m.
360 University Avenue (Across from the US consulate)
Toronto
August 13th
, US war resister
Jeremy Hinzman
was informed he needed to depart Canada by September 23rd or be deported.
Military.com

reruns an article from the

Fayetteville Observer

from which we'll note this section
:
On Thursday, Hinzman's wife, Nga Nguyen, said he plans to appeal the decision. The couple are asking the Canadian federal courts to delay the deportation.
Randall Hinds, who is 60 and lives in Fayetteville, said he was surprised by Canada's decision to deport Hinzman.
"Historically, they gave deserters asylum during the Vietnam War," Hinds said. "What they should have done is extradited him directly to the U.S. Because he's being deported, he's still free."
Also noting Hinzman is Karen Spears Zacharias's "
Every war has two losers
" (
Fayetteville Observer
):
I've been thinking a lot about these men lately -- Conroy, O'Brien and Stafford -- as I read the reports about U.S. Army deserter Jeremy Hinzman. The South Dakota native joined the Army in 2001, and was deployed in 2002 to Afghanistan. He had, by then, converted to a pacifist faith. So Hinzman was given a non-combat role while his application for conscientious objector status was processed. Later, when the 82nd Airborne Division, Hinzman's unit, received orders to Iraq, Hinzman took his wife and son and headed for the border. He did not want to do a tour in Iraq.
Canada recently denied Hinzman's request for objector status and told the soldier he had to go back home, and let the military courts decide his fate.
Conroy's right. If anybody has earned the right to protest war, it's the men and women who have served there. But, by law, the ones with the most at stake are the ones with the least amount of say about the wars they wage on our behalf.
The irony of that was not lost on the Poet of the West.
"Those who champion democracy, but also make a fetish of never accepting anything they don't agree with -- what advantage do they see in democracy?" Stafford asked.
Good question. One we all ought to consider more thoughtfully.
There was a time when I would have derided Hinzman for his actions. I might have even questioned his patriotism.
Not any more though.
War Resisters Support Campaign
is planning actions to show support for Hinzman and other war resisters in Canada:
Emergency picket to protest Robin Long's sentencing:
Monday, August 25
4:00 - 5:30 p.m.
360 University Avenue (Across from the US consulate)
Toronto
ALL OUT SEPTEMBER 13…


September 13th is a pan-Canadian Day of Action to support U.S. Iraq war resisters and to demand that the Harper government immediately stop the deportations. Actions, demonstrations, and pickets will take place in cities and towns all across Canada. Click here to see a list of actions and to download materials.
If your city is not listed, consider organizing a local action for September 13th. Whether it is petitioning in your local farmer's market, picketing a Conservative MP's office or rallying at a federal building, we need to go all out to stop the deportation of resisters like Jeremy Hinzman and Corey Glass!
… and on September 14th, organize local screenings of Breaking Ranks

Canada's Prime Minister is about to deport Jeremy Hinzman, American Conscientious Objector to the Iraq War, as well as his wife Nga and two children by September 23rd. Jeremy is featured in Michelle Mason's documentary BREAKING RANKS.
• USE THE FILM: Check your local library or borrow a copy of BREAKING RANKS featuring Jeremy Hinzman, from the National Film Board Of Canada (contact Jane Gutteridge at j.gutteridge@nfb.ca) and host a day of action and/or living room screening. Check www.nfb.ca for upcoming screenings of Breaking Ranks in Toronto this September, and in your community.
Coordinated screenings of Breaking Ranks on the eve of Parliament reconvening gives supporters the opportunity to organize letter writing parties afterwards, so that federal ministers' mailboxes are stuffed in the first days after MPs return to Ottawa.
The DNC is in Denver for their pageant and Seth Gitell's "
Protesters Launch Ambitious Week of Convention Demonstrations
" (
New York Sun
) notes the only real news coming out of it thus far:
Protesters trooped up and down the 16th Street pedestrian mall and around downtown landmarks, chanting: "If you support the troops, bring them home," "This should be a peace convention," and "We support war resisters." Members from a group called
Iraq Veterans Against the War
, dressed in desert fatigues and black shirts, shook their fists and shouted, "Bring our brothers home."
IVAW
has a number of actions they are working on and we'll highlight one below:
Northwest GI Coffeehouse in the works
Turning to the US presidential race. Ralph Nader is the independent presidential candidate. Marci notes this from Team Nader:
Nader Flix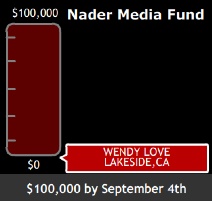 As a big part of the homestretch push to Election Day, we are starting a new media fund drive -- $100,000 in ten days -- by the end of the Republican convention.
We're cruising. You've helped get us on 37 state ballots thus far (more to come soon) and Nader/Gonzalez has been at 5% or above in several national polls. But the big bucks news media has responded with a deep freeze-out. So, it's up to us to break through and get our own message out.
Enter the Nader Media Fund.
We aren't tied down by narrow stylistic constraints. We don't worry about offending corporate America. We just need to get much busier creating, filming, editing, and distributing.
You can help us create high-impact media that will get the Nader/Gonzalez campaign message out there -- on television, radio, and the Web. Your contributions will fund radio ads, our creative campaigns will garner free television media (as our "puppet" debate did in 2004), and we will put high quality content in your hands for you to show to your friends and family.
Donate $100 to Nader/Gonzalez now and we will mail to you three 30-45 minute DVDs over the next month with exclusive behind-the-scenes footage hot out of the editing room -- "Nader Flix." First, the Denver Super Rally, then the Minneapolis Super Rally, then a special debate project that we are creating.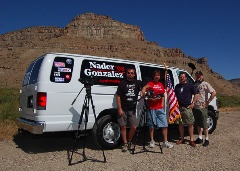 Our crew of professional filmmakers includes people from the pinnacle of the business. The photo here shows them in the middle of their drive from Los Angeles to Denver yesterday. They need tape and access to top-notch gear, lodging and transportation. They need your support.

Make our own media. It's what we've got to do. We need your help to make it happen.
Onward to November.
(The 3-DVDs for $100 offer is good until September 4, 2008, 11:59 p.m.).
The e-mail address for this site is
common_ills@yahoo.com
.
iraq
robin long
jeremy hinzman
seth gitell
iraq veterans against the war
karen spears zacharias