Kat
: It can't be easy being a diva. There's maintaining your image and maintaining your career and that's before you get into the whole trying to have a life. Long career's can be confusing which must be how
CRAPAPEDIA ended up declaring this of the legendary Dionne Warwick
:
Warwick ranks among the 41 biggest hit makers of the entire rock era, based on the Billboard Hot 100 Pop Singles Charts. She is second only to Aretha Franklin as the most-charted female vocalist of all time, with 56 of her singles making the Billboard Hot 100 between 1962 and 1998, and 80 singles making all Billboard charts combined.
She is not second to Aretha.
Diana Ross
sang lead on 72 singles that made the BILLBOARD Hot 100 between 1962 and 1986. That puts her second to Aretha who has 77 singles on BILLBOARD's Hot 100. Third place? It goes to
Madonna
with 57 singles charting on BILLBOARD's Hot 100. Then
Dionne
comes in with 56 singles.
What about the claim regarding singles on all the BILLBOARD charts? Diana is ahead of Dionne there as well. Dionne has 80. But Diana, when you pull in BILLBOARD's R&B, Dance and AC charts along with the Hot 100? She's had 95 songs make the the charts (at 100 or above on the pop chart) with her most recent hit being a number one on the dance charts this year with a remixed version of "The Boss." I didn't include "We Are The World" for Diana because Dionne also has a solo on "We Are The World" and it's not counted in Dionne's 56 hot 100 songs. While Diana comes in at second in this category, Dionne doesn't come in at third. She's fifth. When you combine all of Madonna's Billboard singles that charted? She's got 81. And after her? When you combine AC, Dance and Hot 100,
Cher
's total charting singles at 67. So Dionne's fifth.
Now correcting the record to give Diana Ross, Madonna and Cher their due doesn't subtract anything from Dionne Warwick. 56 top 100 hits is an amazing feat. Aretha won 18 competitive Grammy Awards. Dionne has so far won five competitive Grammy Awards and that's an amazing feat as well.
Divas are divas because they're unique. No offense to all of Madonna's many imitators but there's only one Madonna. Everyone else that apes her is a pale copy.
Aretha Franklin covered The Doobie Brothers' hit "What A Fool Believes" in the 80s for ARISTA RECORDS and she remade the song. It's one of her undiscovered gems. Dionne's covered the same song and her take on it is completely different, completely unique and wonderful.
It appears on SHE'S BACK, Dionne's just released album that announces, yes, she's back with a new album.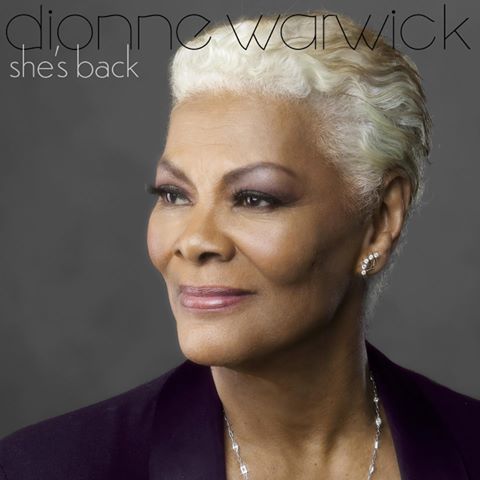 And if you buy the CD or the download (at least the download from AMAZON), you get not only SHE'S BACK but also Dionne's DIONNE SINGS DIONNE album -- so that's the 15 tracks from the new album and 14 tracks from her earlier 1998 album which was Dionne redoing her hits with guest artists like Celia Cruz, El Debarge, Jonathan Butler, Pete Escovedo and The Emotions.
Hits? Let's note some for any unfamiliar with Dionne's career. Her hits include most of the Bacharach & David songbook -- "Walk On By," "Don't Make Me Over," "Anyone Who Had A Heart," "Do You Know The Way To San Jose," "Message To Michael," "I Say A Little Prayer" and "This Girl's In Love With You," among others -- as well as her 70s, 80s and 90s hits which include "Heartbreaker," "I Know I'll Never Love This Way Again," "Then Came You," "Deja Vu," "Love Power" and "That's What Friends Are For."
Dionne's been a chart force to be reckoned with. She's one of the great vocalists. She never overpowers a song, she always serves the song. She's got the pipes to do the heavy drama but she only goes there when it's required. She's one of the great singers and that's why, with or without a hit, she's always been able to tour successfully. With Dionne on the stage, you know you're going to get a class act conveying real meaning and real emotion.
That said, her albums have been spotty since the early seventies when she stopped recording with songwriters Burt Bacharach and Hal David. It's not until 1979's DIONNE (produced by Barry Manilow) that she has another classic album. That's also when she joins ARISTA and that really was productive period for her as an album artist. Some of her strongest work was done there -- classic albums like HEARTBREAKER, HOW MANY TIMES CAN WE SAY GOODBYE, DIONNE SINGS COLE PORTER and FRIENDS CAN BE LOVERS. Since then? I'd include her gospel album WHY WE SING as a classic -- it's a deeply moving album.
And now?
With SHE'S BACK, Dionne's added a new classic to her canon. My only quibble is with the opening track, "Am I Dreaming" which features Musiq Soulchild. I like the track and it certainly belongs on the album; however, I would have opened with "Tears Ago."
Dionne collaborates with a lot of artists on this new album -- along with Musiq Soulchild, there's Kenny Lattimore, Kevon Edmonds, Krayzie Bone, Brian McKnight and FIJI. All the collaborations are strong.
But "Am I Dreaming" opens with Musiq Soulchild singing. Dionne does not offer a lead vocal on the track until the two minute and 21 second mark. "Will this last for one night or do I have you for a lifetime?" she asks when she finally starts singing. Since it's a Dionne album, it makes more sense to me to open it with her being the first voice you hear.
"Tears Ago" is a really strong song and a romantic vista that paints pictures as you listen.
Seeing you after all this time
Brings back memories that was tears ago
Remember when our love was so strong
That neither of us could do no wrong
Believed in you with all my heart
That's when the pain began
I also love the lush strings and the finger snapping in the song as well as how she phrases "I used to love you tears ago." Dionne doesn't just string words together, she makes it seem like she's thinking them on the spot.
"If I Want To" is a strong performance as well, one of the best you'll probably find on an album this year. The music and melody bring to mind Dionne's huge hit "I Know I'll Never Love This Way Again."
I see what people do
I hear what people say
I know there's trouble everywhere
I see it every day
Some things won't get better
Some people won't get through
But I can dream
Of a better world
If I want to
If I want to imagine
Peace on every hand
I close my eyes
And dream my dreams
In dreams I make a stand
Any time I start missing human harmony
I listen hard until I hear
Music inside of me
I can dream of a better world
If I want to
I can sing of a better world
If I want to
And I want to
It's the sort of song Barbra Streisand tried to come up with for on her hideous WALLS. The worst selling Barbra album since CLASSICAL BARBRA, by the way and her lowest charting album since 1984's EMOTION.
I stand by my review of that garbage
, you need to question those people that praised that crap. They were grading for intentions and for politics, but they weren't grading for music achievement. Dionne's singing a mature song and singing it so stylish and with such care.
Babs went banal, Dionne went sophisticated.
"Did I get my wish? Is this what I wished?" wonders Dionne in "Dream With No Love." It's a question we all get around to asking at different points in our lives. The material is not just incredibly musical, it's also very easy to relate to.
Of the up tempo songs, I think I like "You Really Started Something" which has a nice beat and finds Dionne cutting loose and I love the background chorus of "you really started something." But I think I like best the early staccato vocals in the verses. Dionne's at her most playful on this song. She's also very free on her cover of "What The World Needs Now" (
Jackie DeShannon
had the hit with this back in the day), finding soft notes and caressing it throughout with an assured vocal.
"What A Fool Believes," yes, I'm coming back to that song, is really something. Michael McDonald and Kenny Loggins' song was praised in real time by Mick Jagger when The Doobie Brothers were having their hit with it and, let's be honest, Mick's not really known for sharing praise for others all that often. Since then, many have covered the song. That includes Aretha, as already noted, and it also includes George Michael. They probably did the two best covers until now.
Dionne's done an amazing job with the song on SHE'S BACK. She did an okay job with it a few years ago when she recorded it for DIONNE SINGS DIONNE VOL. 2 (released in 2000). 19 years later, she's revisited the song and finding so much more in it. She was singing it before, she's living it now.
She also revists her hit "Deja Vu" with an assist from Bone Thugs-N-Harmony's Krazyie Bone. It's a stripped down project that really works musically especially with the shading Krazyie's providing. He's both a lead vocalist and a backup vocalist on this.
"We need to go back, to songs we used to sing," Dionne offers on SHE'S BACK. "If that don't do it, or pull us through it, we need to pray." While I do believe in prayer, I also believe in great music. I'd rank SHE'S BACK as great music, a beautiful album and, thank you, Dionne, for returning. You have been missed.